N.M. Field and Dairy Laborers Win Right To Workers' Comp—Court Calls Exemption 'Absurd'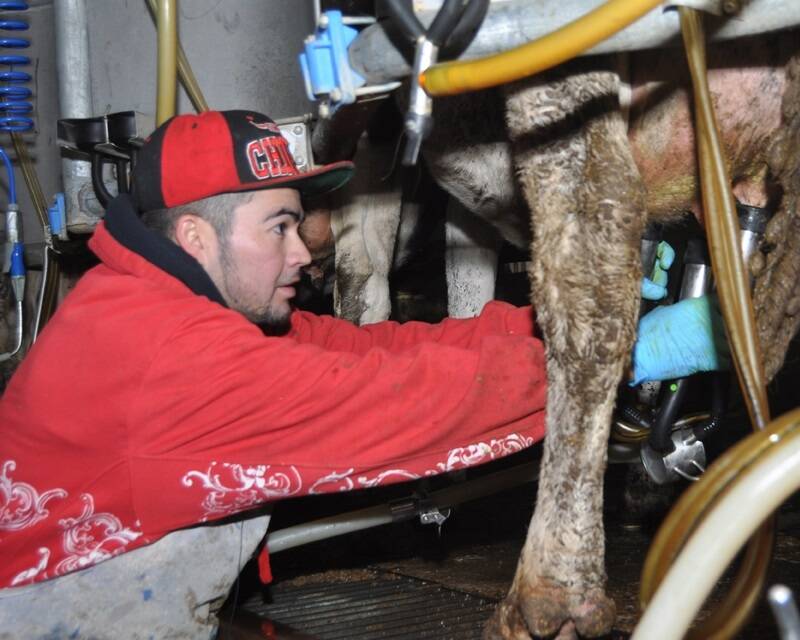 The New Mex­i­co Court of Appeals ruled in June that exclud­ing field and ranch work­ers from work­ers' comp pro­tec­tion is uncon­sti­tu­tion­al. It was the sec­ond vic­to­ry for New Mexico's farm­work­ers in less than a year — and that's big news in a low-wage sec­tor made up pri­mar­i­ly of immi­grant work­ers, where vic­to­ries tend to be few and far between.
The first vic­to­ry came last August when farm­work­ers final­ly start­ed get­ting paid the cor­rect min­i­mum wage. Farm­work­ers were rou­tine­ly, and incor­rect­ly, paid the fed­er­al min­i­mum when they were enti­tled to the New Mex­i­can min­i­mum wage, which is 25 cents per hour high­er. It only amounts to $8 or $10 a week, but it is sig­nif­i­cant for these work­ers, who are among the poor­est in the Unit­ed States.
And now, after six years of legal bat­tles, the state Court of Appeals has upheld a Dis­trict Court rul­ing that New Mexico's farm­work­ers are not to be exclud­ed from work­ers' comp protection.
Farm work is among the most dan­ger­ous jobs in the Unit­ed States, con­sis­tent­ly rank­ing in the top 10 for injuries and death. The Cen­ter for Dis­ease Con­trol and Pre­ven­tion has report­ed that 167 agri­cul­tur­al work­ers are injured every day. Despite this, only 12 states require full work­ers' comp for farm­work­ers (13 now, includ­ing New Mex­i­co); it's option­al in 16 states and required but lim­it­ed in 21 oth­ers. Until the Court of Appeals' deci­sion, work­ers' comp wasn't required for New Mexico's field work­ers or for ranch employ­ees who worked direct­ly with ani­mals. That meant that on a dairy, for exam­ple, truck dri­vers and book­keep­ers were cov­ered, but milk­ers and work­ers mov­ing the cows weren't.
As In These Times report­ed in Decem­ber 2014, on-the-job injuries are the rule, not the excep­tion, in New Meix­co's dairy indus­try, and the lack of work­ers' comp left some work­ers in dire eco­nom­ic straits:
Work­ing with large ani­mals pos­es a real risk of injury. In 2012, attor­ney Tess Wilkes was part of a team at the New Mex­i­co Cen­ter on Law and Pover­ty (NMCLP) that inter­viewed about 60 work­ers from var­i­ous dairies in the state. Almost 80 per­cent of the work­ers said they had nev­er received any safe­ty training.

Most of the cows are docile, but not all. ​"The younger ones are dan­ger­ous," says Anto­nio Jiménez, who worked in a dairy out­side of Roswell dur­ing high school. ​"They don't know how to be milked and [they] kick. Some­times the ones that have just giv­en birth [are dan­ger­ous], too." The NMCLP sur­vey found that 53 per­cent of the work­ers inter­viewed had been injured on the job, often more than once, and some­times seriously.

In March, Matías Soto was work­ing as a milk­er at a dairy in south­east­ern New Mex­i­co. Some­how, a bull had got­ten mixed in with the cows and stuck in one of the milk­ing par­lor gates. As Soto was try­ing to free the bull, he says, ​"It low­ered its head and attacked me, lift­ing me 6 or 7 feet in the air. I hit my head on the con­crete floor." His skull frac­tured. But, he says, he wasn't tak­en to the ER in Arte­sia, about 40 miles away, for three hours. He then had to be air­lift­ed to a hos­pi­tal capa­ble of han­dling his injury. The cost of the heli­copter alone was more than $60,000, and Soto's hos­pi­tal bills were in ​"the tens of thou­sands of dol­lars," says María Martínez Sánchez, a for­mer attor­ney at the NMCLP who worked with Soto. And the dairy had no work­ers' com­pen­sa­tion insurance.

Its med­ical insur­ance cov­ered Soto's med­ical bills, but not all of the heli­copter costs. Instead, says Martínez Sánchez, Soto went into debt, bor­row­ing from friends and rel­a­tives, although he even­tu­al­ly received a small amount of mon­ey in a set­tle­ment with the dairy.
In 2009 NMCLP filed suit chal­leng­ing the exclu­sion on behalf of three injured work­ers who had been denied work­ers' comp based sole­ly on the exclu­sion. Attor­neys from the orga­ni­za­tion argued that exclud­ing farm and ranch work­ers vio­lat­ed the state constitution's equal pro­tec­tion clause.
In 2011, 2nd Dis­trict Court Judge Valerie Hul­ing ruled that the exclu­sion is, in fact, uncon­sti­tu­tion­al. The New Mex­i­co Work­ers' Comp Admin­is­tra­tion (WCA) appealed that deci­sion, stat­ing that the Dis­trict Court had over­stepped its juris­dic­tion. The WCA lost that appeal, and the three work­ers in the law­suit had their cas­es heard and were award­ed work­ers' comp ben­e­fits. But the WCA argued that the Dis­trict Court rul­ing applied only to those three work­ers. Employ­ers took that as a cue to con­tin­ue rou­tine­ly deny­ing cov­er­age to all oth­er farmworkers.
In Feb­ru­ary of this year, NMCLP attor­ney Tim Davis chal­lenged that inter­pre­ta­tion in a suit on behalf of two injured work­ers who had been denied work­ers' comp ben­e­fits. Noe Rodriguez suf­fered a head injury when he was attacked by a bull at the dairy farm at which he worked and Maria Angéli­ca Aguierre broke her arm when she slipped and fell in a chile field. The New Mex­i­co Court of Appeals unan­i­mous­ly upheld the Dis­trict Court's rul­ing that the exclu­sion was uncon­sti­tu­tion­al . The court stat­ed, ​"Our review of the his­to­ry of work­ers' com­pen­sa­tion statutes back to 1929 has not revealed an artic­u­la­ble pur­pose for the exclu­sion" and that the exclu­sion was ​"with­out pur­pose or rea­son and leads to absurd results."
The rul­ing doesn't mean that Rodriquez and Aguierre will auto­mat­i­cal­ly receive work­ers' comp ben­e­fits, bu it means that their claims, and the claims of oth­er injured farm­work­ers, can now be heard.
Maria Martínez Sánchez, one of the lead attor­neys on the 2009 case, says she is ​"very hap­py" with the appel­late opin­ion. ​"This rul­ing final­ly tells agri­cul­tur­al employ­ers that they … must care for their work­ers in the same way all oth­er employ­ers in New Mex­i­co are required to do," she says.
While advo­cates are heart­ened by the Court of Appeals rul­ing, they're also real­is­tic. Farm­work­ers in New Mex­i­co and across the Unit­ed States con­tin­ue to work under harsh con­di­tions for lit­tle pay. The major­i­ty of states don't offer farm­work­ers full work­ers' comp ben­e­fits; most deny them over­time pay and the right to col­lec­tive bar­gain­ing. Wage theft is ram­pant, as is sex­u­al harass­ment and abuse. As Martínez Sánchez says, ​"There's still much work to be done."
Joseph Sor­renti­no
is a writer and pho­tog­ra­ph­er. He has been doc­u­ment­ing the lives of agri­cul­tur­al work­ers on both sides of the U.S./Mexico bor­der for
12
years.