Why Some Vets Want to Relive Vietnam
A new documentary follows the weird subculture of Vietnam War reenactors—some of whom were actually there.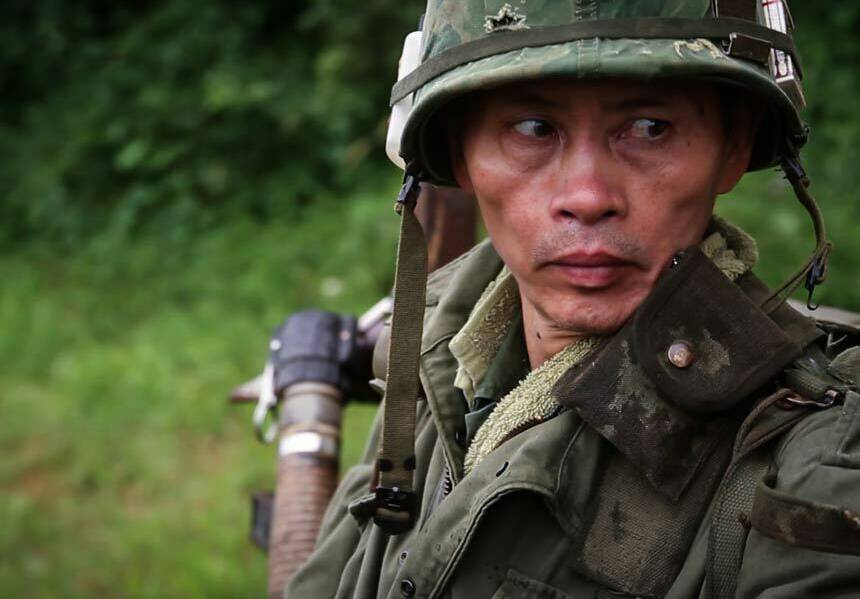 We're all famil­iar with Civ­il War reen­act­ment, that pas­time of tens of thou­sands of Amer­i­cans. As odd an avo­ca­tion as that might seem, it makes sense, in that the Civ­il War looms large in the Amer­i­can imag­i­na­tion: Its hor­rors are ful­ly inter­twined with its glo­ries. The con­flict defines our nation­al iden­ti­ty, rep­re­sent­ing ​"a new birth of free­dom" in the eman­ci­pa­tion of the slaves, the preser­va­tion of the Union and the sal­va­tion of an exper­i­men­tal democ­ra­cy. Even the South's mad­den­ing­ly wrong­head­ed ​"War of North­ern Aggres­sion" was fought in epic terms of brav­ery and self-sacrifice.
In Country attempts an honest assessment of the various ways people respond to real and recreated combat. For some of them, war isn't always hell, or at least, other hells are worse—the hell of purposelessness, of loneliness and anomie, of numbing boredom, of aging and loss of strength.
But who in their right mind would want to reen­act the Viet­nam War, that vile mis­ad­ven­ture in anti-Com­mu­nism run amok?
In Coun­try, direct­ed by Mike Attie and Meghan O'Hara, inves­ti­gates the strange sub­cul­ture of those who do, fol­low­ing a cadre of ded­i­cat­ed Viet­nam War reen­ac­tors in rur­al Oregon.
Strange sub­cul­ture doc­u­men­taries can effec­tive­ly over­whelm our dis­mis­sive atti­tudes — take, say, Errol Morris's mes­mer­iz­ing film about pet ceme­ter­ies, Gates of Heav­en (1978). But that stan­dard is a tough one to meet, and, though divert­ing, In Coun­try doesn't come close.
The film's open­ing scenes depict an urban liberal's night­mare of the heart­land: flags, ​"God Bless Amer­i­ca" signs and tire­some white guy machis­mo. The elab­o­rate prepa­ra­tions for the annu­al week­end-long reen­act­ment involve shop­ping for mil­i­tary gear, food and sup­plies; set­ting up base camp; and train­ing ​"raw recruits" on pro­ce­dures and the cul­ture of the era: ​"Drugs. Rock and roll — and I'm talkin' hard rock and roll…Hippie cul­ture!" The reen­ac­tors demon­strate their cul­tur­al under­stand­ing by wear­ing over­sized peace sign pen­dants and hel­mets with ​"Sock It To Me" inked on them.
This train­ing is inter­cut with footage of actu­al basic train­ing for Viet­nam War recruits, with equal­ly sur­re­al moments such as ​"pre­ven­tive den­tistry class" for ​"the prop­er care of your teeth in country."
But gen­er­al­ly, the Viet­nam War footage serves to demon­strate the obvi­ous con­trast between real war and fake war. You com­pare the soft, slack face of the play­act­ing ​"sol­dier" who says, after a hard day's reen­act­ing, ​"I'd love to be killin' some shit, but my feet are killin' me," to the gaunt, hol­low-eyed vis­age of the Viet­nam sol­dier nick­named ​"Killer," who laughs dry­ly about shoot­ing ​"a cou­pla gooks" who were ​"takin' a bath."
Sur­pris­ing­ly, some of the enthu­si­as­tic reen­ac­tors are vet­er­ans of actu­al wars, men who have seen ser­vice in Iraq and Viet­nam, the very last peo­ple you'd expect to have any tol­er­ance for pho­ny com­bat and clue­less play­act­ing. But as Iraq vet and reen­ac­tor Charles ​"Tuna" Ford seems to sug­gest, some vol­un­teer to go to war for the same rea­son they reen­act it: ​"It's such a crazy high, like, the adren­a­line. Some peo­ple skate­board, some peo­ple ride fast bikes, some peo­ple shoot hero­in. … I go to war."
Tuna rep­re­sents the plain fact that plen­ty of peo­ple like war. After the reen­act­ment, he returns for anoth­er tour in Afghanistan.
Anoth­er vet, Lucien ​"Doc" Darens­burg, who served as a medic in Iraq, is less forth­com­ing about what moti­vates his reen­act­ing, oth­er than a basic estrange­ment from civil­ians who don't under­stand his war expe­ri­ence. He is frank about the PTSD symp­toms he now suf­fers, such as ter­ri­fy­ing death dreams and a loss of emo­tion­al range: ​"Everything's just sur­face per­son­al­i­ty. … Deep emo­tions, I can't find them."
When asked about the war, he says, ​"I have gener­ic answers. Like if some­one says, ​'How was it?' I go, ​'It was hot.' "
And then there's Vinh Nguyen, a grave, mid­dle-aged vet­er­an of the South Viet­namese Army who proud­ly fought for his coun­try along­side the Amer­i­cans. When asked about why he'd want to revis­it the bad mem­o­ries, he seems slight­ly offend­ed: ​"I don't know what exact­ly you said, ​'a bad mem­o­ry.' Still now, 36 years [lat­er], I'm still stronger when I am with the South Viet­nam Army."
Nguyen says he fights to recov­er ​"what I was in the past." He con­nects his strug­gle with his father's and grandfather's, a lin­eage of ide­al­ism and strength.
Of course, the vet­er­ans are out­num­bered by guys who, as one admits, ​"always want­ed to have these expe­ri­ences with­out actu­al­ly hav­ing to join the military."
At least In Coun­try attempts an hon­est assess­ment of the var­i­ous ways peo­ple respond to real and recre­at­ed com­bat. For some of them, war isn't always hell, or at least, oth­er hells are worse — the hell of pur­pose­less­ness, of lone­li­ness and anomie, of numb­ing bore­dom, of aging and loss of strength. Until the end, that is, when the film retreats from such com­plex­i­ties. It returns us to rur­al Ore­gon to watch Tuna com­ing home from Afghanistan to a parade where chil­dren pose with guns, fire­works erupt, flags wave and the crowd chants, ​"USA! USA!"
As Tuna walks off with his fam­i­ly, his son asks, ​"Dad­dy, were you hot in the desert?" and Tuna answers, ​"Yes, it was real­ly hot, buddy."
We're clear­ly sup­posed to recall Doc's answer to civil­ians who don't under­stand the veteran's expe­ri­ence. But it has the odd effect of col­laps­ing Doc's PTSD with Tuna's absolute love of com­bat, mak­ing Tuna seem like just anoth­er war-trau­ma­tized vic­tim in a knee-jerk paci­fist meditation.
In oth­er words, we're put right back where we start­ed: War is hell, heart­land patri­o­tism is alarm­ing, and war reen­ac­tors are weird.
Eileen Jones
is a film crit­ic at
Jacobin
and author of the book
Film­suck, USA
. She teach­es at the Uni­ver­si­ty of Cal­i­for­nia, Berkeley.