Child Soldier in the War on Terror: The Limits of Justice for One Guantanamo Bay Survivor
The abuse of Omar Khadr shows that Islamophobia drives the War on Terror.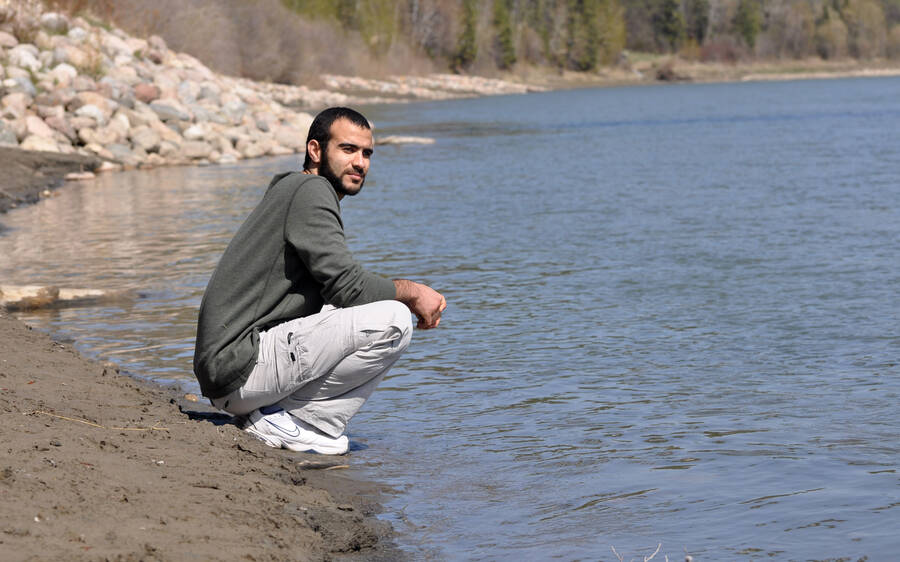 Canadian citizen Omar Khadr was only 15 years old when he was captured in Afghanistan and subsequently tortured at the Bagram and Guantanamo Bay U.S. military prisons. But instead of being treated like a victimized child soldier, the Canadian public has accepted — without question — the U.S. government's labeling of Khadr as a criminal. This response reveals the deep anti-Muslim bias that underlies the open-ended War on Terror.
Khadr is now free from physical imprisonment, but Guantanamo was never just about literal confinement. It's about psychological trauma and public indictments of criminality.
The youngest child to be charged with war crimes since World War II, Khadr was initially captured for allegedly throwing a grenade that killed U.S. Sergeant Christopher Speer. He was then forced to endure egregious torture, from Afghanistan's Bagram prison where he was initially held, to Guantanamo Bay, where he remained for nearly 10 years until Canada repatriated him. At the hands of the U.S. military, he was beaten, attacked by dogs, held in solitary confinement, threatened with gang rape and used as a human mop. He was also denied pain medication for the wound he obtained in Afghanistan in the same battle that killed Sergeant Speer.
After spending 10 years in U.S. military detention at Guantanamo, he was then transferred to Canada, where he spent nearly three years in detention before being released on bail in May of 2015.
While Khadr pled guilty to five war crimes, innocence and guilt have little meaning at Guantanamo, where there is a price for those who dare to try to leave its hideous walls. That's why Khadr gave in to what U.S. Colonel Morris Davis referred to as the paradox of Guantanamo: the notion that ​"you have to lose to win." Explaining his decision to plead guilty in an effort to get out of Guantanamo, Khadr said, ​"I was left with a hopeless choice."
The Canadian government has been forced to acknowledge that Khadr was abused throughout his captivity. Earlier this month, Khadr was granted compensation in the amount of $10.5 million in Canadian dollars and a limited apology for ​"any role Canadian officials may have played in relation to his ordeal abroad and any resulting harm." This settlement was not an adjudication of Khadr's innocence or guilt regarding the five war crimes he plead guilty to. Rather, it was an acknowledgement of the Canadian government's failure to protect his most basic rights as a citizen.
Nonetheless, according to a poll by the Angus Reid Institute, 71 percent of Canadians believe that the Canadian government did the ​"wrong thing" by not letting the case go to Court. And 65 percent of respondents rejected the idea that Trudeau had no other option but to settle. The poll also indicates that 64 percent of those sampled believe that Khadr is a ​"potential radicalized threat" in Canada. This particular construction of Khadr is likely aided by the fact that the United States has not offered Khadr an apology or compensation — nor acknowledged any wrongdoing in his case.
But what if the question was asked differently? What if the question was about whether a child soldier given up for combat by his father, then detained and tortured, deserved compensation?
Unfortunately, in the larger context of the War on Terror, this question is seemingly rhetorical. Because being Muslim is what renders a person guilty long before any evidence to adjudicate guilt or innocence is even introduced. Khadr's case represents precisely what most Muslims have come to learn in the course of the War on Terror: They can only ever be seen as perpetrators, not victims. That's why the Canadian government refused to repatriate their citizen, a child, for about a decade after Khadr was initially detained.
This logic is built into the U.S.-led War on Terror. Former President George W. Bush said on September 20, 2001 that ​"whether we bring our enemies to justice or bring justice to our enemies, justice will be done." Bush, of course, meant justice for the state at the expense of Muslims, who are victimized by the War on Terror. Khadr's case in Canada is illustrative of something particular when it comes to Muslim victims: One can be simultaneously criminalized and vindicated.
Khadr is now free from physical imprisonment, but Guantanamo was never just about literal confinement. It's about psychological trauma and public indictments of criminality. Whether or not he recovers from his experience, and many interviews with him suggest that he is adjusting well, Guantanamo is meant to destroy lives in the name of protecting our national security.
After news of the settlement came out, Khadr was asked what he wants to do next. He said he wants to finish his nursing degree and work ​"as a nurse to relieve people from pain." After all that Khadr has endured, this is one of the greatest testaments of his resiliency, empathy and — above all — humanity.
Mohammed Moulessehoul, who went by the pen name Yasmina Khadra, wrote in his novel, The Attack, that ​"They can take everything you own — your property, your best years, all your joys, all your good works, everything down to your last shirt — but you'll always have your dreams, so you can reinvent your stolen world." I hope this is what Khadr can do now — live his dreams and reinvent his stolen world.
Dr.
Maha Hilal
​
'
s research and expertise is on Institutionalized Islamophobia in the War on Terror. She's the co-director of the Justice for Muslims Collective, an organizer with Witness Against Torture, and a council member of School of the Americas Watch. Previously, she was the inaugural Michael Ratner fellow at the Institute for Policy Studies.