Our Most Vital Infrastructure Isn't "Crumbling." It Hasn't Been Built Yet.
To fight climate change, we need a new vision for green transit.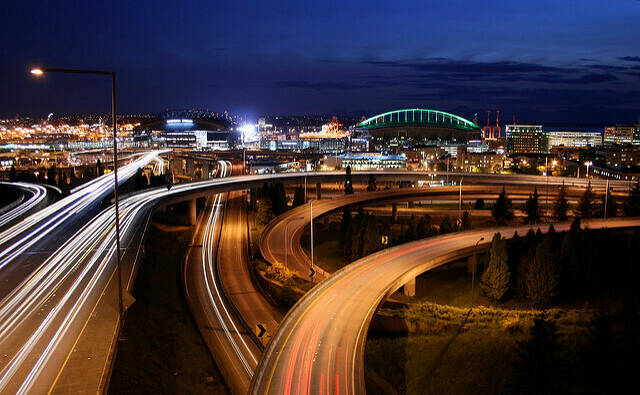 There isn't much down­side to propos­ing more infra­struc­ture spend­ing. That's the gener­ic name for every­thing from dams and lev­ees to rail­road tracks and schools, but it most­ly means roads and bridges. Hillary Clin­ton and Don­ald Trump have both made infra­struc­ture spend­ing cen­tral to their cam­paigns, with Clin­ton call­ing for $275 bil­lion in new spend­ing over five years and Trump mock­ing her plan as too small. He told Fox Busi­ness Net­work in August that Clinton's num­ber was ​"a frac­tion of what we're talk­ing about." Trump offered few specifics of his own but did say that he would dou­ble Clinton's pro­pos­al, ​"and you're real­ly going to need more than that," since ​"we have many, many bridges that are in dan­ger of falling."
"There is widespread agreement on building infrastructure, and a Republican presidential nominee who's calling for at least double the spending proposed by the Democrat. What's the path forward?"
He won't get push­back on that last thought. It's past the point of tired cliché to call our infra­struc­ture ​"crum­bling," and a well-pub­li­cized report card that's put out by the Amer­i­can Soci­ety of Civ­il Engi­neers rein­forces the point. The most recent ver­sion gave the nation's infra­struc­ture an over­all grade of D+, with roads receiv­ing a D and bridges a C+.
As Repub­li­can poll­ster Frank Luntz not­ed in 2009, ​"a near unan­i­mous 94 per­cent of Amer­i­cans are con­cerned about our nation's infra­struc­ture." Specif­i­cal­ly, ​"84 per­cent of the pub­lic wants more mon­ey spent by the fed­er­al gov­ern­ment — and 83 per­cent wants more spent by state gov­ern­ments — to improve Amer­i­ca's infra­struc­ture." Things haven't changed much since then. A poll released last year found that 84 per­cent of respon­dents thought ​"mod­ern­iza­tion of the nation's infra­struc­ture" should be a high pri­or­i­ty for Con­gress, pro­vid­ed their city saw direct benefits.
It's a weird­ly favor­able moment for gov­ern­ment invest­ment. There is wide­spread agree­ment on build­ing infra­struc­ture, and a Repub­li­can pres­i­den­tial nom­i­nee who's call­ing for at least dou­ble the spend­ing pro­posed by the Demo­c­rat. What's the path forward?
First, some skep­ti­cism. Infra­struc­ture is such a vague cat­e­go­ry with such broad gen­er­al sup­port that it cov­ers all man­ner of non­sense and lies. Trump, for exam­ple, has claimed that 61 per­cent of bridges in the Unit­ed States are ​"in trou­ble." The Fed­er­al High­way Admin­is­tra­tion puts the num­ber at 10 per­cent. And not every bridge that's ever been built needs to be main­tained. Some need to be torn down.
The 800-pound goril­la of infra­struc­ture — road build­ing and repair — needs an even clos­er look. There is con­sid­er­able doubt whether the ​"crum­bling roads and bridges" frame­work even fits. In 2013, the Rea­son Foun­da­tion released a report on the nation's roads and bridges over a two-decade span. It found that in all but two states, their con­di­tion had actu­al­ly improved in at least five of sev­en met­rics, includ­ing con­ges­tion lev­els and the qual­i­ty of urban and rur­al roads. And the study end­ed in 2008 — right before Pres­i­dent Barack Obama's stim­u­lus pack­age tar­get­ed infra­struc­ture for tens of bil­lions of dol­lars in new investment.
The Rea­son Foun­da­tion has a lib­er­tar­i­an agen­da, and its report should be tak­en with that grain of salt. But, in either case, whether they have crum­bled or improved, roads are ​"invest­ments that were made by our par­ents and grand­par­ents," as Clin­ton puts it. She intends that as an argu­ment for invest­ing more in them. But there's anoth­er take­away: They were built in a dif­fer­ent era, for a dif­fer­ent era.
We still using them heav­i­ly, of course. Amer­i­cans drove more than 280 bil­lion miles in June — a 3 per­cent increase from June 2015 — and low gas prices mean that we're on a path that could estab­lish a new record for gas con­sump­tion. A big rea­son we use the roads so much is that we keep invest­ing in them — not just for repair, but in expand­ing them and build­ing new ones.
It turns out that peo­ple use the modes of trans­porta­tion avail­able to them. When it's eas­i­ly acces­si­ble, they use more of it. That fair­ly obvi­ous truth has been well doc­u­ment­ed regard­ing roads. In the name of reduc­ing con­ges­tion, gov­ern­ments expand them — and soon they're just as con­gest­ed as they were. It's called induced demand. New and bet­ter roads moti­vate peo­ple who might have biked, or walked, to dri­ve instead. They attract new busi­ness­es and homes. And they instill val­ues. They empha­size that this is our pri­or­i­ty: car culture.
We, no doubt, do need to spend more on the nuts and bolts of our exist­ing infra­struc­ture. But what we need even more urgent­ly is new vision — a nod to the real­i­ty that we've entered the era of intense cli­mate change, and that the old mod­els and modes of think­ing don't serve us in this new era.
In Seoul, South Korea, in the ear­ly 2000s, a city plan­ner con­ceived such a bold vision. He pro­posed to tear down a four-lane, ele­vat­ed free­way that ran over a pol­lut­ed stream in the city's cen­ter. The free­way was used by 168,000 cars each day. He want­ed to replace it with a 3.6‑mile park along the water. The plan­ner con­vinced a may­oral can­di­date to make the plan a cen­tral item of his plat­form. The can­di­date won. The free­way was torn down. The river­side park was com­plet­ed in 2005. Its cas­cad­ing effects includ­ed the revi­tal­iza­tion of Seoul's cen­tral busi­ness dis­trict, momen­tum to restore urban rivers and streams across the nation and the reduc­tion of roads and inter­sec­tions to make way for more pub­lic plazas.
Is it real­is­tic to hope that Clin­ton might pro­pose some­thing sim­i­lar­ly bold and ambi­tious on a nation­al scale? Of course not. But it wasn't real­is­tic to expect that Trump would run on, and win the GOP pres­i­den­tial nom­i­na­tion with, the idea of build­ing a mas­sive wall along the nation's south­ern border.
As Trump knows, big infra­struc­ture projects have the pow­er to inspire and gal­va­nize peo­ple. They sig­nal val­ues and pri­or­i­ties and cre­ate a vision. Right now, in the unchart­ed ter­ri­to­ry of esca­lat­ing cli­mate change that we've entered, we des­per­ate­ly need Clin­ton and the Democ­rats to pro­pose, not just more mon­ey for the infra­struc­ture that's in dis­re­pair, or more invest­ment in old sys­tems and ways of think­ing, but an entire­ly new way forward.
They might be pleas­ant­ly sur­prised at who — and what — would fol­low their lead.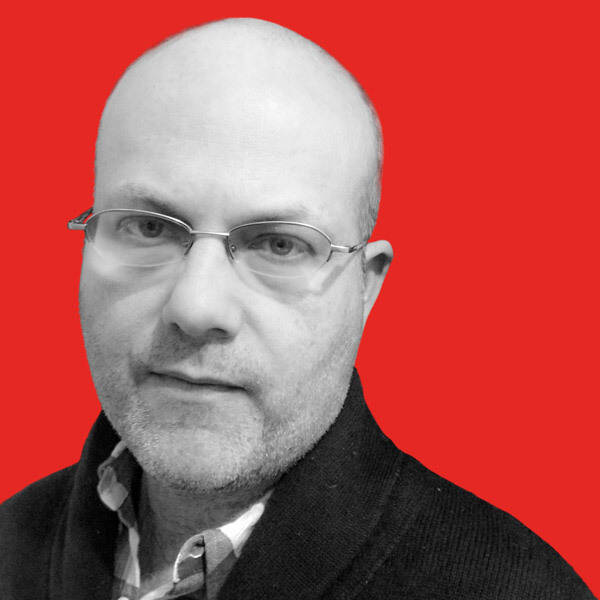 Theo Ander­son
is an In These Times con­tribut­ing writer. He has a Ph.D. in mod­ern U.S. his­to­ry from Yale and writes on the intel­lec­tu­al and reli­gious his­to­ry of con­ser­vatism and pro­gres­sivism in the Unit­ed States. Fol­low him on Twit­ter @Theoanderson
7
.