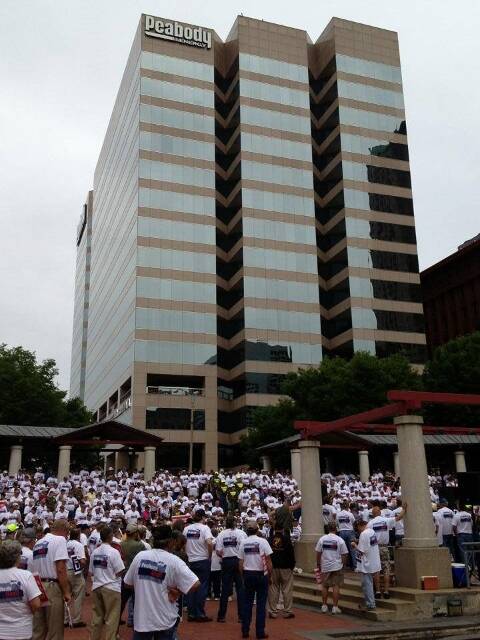 On Fri­day, union min­ers at Patri­ot Coal in West Vir­ginia and Ken­tucky vot­ed 85 per­cent to 15 per­cent to approve a new con­tract, end­ing a chap­ter in a bit­ter fight that has stretched on for more than a year.
The dis­pute began in July of 2012 when Patri­ot Coal filed for bank­rupt­cy, but reached a head in May of this year, when a fed­er­al bank­rupt­cy judge released the com­pa­ny from its union con­tract with employ­ees and allowed Patri­ot to impose terms of employ­ment effec­tive July 1. The Unit­ed Mine Work­ers of Amer­i­ca (UMWA) — which rep­re­sents 1,800 Patri­ot work­ers along with more than 20,000 retirees and fam­i­ly mem­bers — began mak­ing prepa­ra­tions to strike. But in nego­ti­a­tions, the com­pa­ny and the union set­tled on a con­tract with terms more favor­able to the work­ers than those the judge allowed the com­pa­ny to impose.
Patri­ot had incen­tive to com­pro­mise: A strike by the UMWA could have sunk the strug­gling com­pa­ny, forc­ing Patri­ot sell off its assets one by one instead of re-emerg­ing from bank­rupt­cy intact.
Both sides applaud­ed the con­tract after Friday's mem­ber ratification.
​"The mem­ber­ship has made it clear that they are will­ing to do their part to keep Patri­ot oper­at­ing, keep their jobs and ensure that thou­sands of retirees con­tin­ue get­ting the health­care they depend on and deserve," UMWA Inter­na­tion­al Pres­i­dent Cecil E. Roberts said in a state­ment released Fri­day after the vote. ​"This has been a dif­fi­cult and uncer­tain year for our mem­bers. But I believe that in the end, they under­stood that we had done a lot to improve what the judge had ordered. They also under­stood all that was at stake and resolved to move for­ward in a pos­i­tive way."
​"Rat­i­fi­ca­tion of these agree­ments pro­vides labor sta­bil­i­ty and ensures cost sav­ings essen­tial to Patriot's plan of reor­ga­ni­za­tion," said Patri­ot Coal Pres­i­dent and Chief Exec­u­tive Offi­cer Ben­nett K. Hat­field in a state­ment. ​"These agree­ments should set Patri­ot on a path to emerge from bank­rupt­cy by the end of 2013."
Under the judge's rul­ing, Patri­ot Coal could have imposed wage cuts of up to $7 an hour, but under the final agree­ment, it will cut wages by only $1 an hour. Start­ing in Jan­u­ary of 2015, work­ers will be eli­gi­ble for a $0.50 year­ly wage increase.
The deal main­tains work­ers' den­tal, vision, life and acci­dent insur­ance plans, along with their right to bid for high­er-paid jobs based on senior­i­ty, all of which could have been cut under the bank­rupt­cy court's rul­ing. These gains did not come with­out con­ces­sions, how­ev­er. Patri­ot elim­i­nat­ed sev­er­al paid hol­i­days and vaca­tion days for Patri­ot Coal work­ers and imposed a cap of $1,600 a year on out-of-pock­et med­ical cov­er­age and a cap of $800 on out-of-pock­et pre­scrip­tion drug coverage.
Per­haps the most con­tentious issue going into nego­ti­a­tions was the fate of retiree health­care and pen­sion ben­e­fits, a prob­lem that, accord­ing to the UMWA, goes back to the found­ing of Patri­ot Coal. Patri­ot was spun off from Peabody Ener­gy in 2007. The fol­low­ing year, the fledg­ling com­pa­ny pur­chased Mag­num Coal, a spin-off of Arch Coal. That mean that Patri­ot start­ed out with three times as many retirees, inher­it­ed from Arch and Peabody, than active employ­ees. The union claims that Patri­ot was cre­at­ed by Peabody and Arch to fail, in order to free them from more than $1 bil­lion in retiree pen­sion and health­care oblig­a­tions. After the bank­rupt­cy court stripped Patriot's retirees of their pen­sions and health­care, the union sued Peabody and Arch on behalf of the 20,000 ben­e­fi­cia­ries and began a pub­lic cam­paign, includ­ing let­ter-writ­ing, adver­tis­ing buys and ral­lies out­side the bank­rupt­cy court in St Louis.
In the agree­ment with UMWA, Patri­ot Coal resolved the pen­sion issue by choos­ing to con­tin­ue pay­ing into the exist­ing mul­ti­em­ploy­er pen­sion plan. It will cov­er retired work­ers and their fam­i­ly mem­bers, as well as cur­rent work­ers hired before Jan­u­ary 1, 2012. But work­ers hired after that date will be put into a new 401(k) rather than the guar­an­teed pen­sion plan.
On the issue of retiree health­care, Patri­ot agreed to make an ini­tial con­tri­bu­tion of $15 mil­lion to help fund a new Vol­un­tary Employ­ee Ben­e­fits Asso­ci­a­tion (VEBA) plan to pro­vide health­care for its 20,000 retirees and fam­i­ly mem­bers. Patri­ot will also pay a $0.20 roy­al­ty fee per ton of coal mined. Last­ly, Patri­ot Coal has agreed to give the UMWA a 35 per­cent stake in the com­pa­ny that the union can sell off in order to fund the VEBA once Patri­ot emerges from bank­rupt­cy. That offer pro­vid­ed addi­tion­al incen­tive for the union to reach an agree­ment rather than strik­ing and risk­ing Patriot's dissolution.
​"If the com­pa­ny liq­ui­dates, [our stake] is worth noth­ing. I have to report to you that we do not have the resources in the VEBA to guar­an­tee retiree health­care for­ev­er," said UMWA Pres­i­dent Cecil Roberts in a 28 minute long Youtube address explain­ing the ten­ta­tive deal to mem­bers before the Fri­day vote. ​"The only way we can do that is to con­tin­ue our legal and pub­lic cam­paign against Peabody and Arch and get leg­is­la­tion passed in Con­gress to extend the Coal Act to those affect­ed by this bankruptcy."
In addi­tion to suing Peabody and Arch, the UMWA is push­ing leg­is­la­tion that would extend fed­er­al pro­tec­tions from the 1992 COAL Act to min­ers who retired after 1992 and trans­fer unused funds from the fed­er­al Aban­doned Mine Land funds to the UMWA pen­sion fund for retirees.
Notably, as part of the con­tract deal, Patri­ot Coal will give $2 mil­lion dol­lars to the Unit­ed Mine Work­ers of Amer­i­ca to con­tin­ue their legal fight against Peabody and Arch to recoup mon­ey for the retiree health­care and ben­e­fit funds.
​"The fight is most def­i­nite­ly still on to keep pres­sure on Peabody," says UMWA Com­mu­ni­ca­tions Direc­tor Phil Smith. ​"We'll be back in St. Louis on the 27th and after. We are work­ing on new TV spots, new print ads and new approach­es to high­light Peabody's (and Arch's) respon­si­bil­i­ties here."
​"You know, as I sat lis­ten­ing to [UMWA Sec­re­tary-Trea­sur­er] Dan Kane explain­ing the pro­pos­al yes­ter­day I could not help think­ing that when Arch and Peabody investors sat in a board room in ​'05 or ​'06, con­spir­ing to elim­i­nate all of their union mines east of the Mis­sis­sip­pi Riv­er, they unwit­ting­ly invoked the law of unin­tend­ed con­se­quences," says retired coal min­er Lar­ry MIller. ​"We are coal min­ers and as such we are used to being hand­ed junk and mak­ing it work under adverse con­di­tions. So, when Cecil [Roberts] was hand­ed this piece of junk judge's order, he and Dan and many oth­ers went to work to Franken­stein a deal to save our union; it will work."