Pipeline Pranksters
The Yes Men pose as oil executives.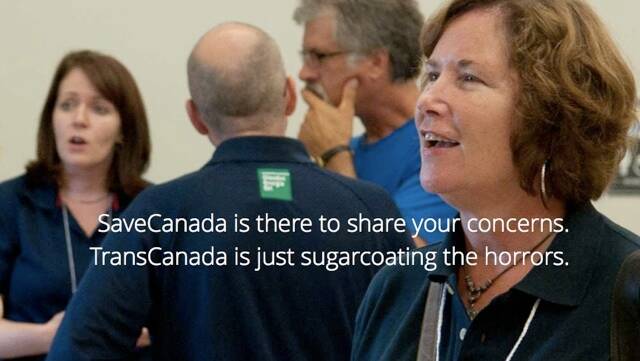 You've heard of TransCanada, the Canadian oil giant that plans to build the Keystone XL pipeline. But do you know about its doppelgänger, SaveCanada?
Protests began at TransCanada's open house in North Bay, Ontario in August and have spread rapidly all along the proposed pipeline's path.
Beginning in late August, people who appeared to be PR representatives for TransCanada, save for the ​"SaveCanada" insignia on their shirts, began showing up at the company's public events in force. The look-alikes are activists aiming to expose the risks of TransCanada's latest project, the Energy East Pipeline. The proposed pipeline, which the company announced in August, would transport more than one million barrels of tar sands oil per day from Alberta and Saskatchewan to Eastern Canada for export.
The protest is the brainchild of the Yes Men, the anti-corporate pranksters responsible for the satirical petition that called for global warming during George Bush's 2004 presidential campaign, as well as the printing of thousands of copies of a fake-but-hopeful edition of the New York Times in 2008 that reported the end of the Iraq War.
Activists say that in an effort to plow through stakeholders' objections to the proposed pipeline, TransCanada has changed the format of its consultations. During the planning stages of their previous projects, objectors were given the opportunity to express their concerns in front of their communities. The new format reportedly allows for one-on-one consultations only. Activists believe this is intended to prevent residents along the pipeline's 2,700 mile route from seeing how widespread opposition is in their communities.
In response, activists planned to swarm the consultations, armed with brochures and pamphlets about the pipeline's potential dangers. The protests began at TransCanada's open house in North Bay, Ontario in August and have spread rapidly all along the proposed pipeline's path.
​"Since TransCanada has come up with a new way to lie to the public, we had to come up with a new way to tell the truth," said North Bay farmer and protest organizer Yan Roberts in a statement. ​"We're friendly folks, so our solution is to dress like them, outnumber them, and ​'out-friendly' them in every community they're trying to scam."
Be one of the first
Help kick off the new era of In These Times! Without a media that brings people together and creates a written record of the struggles of workers, their voices will be fragmented and forgotten.
The mission of In These Times is to be that written record, and to guide and grow those movements.
We have a lot of work ahead of us, and that work starts today. Early support is the most valuable support, and that's why we're asking you to pitch in now. If you are excited for this new era of In These Times, please make a donation today.
Alex Lubben
is the former Deputy Publisher at In These Times and is currently a freelance journalist in New York. You can follow him on Twitter at @alexlubben.