Native Youth "Paddle to Protect" Minnesota's Water from Another Enbridge Pipeline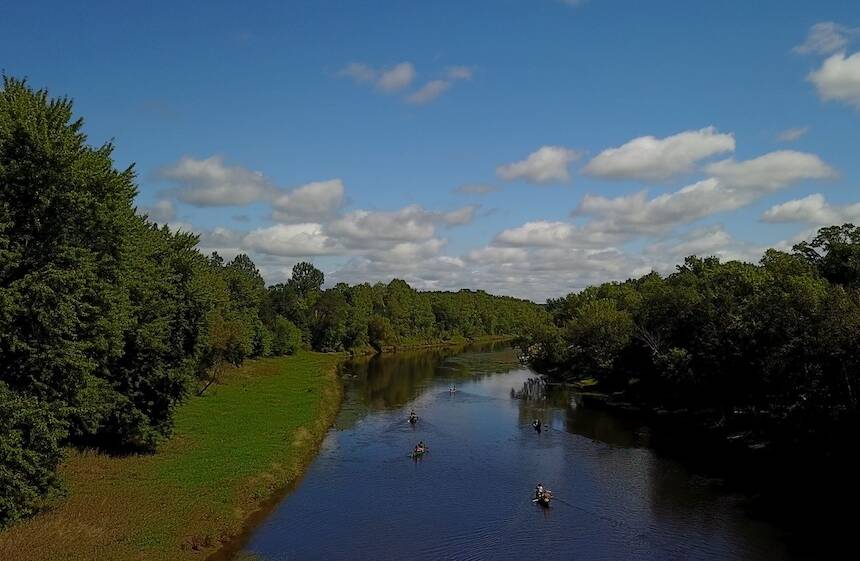 On August 12, a group of six indige­nous teenagers and four adults from dif­fer­ent tribes in Cana­da and the Unit­ed States met at the head­wa­ters of the Mis­sis­sip­pi Riv­er, in north­ern Minnesota's Itas­ca State Park, and set out on a 250-mile canoe trip to protest Enbridge Inc.'s lat­est endeav­or — a so-called ​"replace­ment" of its aging Line 3 pipeline. The goal was to raise aware­ness about the dan­ger the project pos­es to water qual­i­ty, sacred wild rice beds and First Nation trib­al sovereignty.
Enbridge — a multi­na­tion­al ener­gy trans­porta­tion com­pa­ny that oper­ates the longest net­work of oil and liq­uid hydro­car­bon pipelines in North Amer­i­ca — is head­quar­tered in Cal­gary, Alber­ta. It spe­cial­izes in mov­ing dilut­ed bitu­men, a heavy crude oil from the Athabas­ca tar sands, to oil refiner­ies in the Unit­ed States.
With unfor­tu­nate fre­quen­cy, how­ev­er, sec­tions of the company's sprawl­ing 50,000 miles of pipe rup­ture, burst or oth­er­wise leak their con­tents into some of the continent's most eco­log­i­cal­ly sen­si­tive areas. In 2010, for exam­ple, a 40-foot por­tion of Enbridge's 6B pipeline broke near Mar­shall, Mich., send­ing more than one mil­lion gal­lons of the planet's dirt­i­est fuel gush­ing into a trib­u­tary of the Kala­ma­zoo Riv­er — the so-called ​"Dil­bit Dis­as­ter" remains one of the largest inland spills in U.S. his­to­ry, but it's far from an iso­lat­ed incident.
Enbridge's exist­ing Line 3 — 1,097 miles of 34-inch pipe that trav­els from Edmon­ton, Alber­ta, south­east through Saskatchewan and Man­i­to­ba before cross­ing a cor­ner of North Dako­ta and 300 miles of north­ern Min­neso­ta and end­ing at a ter­mi­nal in Supe­ri­or, Wis. — was orig­i­nal­ly con­struct­ed in 1967. The company's new effort involves phas­ing that old line out, leav­ing it in the ground and build­ing an entire­ly new ver­sion (this time with 36-inch pipe). Where the oil ulti­mate­ly ends up and how it gets there — whether by truck, ship, train or anoth­er pipeline — is also the sub­ject of controversy.
On Sep­tem­ber 2, three weeks and 250 miles from where the ​"Pad­dle to Pro­tect" demon­stra­tion began, a crowd of fam­i­ly and friends gath­ered on a warm Sat­ur­day after­noon at the Big Sandy Lake recre­ation area in Aitkin Coun­ty, Minn., to wel­come the kids as they fin­ished the last leg of their journey.
Not coin­ci­den­tal­ly, it was here, in the win­ter of 1850, that 400 Ojib­we per­ished under hor­rif­ic cir­cum­stances after the fed­er­al gov­ern­ment failed to make good on its promise to deliv­er much-need­ed sup­plies and pro­vi­sions. A removal order signed by Pres­i­dent Tay­lor had sent 4,000 Lake Supe­ri­or Ojib­we to the remote lake, instead of the more acces­si­ble town of La Pointe on Made­line Island, to col­lect annu­ity pay­ments that were not there.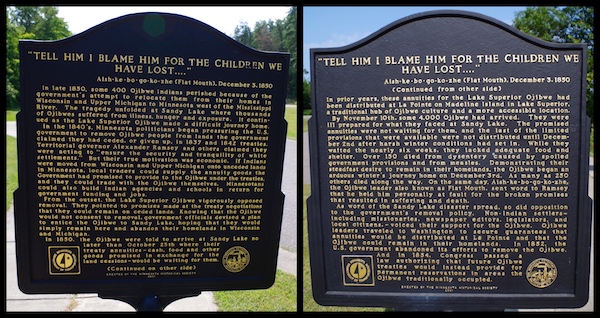 A two-sided sign over­look­ing Big Sandy Lake recounts the tragedy that occured in 1850 when the fed­er­al gov­ern­ment left hun­dreds of dis­placed Ojib­we to die. For an in-depth sto­ry on this his­to­ry from a Native per­spec­tive, see Winona LaDuke's 2015 arti­cle: Restor­ing a Mul­ti-Cul­tur­al Soci­ety in a Sacred Place. (Image: John Collins / Rur­al Amer­i­ca In These Times)
Amid a series of speech­es, danc­ing and feast prepa­ra­tions, Rur­al Amer­i­ca In These Times spoke with some of the pad­dlers and those who showed up to sup­port them.
Rose Whip­ple, a high school sopho­more of the Isan­ti Dako­ta and Ho-Chunk Nations, lives in St. Paul. She explains why she decid­ed to go on the journey:
"When this land gets poi­soned, it hurts our peo­ple and it hurts our cul­ture. And this pipeline is going through the home­lands of many indige­nous peo­ple — through treaty ter­ri­to­ries in Cana­da, Min­neso­ta and Wis­con­sin." She says, ​"It's affect­ing peo­ple that don't have much, poor com­mu­ni­ties that can't fight back, but we're try­ing our hardest."
Rose Whip­ple and fel­low pad­dler Chero­kee Senevi­sai, 17, reunite with fam­i­ly and friends at Big Sandy Lake. (Image: John Collins / Rur­al Amer­i­ca In These Times)
Though the com­pa­ny insists the project is a ​"replace­ment" of the old line, oppo­nents say that's disin­gen­u­ous. It is, after all, 1,310 miles of brand new pipe that would car­ry far more oil than its pre­de­ces­sor while estab­lish­ing an entire­ly new path through a dif­fer­ent part of north­ern Min­neso­ta. At a cost of $6.5 bil­lion, a fin­ished Line 3 would be the largest infra­struc­ture project in Enbridge's his­to­ry. Accord­ing to Hon­or the Earth, a Min­neso­ta-based indige­nous rights group (and long-time thorn in Enbridge's side), ​"That's not a ​'replace­ment,' that's a new line."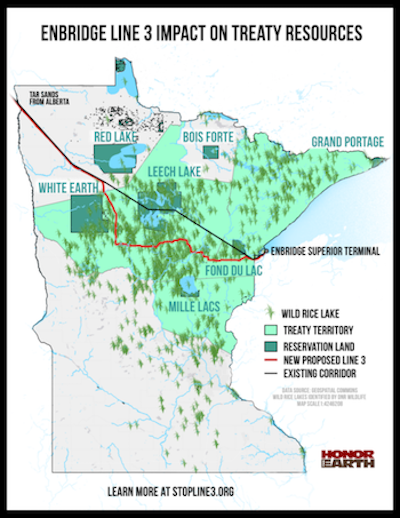 (Source: Hon­or the Earth / Sto​pLine3​.org)
In an online fact sheet intend­ed to set the record straight, the orga­ni­za­tion, which also spon­sored the pad­dlers, explains it this way:
That line is old and crum­bling, but instead of remov­ing it, they want sim­ply to aban­don it and build a new one in a brand new cor­ri­dor. The pro­posed new route endan­gers the Great Lakes, home to one fifth of the world's fresh water, and some of the most del­i­cate soils, aquifers and pris­tine lakes in north­ern Min­neso­ta. It also threat­ens crit­i­cal resources on Ojib­we treaty lands, where trib­al mem­bers retain the rights to hunt, fish, gath­er, hold cer­e­mo­ny and trav­el. It is our respon­si­bil­i­ty as water pro­tec­tors to pre­vent this. Trib­al gov­ern­ments, envi­ron­men­tal orga­ni­za­tions and com­mu­ni­ty mem­bers are unit­ing to stop Line 3. We expect a pro­tract­ed legal and reg­u­la­to­ry bat­tle in the com­ing years.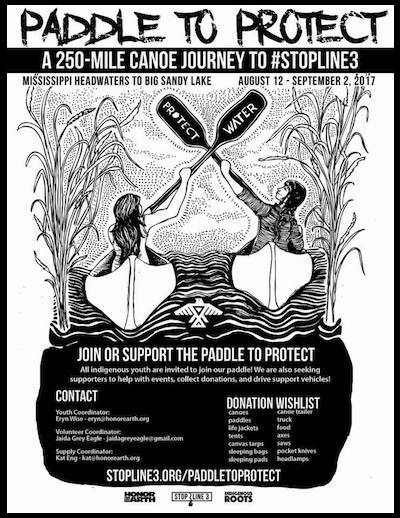 A fly­er released ear­li­er this sum­mer announces the Pad­dle to Pro­tect trip. (Image: Hon­or the Earth / Sto​pLine3​.org)
In prepa­ra­tion for the canoe trip, Whip­ple says she and the oth­ers prac­ticed on the water a lit­tle bit before leav­ing, but most­ly learned as they went. ​"Now," she says, ​"we're like pros."
Asked what stood out most about her time on the riv­er, the city-based girl replies: ​"My whole life, I haven't real­ly been camp­ing or any­thing like that. But being on the land and get­ting to wake up with the trees and get­ting to hear the water rush by, and all the ani­mals at night that I'd nev­er heard before or seen, and see­ing all the eagles fly over us — there were so many eagles, they're very sacred to us — it was amazing."
Whip­ple is one of 13 young peo­ple known as ​"Youth Cli­mate Inter­venors" whom the state of Min­neso­ta, this past June, acknowl­edged as a for­mal inter­ven­ing par­ty in the state's Line 3 reg­u­la­to­ry process. As a result, she and the oth­er inter­venors are in direct con­tact with the Min­neso­ta Pub­lic Util­i­ty Com­mis­sion (PUC) — the state agency ulti­mate­ly in charge of review­ing Enbridge's per­mit appli­ca­tion and decid­ing whether or not to approve or deny the company's plan. Enbridge is con­fi­dent they'll get what they want (because they usu­al­ly do), but the inter­venors are work­ing to make cer­tain their con­cerns about Line 3 are heard by the peo­ple in charge.
Though the state of Min­neso­ta has yet to OK the new line's pro­posed route (much of which runs near the reser­va­tions of two Ojib­we bands, the Leech Lake and the Fond du Lac) con­struc­tion in Cana­da and Wis­con­sin is already under­way. Con­se­quent­ly, small protest camps have start­ed form­ing near the Min­neso­ta-Wis­con­sin border.
On August 28, four days before the cel­e­bra­tion and cer­e­mo­ny at Big Sandy Lake, the Dou­glas Coun­ty sher­iff arrest­ed six water pro­tec­tors who were demon­strat­ing at the con­struc­tion site. Work was tem­porar­i­ly halt­ed after Alexan­der Good-Cane-Milk of the Yank­ton Sioux Tribe in South Dako­ta chained him­self to a piece of heavy equip­ment. He and five oth­ers were tak­en to jail, includ­ing his girl­friend, Ta'Si­na Sapa Win, who he met while protest­ing the Dako­ta Access pipeline near Stand­ing Rock. She told Min­neso­ta Pub­lic Radio, ​"Why did I want to come to Min­neso­ta? Because our Ojib­we rel­a­tives helped stand for our fight against Dako­ta Access pipeline, and I'm going to stand with them in their fight."
Valyn­cia Sparvi­er, 13, trav­elled from her home on the White Bear First Nation reserve in Saskatchewan to par­tic­i­pate in the Pad­dle to Pro­tect protest. Though she didn't know it at the time, her moth­er, Brandy-Lee Max­ie, who has spent the months since Stand­ing Rock trav­el­ling and speak­ing to com­mu­ni­ties and schools around the coun­try about pipelines, was one of the six arrest­ed in Wisconsin.
Valyn­cia Sparvi­er, 13, from the White Bear First Nation in Saskatchewan at the Pad­dle to Pro­tect cer­e­mo­ny. (Image: John Collins / Rur­al Amer­i­ca In These Times)
I asked her what it's like to be a kid canoe­ing down the Mis­sis­sip­pi Riv­er and find­ing out your mom had been arrest­ed. ​"I didn't hear from her for a day," says Sparvi­er, ​"so then I start­ed to get wor­ried. Then we heard that six peo­ple were arrest­ed and I mes­saged my mom over and over. Even­tu­al­ly she respond­ed and explained that she had been arrest­ed wrong­ful­ly. I guess the police were there to arrest the one per­son who did lock him­self down on the equip­ment, but they end­ed up arrest­ing more than that one guy."
Sparvi­er says she was shocked. ​"I didn't want this to turn out like Stand­ing Rock — with all the cops respond­ing to non-vio­lence with vio­lence. But I guess it might have to go like that. We're just real­ly sick of all these pipelines and peo­ple ruin­ing water."
On its way from Alber­ta into Saskatchewan, Line 3 cross­es Sparvier's reserve and many oth­ers, includ­ing the Car­ry the Ket­tle (CTK) Nako­da Nation reserve in Saskatchewan, on which numer­ous mem­bers of her extend­ed fam­i­ly live. ​"The water near CTK is already pret­ty ruined," says Sparvi­er. Asked how her mom was doing in the days fol­low­ing her arrest, she points to a woman sit­ting on a near­by hill and says, ​"She's right over there."
Brandy-Lee Max­ie, Valyn­cia Sparvier's moth­er, was one of six peo­ple arrest­ed for protest­ing Line 3 in Wis­con­sin on August 28. (Image: John Collins / Rur­al Amer­i­ca In These Times)
I asked Max­ie about her arrest, then quick­ly wished I'd phrased the ques­tion dif­fer­ent­ly. ​"First of all, in my eyes, I was kid­napped," she says, ​"because there was no rea­son to arrest me. I stayed law abid­ing on cam­era. And the entire time I kept ask­ing if I was in the right and they said, ​'Yes you have a legal right to protest along this ease­ment on the road.' But when it hap­pened it was almost as if they were tar­get­ing cer­tain peo­ple. We were told to leave and were in the process of leav­ing when all of it happened."
Max­ie, 34, says she began reach­ing out to friends and fam­i­ly while try­ing to make sure the Sher­iff under­stood that she was not only vis­it­ing from Cana­da, but that her child was here too, resist­ing in ways that were far away from the pipeline. ​"I'd tried my best to be law abid­ing, so I was kind of dev­as­tat­ed," says Max­ie. ​"It was a very stress­ful sit­u­a­tion because they put up a brick wall between me and my child. I had no way to let her know what was going on."
Even­tu­al­ly, Max­ie was able to con­tact her sis­ter and mom who, at her request, asked the Pad­dle to Pro­tect group not to tell Valyn­cia she'd been arrest­ed until after she got out — it was some­thing she want­ed to do her­self. ​"That was my biggest con­cern," Max­ie says, ​"How ter­ri­fied the girls would be, because I'm Valyncia's mom and anoth­er one of the paddler's aun­tie, and they're quite far from home. It would have been a lot more scary if they'd found out right away. But every­thing hap­pened the way it did for a rea­son I guess." She adds, ​"I saw a lot of wrong-doing and all of it was very well documented."
With a court date set for late-Octo­ber, Max­ie made it clear that she did not want her expe­ri­ence to dis­cour­age the kids at Sandy Lake from resist­ing the pipeline. ​"This is a beau­ti­ful jour­ney they've made. I'm so proud of every­thing that they've done here. I want­ed to be here to encour­age them not to be dis­cour­aged in their resis­tance because of what hap­pened to me," she says, look­ing around at the group of young pad­dlers cel­e­brat­ing. ​"But like we learned at Stand­ing Rock, things like this are going to happen."
Come to think of it, what did we learn at Stand­ing Rock? Was it that when enough peo­ple believe in some­thing, things change for the bet­ter? Or was it that when a multi­na­tion­al ener­gy cor­po­ra­tion feels threat­ened enough, it can sum­mon a state's gov­er­nor to unleash the full might of a mil­i­ta­rized police? The answer, I sup­pose, depends on how close­ly an indi­vid­ual was pay­ing atten­tion. But for the aver­age urban­ite, espe­cial­ly one on the receiv­ing end of an ener­gy company's reli­able stock div­i­dend, the occa­sion­al oil spill prob­a­bly isn't too hard to write-off as the cost of doing busi­ness in a fos­sil fuel econ­o­my. That said, for many rur­al res­i­dents and indige­nous com­mu­ni­ties on both sides of the U.S.-Canadian bor­der, the threats that new and exist­ing pipelines pose to the Great Lakes, region­al farm­land and indi­vid­ual prop­er­ty rights — not to men­tion a warm­ing plan­et — are not worth the risk. Through that lens, like we saw at Stand­ing Rock, pipelines are a threat worth fight­ing against.
Pri­or to the offi­cial start of the wel­come home cer­e­mo­ny, Winona LaDuke, found­ing direc­tor of the White Earth Recov­ery Project, cofounder of Hon­or the Earth and no stranger to fight­ing Enbridge pipelines, deliv­ered the fol­low­ing message:
Thank you for your long jour­ney for us — for going to places that many of us have not gone for a long time. That is one of the things about this bat­tle with this black snake. We've gone to new places. We've left our ter­ri­to­ries. We've left our box­es, our com­mu­ni­ties, our cities and we've gone back out to our land. We've prayed, we've pad­dled, we've walked and we've rid­den our hors­es through this ter­ri­to­ry to remind those spir­its that we are here — have those spir­its know that we are present. This is a very hard bat­tle ahead of us. We must have our courage, we must have all of our strength. We must sum­mon our­selves and all of our prayers at this time. That is what we must do, and this a good place for us to start.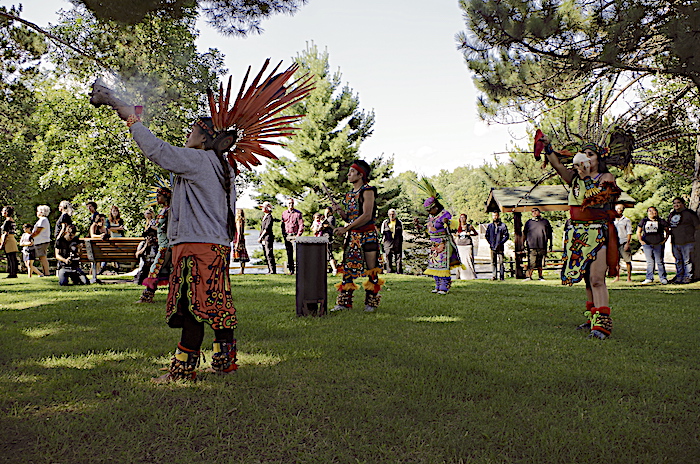 Sept. 2, 2017 — the cer­e­mo­ny begins at Big Sandy Lake. (Image: John Collins / Rur­al Amer­i­ca In These Times)
Update 9/11/2017: Offi­cials in Min­neso­ta have just rec­om­mend­ed the state's util­i­ties com­mis­sion reject Enbridge's Line 3 per­mit request. As The Hill reports: ​"The state's Depart­ment of Com­merce said Mon­day that Enbridge's pro­pos­al to replace its Line 3 pipeline would not ben­e­fit the state and instead pose envi­ron­men­tal risks. It will ask the Min­neso­ta Pub­lic Util­i­ties Com­mis­sion to deny a per­mit for the project, a deci­sion due next year." To read the full sto­ry, click here.