The Populist Fight Against Corporate Power Circa 1892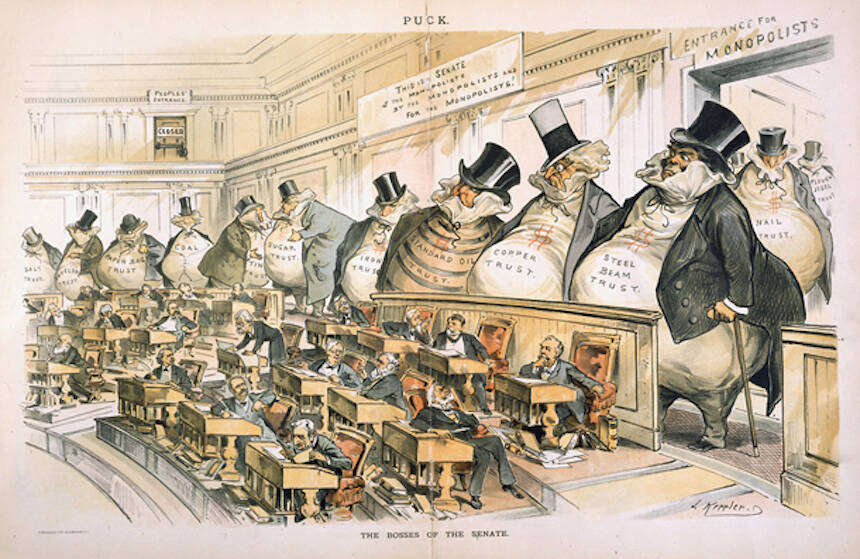 "Pop­ulism" (accord­ing to the most read­i­ly acces­si­ble dig­i­tal dic­tio­nary) means ​"sup­port for the con­cerns of ordi­nary peo­ple" or, defined even more gen­er­al­ly, ​"the qual­i­ty of appeal­ing to or being aimed at ordi­nary peo­ple." Polit­i­cal pop­ulism, as we saw last year, has no alle­giance to a spe­cif­ic ide­ol­o­gy (or par­ty). Don­ald Trump rode a pop­ulist wave into the White House, but Bernie Sanders spent two years gen­er­at­ing an impres­sive swell of his own. In oth­er words, pop­ulism is the vehi­cle with which a sig­nif­i­cant num­ber of every­day peo­ple set out to teach the elites of an era a les­son — but it's not the destination.
In ​"What Is A Pop­ulist?" pub­lished ear­li­er this week in The Atlantic, Uri Fried­man explains the phenomenon's flex­i­bil­i­ty this way:
No def­i­n­i­tion of pop­ulism will ful­ly describe all pop­ulists. That's because pop­ulism is a ​"thin ide­ol­o­gy" in that it ​"only speaks to a very small part of a polit­i­cal agen­da," accord­ing to Cas Mud­de, a pro­fes­sor at the Uni­ver­si­ty of Geor­gia and the co-author of Pop­ulism: A Very Short Intro­duc­tion. An ide­ol­o­gy like fas­cism involves a holis­tic view of how pol­i­tics, the econ­o­my, and soci­ety as a whole should be ordered. Pop­ulism doesn't; it calls for kick­ing out the polit­i­cal estab­lish­ment, but it doesn't spec­i­fy what should replace it. So it's usu­al­ly paired with ​"thick­er" left- or right-wing ide­olo­gies like social­ism or nationalism.
When study­ing pop­ulism, social­ism, nation­al­ism, fas­cism or any oth­er ism for that mat­ter, the Unit­ed States is get­ting old enough to pro­vide us with his­tor­i­cal par­al­lels — can­di­dates, elec­tions and social cir­cum­stances that can be mined for rel­e­vant nation­al com­par­isons. In the full­ness of time, some are more rel­e­vant than oth­ers. Last June, for exam­ple, before Don­ald Trump won the 2016 elec­tion and when many were spec­u­lat­ing he wouldn't, Forbes pub­lished ​"Before Don­ald Trump, There Was William Jen­nings Bryan" in which author Tim Reuter's writes:
Imag­ine the fol­low­ing sce­nario. Years after the stock mar­ket has crashed, mil­lions remain unem­ployed. Severe polit­i­cal polar­iza­tion has par­a­lyzed the fed­er­al gov­ern­ment. As the coun­try enters a pres­i­den­tial elec­tion year, pop­ulists sense their moment has arrived. They not only attack accept­ed eco­nom­ic doc­trines, but one pop­ulist wins the pres­i­den­tial nom­i­na­tion of a major polit­i­cal party.

What year is it? It is 1896…
Unlike Don­ald Trump, William Jen­nings Bryan, a Demo­c­rat, ulti­mate­ly lost that elec­tion — send­ing the par­ty into an elec­toral tail­spin that took near­ly 40 years to cor­rect — but Reuter's com­par­i­son is still insight­ful as is his account of the rise and fall of pop­ulist move­ments in the Unit­ed States. Of par­tic­u­lar inter­est to Rur­al Amer­i­ca In These Times, is Reuter's analy­sis of pres­i­den­tial pol­i­tics four years ear­li­er, in 1892 — a time when, in his words, ​"The first rum­blings of the pop­ulist insur­gency that would reshape Amer­i­can pol­i­tics went large­ly unnoticed."
He writes:
In the sum­mer of 1892, farm­ers and labor activists met in Oma­ha, Neb., for a polit­i­cal con­ven­tion. On July 4, the People's Par­ty issued its plat­form. It denounced the divi­sion of soci­ety into ​"two great class­es — tramps and mil­lion­aires." The list of pro­posed reme­dies includ­ed gov­ern­ment con­trol of the rail­roads, a ​"grad­u­at­ed income tax," and a ​"nation­al cur­ren­cy" that was ​"safe, sound, and flex­i­ble." The con­ven­tion nom­i­nat­ed James B. Weaver, a for­mer con­gress­man and pres­i­den­tial can­di­date for the short-lived Green­back Par­ty. On Elec­tion Day, Weaver won twen­ty-two elec­toral votes and 8.5 per­cent of the pop­u­lar vote.
Though I'd not seen the above sto­ry at the time, I post­ed a sim­i­lar­ly themed and titled arti­cle last Novem­ber, ​"Before Bernie Sanders: A 19th Cen­tu­ry Populist's Run for the Pres­i­den­cy," in which I not­ed the strik­ing sim­i­lar­i­ties between the eco­nom­ic rhetoric (and sub­se­quent pop­u­lar sup­port) of Weaver and Bernie Sanders (who was in the process of giv­ing Hillary Clin­ton a run for her money).
In short, Weaver and the People's Par­ty (known as the Pop­ulists, from which the word ​"pop­ulism" derives) were the prod­uct of a grass­roots farm­ers move­ment that began decades ear­li­er, in the wake of the Civ­il War. In the South, the crop-lein sys­tem had farm­ers trapped in a per­pet­u­al cycle of pover­ty and nev­er-end­ing debt. Mean­while in the North farm­ers found them­selves at the mer­cy of exces­sive price fix­ing, hos­tile bankers and a monop­o­lis­tic rail­road. Some­thing had to give. Twen­ty-sev­en years after the war, Weaver pub­lished (as politi­cians with pres­i­den­tial aspi­ra­tions often do) a polit­i­cal man­i­festo—A Call to Action—in which he exco­ri­ates the increas­ing role that wealthy elites and the cor­po­ra­tions of his time were play­ing in politics.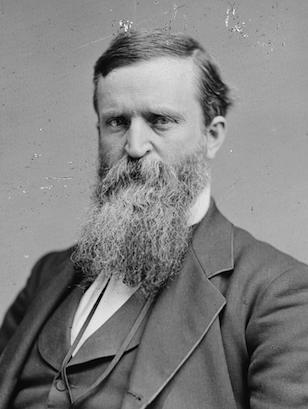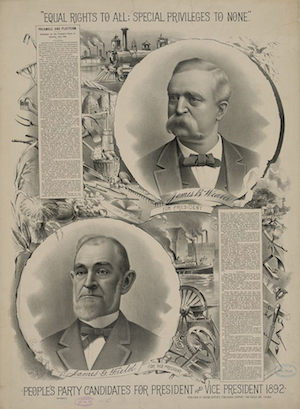 James B. Weaver, the Peo­ple's Par­ty can­di­date for pres­i­dent in 1892, was was born in Ohio in 1833 and raised in Iowa. (Images: bri​tan​ni​ca​.com)
The lan­guage is often times intense. In fact, it makes most con­tem­po­rary fat-cat-trash-talk sound tame. Keep in mind this was pub­lished 125 years ago in a time of mas­sive income and social inequal­i­ty, tech­no­log­i­cal change, sim­mer­ing racial ten­sions and dur­ing a pres­i­den­tial elec­tion. Here's an excerpt:
The slave hold­ing aris­toc­ra­cy, restrict­ed both as to local­i­ty and influ­ence, was destroyed by the war only to be suc­ceed­ed by an infi­nite­ly more dan­ger­ous and pow­er­ful aris­toc­ra­cy of wealth, which now per­vades every State and aspires to uni­ver­sal domin­ion. Its first con­quest was the sub­ju­ga­tion of the dom­i­nant polit­i­cal par­ty of the nation, while it required the oth­er to keep the peace, under the threat that if it did not suc­cumb it should nev­er come into power.

Next it secured con­trol of State pol­i­tics, and final­ly found expres­sion in a vast net­work of cor­po­ra­tions which have seized upon almost every field of labor and every depart­ment of human effort. Nei­ther the mil­i­tary achieve­ments of Cae­sar, the exploits of Cyrus, Han­ni­bal, Alexan­der, nor the daz­zling con­quests of Napoleon in the fields of war, can com­pare with the stu­pen­dous vic­to­ries of orga­nized cap­i­tal in this coun­try dur­ing the past 25 years. They have out­stripped the imag­i­na­tion, ren­dered fic­tion dull and unin­ter­est­ing, and robbed romance of its charms. The chief spir­its through whose agency all these things have been accom­plished are not unmind­ful that they are in con­flict with both pri­vate right and the pub­lic welfare.

They, above all oth­ers, know the extent of their wrong doing, and they fear reprisals at the hands of the peo­ple. To pre­vent reme­di­al leg­is­la­tion they have filled the Sen­ate of the Unit­ed States with men who rep­re­sent the cor­po­ra­tions and the var­i­ous phas­es of orga­nized greed. The ide­al Sen­ate, longed for by Mr. Dick­in­son [one of the wealth­i­est found­ing fathers and 5th pres­i­dent of Penn­syl­va­nia who died in 1808] — a Sen­ate com­posed of men of wealth and resem­bling the British House of Lords — has been real­ized and has long been in full oper­a­tion. The method of selec­tion was found to be pecu­liar­ly well fit­ted to their scheme. There is one char­ac­ter­is­tic com­mon to all wrong doers — they work in the dark and con­ceal their motives. You know noth­ing of their pur­pose until the stab is inflict­ed. Like the cat, they walk in quest of prey with vel­vet feet; and like the assas­sin, they lie in wait and spring upon you with­out warning.

The cor­po­ra­tions nev­er make pub­lic their pur­pose. They hold no pub­lic meet­ings. Their plans are laid in the count­ing room, around the lunch table, and in the secret meet­ings of their direc­tors away from the pub­lic. When the plan is matured, a skill­ful agent is employed to car­ry it out, and a check is drawn to cov­er expens­es. The peo­ple at large are about their dai­ly toil in the field and the work­shop. They are hon­est, unsus­pect­ing, patri­ot­ic, and devot­ed to their respec­tive par­ties. The work that is to rob and ruin them is being done under cover.

The cor­po­ra­tions — appar­ent­ly whol­ly indif­fer­ent — hav­ing deter­mined whom they wish to elect to the Unit­ed States Sen­ate, the next thing in order is to secure the nom­i­na­tion of suit­able Leg­isla­tive can­di­dates — men who can be trust­ed to do their bid­ding. Secure in this, no effort or expense is spared to insure a tri­umph at the polls. Usu­al­ly the name of the man whom they intend to elect to the Sen­ate is kept in the back­ground. The can­vass is made whol­ly with ref­er­ence to oth­er issues. But as soon as the elec­tion is over, a venal sub­si­dized press which has been par­ty to the con­ceal­ment dur­ing the cam­paign, sud­den­ly throws off the mask and dis­cov­ers that the sen­a­to­r­i­al ques­tion is all impor­tant and you then hear of noth­ing else.

They sud­den­ly dis­cov­er that Mr. A or B is just the right man for the posi­tion, and the one above all oth­ers whom the par­ty and the State should delight to hon­or. At the prop­er time head­quar­ters are opened at the State Cap­i­tal, and a lav­ish expen­di­ture of mon­ey begins, while the peo­ple look on with amaze­ment and won­der where the mon­ey comes from. The local manip­u­la­tors, many of whom were par­ties to the con­spir­a­cy from the begin­ning, are sent for and kept upon the ground as a guar­an­ty that the var­i­ous bar­gains made through­out the State, shall be car­ried out. Then comes the par­ty cau­cus, which all must attend and to whose decrees all must sub­mit or lose their par­ty stand­ing. Final­ly the major­i­ty of the cau­cus, which is usu­al­ly a minor­i­ty of the Leg­is­la­ture, nom­i­nates the cor­po­ra­tion can­di­date and the drunk­en brawl that has ren­dered the State Cap­i­tal dis­or­der­ly for a fort­night or more, is at an end and the peo­ple are betrayed.
Weaver, of course, lost. But the accu­sa­tions he lev­eled at the 1892 sta­tus quo (includ­ing the rev­e­la­tion that cor­po­rate inter­ests were pur­chas­ing Sen­a­tors) res­onat­ed with enough Amer­i­cans at the time to earn him 22 elec­toral votes, the most any third par­ty can­di­date had received since the Civ­il War. Many of the social poli­cies he pro­posed, fur­ther­more, did not go away. Indeed, some­times pop­ulists win even when they lose by mak­ing it impos­si­ble for the pow­ers that be to con­tin­ue ignor­ing the peo­ple and issues the move­ment mobi­lized in its prime. If Don­ald Trump's record shat­ter­ing stock mar­ket, for exam­ple, ulti­mate­ly fails to turn into jobs that pay more Amer­i­cans a liv­able wage, it's like­ly Bernie Sanders' core eco­nom­ic mes­sage — that gov­ern­ment should work for the peo­ple not Wall Street, and that no one work­ing full-time should be liv­ing in pover­ty — will be echoed again, all the more loud­ly, in four years.
As Uri Friedman's piece in The Atlantic does a thor­ough job of explain­ing, pre­cise­ly because pop­ulism is an ide­o­log­i­cal chameleon — often sup­ple­ment­ed with what­ev­er author­i­tar­i­an, nation­al­ist or social­ist incli­na­tions held by those lead­ing the par­tic­u­lar move­ment — pop­ulist vic­to­ries can (and often do) man­i­fest in all man­ner of ter­ri­ble ways around the world. Oth­er times, they change the polit­i­cal realm for the better.
Once pop­ulis­m's pow­er has been suc­cess­ful­ly har­nessed, progress for ​"the peo­ple" depends on how that group is defined and the trust­wor­thi­ness of the pop­ulist lead­ing the charge.
[If you like what you've read, help us spread the word. ​

"

Like" Rur­al Amer­i­ca In These Times on Face­book. Click on the ​

"

Like Page" but­ton below the bear on the upper right of your screen. Also, fol­low RAITT on Twit­ter @RuralAmericaITT]