Radio Is About to Get Better
The FCC is finally ready to re-open its application process for low-powered FM stations. Who's ready to rock the mic?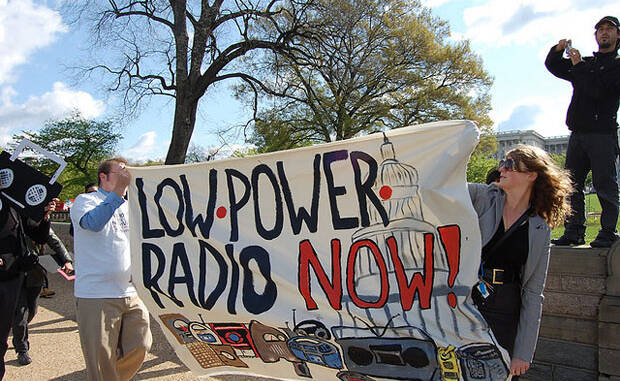 We wanted to make sure you didn't miss the announcement of our new Sustainer program. Once you've finished reading, take a moment to check out the new program, as well as all the benefits of becoming a Sustainer.

The Federal Communications Commission (FCC) is set to increase the number of low-powered FM (LPFM) stations after a 12-year hiatus caused by a successful campaign against community radio by the National Association of Broadcasters (NAB), a lobby group for major commercial media. Much to the joy of community radio activists, hundreds of new radio stations will pop up in cities across the country. And they will all be owned…by you. Want to be your neighborhood's newest block party DJ, or run the local equivalent of Democracy Now? Your window has opened. But not for long.
LPFM is like local public radio, only without all the classical music and syndicated shows like Wait, Wait... Don't Tell Me!. It's a niche, and doesn't necessarily compete with the commercial and big public broadcasters.
Back in the late 1970s, most Americans got their glimpse of the inner workings of a radio station from the sitcom WKRP in Cincinnati. WKRP wasn't big money glam. This was Cinci, afterall, not Los Angeles. It was down to earth. It was practically grassroots. DJs Johnny Fever and Venus Flytrap interviewed local bands, not the Bee Gees.
But just 20 years later, the radio landscape has changed. It is mostly run by large stations like KISS-FM, owned by Clear Channel Communications, the guys who sign the checks of Ryan Seacrest, a radio personality who needs no introduction.
Pat Feghali, 29, needs an introduction. She's one-part guitarist from indie rock band Slack Panther, one-part host of Queen City Awesome, which airs Monday and Wednesday on WVQC in Cincinnati to 95.7 FM. WVQC is operated by Media Bridges and is one of the largest LPFM station within the top 30 media markets. It's helping people in that city connect through the free public airwaves in ways larger cities cannot.
​"I'm not looking for a career in broadcasting or anything," Feghali tells me. WVQC DJs and show hosts are volunteers. They are trained by Media Bridges on how to use a soundboard and run a radio program. ​"I'm into the local music scene and this show I do with my lead singer [Bree Blisters] gives us a chance to interview local bands. If not for LPFM, there is no way I would have done this. And most of these musicians would not get an opportunity to discuss their music in this format. I don't know where it will lead. I just know we are having a great time."
There are about 800 LPFM stations nationwide, small 100-watt stations with a reach of three and half miles. LPFM launched in 2000, and Media Bridges applied for its license a year later. They were granted a permit seven years later and didn't go on air until 2010. To date, WVQC has over 40 locally produced shows on topics ranging from the paranormal to issues in the gay communities to old school hip-hop.
Monty Roo is WVQC's version of Ed Lover, spinning throwbacks to days of ​"Yo! MTV Raps Today." ​"I'm playing stuff you don't hear on commercial radio anymore unless they have a ​'blast from the past' hour. I'm putting up Public Enemy. MC Lyte. I get callers that appreciate what I do and I think it rounds out Cincy's commercial hip hop stations that are only going to play new music," he says.
At the time Media Bridges applied for its radio license, small, pirate radio stations had popped up around the country, airing independent content like Monty Roo's Nuff Nuff Sounds that were essentially a voice of protest against radio consolidation, standardized top 40 play lists and syndicated programming. They didn't have broadcast licenses, but they often had the support of their community and even local legislatures despite the fact that they were illegal. The strength of the pirate radio movement, along with concerns about the decline of local content, influenced the FCC to legalize LPFM.
On July 2, 2010, Media Bridges left the lonely Internet radio world to become a full-fledged brick-and-mortar radio station. But that would be the last time any American city would get an LPFM station.
That's because shortly after the FCC rule was launched, the NAB worked with Congress to create the Radio Broadcasting Preservation Act. Its goal was clear: to prohibit the FCC from establishing rules authorizing the operation of new, low power FM radio stations. It passed in April 2000 and modified the early local radio laws.
Under those initial laws, LPFM stations could be set up in cities where there was space within three clicks of the radio frequency dial. So if a high-powered station was at 90.1, then the nearest an LPFM station could be located would be 90.9 (U.S. frequencies are in odd numbers), or going the other way, 89.3. That made it impossible for LPFM to set up in big cities – but NAB wanted to make it even harder. Its legislation required a distance of four adjacent frequencies, taking LPFM out of most markets smaller than Cincinnati. NAB convinced Congress that having a low powered station so close on the dial to their stations would cause interference. Community radio advocates at the Prometheus Radio Project compared that claim to the beam of 10,000-watt lighthouse being cut by the light of a 100-watt bulb.
Nevertheless, the FCC effectively shut down the program, until the odds were better.
The odds are now better.
On Jan. 5, 2011, President Barack Obama signed the latest Local Community Radio Act into law. It took a little over a year to get it passed after some back and forth with NAB lobbyists, pro-LPFM guys like Prometheus, Media Access Project and Congress. Obama's signature changes the Radio Broadcasting Preservation Act, allowing for LPFM to set up three adjacent clicks away, not four, and even allows for two adjacent clicks in large cities, providing LPFM applicants can prove they won't cause interference to their neighbors. That's the new rule. That's the compromise NAB agreed to.
Now the FCC is re-energized and open to public comment about how the waivers will work until May 7. A ruling is expected later this year.
​"In big cities, the second adjacent rule waiver is going to be important. In the smaller cities, just going back to the third adjacent frequency on the dial will be enough to flood the FCC with radio applications. The number of LPFM stations will double, maybe triple," says Brandy Doyle, policy director at the Prometheus Radio Project.
In cities like Phoenix, the rule would give them room for three new stations if they were only allowed to build within three clicks on the dial. That goes up to 16 new stations if they can go live within second adjacent frequencies.
​"Two years ago, we worked in good faith with the LPFM community on compromise legislation that lifted some of the third adjacent channel restrictions on low power radio. However, we have concerns that waiving protections for second adjacent channels will result in very real and very serious interference for millions of radio listeners," says Dennis Wharton, a spokesman for NAB.
The NAB appears willing to bend, but no one can say how much – not even the NAB, because it all depends on their members and on a case-by-case basis. They want the FCC to require stations to prove they will not interfere with nearby stations within two clicks of their radio real estate. Other than that, nothing really stands in the way of the United States getting hundreds of new 100-watt LPFM stations.
LPFM is like local public radio, only without all the classical music and syndicated shows like Wait, Wait… Don't Tell Me!. It's a niche, and doesn't necessarily compete with the commercial and big public broadcasters. In most cases, it's not even going after the same underwriters. (Yes, someone still has to pay for the rent and the equipment.)
So why is it even needed?
Cheryl Eagleson, a member of the radio advisory committee at Media Bridges and host of Alternating Currents, a talk show for Cincinnati's gay and lesbian community, says LPFM helps people define who they are in their part of the world. It's the smaller picture, not the big picture, you carry around with you.
​"I can't tell you how many times I've had people come up to me and say they've listened to my show when they were still in the closet," she says. ​"They'd listen to me when cutting the lawn, in their car, going for a jog, because it was important to them to know that they had people living right near them who had the same problems."
LPFM lets locals know they're not alone. Immigrants in Phoenix want to hear about immigrant problems and solutions in Phoenix, not in Miami.
​"We're forming a coalition of (Mexican and Central American) immigrants to apply for a license," says Luis Avila, producer of El Break Radio in Phoenix. ​"We want to be ready when that window opens."
That window of opportunity is expected to open later this year. Anyone interested in building their own radio network needs to start thinking about the application now, Doyle says.
The application window will only be open for a week or two and then closes for many years as the FCC goes through requests for an LPFM antennae.
Sometimes life imitates art. In the second season of WKRP in Cincinnati, Venus Flytrap accepted a job as program director at WKRP's urban contemporary competitor, WREQ. Like the stations of today, the fictional WREQ was an all-automated station where all the programming decisions were made from corporate headquarters. Venus turned down the job to stick with WKRP.
​"There are people who listen to NPR who would never listen to KISS-FM, and vice versa. … You turn on where you feel at home," Eagleson says. ​"Nothing is more home than local community radio."
This reporting is supported by The Media Consortium.
Be a Sustainer
We surveyed thousands of readers and asked what they would like to see in a monthly giving program. Now, for the first time, we're offering three different levels of support, with rewards at each level, including a magazine subscription, books, tote bags, events and more—all starting at less than 17 cents a day. Check out the new Sustainer program.
A longtime reporter and foreign correspondent for Dow Jones and the
Wall Street Journal
,
Kenneth Rapoza
is an
In These Times
columnist who writes about the news business. His work has also appeared in
The American Prospect, The Nation
and at
Salon​.com
. He can be reached at ken@​inthesetimes.​com.