Rebelde for the Cause
United Farm Worker pioneer leads immigrant rights struggle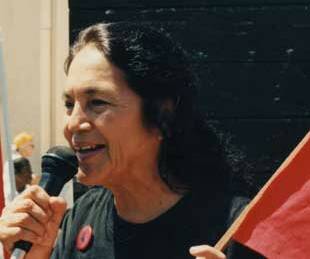 Dolores Huer­ta is a hus­tler. At around 5 foot noth­ing and 77 years old, she does not look like a force to be reck­oned with. And while nei­ther her face nor her name might be famil­iar, Huer­ta is one of the most sig­nif­i­cant rab­ble-rousers of her time. When Huer­ta found­ed the Nation­al Farm Work­ers Asso­ci­a­tion (what lat­er became Unit­ed Farm Work­ers, or UFW) with Cesar Chavez in 1965, nobody – let alone a sin­gle Lati­na moth­er – was orga­niz­ing farm workers.
But with UFW, Huer­ta became a thorn in the side of major agri­cul­tur­al cor­po­ra­tions. She helped direct the famous five-year Delano grape boy­cott, and nego­ti­at­ed a three-year col­lec­tive bar­gain­ing agree­ment signed by the major­i­ty of the Cal­i­for­nia table grape indus­try. She secured unem­ploy­ment ben­e­fits for work­ers, lob­bied against fed­er­al guest work­er pro­grams and spear­head­ed amnesty leg­is­la­tion. She was also one of the first to speak out about the dan­gers posed by tox­ic pes­ti­cides to work­ers, con­sumers and the environment.
After more than 50 years of fight­ing for what she and Chavez called La Causa (the cause), Huer­ta shows no signs of fatigue or cyn­i­cism. At one moment she speaks with the wis­dom and affec­tions of a grand­moth­er (she has 11 chil­dren, 20 grand­chil­dren and five great-grand­chil­dren), and in the next with the fury of a war­rior still on a life­long mission.
Recent­ly, she has been trav­el­ing the coun­try, speak­ing at march­es and $100-a-plate din­ners on behalf of the esti­mat­ed 12 mil­lion ille­gal immi­grants liv­ing in the Unit­ed States. In These Times caught up with Huer­ta on the Uni­ver­si­ty of Illi­nois-Chica­go cam­pus where she spoke at a con­fer­ence about the immi­gra­tion move­ment in Chicago.
The immi­gra­tion march­es last May were among the largest in U.S. his­to­ry. What do you think they accomplished?
Num­ber one, they moved the immi­gra­tion debate for­ward. We end­ed up get­ting a bill in the Sen­ate – the McCain-Kennedy bill. Although it wasn't the great­est bill, at least they pro­posed a legal­iza­tion bill. It didn't stop the con­ser­v­a­tives, the peo­ple like [Rep. James] Sensen­bren­ner (R‑Wis.), from doing their sham hear­ing, but it gave peo­ple a sense of their power.
One of the themes was ​"Today we march, tomor­row we vote," and the num­ber of Lati­nos who vot­ed for Democ­rats was like 69 per­cent. Also, we've had an increase in the num­ber of peo­ple who are fight­ing for cit­i­zen­ship. And I think the activism in gen­er­al has increased, although you also have the reac­tion from the right.
What hasn't been cov­ered as much is that some real­ly anti-immi­grant con­gress­peo­ple lost their elec­tions. In Ari­zona, we have two real­ly good exam­ples: Gabrielle Gif­fords (D‑Ariz.) and Har­ry Mitchell (D‑Ariz.) were elect­ed to the Con­gress. The per­son Mitchell ran against, J.D. Hay­worth (R‑Ariz.), his whole cam­paign was anti-immi­grant, and this guy lost.
When the Repub­li­cans put some­one like Sen. Mel Mar­tinez (R‑Fla.), who is head of the Repub­li­can Nation­al Com­mit­tee, as one of the co-authors of the Sen­ate bill – that to me is a strong sig­nal that they are at least think­ing about immi­gra­tion – that they put a Lati­no, although not Mex­i­can, on a bill.
Aside from the march­es – which have been uni­fy­ing and have gen­er­at­ed debate and brought the cause to nation­al atten­tion – what else can be done?
One of the things I'm pro­mot­ing – which comes from Chica­go – is sup­port of Elvi­ra Arel­lano, the woman who has tak­en refuge in a Methodist church. The idea is to pro­mote children's march­es for the week­end of April 28 – 29.
April 30 is Dia de los Niños, Children's Day in Latin Amer­i­ca. It's a call to jus­tice for immi­grant chil­dren and immi­grant work­ing par­ents – a call to all grand­chil­dren and great grand­chil­dren of pre­vi­ous immi­grants, so they will also come in and sup­port the cause.
I'm a great grand­child of immi­grants on both sides of my family.
Almost every­body is the great grand­child of some immi­grant in this coun­try – unless, of course, they're indige­nous. So we're call­ing for all the chil­dren and grand­chil­dren and great grand­chil­dren of immi­grants to join us in this call for jus­tice for immi­grants' children.
You men­tioned Elvi­ra Arel­lano. In many ways, she has become the face of the move­ment – almost a mar­tyr sym­bol. Do you think her actions have been productive?
Absolute­ly. First of all, she's very tiny, but she's got all this strength and this sin­cer­i­ty, and you just feel her strength. And she's very elo­quent. She speaks sim­ply, but pro­found­ly. So in terms of the Lati­no com­mu­ni­ty right now, she real­ly is an icon.
I tried to get Car­di­nal Roger Maho­ny in Los Ange­les to call for a sanc­tu­ary move­ment in Cal­i­for­nia. Unfor­tu­nate­ly, Car­di­nal Maho­ny did not endorse a sanc­tu­ary move­ment. So, cler­gy are just doing it on their own. I think they have about 69 church­es signed up right now. Cler­gy like Father Richard Estra­da, who is from Los Ange­les. They're try­ing to sign up oth­er church­es of oth­er denom­i­na­tions too.
Father Estra­da has been very active in the immi­grants' rights move­ment. Every sin­gle year he takes dif­fer­ent labor and polit­i­cal lead­ers out to the desert, and they set up poles with flags on them, mark­ing where peo­ple com­ing across can find water. He's been doing this now for the past 10 years or so.
A coali­tion called the Faith and Jus­tice Lead­er­ship Alliance was formed by reli­gious and com­mu­ni­ty lead­ers in the Black and Lati­no com­mu­ni­ties in Chica­go to orga­nize around issues they have in com­mon such as crime, edu­ca­tion and hous­ing, but also to bring the black com­mu­ni­ty into the fight for immi­grant rights as a con­tin­u­a­tion of the Civ­il Rights move­ment. Do you see these com­mu­ni­ties com­ing togeth­er in a broad­er movement?
Jesse Jack­son has been pound­ing this issue now for the last five years, say­ing, ​"we got­ta work togeth­er," say­ing to the lead­er­ship of the black com­mu­ni­ty: ​"You all have got to learn to speak Span­ish." Dan­ny Glover and Har­ry Bela­fonte have orga­nized con­fer­ences bring­ing togeth­er not only Lati­nos, but also indige­nous lead­er­ship. They had con­fer­ences in Atlanta, in Mis­sis­sip­pi and in Cal­i­for­nia – to get peo­ple to work togeth­er on the issues of edu­ca­tion and incarceration.
You're obvi­ous­ly a big advo­cate of the march­es, but in terms of pol­i­cy, do you advo­cate an open bor­der between the Unit­ed States and Mex­i­co and Canada?
I think some­thing has to be changed. When we talk about immi­gra­tion, we don't talk about why peo­ple are com­ing here. And the rea­son that peo­ple have to leave the beau­ti­ful places they live – where we go to as tourists – is to come here to work as inden­tured ser­vants because they can't find jobs in their own coun­tries. So we've got to look at our for­eign pol­i­cy in regards to Latin Amer­i­ca, a pol­i­cy I call eco­nom­ic col­o­niza­tion. We want to go into these coun­tries and take over their economies and make these peo­ple again into just low-wage earners.
We don't help them devel­op their own economies, so that they can stand on their own and employ their own peo­ple. There is more than enough work that needs to be done in all of these coun­tries, right? But our pol­i­cy is one of exploita­tion. So we need to look at our free trade agree­ments and what we've done. All of these coun­tries now are worse off: Their unem­ploy­ment is ris­ing and their wages are low­er because of the changes that were made.
Com­pare this with what hap­pened after World War II. We defeat­ed Ger­many, Japan and Italy, and we had the Mar­shall Plan where we lent them mil­lions of dol­lars to help them rebuild their economies. We for­gave those loans. So, Amer­i­can com­pa­nies didn't go into Japan and Ger­many, we just gave them the mon­ey to devel­op their own economies.
This is total­ly the oppo­site from what we're doing with Latin Amer­i­ca, where Amer­i­can com­pa­nies go in and take over. Here we have small shop­keep­ers in Mex­i­co who can­not com­pete with Wal-Mart. You have corn farm­ers who can­not com­pete with agribusi­ness. So small corn farm­ers have been wiped out, you have 2 mil­lion corn farm­ers who are now in the Unit­ed States try­ing to sur­vive. Right now Mex­i­co is actu­al­ly import­ing more corn from the Unit­ed States than what they grow in Mexico.
It's eco­nom­ic col­o­niza­tion. We can't keep blam­ing the vic­tims, who are the immi­grants. We've got to say, ​"OK, what are we doing to make this hap­pen?" I think that's got to be part of it. When we talk about immi­gra­tion, let's talk about the free trade agreements.
What poli­cies do you advo­cate in terms of bor­der patrol?
The best peo­ple to police the Mex­i­can bor­der are the Mex­i­cans. Some peo­ple keep talk­ing about ter­ror­ists, but no ter­ror­ists have ever come in through Mex­i­co. Ter­ror­ists have only come in through Cana­da. And I remem­ber one con­gress­man say­ing, ​"Well, you can't tell the dif­fer­ence between a Mex­i­can and an Arab." Well, maybe he can't, but the Mex­i­cans can. It's all very xenophobic.
You spoke at the Ms. mag­a­zine ben­e­fit last night. As one of the country's most promi­nent female activists and orga­niz­ers, do you have any advice for young girls going into pol­i­tics today?
I real­ly do believe that unless women get into posi­tions of pow­er, we will nev­er end wars, we will nev­er have peace, we will nev­er end vio­lence. I think part of the changes that we need in our world is for women to take power.
Are you endors­ing Hillary?
I haven't been asked yet. But, yes, I think I will endorse Hillary because she's intel­li­gent and she's com­pas­sion­ate and she's tough. She's going to have every­one in the world try­ing to bring her down because she's a woman.
Chelsea Ross
is a Chica­go-based free­lance writer, pho­tog­ra­ph­er and graph­ic designer.