The Bernie Sanders Campaign Is Electrifying New York Politics. Will It Be Enough to Win the Primary?
Inspired by Sanders, independent groups like "Team Bernie NYC" and "Harlem for Bernie" have been hitting the streets to engage voters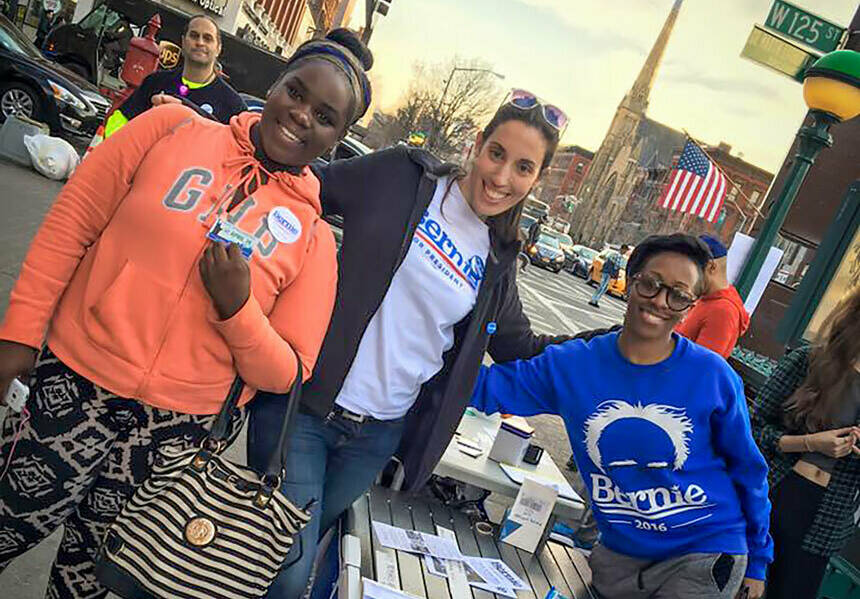 Mar­i­ano Laboy, 71, had nev­er vol­un­teered for a pres­i­den­tial cam­paign before he decid­ed to join Bernie Sanders' ​"polit­i­cal rev­o­lu­tion." Sanders' push for free high­er edu­ca­tion res­onates deeply with the Puer­to Rico native, who com­plet­ed his bachelor's degree in Jan­u­ary after years of work­ing to put his sib­lings through col­lege first. Laboy plans to start a master's degree in com­mu­ni­ty orga­niz­ing in the fall. In the mean­time, he has put his skills to work mobi­liz­ing low-income stu­dents and oth­er new vot­ers in hopes of giv­ing Sanders a boost in tomor­row's crit­i­cal New York primary.
While every candidate depends on volunteers, Sanders' operation is unusual in the degree to which supporters are encouraged to organize independently.
From the get-go, Sanders has empha­sized that his rev­o­lu­tion depends on mobi­liz­ing ​"mil­lions and mil­lions" of Amer­i­cans dis­af­fect­ed by the polit­i­cal process. So far, the results have been mixed. The num­ber of reg­is­tered Democ­rats has decreased or remained stag­nant in many states and Demo­c­ra­t­ic turnout over­all in this year's pri­maries has fall­en rel­a­tive to 2008 (a record year).
New York is an unlike­ly place to buck this trend. The state is one of 11 that holds closed pri­maries in which only reg­is­tered par­ty mem­bers can par­tic­i­pate — a fact that many have cit­ed as a weak­ness for Sanders, who often draws sup­port from inde­pen­dent vot­ers. Any­one wish­ing to switch their par­ty affil­i­a­tion had to do so by last Octo­ber. The state does not offer ear­ly vot­ing or same-day registration.
Still, Sanders sup­port­ers hoped to over­come these odds by stag­ing reg­is­tra­tion dri­ves at near­ly all of the city's col­leges and uni­ver­si­ties in addi­tion to con­certs, pub­lic hous­ing sites, sub­way sta­tions, church­es and parks in advance of the state's March 25 dead­line to reg­is­ter new vot­ers. The grass­roots orga­ni­za­tion Team Bernie NY signed up at least 10,500 such vot­ers in New York City alone, accord­ing to Sean Patrick Mur­phy, a vol­un­teer who helped coor­di­nate the efforts.
With all eyes on New York, the orga­niz­ers are hold­ing their breath to see whether this work will pay off. Ear­ly signs were good: Gov­er­nor Andrew Cuo­mo's office report­ed an ​"unprece­dent­ed surge" in first-time vot­ers reg­is­ter­ing online in the days lead­ing up to the March 25 dead­line. How­ev­er, over­all vot­er growth was mod­est; as of April 1, the num­ber of reg­is­tered Democ­rats in New York increased by about 14,000 (out of about 6 mil­lion total statewide) since Novem­ber 2015, accord­ing to offi­cial fig­ures from the state Board of Elec­tions. The board did not respond by dead­line to a request for the total num­ber of new vot­er reg­is­tra­tions this fig­ure represents.
While Sanders has nar­rowed Clin­ton's lead, he still trails her 43 — 53 in New York, accord­ing to a Sun­day CBS News poll. For Sanders to have a shot, vol­un­teers like Laboy will have to dra­mat­i­cal­ly increase turnout among young and first-time voters.
In the Demo­c­ra­t­ic con­tests so far, first-time pri­ma­ry vot­ers have cho­sen Sanders over Clin­ton by an aver­age mar­gin of about 20 per­cent, accord­ing to avail­able CNN exit polling. The youth vote in par­tic­u­lar has helped him pull off a series of upsets against Hillary Clin­ton in states such Michi­gan, where 85 per­cent of vot­ers under 25 gave him their sup­port in the March 8 primary.
"Sanders was able to win in Michi­gan because, pro­por­tion­al­ly, there were just as many young vot­ers as there were old­er vot­ers, which is unusu­al," notes Andra Gille­spie, asso­ciate pro­fes­sor of polit­i­cal sci­ence at Emory Uni­ver­si­ty. ​"Younger vot­ers might be real­ly enthu­si­as­tic for him, but it only mat­ters if they go out and vote." In New York's 2008 Demo­c­ra­t­ic pri­ma­ry, vot­ers over 60 made up 30 per­cent of the elec­torate, while vot­ers under 30 made up just 15 per­cent, even though the two groups are rough­ly equal in size in the state's pop­u­la­tion. New York's con­test, which awards 291 del­e­gates to the nation­al con­ven­tion, could prove deci­sive in the race for the nomination.
Yet Sanders has empha­sized that his cam­paign is about more than win­ning elec­tions. ​"I hope we accom­plish that, but that isn't the most impor­tant thing," he told the Wash­ing­ton Post in July 2015. ​"The most impor­tant thing is build­ing a polit­i­cal move­ment in which mil­lions of peo­ple who have giv­en up on the polit­i­cal process, includ­ing a lot of young peo­ple, get involved." That month, Sanders announced what he called ​"the largest dig­i­tal orga­niz­ing event in the his­to­ry of this coun­try," bring­ing togeth­er more than 82,000 vol­un­teers at 3,000 house par­ties nation­wide to learn orga­niz­ing skills and meet oth­er Sanders sup­port­ers in their area.
Part of what excites pro­gres­sives about Sanders' cam­paign is the pos­si­bil­i­ty that it will build infra­struc­ture that can be chan­neled into state and local races, as well as pol­i­tics beyond the bal­lot box. While every can­di­date depends on vol­un­teers, Sanders' oper­a­tion is unusu­al in the degree to which sup­port­ers are encour­aged to orga­nize inde­pen­dent­ly. They coor­di­nate via the ​"Orga­niz­ing Hub" on Sanders' web­site, a plat­form that allows sup­port­ers to host events inde­pen­dent from the offi­cial campaign.
While cam­paigns with greater resources may not put as much ener­gy into inde­pen­dent vol­un­teer infra­struc­ture, ​"for Bernie Sanders, mobi­liz­ing the grass­roots has been a mat­ter of sur­vival," says Mur­phy, who trains oth­er vol­un­teers for Team Bernie NY. In New York City, the major­i­ty of the 175 pro-Bernie events list­ed on the campaign's web­site at press time — includ­ing vot­er reg­is­tra­tion dri­ves, phone banks, and dis­cus­sion groups for unde­cid­ed vot­ers — have orig­i­nat­ed with vol­un­teers them­selves. (While Clinton's web­site offers a sim­i­lar plat­form, at press time the campaign's event page list­ed about 75 events in New York City ahead of the state pri­ma­ry, most of which were official­ly spon­sored by the campaign.)
Mur­phy says these tools have pro­vid­ed the foun­da­tion for ​"a groundswell of grass­roots sup­port" that sur­pass­es what he saw as an assis­tant cam­pus cam­paign direc­tor for Oba­ma in 2008. ​"It's been a kind of ​'if you build it, they will come' moment for us," he says.
Since becom­ing involved over the sum­mer, Mur­phy has held about a dozen train­ings for Sanders vol­un­teers, teach­ing them the basics of phone-bank­ing, can­vass­ing and vot­er reg­is­tra­tion. His trainees have then gone on to host their own events.
This mod­el has made it easy for vol­un­teers to plug in on their own time. ​"I couldn't find any events when I was avail­able, so I just start­ed mak­ing my own," says Nicole Press, a free­lance stage man­ag­er and teacher who has orga­nized five vot­er reg­is­tra­tion dri­ves in Harlem. ​"I've nev­er been involved in an elec­tion before. I've always vot­ed, but I've nev­er tru­ly been able to vote for some­body that I actu­al­ly want­ed to be in office. It was always the less­er of two evils. Bernie is different."
In the course of this orga­niz­ing, Press met so many oth­er Harlem sup­port­ers of Sanders that she co-found­ed a vol­un­teer group, Harlem for Bernie, that now has dozens of mem­bers. Laboy met his co-host for a com­mu­ni­ty col­lege vot­er reg­is­tra­tion dri­ve, Rachel Bern­stein, dur­ing an event host­ed by the Bernie Light Brigade (a nation­al group of activists unaf­fil­i­at­ed with the cam­paign) in Jan­u­ary. ​"We saw each other's signs and start­ed talk­ing, and we've been run­ning events ever since," Bern­stein says. ​"Some­times peo­ple will join us right on the spot."
Win or lose, Laboy thinks that help­ing new vot­ers take part in the polit­i­cal process is its own kind of rev­o­lu­tion. ​"We reg­is­tered a woman, 80 years old, who said she had nev­er been reg­is­tered before in her life," he says. ​"Peo­ple are get­ting involved for the first time. That is Bernie Sanders' revolution."
Edi­tor's note: This arti­cle has been updat­ed to clar­i­fy New York's respec­tive reg­is­tra­tion dead­lines for new vot­ers and vot­ers wish­ing to switch their par­ty affiliation.
Ethan Corey
is a writer and researcher based in New York. His work has appeared in The Nation, Rolling Stone and MEL magazine.