Resister's Digest: The Fossil Fuel Divestment Movement Scores Big Wins
Other movements are hoping to build on May Day momentum and planning more strikes and protests.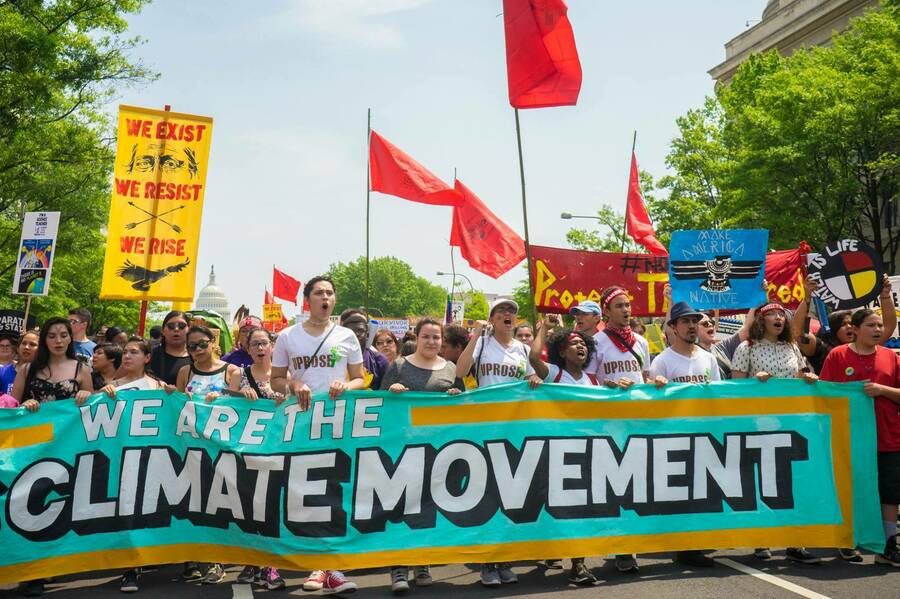 We wanted to make sure you didn't miss the announcement of our new Sustainer program. Once you've finished reading, take a moment to check out the new program, as well as all the benefits of becoming a Sustainer.

Resister's Digest is a weekly roundup that spotlights ways readers can connect with and learn about campaigns to oppose President Donald Trump's agenda, protect human rights and promote equality. Have questions or tips? Contact writer Theo Anderson at theo@​inthesetimes.​com.
'Trump has presided over the most corrupt first 100 days in the history of the American presidency.'
The divestment movement has quietly notched some big wins lately and is channeling momentum from last week's People's Climate March into a Global Divestment Mobilization week, May 5 – 13. The mobilization, a project of 350​.org, will publicize ​"the moral urgency to divest from fossil fuels" and seek to broaden the movement's global impact.
In April, 350​.org reported that the movement to divest from fossil fuels has grown rapidly since its inception five years ago, with more than 700 institutions, representing $5 trillion in assets, signing on. In late April, for example, New York City's prestigious Riverside Church announced that it would divest from all fossil fuels within five years. The church has an endowment of about $140 million. In early April, the city council in Portland, Oregon, voted to pull its investments in corporate bonds and securities, amounting to about a third of the city's investment portfolio. The council is also considering creating a municipal bank that would reinvest funds locally. And in February, in Seattle, the city council voted to break its $3 billion relationship with Wells Fargo because of the bank's role in financing the Dakota Access pipeline. Council members are exploring the idea of creating a public bank instead. Other major cities, including Los Angeles, are also weighing whether to divest from Wells Fargo.
The Global Mobilization week involves events on six continents. U.S. rallies are planned in Asheville, North Carolina, Austin, Texas, and Madison, Wisconsin. There are also several rallies planned for New York. Go here for a map and details. Go here for ideas for actions and examples of each. The New York rallies will focus on demanding that NYC and the state divest their pension funds from fossil fuel companies. The funds are worth more than $350 billion. Go here for details and a petition.
"

A season of strikes" and rallies

Cosecha, which is ​"a nonviolent movement fighting for permanent protection, dignity, and respect for the 11 million undocumented immigrants in the country," will build on the energy from May Day rallies with ​"a season of strikes and boycotts" over the next few weeks. On Saturday, May 6, it will hold a ​"What's Next" event in Chicago. Follow Cosecha's Facebook page here. Cosecha is also organizing a May Day ​"strike fund" to help workers who are ​"most affected by participating in the strike." Details here.
Rikers: An American Jail
A new documentary from Bill Moyers—Rikers: An American Jail—will be screened Friday, May 5, at the University Center at the New School in New York City. The film explores what incarceration means for the 7,500 people detained each day at Rikers, which the city has recently announced it will close. A discussion with participants in the film will follow the screening. Details here.
100

days of Trump

Common Cause has released a report on the first 100 days of the Trump presidency, and concluded that ​"Trump has presided over the most corrupt first hundred days in the history of the American presidency." The organization's priorities for the coming year include legislation that would require ​"disclosure of at least five years of federal tax returns by major party candidates for president and vice president," and the ​"Mar-a-Lago Act," which would require ​"disclosure of White House visitor logs and visitor logs of other venues where the president regularly conducts business." Massachusetts Sen. Elizabeth Warren and MoveOn​.org have produced a video on the importance of Trump's tax returns. Common Cause has a petition here.
Redrawing the lines
Gerrymandering, the drawing of Congressional districts to partisan advantage, is emerging as a prime target for election reformers. In part, that's because the 2020 U.S. Census is drawing near, and a Constitutionally mandated redistricting will follow in its wake. In 2010, the GOP's massive gains at the state level allowed legislators to redraw House districts in ways that almost guaranteed GOP control of that chamber. In Pennsylvania and North Carolina, for example, Democratic candidates won more votes than Republicans in the 2012 election, but Democrats won just 9 of 31 House seats.
Barack Obama has said he will make redistricting reform a priority of his post-presidency. There are several excellent tools for tracking and connecting with the reform efforts now underway in several states. Common Cause has a wide range of resources, including a rundown of how districts are drawn in each state and a summary of state-level reform initiatives, a newsletter devoted to the subject and a handbook for activists. FairVote offers a variety of tools and data for informed and effective action, and Tufts University offers several resources, including a summer school program devoted to it. A portion of the five-day program will be open to the public and made available online. Also see this article about the Tufts professor who created the program and promotes a geometry-based solution to gerrymandering.
Be a Sustainer
We surveyed thousands of readers and asked what they would like to see in a monthly giving program. Now, for the first time, we're offering three different levels of support, with rewards at each level, including a magazine subscription, books, tote bags, events and more—all starting at less than 17 cents a day. Check out the new Sustainer program.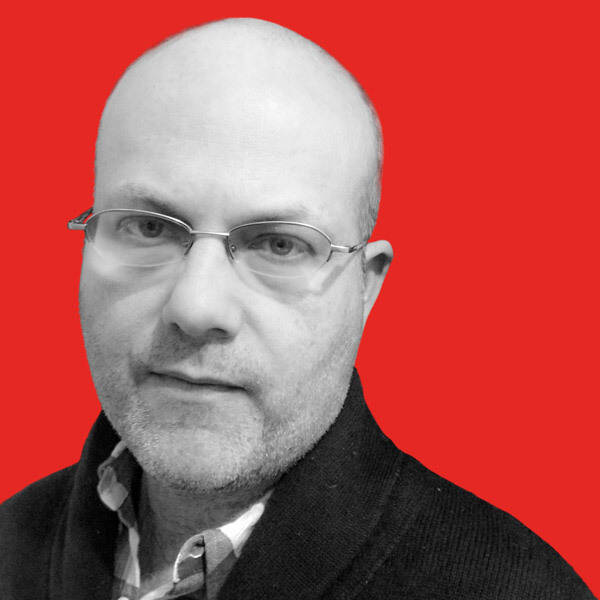 Theo Anderson
is an In These Times contributing writer. He has a Ph.D. in modern U.S. history from Yale and writes on the intellectual and religious history of conservatism and progressivism in the United States. Follow him on Twitter @Theoanderson
7
.