Resister's Digest: The Fossil Fuel Divestment Movement Scores Big Wins
Other movements are hoping to build on May Day momentum and planning more strikes and protests.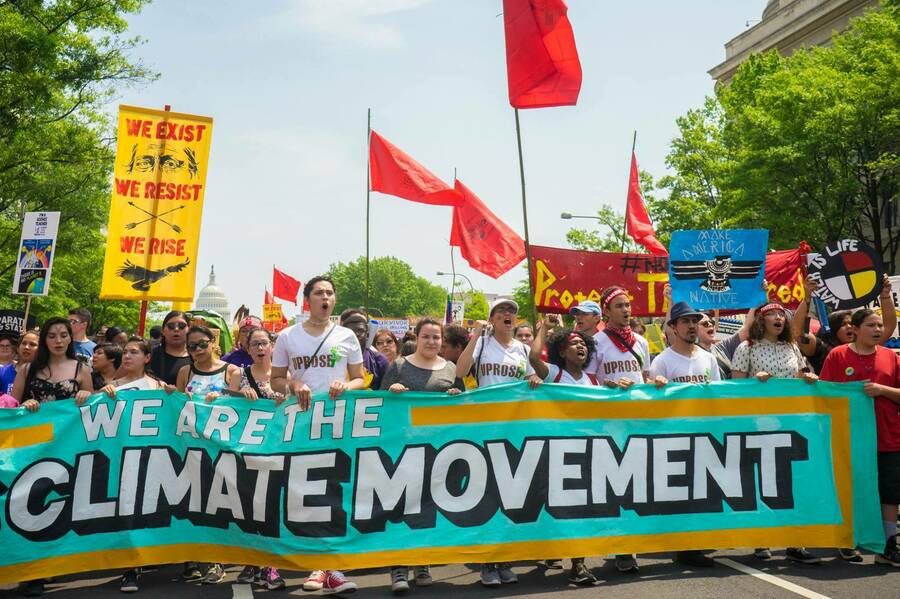 Resister's Digest is a week­ly roundup that spot­lights ways read­ers can con­nect with and learn about cam­paigns to oppose Pres­i­dent Don­ald Trump's agen­da, pro­tect human rights and pro­mote equal­i­ty. Have ques­tions or tips? Con­tact writer Theo Ander­son at theo@​inthesetimes.​com.
'Trump has presided over the most corrupt first 100 days in the history of the American presidency.'
The divest­ment move­ment has qui­et­ly notched some big wins late­ly and is chan­nel­ing momen­tum from last week's People's Cli­mate March into a Glob­al Divest­ment Mobi­liza­tion week, May 5 – 13. The mobi­liza­tion, a project of 350​.org, will pub­li­cize ​"the moral urgency to divest from fos­sil fuels" and seek to broad­en the movement's glob­al impact.
In April, 350​.org report­ed that the move­ment to divest from fos­sil fuels has grown rapid­ly since its incep­tion five years ago, with more than 700 insti­tu­tions, rep­re­sent­ing $5 tril­lion in assets, sign­ing on. In late April, for exam­ple, New York City's pres­ti­gious River­side Church announced that it would divest from all fos­sil fuels with­in five years. The church has an endow­ment of about $140 mil­lion. In ear­ly April, the city coun­cil in Port­land, Ore­gon, vot­ed to pull its invest­ments in cor­po­rate bonds and secu­ri­ties, amount­ing to about a third of the city's invest­ment port­fo­lio. The coun­cil is also con­sid­er­ing cre­at­ing a munic­i­pal bank that would rein­vest funds local­ly. And in Feb­ru­ary, in Seat­tle, the city coun­cil vot­ed to break its $3 bil­lion rela­tion­ship with Wells Far­go because of the bank's role in financ­ing the Dako­ta Access pipeline. Coun­cil mem­bers are explor­ing the idea of cre­at­ing a pub­lic bank instead. Oth­er major cities, includ­ing Los Ange­les, are also weigh­ing whether to divest from Wells Fargo.
The Glob­al Mobi­liza­tion week involves events on six con­ti­nents. U.S. ral­lies are planned in Asheville, North Car­oli­na, Austin, Texas, and Madi­son, Wis­con­sin. There are also sev­er­al ral­lies planned for New York. Go here for a map and details. Go here for ideas for actions and exam­ples of each. The New York ral­lies will focus on demand­ing that NYC and the state divest their pen­sion funds from fos­sil fuel com­pa­nies. The funds are worth more than $350 bil­lion. Go here for details and a petition.
"

A sea­son of strikes" and rallies

Cosecha, which is ​"a non­vi­o­lent move­ment fight­ing for per­ma­nent pro­tec­tion, dig­ni­ty, and respect for the 11 mil­lion undoc­u­ment­ed immi­grants in the coun­try," will build on the ener­gy from May Day ral­lies with ​"a sea­son of strikes and boy­cotts" over the next few weeks. On Sat­ur­day, May 6, it will hold a ​"What's Next" event in Chica­go. Fol­low Cosecha's Face­book page here. Cosecha is also orga­niz­ing a May Day ​"strike fund" to help work­ers who are ​"most affect­ed by par­tic­i­pat­ing in the strike." Details here.
Rik­ers: An Amer­i­can Jail
A new doc­u­men­tary from Bill Moy­ers—Rik­ers: An Amer­i­can Jail—will be screened Fri­day, May 5, at the Uni­ver­si­ty Cen­ter at the New School in New York City. The film explores what incar­cer­a­tion means for the 7,500 peo­ple detained each day at Rik­ers, which the city has recent­ly announced it will close. A dis­cus­sion with par­tic­i­pants in the film will fol­low the screen­ing. Details here.
100

days of Trump

Com­mon Cause has released a report on the first 100 days of the Trump pres­i­den­cy, and con­clud­ed that ​"Trump has presided over the most cor­rupt first hun­dred days in the his­to­ry of the Amer­i­can pres­i­den­cy." The organization's pri­or­i­ties for the com­ing year include leg­is­la­tion that would require ​"dis­clo­sure of at least five years of fed­er­al tax returns by major par­ty can­di­dates for pres­i­dent and vice pres­i­dent," and the ​"Mar-a-Lago Act," which would require ​"dis­clo­sure of White House vis­i­tor logs and vis­i­tor logs of oth­er venues where the pres­i­dent reg­u­lar­ly con­ducts busi­ness." Mass­a­chu­setts Sen. Eliz­a­beth War­ren and MoveOn​.org have pro­duced a video on the impor­tance of Trump's tax returns. Com­mon Cause has a peti­tion here.
Redraw­ing the lines
Ger­ry­man­der­ing, the draw­ing of Con­gres­sion­al dis­tricts to par­ti­san advan­tage, is emerg­ing as a prime tar­get for elec­tion reform­ers. In part, that's because the 2020 U.S. Cen­sus is draw­ing near, and a Con­sti­tu­tion­al­ly man­dat­ed redis­trict­ing will fol­low in its wake. In 2010, the GOP's mas­sive gains at the state lev­el allowed leg­is­la­tors to redraw House dis­tricts in ways that almost guar­an­teed GOP con­trol of that cham­ber. In Penn­syl­va­nia and North Car­oli­na, for exam­ple, Demo­c­ra­t­ic can­di­dates won more votes than Repub­li­cans in the 2012 elec­tion, but Democ­rats won just 9 of 31 House seats.
Barack Oba­ma has said he will make redis­trict­ing reform a pri­or­i­ty of his post-pres­i­den­cy. There are sev­er­al excel­lent tools for track­ing and con­nect­ing with the reform efforts now under­way in sev­er­al states. Com­mon Cause has a wide range of resources, includ­ing a run­down of how dis­tricts are drawn in each state and a sum­ma­ry of state-lev­el reform ini­tia­tives, a newslet­ter devot­ed to the sub­ject and a hand­book for activists. Fair­Vote offers a vari­ety of tools and data for informed and effec­tive action, and Tufts Uni­ver­si­ty offers sev­er­al resources, includ­ing a sum­mer school pro­gram devot­ed to it. A por­tion of the five-day pro­gram will be open to the pub­lic and made avail­able online. Also see this arti­cle about the Tufts pro­fes­sor who cre­at­ed the pro­gram and pro­motes a geom­e­try-based solu­tion to gerrymandering.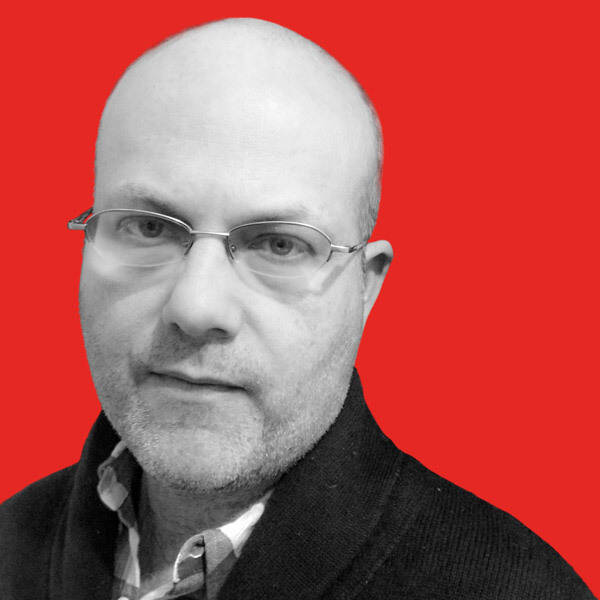 Theo Ander­son
is an In These Times con­tribut­ing writer. He has a Ph.D. in mod­ern U.S. his­to­ry from Yale and writes on the intel­lec­tu­al and reli­gious his­to­ry of con­ser­vatism and pro­gres­sivism in the Unit­ed States. Fol­low him on Twit­ter @Theoanderson
7
.