Reversal of Fortune?
Mumia's death sentence is overturned, for now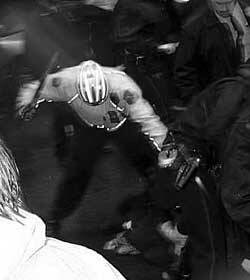 After surviving two decades on Pennsylvania's Death Row, journalist and former Black Panther activist Mumia Abu-Jamal had his death sentence voided on December 19. The ruling was based on a narrow issue involving faulty instructions to the jury by the judge and in the jury verdict form at Abu-Jamal's 1982 trial, which federal Judge William Yohn said might have incorrectly misled the panel.

Judge Yohn rejected all arguments to overturn Abu-Jamal's first-degree murder conviction. Prosecutors have 180 days to file a motion for a new sentencing hearing before a new jury, which could reimpose a death sentence. If no such hearing is held, he will automatically be sentenced to life in prison with no chance of parole.

With the death sentence lifted, the man who was convicted in the 1981 slaying of Philadelphia Police Officer Daniel Faulkner will be moved from the ​"super-max" prison where he has spent the bulk of his adult life in near solitary confinement into a regular prison.

Both Abu-Jamal's attorneys and Lynne Abraham, Philadelphia's District Attorney, say they will appeal the decision. Hugh Burns, the prosecutor handling the case, argues that the jury instruction issue cited by Yohn should have been raised by Abu-Jamal in his first appeal to the state's high court in 1989, and that in raising it later, in 1995, he was ​"too late."

Abu-Jamal, meanwhile, will ask the Third Circuit Court of Appeals to overturn Yohn's rejection of the 19 constitutional complaints his lawyers raised concerning his conviction. He is also asking the Appeals Court to order Yohn to consider new evidence and witnesses discovered by his attorneys, Eliot Grossman and Marlene Kamish. Those witnesses include a controversial figure, Arnold Beverly, who claims it was he, and not Abu-Jamal, who killed Faulkner.

No date has been set for the federal appeals court to consider the case, and it could take some time before it is heard. If there were a new sentencing trial, one hope for Abu-Jamal — who continues to maintain his innocence — is that he could, at the discretion of the judge, introduce new evidence to raise ​"residual doubt" in the minds of jurors concerning his actual guilt. Leonard Weinglass and Daniel Williams (both dumped by Abu-Jamal last spring after Williams published a book about the case) say it was always their hope that, if they failed to overturn his conviction, a new sentencing hearing might enable them at least to introduce new evidence of their client's innocence.

The Third Circuit Court of Appeals could reverse Judge Yohn or send the case back to him on the issue of whether the prosecution improperly excused jurors in 1982 on grounds of their race. While Yohn denied that claim, it is the one issue he certified to the appeals court, meaning that he felt there were grounds to reconsider it.

The most likely outcome for Abu-Jamal at this point, though, is that he will never get out of prison. This grim prospect angers those who have been demanding his freedom. But given Abu-Jamal's charisma and journalistic gifts, the much greater access to the outside world he will gain as an ordinary prisoner in the state system is sure to infuriate those others — including the police and most of the state's legal and political establishment — who have been trying to silence him.

The ruling is being seen as a mixed blessing by Abu-Jamal supporters. Says Pam Africa, a leader of International Concerned Family and Friends of Mumia Abu-Jamal, ​"Trading Mumia from Death Row to life in prison is not acceptable."
Dave Lindorff
, an
In These Times
contributing editor, is the author of
This Can't Be Happening: Resisting the Disintegration of American Democracy
. His work can be found at
This Can't Be Happening
.