Roundups Ratcheted
Undocumented immigrants arrested en masse in new Homeland Security program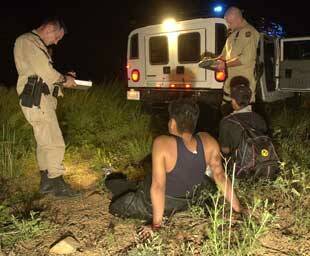 Fed­er­al agents are fan­ning out across the nation appre­hend­ing undoc­u­ment­ed immi­grants with a green light from the Bush administration.
Eight months ago Oper­a­tion Endgame was placed on the fast track under the aus­pices of Immi­gra­tion and Cus­toms Enforce­ment, or ICE, the new­ly formed inves­tiga­tive arm of the Depart­ment of Home­land Secu­ri­ty (see ​"Deten­tion Blues," p. 20) and one of three new bureaus of the for­mer Immi­gra­tion and Nat­u­ral­iza­tion Ser­vice. With a big­ger bud­get and more agents, the man­date is to catch some of the esti­mat­ed 400,000 undoc­u­ment­ed immi­grants who have final removal orders and deport them.
"Right now we have more than 20,000 peo­ple in ICE cus­tody nation­wide," says ICE spokes­woman Vir­ginia Kice.
Since March, civ­il rights groups nation­wide have report­ed a marked increase in the ques­tion­ing, deten­tion and depor­ta­tion of undoc­u­ment­ed immigrants.
Dur­ing a week in April, near­ly 170 peo­ple were arrest­ed on the East Coast fol­low­ing three flights from Los Ange­les to Newark Lib­er­ty and JFK Inter­na­tion­al airports.
In March, fed­er­al author­i­ties picked up almost two dozen undoc­u­ment­ed work­ers at a con­struc­tion site in Dade City, Flori­da. Also in March, a week­long crack­down in New Eng­land picked up 60 undoc­u­ment­ed immigrants.
In Hous­ton, Texas, rumors of mass immi­gra­tion raids cre­at­ed such pan­ic in Lati­no neigh­bor­hoods that ​"they stopped send­ing their kids to school, stopped attend­ing church, stopped going to work, there was a dra­mat­ic shift in the traf­fic," says Arnal­do Gar­cia, of the Nation­al Net­work for Immi­grant and Refugee Rights in Oak­land, California.
Accord­ing to civ­il rights orga­ni­za­tions, agents have been employ­ing a new tac­tic that tar­gets one per­son to gain access to an apart­ment build­ing or home, and then ends with the detain­ing and deport­ing of oth­er undoc­u­ment­ed immi­grants. This hap­pened May 6 in San Fran­cis­co when agents entered the res­i­den­tial Sun­rise Hotel to detain a res­i­dent who alleged­ly vio­lat­ed immi­gra­tion orders.
Agents caught their tar­get, but pressed oth­er res­i­dents for their legal sta­tus as they walked through the lob­by on their way to work. Agents swept up nine undoc­u­ment­ed work­ers; all but one signed vol­un­tary depor­ta­tion notices.
The raid drew the ire of city offi­cials. San Fran­cis­co Super­vi­sors Tom Ammi­ano and Chris Daly, in whose dis­trict the raid took place, intro­duced a res­o­lu­tion urg­ing the FBI and ICE to stop tar­get­ing hard­work­ing immi­grants. It passed over­whelm­ing­ly. If immi­grants are detained, the res­o­lu­tion requires ​"that access to legal coun­sel be pro­vid­ed, that they get access to a hear­ing and that their case be reviewed by a judge."
"These kinds of raids should not be hap­pen­ing. It is unac­cept­able that these vul­ner­a­ble fam­i­lies would have to deal with some­thing like this," Daly says.
ICE Deputy Field Office Direc­tor Tim Aiken dis­agrees. ​"This notion that we can't ques­tion peo­ple about their immi­gra­tion sta­tus because they weren't the ones we're look­ing for is com­plete non­sense. We have a right to do our job and we are enforc­ing the laws that Con­gress gave us."
A sim­i­lar sit­u­a­tion occurred at a pri­vate res­i­dence in San Diego Coun­ty. At 6 a.m. on March 18, agents pound­ed on Jose Luis Aguilar's door. When he opened the door, agents forced their way in, accord­ing to a report filed by the Amer­i­can Friends Ser­vice Com­mit­tee (AFSC), a nation­al civ­il rights orga­ni­za­tion. The agents appar­ent­ly were try­ing to cap­ture an undoc­u­ment­ed immi­grant with a crim­i­nal record named Juan Rios. The cur­rent res­i­dent, Aguilar, knew noth­ing about Rios.
Even though Aguilar was not the tar­get of their inves­ti­ga­tion and had no crim­i­nal record, agents ques­tioned him and his fam­i­ly about their immi­gra­tion sta­tus. They also ques­tioned his neigh­bors. In all, a dozen undoc­u­ment­ed immi­grants were round­ed up although author­i­ties nev­er found Rios.
"I nev­er thought this would hap­pen," says Aguilar. ​"Yes, it can hap­pen on the streets, you are vul­ner­a­ble — but in your own house — no, not with­out hav­ing done anything."
Says his attor­ney Susan Von Posern, ​"They can stop you in the park, on the bus, they can knock on your door."
Since March, Bor­der Patrol agents in San Diego have been search­ing for undoc­u­ment­ed immi­grants on pub­lic trans­porta­tion in a pro­gram called Oper­a­tion TransCheck.
"So far we've inter­viewed approx­i­mate­ly 7,290 peo­ple and arrest­ed 218," says Tomas Jimenez, spokesman for Cus­toms and Bor­der Pro­tec­tion, Unit­ed States Bor­der Patrol.
Although fed­er­al agents deny these are ​"raids" or ​"sweeps," com­mu­ni­ty mem­bers con­tin­ue to per­ceive them as such.
These roundups and deten­tions are dev­as­tat­ing to fam­i­lies — who see their loved ones shack­led and tak­en away in vans. ​"They [fed­er­al agents] oper­ate on the fringes of the Con­sti­tu­tion," says Chris­t­ian Ramirez, direc­tor of the AFSC in San Diego.
When asked about tac­tics and meth­ods used by the agents to get cit­i­zen­ship sta­tus infor­ma­tion, includ­ing alle­ga­tions of racial pro­fil­ing, Aiken stat­ed: ​"We have the right based on behav­ioral cues and oth­er cir­cum­stances that sug­gest to us there may be a vio­la­tion, to pur­sue it. We are doing our job."
Of increas­ing con­cern is the ques­tion­ing of stu­dents rid­ing the trol­ley. One shock­ing inci­dent includes the ques­tion­ing of a 16-year-old girl who was on her way to a char­ter high school in Chu­la Vista in San Diego Coun­ty. Accord­ing to the AFSC, a bor­der patrol agent approached the girl and ques­tioned her immi­gra­tion sta­tus. ​"She pro­vid­ed her school ID and the agent did not accept the school ID as a valid form of iden­ti­fi­ca­tion," says Ramirez. ​"Then they pro­ceed­ed to ask for more infor­ma­tion about where she lived and where she went to school."
Added Ramirez, ​"Her com­plaint was that she felt threat­ened because the Bor­der Patrol agent told her that he would trav­el to her school to ver­i­fy that she was legal­ly in the Unit­ed States. As a result of this the young lady has failed to show up to school. She is very afraid.
"What doc­u­ments do you need to pro­vide to the Bor­der Patrol to prove that you are legal in the Unit­ed States? That's a debate that needs to hap­pen, unfor­tu­nate­ly it's tak­ing place in the streets and not in the Supreme Court."
Rose Arri­eta
was born and raised in Los Ange­les. She has worked in print, broad­cast and radio, both main­stream and com­mu­ni­ty ori­ent­ed — includ­ing being a for­mer edi­tor of the Bay Area's inde­pen­dent com­mu­ni­ty bilin­gual biweek­ly El Tecolote. She cur­rent­ly lives in San Fran­cis­co, where she is a free­lance jour­nal­ist writ­ing for a vari­ety of out­lets on social jus­tice issues.