To Improve Rural Economy, USDA Will Give Out Millions in Loans and Grants
On March 22, Sam Rikkers, administrator for the USDA's Rural Business-Cooperative Service, announced that the department is currently seeking applications for $37 million in zero-interest loans and $11 million in grants for the development of new rural businesses and the expansion of existing ones.
In total, the USDA Office of Rural Development (RD) oversees a $212 billion portfolio of loans — funds made available with the intention of ​"improving the economy and quality of life in rural America." The programs and eligibility requirements vary but, for those looking to start a business in a rural area, it's probably worth checking in with a state office.
The funds referred to in this announcement will be provided through the Rural Economic and Development Loan and Grant (REDLG) program, part of an ongoing federal effort to address the persistent poverty in many of our nation's small towns and rural communities. ​"Our small, rural businesses need financing to compete in the global economy," wrote Rikkers. ​"These loans and grants will spur entrepreneurship and create jobs."
REDLG, however, does not offer loans and grants to business owners directly, but rather to publically-owned local utilities which then put the money to work within their communities ​"to create revolving funds for projects that will create or retain jobs in rural areas."
Do these programs work?
Whether or not these programs are helping to alleviate rural poverty, it's clear the federal government is aware of the problem. In 2010, when census data revealed that 90 percent of counties with the highest poverty rates (four-person families with an annual cash income below $23,364) were in rural America, Secretary of Agriculture Tom Vilsack launched the StrikeForce initiative. It's goal was to partner with community-based organizations to provide resources to the most struggling counties. Today, as more than one-third of rural Americans and one-in-four rural children live in poverty, StrikeForce is operating in 970 rural counties in 25 states and Puerto Rico.
According to the March 22 press release:
"The REDLG program has also been successful in StrikeForce counties. The StrikeForce for Rural Growth and Opportunity Initiative is part of the Obama Administration's commitment to address persistent poverty across America. As areas of persistent poverty are identified, USDA staff work with state, local and community officials to increase awareness of USDA programs and help build program participation through intensive community outreach and technical assistance. In 2015, the South Mississippi Electric Power Association (SMEPA) used part of a $2 million REDLG loan to help the city of Greenwood buy and renovate a building for the Milwaukee Tools company. Once completed, this project is expected to create more than 100 jobs in Lenore County, a designated StrikeForce area."
SMEPA, based in Hattiesburg, Miss., is a member-owned electricity cooperative that provides power to more than 419,000 homes and businesses in 55 of the state's 82 counties. The Milwaukee Electric Tool Corporation is a Wisconsin-based multinational manufacturer of industrial power tools. The plant in Greenwood, Miss., which also repairs the company's products, was established in 2002 and currently employs 300 people.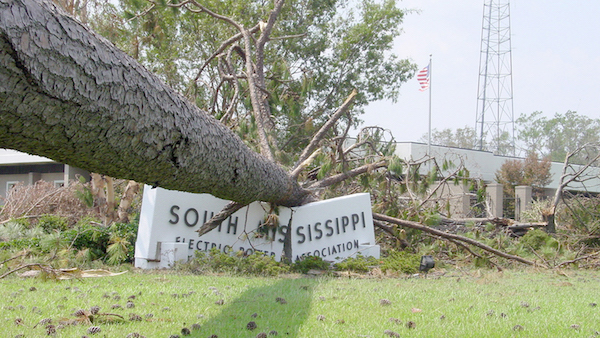 SMEPA headquarters in the wake of Hurricane Katrina, when the 2005 hurricaine devastated many of the region's electric co-ops. (Photo: Steve Johnson)
There are hundreds of utility cooperatives in the United States, primarily in rural areas, tasked with the delivery of electricity, water and telecommunications to their members. Established as part of Roosevelt's New Deal to bring electricity and telephone service to areas that investor-owned companies wouldn't, these cooperatives remain a vital part the country's infrastructure. The USDA's Rural Utilities Service (RUS) currently administers programs that develop and maintain rural infrastructure — these days that means investing money in broadband and renewable energy initiatives.
The RUS's Rural Energy for America Program, for example, provides loans and grants to agricultural producers and rural businesses to purchase and install renewable energy systems or make efficiency improvements. Also part of the 2009 federal stimulus package, RUS's Broadband Initiatives Program is a $3 billion effort to provide support and improve high-speed internet access in rural areas. That program, however, has been criticized by the U.S. Government Accountability Office for leaving many projects unfinished.
In an effort to better understand how an inspiring business owner can best take advantage of the programs available, Rural America In These Times posed the following question to the Office of Rural Development:
"In the case of the Milwaukee Tool Company, for example, did the South Mississippi Electric Power Association reach out to the business or the other way around? In other words, how should local business owners best go about inquiring about a loan or grant through their eligible local utilities?"
Public Affairs Specialist, Christine Feroli, responded:
"Interested REDLG end users, aka ultimate recipients, are always welcome to contact the utilities, or to work with RD local offices, which have access to and relationships with entities that get REDLG loans and grants. Given that the utility is the recipient, we don't dictate, of course, what interested parties do. Also, we ALWAYS encourage rural business owners to develop relationships with RD staff in state and local offices so they are aware of the many programs RD offers to support rural businesses."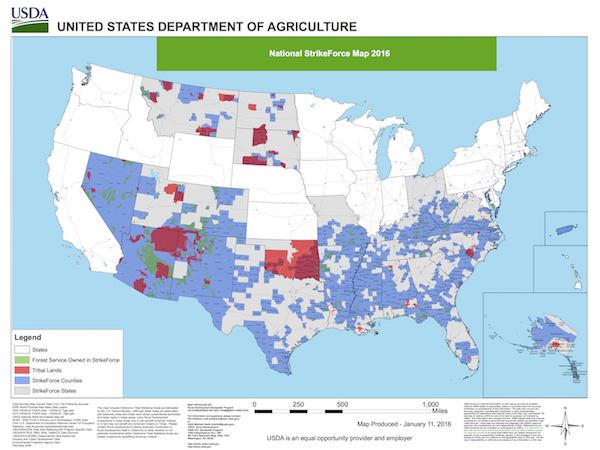 Map depicting StrikeForce counties and tribal lands. For full-size graphic, click here. (Image: usda​.gov)
Rural America In These Times is interested in learning more about how these programs work on the ground. Are they a boon to rural communities — or are they a boondoggle? If you or your community have sought or received assistance from the USDA in starting a business and wish to share your experience, please contact me, John Collins, at john@inthesetimes, or reach out via Facebook.
For a limited time:
Donate $20 or more to In These Times and we'll send you a copy of Let This Radicalize You.
In this new book, longtime organizers and movement educators Mariame Kaba and Kelly Hayes examine the political lessons of the Covid-19 pandemic and its aftermath, including the convergence of mass protest and mass formations of mutual aid. Let This Radicalize You answers the urgent question: What fuels and sustains activism and organizing when it feels like our worlds are collapsing?
We've partnered with the publisher, Haymarket Books, and 100% of your donation will go towards supporting In These Times.