Sewer Socialism Down the Drain?
Activists in Milwaukee fight to keep their city's water system in public hands.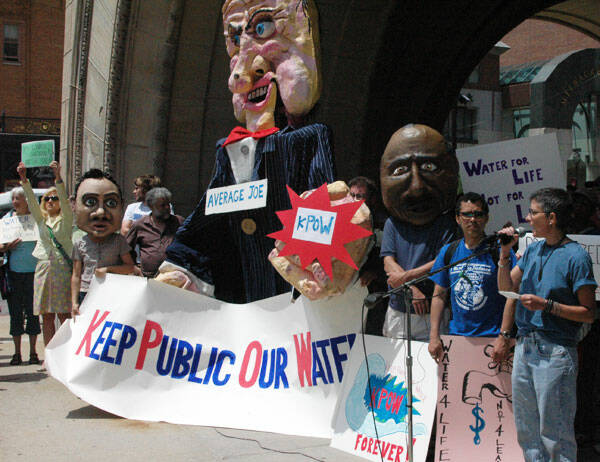 Public water, one of the most important legacies of Milwaukee's Socialist Party, which led the city almost continuously from 1910 to 1960, is now under attack from those who see a chance to convert this fundamental resource into a profit stream via privatization.
Those fighting privatization of water hold no illusions about winning a permanent victory.
In the name of coping with rising deficits, privatization advocates led by City Comptroller Wally Morics have proposed leasing the water system to private operators for 75 to 99 years.
Once the city moved to hire consultants on the water privatization proposal, it tapped into a broad current of citizen outrage in favor of preserving a vital part of ​"the commons," as public water advocates put it. The grassroots opposition to privatization came to a head at a June 12 rally of some 300 pumped-up citizens outside Milwaukee's City Hall. Environmentalists, health advocates, unionists, senior citizens and youth activists were present.
"Public water is a trust that belongs to all of us," declared Cheryl Nenn, the interim executive director of the Milwaukee Riverkeepers. ​"Where there has been privatization, jobs have been lost and benefits cut for workers, while monitoring of water quality has been cut or eliminated, and prices have risen."
"We must stand for public ownership of public water," thundered Jim Godsil, long-time activist and editor of the web-zine Milwaukee Renaissance.
Public water plays an unusually central role in Milwaukee's history. The advent of a public system in the late 1800s meant a major drop in water-borne diseases like cholera and typhus in Milwaukee. However, the system favored the lucrative provision of water to wealthy suburbs over poorer city districts incapable of paying high rates. Only the election of Socialists in 1910 extended the public system to the entire city, including the heavily working-class and Polish South Side.
Milwaukee has already experienced the privatization of the other element of its water infrastructure, the sewage system, enacted under former Mayor John Norquist, a ​"New Democrat" darling of the Wall Street Journal editorial page.
Norquist and the city brought in United Water, a subsidiary of French-owned multinational Suez Environnement, promising cost savings and major benefits. Unfortunately, United Water cut staff by one-third, cut back on quality control and unleashed numerous discharges of millions of gallons of untreated sewage into Lake Michigan.
The city terminated its contract with United Water but kept the system in private hands and recently turned the sewage system over to another French firm, Veolia.
Numerous U.S. cities that have privatized their water supply – Atlanta, Ga., Indianapolis and Gary, Ind., Stockton, Calif., and Hoboken, N.J., among others – have experienced a variety of severe problems including sharp price increases, infrastructure failures and plummeting water quality.
At a public hearing on June 15 jammed with privatization foes, a gun-shy City Council committee decided to shelve the water privatization idea. However, key city officials insist that the idea of privatization remains on the table.
Those fighting privatization hold no illusions about winning a permanent victory. ​"They temporarily shelved it because of the public outcry, and they're temporarily back-pedaling," says the Riverkeepers' Nenn.
"So we'll keep educating people about why privatizing is harmful and build a broader base of support for our coalition," she adds firmly. ​"Whether it's South Africa or Bolivia or the inner city of Milwaukee, poor people can't afford to pay what the privatizers want to charge."
For a limited time: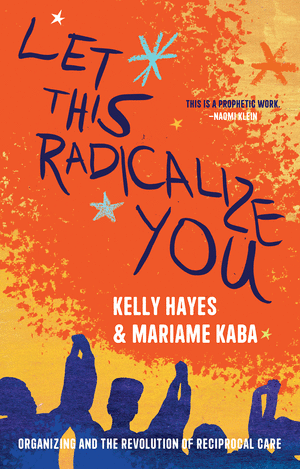 Donate $20 or more to support In These Times and we'll send you a copy of Mariame Kaba's new book, Let This Radicalize You.
Longtime organizers and movement educators Mariame Kaba and Kelly Hayes examine the political lessons of the Covid-19 pandemic, and the convergence of mass protest and mass formations of mutual aid. Featuring insights from a spectrum of experienced organizers, including Sharon Lungo, Carlos Saavedra, Ejeris Dixon, Barbara Ransby, and Ruth Wilson Gilmore and more.
"Kelly Hayes and Mariame Kaba have created a visionary and urgently needed guide to cultivating hope and action in treacherous times." —L.A. Kauffman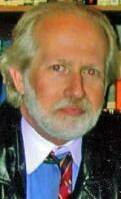 Roger Bybee

is a Milwaukee-based freelance writer and University of Illinois visiting professor in Labor Education. Roger's work has appeared in numerous national publications, including

Z

magazine,

Dollars

&

Sense, The Progressive, Progressive Populist, Huffington Post, The American Prospect, Yes!

and

Foreign Policy in Focus

. More of his work can be found at

zcom​mu​ni​ca​tions​.org/​z​s​p​a​c​e​/​r​o​g​e​r​d​bybee

.