Single Payer Rises Again
As the ACA takes effect, an alternative gains ground at the state level.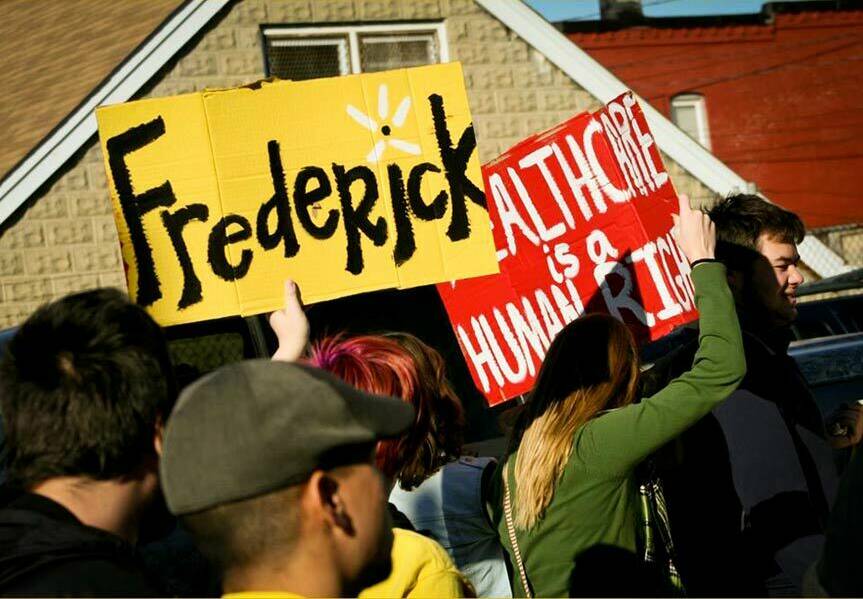 When Ser­gio Espana first began talk­ing to peo­ple, just over a year ago, about the need for fun­da­men­tal changes in the U.S. health­care sys­tem, con­fu­sion often ensued. Some peo­ple didn't under­stand why, if the Afford­able Care Act (ACA) had passed, peo­ple still want­ed to reform the sys­tem; oth­ers thought orga­niz­ers were try­ing to sign them up for ​"Oba­macare."
'We often limit ourselves tremendously by not talking to people that we fear or that we have been told won't agree.'
Health­care is a Human Right Mary­land, the group to which Espana belongs, is in pur­suit of some­thing else: a tru­ly uni­ver­sal health­care sys­tem that would cov­er every­one and elim­i­nate insur­ance com­pa­nies once and for all. Espana and many oth­ers in the grow­ing move­ment see oppor­tu­ni­ty in the renewed dis­cus­sion around health­care reform as the ACA's insur­ance exchanges go into effect.
They believe that the ACA's con­tin­ued reliance on (and sub­si­dies of) pri­vate insur­ance sim­ply aren't good enough. Peo­ple are still falling through the cracks, employ­ers are try­ing to dodge the require­ment that they pro­vide insur­ance for their work­ers, and many states refused fed­er­al sub­si­dies to expand their Med­ic­aid pro­grams. What these activists want is a pro­gram that would replace exist­ing insur­ance pro­grams, cov­er every­one regard­less of their employ­ment sta­tus, and be fund­ed by the gov­ern­ment, with tax dol­lars. Such a plan had strong sup­port when the nation­al health­care over­haul was being craft­ed in 2009 — includ­ing ini­tial back­ing by Pres­i­dent Oba­ma — but the pres­i­dent and Con­gress decid­ed it wasn't polit­i­cal­ly pos­si­ble and passed the ACA as a compromise.
Now, the rocky launch of the health­care exchanges that form the cor­ner­stone of the Afford­able Care Act has helped revive inter­est in sin­gle-pay­er, says Ida Hel­lan­der, direc­tor of pol­i­cy and pro­grams for the advo­ca­cy group Physi­cians for a Nation­al Health Pro­gram. New York State Assem­bly­mem­ber Richard Got­tfried, the author of a 20-year-old sin­gle-pay­er bill that is receiv­ing renewed sup­port, points out that sin­gle-pay­er would avoid many of the issues of the ACA's launch. ​"When you don't have means test­ing and you don't have to make guess­es about who's going to cov­er your doc­tor or your ail­ment, it's very simple."
While Repub­li­cans on the nation­al stage have been grand­stand­ing about ​"repeal­ing and replac­ing" the ACA, grass­roots activists are on the ground in many states orga­niz­ing their neigh­bors around the idea of real uni­ver­sal health­care. A nation­al pro­gram remains the end goal, but Nijmie Dzurinko of Put Peo­ple First! Penn­syl­va­nia believes that state efforts could have a domi­no effect. ​"Our job is to change what's polit­i­cal­ly pos­si­ble," says Drew Christo­pher Joy of the South­ern Maine Work­ers' Cen­ter, which is lead­ing the effort in that state.
Accord­ing to Hel­lan­der, about 25 states already have sol­id orga­niz­ing toward sin­gle-pay­er, often accom­pa­nied by pend­ing leg­is­la­tion. Some of these efforts pre­date the ACA: The Cal­i­for­nia Nurs­es Asso­ci­a­tion led the charge for sin­gle-pay­er in the mid-2000s, twice get­ting a bill through the Cal­i­for­nia leg­is­la­ture only to have it vetoed by Gov. Arnold Schwarzeneg­ger. Hel­lan­der says that the ACA has slowed down some efforts at state reform, as offi­cials turned to set­ting up exchanges, but the law spurred oth­ers in Min­neso­ta, Wash­ing­ton, Hawaii and Ore­gon. In New York, Got­tfried notes that his bill has sup­port from physi­cians groups, the nurs­es union and a major­i­ty of the low­er house of the leg­is­la­ture. And in Mass­a­chu­setts, con­sid­ered the lab­o­ra­to­ry for the ACA, sin­gle-pay­er is now on the table thanks to guber­na­to­r­i­al can­di­date Don Berwick, the for­mer admin­is­tra­tor of the Cen­ters for Medicare and Med­ic­aid Ser­vices under Obama.
The biggest leg­isla­tive vic­to­ry to date has come in Ver­mont. Act 48, signed into law by Gov. Peter Shum­lin in May of 2011, would begin to cre­ate a ​"uni­ver­sal and uni­fied" health­care sys­tem for the state. The bill, pio­neered by the Ver­mont Work­ers' Cen­ter (VWC), is at the cut­ting edge of nation­al health­care pol­i­cy. Its pas­sage result­ed from years of on-the-ground orga­niz­ing around the prin­ci­ple that health­care is a human right — that it must be uni­ver­sal, equi­table, par­tic­i­pa­to­ry, trans­par­ent and accountable.
How­ev­er, Act 48 marks just the begin­ning of a lengthy process toward health­care for all res­i­dents of the state, regard­less of employ­ment or cit­i­zen­ship. The next steps are to fig­ure out how ​"Green Moun­tain Care" will fit into fed­er­al require­ments set by the ACA and to pass a mech­a­nism by which the pro­gram will be financed.
The VWC favors a more pro­gres­sive income tax on indi­vid­u­als and employ­ers, along with a wealth tax. Mary Gerisch, pres­i­dent of the VWC, says, ​"Even though new tax­es or pro­gres­sive tax­a­tion sounds very scary, in real­i­ty it's going to be cheap­er for every­body, just like it is in every oth­er coun­try, for them to pay it in tax­a­tion rather than to pay out of pock­et at the doctor."
This grow­ing move­ment has attract­ed grow­ing oppo­si­tion, says Gerisch, who notes that a num­ber of TV ads and web­sites have popped up to oppose Green Moun­tain Care. And Ver­mon­ters for Health Care Free­dom, a new 501©4 orga­ni­za­tion found­ed by long­time Repub­li­can polit­i­cal oper­a­tive Dar­cie John­ston, has paid for sev­er­al ads and robo­call­ing cam­paigns against the plan.
Small busi­ness own­ers, in par­tic­u­lar, are sus­cep­ti­ble to the fear that new tax­es will put them out of busi­ness, Gerisch says. She men­tions one exam­ple of a small busi­ness own­er who was wor­ried about a 10 per­cent tax (even though no tax has been decid­ed upon), only to find out that he was already pay­ing 13 per­cent of his prof­its to buy insur­ance for his employ­ees, which would be unnec­es­sary under a state plan.
Health­care is a Human Right believes the orga­niz­ing mod­el pio­neered in Ver­mont rep­re­sents the best chance for pass­ing uni­ver­sal health­care, and the group is forg­ing ahead with that mod­el in its Maine, Mary­land, and Penn­syl­va­nia chap­ters. Among the key ele­ments are base-build­ing and edu­ca­tion. To com­bat cor­po­rate scare tac­tics, activists focus on arm­ing cit­i­zens with good information.
In Mary­land, accord­ing to Espana, more than 90 per­cent of the 1,200-plus peo­ple the orga­ni­za­tion has sur­veyed over the last year believe that health­care is a right, and more than 86 per­cent sup­port a pub­licly fund­ed sys­tem. ​"Mary­land has been com­ing off more and more as a pro­gres­sive state. We've been able to get some ver­sion of a DREAM Act through, we got mar­riage equal­i­ty last year — those are great vic­to­ries but, eco­nom­i­cal­ly, they're not that trans­for­ma­tion­al," he says.
Joy sees an oppor­tu­ni­ty to build a strong com­mu­ni­ty-labor alliance around uni­ver­sal care in Maine, where the state AFL-CIO has got­ten on board with the Health­care is a Human Right cam­paign, and the Maine State Nurs­es Asso­ci­a­tion held a free health clin­ic to pro­vide ser­vices and con­nect peo­ple to the campaign.
Dzurinko and Put Peo­ple First! Penn­syl­va­nia have been orga­niz­ing statewide — not only in Philadel­phia and Pitts­burgh, but in rur­al coun­ties where the con­ven­tion­al wis­dom has been that pro­gres­sives can't win. Dzurinko says that peo­ple in those coun­ties fre­quent­ly sug­gest, unprompt­ed, that the U.S. should have a nation­al health­care sys­tem ​"like in Canada."
​"We often lim­it our­selves tremen­dous­ly by not talk­ing to peo­ple that we fear or that we have been told won't agree," Dzurinko says. ​"We can't talk about uni­ver­sal­i­ty unless we real­ly are talk­ing about every­one, and that means orga­niz­ing in all com­mu­ni­ties." Joy agrees: ​"If you're not tak­ing the time to real­ly orga­nize from the ground up, we'll end up with the ACA again."
For Espana, orga­niz­ing around sin­gle-pay­er presents an oppor­tu­ni­ty to begin a broad­er dis­cus­sion about eco­nom­ic jus­tice and human rights. ​"All of these pol­i­tics of aus­ter­i­ty are just lies," he says. ​"Through a fight for health­care reform you can demon­strate that not only is it moral­ly right­eous for us to have a uni­ver­sal health­care sys­tem, but it's actu­al­ly cheaper."
Sarah Jaffe
is a for­mer staff writer at
In These Times
and author of
Nec­es­sary Trou­ble: Amer­i­cans in Revolt
, which Robin D.G. Kel­ley called ​
"
The most com­pelling social and polit­i­cal por­trait of our age." You can fol­low her on Twit­ter
@sarahljaffe
.