Social Security Doesn't Come To All Who Paid
Farmworkers find their employers pocketed their Social Security payments—rendering them ineligible for benefits.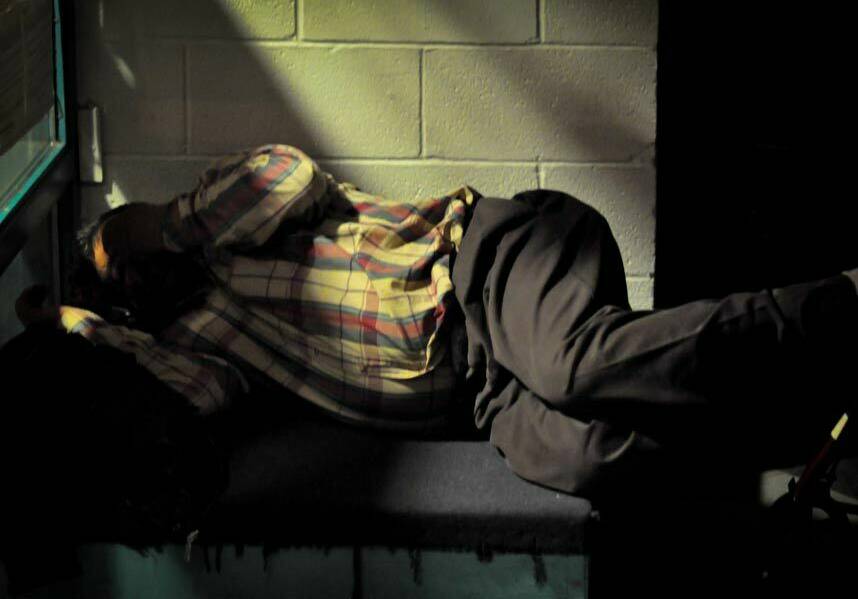 Israel Morales, 44, is one of the thou­sands of migrant farm­work­ers hired to har­vest New Mexico's famous chiles. For the past five years, Morales, who asked that his real name not be used, has earned between $4,000 and $7,000 a year stoop­ing to pick chiles in the hot fields. Much of that he sends back to Chi­huahua, Mex­i­co, to sup­port his wife and two chil­dren, ages 16 and 22, both in school. His earn­ings are fair­ly typ­i­cal for chile work­ers, accord­ing to the Bor­der Agri­cul­tur­al Work­ers Project. But only a frac­tion of his earn­ings were ever report­ed to the IRS or the Social Secu­ri­ty Admin­is­tra­tion (SSA).
You don't need to be a U.S. citizen to qualify for Social Security; you just need to have worked in the country legally for enough time. Since undocumented immigrants received amnesty in 1986, that applies to most older farmworkers.
Not that Morales hasn't tried. For 2012, he filed a tax return list­ing his total income as $6,791. He worked for two con­trac­tors, or con­tratis­tas, that year, but they nev­er sent him W2s. Yet the receipts showed that they deduct­ed almost $200 in Social Secu­ri­ty pay­ments from his take-home pay. ​"Clear­ly, the con­trac­tors wrote down that deduc­tion on a pay stub and nev­er paid [it] because they nev­er report­ed him as an employ­ee," says Sarah Rich, an attor­ney who worked for two years at Texas RioGrande Legal Aid (TRLA) in El Paso. Morales's sit­u­a­tion isn't unusu­al. Tess Wilkes, a San­ta Fe attor­ney who rep­re­sents farm­work­ers, says con­tratis­tas under­re­port­ing work­ers' incomes, or fail­ing to report income at all, ​"is very widespread."
Such fraud cheats not only the Social Secu­ri­ty sys­tem, but also the work­ers them­selves. Social Secu­ri­ty ben­e­fits are based on life­time earn­ings. When a con­tratista fails to report or under­re­ports a worker's income to the SSA, such fraud will reduce the Social Secu­ri­ty ben­e­fits the work­er ulti­mate­ly receives – or ren­der him inel­i­gi­ble entirely.
You don't need to be a U.S. cit­i­zen to qual­i­fy for Social Secu­ri­ty; you just need to have worked in the coun­try legal­ly for enough time. Since undoc­u­ment­ed immi­grants received amnesty in 1986, that applies to most old­er farm­work­ers. Even if they came to the Unit­ed States with­out papers decades ago, they have been work­ing legal­ly for many years and are enti­tled to ben­e­fits in their old age.
To qual­i­fy, how­ev­er, a work­er must have worked 40 quar­ters over his or her life­time and earned a cer­tain min­i­mum each quar­ter. In 2012, that min­i­mum was $1,130 per quar­ter, or $4,520 per year. (Today it's $1,200 per quar­ter, or $4,800 per year.) For low-wage farm­work­ers, who often bare­ly meet those thresh­olds, fail­ure to report even a frac­tion of their earn­ings can rob them of Social Secu­ri­ty ben­e­fits entire­ly. If Morales hadn't saved his receipts in 2012, he would only have been able to claim $2,463 in earn­ings and could only have been cred­it­ed with two quar­ters worked, rather than a full year.
Get­ting cred­it for unre­port­ed earn­ings is dif­fi­cult, accord­ing to Rebec­ca Val­las, a pover­ty pol­i­cy direc­tor at the Cen­ter for Amer­i­can Progress and for­mer legal aide attor­ney in Philadel­phia. ​"Cor­rect­ing your Social Secu­ri­ty earn­ings record can be a painstak­ing and incred­i­bly hard-to-nav­i­gate process," she says. ​"Many peo­ple need help from a lawyer, par­tic­u­lar­ly if they don't have paper­work doc­u­ment­ing their earnings."
To make a strong case to the SSA, migrant work­ers must retain doc­u­men­ta­tion of their earn­ings – typ­i­cal­ly pay receipts – and match them up against their W2s. But farm­work­ers say they often don't receive either.
When farm­work­ers do get pay receipts, they are typ­i­cal­ly small slips of paper that are eas­i­ly ruined or lost. Morales is one of those rare farm­work­ers who has been dili­gent about sav­ing them. For years, he's been col­lect­ing his pay stubs, care­ful­ly stow­ing them in a plas­tic bag in his back­pack, then deposit­ing them in his only stor­age space, a small met­al lock­er at Sin Fron­teras, the shel­ter in El Paso, Texas, he calls home. Sarah Rich, who rep­re­sent­ed Morales when she was an attor­ney at TRLA, calls him ​"the most orga­nized farm­work­er I've ever met."
"He is wor­ried about not mak­ing enough Social Secu­ri­ty quar­ters," she says of Morales. In the­o­ry, the 45-year-old has plen­ty of time to make the cut­off, but if con­tratis­tas con­tin­ue to fail to report his earn­ings, he may have rea­son to worry.
Los­ing Social Secu­ri­ty eli­gi­bil­i­ty is just the begin­ning. Unre­port­ed or under­re­port­ed income leads to a host of oth­er prob­lems for low-income farm­work­ers. Because agri­cul­tur­al work is spo­radic, many farm­work­ers rely on unem­ploy­ment ben­e­fits and tax refunds to get them through the lean win­ter and spring peri­ods, when work is hard to come by.
Require­ments for unem­ploy­ment ben­e­fits vary from state to state, but states typ­i­cal­ly require some­one to have worked for at least two quar­ters of the pre­vi­ous 12 months, and ben­e­fits are cal­cu­lat­ed based on a worker's total earn­ings over that peri­od. Work­ers also must have earned above a set min­i­mum, says Sov­er­eign Hager, an attor­ney at the New Mex­i­co Cen­ter on Law and Pover­ty. ​"If your wages are under­re­port­ed, you may not be eligible."
When Morales applied for unem­ploy­ment ben­e­fits in 2013, he was dis­mayed to be deemed inel­i­gi­ble. He tells the sto­ry in his soft voice, with quick, clipped sen­tences, his words often swal­lowed by his gen­er­ous mous­tache. ​"When I went for unem­ploy­ment, there was noth­ing," he says. ​"The con­tratis­tas report­ed nothing."
Because the two con­tratis­tas he worked for did not report his earn­ings, he received a let­ter stat­ing that he lacked suf­fi­cient income to qual­i­fy. He was denied unem­ploy­ment ben­e­fits in 2012 for the same reason.
The prob­lems don't stop there. Accord­ing to Ray Vig­il, a pub­lic affairs and wage report­ing spe­cial­ist in the El Paso SSA office, under­re­port­ed income can reduce the amount a per­son receives if they're dis­abled by a workre­lat­ed acci­dent, and when they die, it can reduce the amount their fam­i­ly receives as sur­vivors' ben­e­fits. And while Medicare isn't based on income, it is based on quar­ters worked; any­one who doesn't accu­mu­late 40 quar­ters isn't eli­gi­ble for free Medicare Part A, which cov­ers hos­pi­tal care.
No paper trail
Farm­work is an extreme­ly infor­mal sys­tem. Grow­ers rarely hire their own work­force, out­sourc­ing hir­ing and pay­roll to con­tratis­tas instead. Pay is almost always in cash. ​"The more infor­mal your sec­tor, the few­er doc­u­ments you receive, and the hard­er it is to present a coher­ent record of your year­ly income to the gov­ern­ment," says Sarah Rich, the for­mer TRLA attorney.
This infor­mal­i­ty is a recipe for tax eva­sion and fraud. Accord­ing to the IRS, pay­ing in cash is one of the most com­mon meth­ods employ­ers use to avoid prop­er­ly report­ing earn­ings and thus evade income and employ­ment tax­es. These prac­tices appear to be extreme­ly com­mon in America's agri­cul­tur­al fields.
Accord­ing to Ray Vig­il, from the El Paso SSA office, the IRS requires con­trac­tors to issue a W2 to any work­er who earns at least $150 per year, or to all their work­ers if total year­ly labor costs exceed $2,500. Even the small­est-scale con­tratis­tas usu­al­ly meet that thresh­old. Yet when In These Times asked 10 El Paso-based field work­ers whether they had trou­ble obtain­ing cor­rect W2s, nine said they typ­i­cal­ly don't get all of their W2s or receive W2s that report less income than they actu­al­ly earned. The lone work­er who said he'd nev­er had a W2 prob­lem works for con­tratis­tas who are per­son­al friends.
While most grow­ers in the South­west and across the coun­try rely on con­tratis­tas to pro­vide labor for their farms, the farm in south­ern New Mex­i­co where Rober­to Gon­za­lez serves as a super­vi­sor is the rare excep­tion. The farm used con­tratis­tas for many years until, he says, ​"we saw that the sys­tem wasn't work­ing." He agreed to talk in detail about con­tratis­tas only if his real name wasn't used; he was con­cerned about get­ting con­tratis­tas or oth­er grow­ers into trouble.
Gon­za­lez says that when he did use con­tratis­tas, they sim­ply told him how many work­ers were in the crew and Gon­za­lez would hand over a check to cov­er wages, Social Secu­ri­ty, any oth­er costs and the con­tratis­tas' fee. The con­tratis­tas cashed the check and paid the farm­work­ers in cash. He nev­er checked that they were giv­ing out receipts. ​"You can't get into it," he says. ​"It's their busi­ness." He'd peri­od­i­cal­ly check in on the crews, how­ev­er, and that was how he dis­cov­ered that one con­tratista was charg­ing him for ​"ghosts" – work­ers who weren't there. But he con­tin­ued to use con­tratis­tas until the farm received an IRS let­ter stat­ing that his work­ers' Social Secu­ri­ty and tax­es hadn't been paid. The mon­ey he'd includ­ed to cov­er those pay­ments, he guessed, ​"just kind of goes into the contractor's pock­et." The farm had to pay the Social Secu­ri­ty tax­es again, and that's when he switched to hir­ing work­ers direct­ly. When asked if he knew of any rep­utable con­tratis­tas, he says, ​"I couldn't tell you one."
Juan Lopez, anoth­er New Mex­i­co farm­work­er, has hard evi­dence that con­tratis­tas have been steal­ing his Social Secu­ri­ty pay­ments. Lopez, 40, who asked that his real name not be used, kept all of his pay receipts from 2013, and they show that one con­tratista paid him $713 and with­held $55 for Social Secu­ri­ty and Medicare. That con­tratista did send him a W2 – but it report­ed only $464 in earn­ings and only $35 in pay­ments to the SSA. ​"The log­i­cal infer­ence being that the employ­er was pock­et­ing the dif­fer­ence," says María Martínez Sánchez, an Albu­querque attor­ney who has rep­re­sent­ed farm­work­ers for many years. A sec­ond con­tratista with­held $30 in Social Secu­ri­ty deduc­tions from Lopez's pay but nev­er sent him a W2. Over the course of a sea­son, a con­tratista might hire dozens of work­ers, so these small thefts could add up to a siz­able sum. Lopez notes on his 2013 tax return that he asked the con­tratis­tas for W2s but nev­er received most of them.
The Earned Income Tax Cred­it, which pro­vides sub­si­dized tax refunds for the work­ing poor, is pegged to earn­ings up to a set cap; the less report­ed income, the small­er the tax refund. Lopez's total 2012 earn­ings should have gar­nered him a $475 refund, but his report­ed earn­ings pro­duced a refund of only $189. ​"That's for the house," Lopez says. ​"For my kids." In years when his refund is small­er than he's due, he says, ​"There's less mon­ey for everything."
A work­ing retirement
Twice a week, Anto­nio Zubia Her­nan­dez, 65, walks across the San­ta Fe Bridge from El Paso, Texas, to Ciu­dad Juárez, Mex­i­co, where he can pur­chase cig­a­rettes for as lit­tle as $3.25 a pack. A U.S. legal res­i­dent, he worked for 29 years in the agri­cul­tur­al fields of the Amer­i­can South­west. Now, he spends his nights in the Sin Fron­teras shel­ter and his days sit­ting in front, sell­ing loose cig­a­rettes, or suel­tos, to oth­er farm­work­ers to sup­ple­ment his $338 month­ly Social Secu­ri­ty check.
Most years, he aver­aged six months of full-time work in the fields; some­times he also found off-sea­son work. He can recall only two con­tratis­tas who gave him accu­rate W2s. A review of his Social Secu­ri­ty earn­ings record shows that his wages appear to have been under­re­port­ed in at least 19 of his work­ing years – some­times by a few hun­dred dol­lars, some­times by more than $3,000. Like oth­er farm­work­ers inter­viewed for this sto­ry, Zubia Her­nan­dez nev­er com­plained. ​"I know work­ers who did," he said, ​"and they were out of a job."
Yet Vig­il says the SSA can't ini­ti­ate inves­ti­ga­tions unless an indi­vid­ual files a com­plaint. Even in those cas­es, the chances of get­ting relief are slim. ​"We're not a polic­ing agency," Vig­il says. If there's evi­dence that an employ­er isn't prop­er­ly report­ing Social Secu­ri­ty with­hold­ings, SSA will con­tact the employ­er to ques­tion them. ​"A lot of times we're unsuc­cess­ful," he says. ​"We can­not force them to sub­mit that information."
In the rare cas­es where fraud is evi­dent, they turn the case over to the IRS. It's unclear what pro­por­tion of these refer­rals are pur­sued. Bill Brun­son, in IRS media rela­tions, declined to answer ques­tions, refer­ring instead to an IRS web­site that shows that, in fis­cal year 2013, the agency com­plet­ed 140 inves­ti­ga­tions into employ­ment tax eva­sion across the coun­try, result­ing in 78 indict­ments. None involved agri­cul­tur­al enter­pris­es or contratistas.
An analy­sis by Marc Gold­wein, senior pol­i­cy direc­tor at the Com­mit­tee for a Respon­si­ble Fed­er­al Bud­get, found that if Zubia Her­nan­dez had been cred­it­ed for at least six months of full-time min­i­mum wage work each year, his Social Secu­ri­ty ben­e­fits would be near­ly $440 a month – or rough­ly $1,200 a year more than he cur­rent­ly receives. In his par­tic­u­lar case, as with many sea­son­al, lowwage work­ers, the short­fall is made up for by SSI, a tax­pay­er-fund­ed sub­sidy for the poor. (Zubia Her­nan­dez cur­rent­ly receives $172 a month in SSI; if his Social Secu­ri­ty ben­e­fits rose by $100, his SSI sup­ple­ment would drop accordingly.)
How­ev­er, SSI tight­ly restricts the eli­gi­bil­i­ty of nonci­t­i­zens, explains Kathy Ruff­ing, a Social Secu­ri­ty expert at the Cen­ter for Bud­get and Pol­i­cy Pri­or­i­ties, so that safe­ty net isn't avail­able to all farm­work­ers who work in the U.S. legal­ly. And some farm­work­ers earn enough to mer­it Social Secu­ri­ty ben­e­fits well above the $721 thresh­old for SSI sup­ple­men­ta­tion – those who take on off-sea­son work, for exam­ple, and aver­age more than $10,000 a year in today's dol­lars. Zubia Her­nan­dez earned $12,500 one year and $22,000 anoth­er; if he'd earned that much through­out his work­ing life, his employ­ers' chron­ic fail­ure to report his income could have meant a sig­nif­i­cant short­fall in ben­e­fits in his old age.
Mar­gari­ta Ortiz, 62, was a farm­work­er in New Mex­i­co for 35 years, work­ing 40-hour weeks dur­ing the height of har­vest sea­son. She says she nev­er received W2s; her Social Secu­ri­ty ben­e­fits total only $200 a month. Mon­ey is tight. Her high blood pres­sure pre­vents her from con­tin­u­ing to work in the fields. With no oth­er options, Ortiz has turned to col­lect­ing cans.
Every day, when work­ers are due back from the fields, Ortiz walks to the Sin Fron­teras shel­ter to meet the arriv­ing bus­es and vans. Some work­ers save their cans for her; oth­ers toss theirs on the side­walk or in the streets. With the help of her grand­chil­dren, she picks these up and then roots through trash bar­rels, search­ing for more. She cash­es in the cans once a week. Her lat­est receipt showed she'd brought in 30 pounds and received $16 in exchange. ​"It's not enough," she says sad­ly, ​"but what can you do?"
José Mar­tinez Bar­ran­co has spent decades doing farm­work in Col­orado and, more recent­ly, in the chile fields of New Mex­i­co. For the most part, he didn't receive receipts or W2s. Now 62, he receives only $240 a month in Social Secu­ri­ty ben­e­fits. He believes his pay­ments would have been much high­er if his income had been prop­er­ly report­ed. ​"I can­not rest," he says. ​"I have two chil­dren to take care of, so I have to work." So dur­ing the chile har­vest, he still spends eight to 10 hours a day on his knees under a hot sun. If he's lucky, he'll net $30 to $40 a day.
For these vic­tims of fraud and tax eva­sion, it's work until you drop. ​"Unless they have chil­dren to sup­port them," says Rich, the for­mer TRLA attor­ney, ​"that's their life plan."
This arti­cle was report­ed in part­ner­ship with The Inves­tiga­tive Fund at The Nation Insti­tute, with addi­tion­al sup­port from the Puf­fin Foundation.
Joseph Sor­renti­no
is a writer and pho­tog­ra­ph­er. He has been doc­u­ment­ing the lives of agri­cul­tur­al work­ers on both sides of the U.S./Mexico bor­der for
12
years.