The U.S. and Canada are Gearing Up for the Next Battle in the "Softwood Lumber Wars"
As the sub­ject of inter­na­tion­al trade deals dom­i­nates the pres­i­den­tial race, a long-stand­ing dis­pute between the U.S. and Cana­di­an lum­ber indus­tries is also heat­ing up (again). The so-called ​"soft­wood lum­ber wars" — dis­putes over alle­ga­tions that Cana­di­an lum­ber sub­si­dies unfair­ly under­cut our domes­tic log­ging indus­try and cre­ate an inabil­i­ty to com­pete — have been on and off again since the ear­ly 1980s. The Squamish Chief, a local news­pa­per in British Colum­bia, recent­ly referred to the peren­ni­al dis­agree­ment as ​"the largest, longest-last­ing and most com­plex trade dis­pute in the his­to­ry of Canada‑U.S. relations."
The last log­ging deal between our two coun­tries — the 2006 Soft­wood Lum­ber Agree­ment — expired in Octo­ber 2015. This was fol­lowed by a one-year mora­to­ri­um on trade action, but that stand­still is set to end next week on Octo­ber 12. The ques­tion now is whether a new deal between our two coun­tries can be reached, or if pro­tract­ed legal nego­ti­a­tions will ensue.
Cana­da is the world's largest exporter of soft­wood lum­ber (wood from gym­nosperm, or seed-pro­duc­ing, trees such as conifers that account for about 80 per­cent of the world's tim­ber pro­duc­tion) and most of it is used in the Unit­ed States for home con­struc­tion. The lum­ber sub­sidy pro­grams in place in Cana­da are pos­si­ble because Cana­di­an provinces own the vast major­i­ty of the com­mer­cial­ly viable tim­ber in the country.
The U.S. fed­er­al gov­ern­ment also heav­i­ly sub­si­dizes log­ging on pub­lic land in a vari­ety of ways, some­times indi­rect­ly, includ­ing reim­burse­ments to wood indus­try con­trac­tors for costs incurred in build­ing roads need­ed to get to log­ging tracts on fed­er­al land. In 2014, the Inde­pen­dent Record in Hele­na Mont. report­ed, ​"Nation­wide, Con­gress gave the For­est Ser­vice about $4 bil­lion to log four mil­lion acres of fish and wildlife habi­tat — which amounts to a sub­sidy of about $1000 per acre." That said, the major­i­ty of soft­wood tim­ber pro­duc­tion in the Unit­ed States is facil­i­tat­ed pri­mar­i­ly through (cor­po­rate and non-cor­po­rate) pri­vate land leases.
Accord­ing to Richard Gar­neau, the CEO of Que­bec-based Res­olute For­est Prod­ucts, ​"Cana­da has tra­di­tion­al­ly account­ed for about one-third of the U.S. lum­ber mar­ket, but the Unit­ed States is rumored to want that to grad­u­al­ly decrease to 22 per­cent." In order to accom­plish this change in the mar­ket, pro­duc­ers in the Unit­ed States have been peti­tion­ing the fed­er­al gov­ern­ment to impose tar­iffs on import­ed Cana­di­an lumber.
The U.S. Lum­ber Coali­tion (USLC) — an alliance of large and small soft­wood lum­ber pro­duc­ers from around the coun­try that formed in 1985 ​"to respond to the dev­as­tat­ing effects of Canada's lum­ber sub­si­dies on the U.S. lum­ber indus­try" — explains that Canada's major­i­ty own­er­ship of the country's tim­ber­land ​"allows the provinces to set prices for pub­lic tim­ber far below mar­ket val­ue, thus low­er­ing pro­duc­tion costs for Cana­di­an lum­ber companies."
Accord­ing to the coalition's web­site:
Canada's unfair lum­ber sub­si­dies have for decades harmed the U.S. lum­ber indus­try, threat­en­ing its work­ers with mount­ing unem­ploy­ment, and deny­ing many tree farm­ers a mar­ket for their tim­ber crops. The impact of these sub­si­dies is appar­ent every­where. Bor­der mea­sures against sub­si­dized and unfair­ly trad­ed Cana­di­an lum­ber imports are essen­tial— oth­er­wise dif­fer­ences between the U.S. (most­ly pri­vate) and Cana­di­an (most­ly pub­lic) tim­ber sales sys­tems give Cana­di­an pro­duc­ers an unfair cost advan­tage. About half of Cana­di­an lum­ber pro­duc­tion is shipped to the U.S. mar­ket, account­ing for approx­i­mate­ly one third of U.S. total con­sump­tion. Left unchecked, Cana­di­an trade prac­tices would yield ever increas­ing mar­ket share for Cana­di­an prod­uct dis­plac­ing U.S. pro­duc­ers, work­ers, and landown­ers, or even allow­ing Cana­di­an mills to take over U.S. assets.
Ear­li­er this week, the coali­tion praised the release of a bipar­ti­san-spon­sored let­ter, signed by 41 mem­bers of the House of Rep­re­sen­ta­tives, that express­es sup­port for a new agree­ment that will lev­el the play­ing field for domes­tic lum­ber producers.
The let­ter states that ​"with­out an effec­tive agree­ment to counter this sub­sidy, Cana­di­an trade prac­tices would yield ever increas­ing mar­ket shares for Cana­di­an prod­uct and pro­duc­ers, dis­plac­ing and harm­ing U.S. man­u­fac­tur­ers, mill work­ers, log­gers, and many local busi­ness­es and jobs in their communities."
It's impor­tant to note that the North Amer­i­can log­ging indus­try is also fac­ing head­winds from recent envi­ron­men­tal pro­tec­tion mea­sures. These poli­cies, aimed at con­ser­va­tion, often affect rur­al economies in small towns. On Octo­ber 6, for exam­ple, it was announced that a lum­ber mill in north­ern Ida­ho — Tri-Pro For­est Prod­ucts in Orofi­no coun­ty — is shut­ting down, result­ing in the lay­offs of 40 peo­ple. In this case, the clo­sure has lit­tle to do with inter­na­tion­al trade agreements.
In a local news report, Tri-Pro Resource Man­ag­er, Mike Boeck, explained that a lack of access to cedar logs had forced the busi­ness to cur­tail oper­a­tions at the mill in recent weeks, but now they can no longer stay afloat. Boeck says, ​"It's not that there's a lack of resource. It's that it gets tied up in lit­i­ga­tion. These envi­ron­men­tal groups have pret­ty much dev­as­tat­ed our indus­try over the years. This isn't a new problem."
Long sto­ry short, in 2014, Tri-Pro pur­chased the rights to 3 to 4 mil­lion board feet of cedar along the low­er Sel­way Riv­er, but the deal was opposed by two envi­ron­men­tal advo­ca­cy orga­ni­za­tions— Friends of the Clear­wa­ter and Ida­ho Rivers Unit­ed — that brought a law­suit against the U.S. For­est Ser­vice. The groups main­tained that the sale of the trees, which were on pub­lic land, was ille­gal because the For­est Ser­vice had failed to con­sid­er the envi­ron­men­tal impact of the log­ging operation.
Gary Mac­far­lane, Ecosys­tem Defense Direc­tor with Friends of the Clear­wa­ter, explained the groups' vic­to­ry this way: ​"We won in the court of law because the sale was illegal…these are nation­al forests. They do not belong to the lum­ber indus­try. They belong to all Americans."
Dif­fer­ences of opin­ion on how to best bal­ance the envi­ron­ment and the econ­o­my con­tin­ue to divide Amer­i­cans, often along rur­al and urban lines, and a sim­i­lar lack of con­sen­sus cur­rent­ly sur­rounds inter­na­tion­al trade deals. Canada's Fed­er­al Inter­na­tion­al Trade Min­is­ter, Chrys­tia Free­land, recent­ly stat­ed that, when it comes to nego­ti­at­ing a new lum­ber deal, Cana­da will not nec­es­sar­i­ly accept what­ev­er offer the Unit­ed States proposes:
"We want and are work­ing towards a good deal for Cana­di­ans, but not just any deal," said Free­land at a Sep­tem­ber meet­ing in Chi­na with U.S. Trade Rep­re­sen­ta­tive Michael Fro­man. ​"If we fail to achieve a deal, which I very much hope will not be the case but is cer­tain­ly a pos­si­bil­i­ty, and if duties are imposed, we are pre­pared to litigate."
At the moment, it's look­ing like no deal will be reached by the Octo­ber 12 deadline.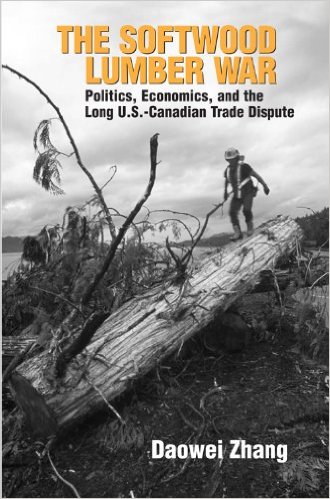 For more back­ground on the sub­ject, check out this 2007 book by Daowei Zhang. (Cov­er: Google Images)
[If you like what you've read, help us spread the word. ​

"

Like" Rur­al Amer­i­ca In These Times on Face­book. Click on the ​

"

Like Page" but­ton below the bear on the upper right of your screen. Also, fol­low RAITT on Twit­ter @RuralAmericaITT]