The U.S. and Canada are Gearing Up for the Next Battle in the "Softwood Lumber Wars"
As the subject of international trade deals dominates the presidential race, a long-standing dispute between the U.S. and Canadian lumber industries is also heating up (again). The so-called ​"softwood lumber wars" — disputes over allegations that Canadian lumber subsidies unfairly undercut our domestic logging industry and create an inability to compete — have been on and off again since the early 1980s. The Squamish Chief, a local newspaper in British Columbia, recently referred to the perennial disagreement as ​"the largest, longest-lasting and most complex trade dispute in the history of Canada-U.S. relations."
The last logging deal between our two countries — the 2006 Softwood Lumber Agreement — expired in October 2015. This was followed by a one-year moratorium on trade action, but that standstill is set to end next week on October 12. The question now is whether a new deal between our two countries can be reached, or if protracted legal negotiations will ensue.
Canada is the world's largest exporter of softwood lumber (wood from gymnosperm, or seed-producing, trees such as conifers that account for about 80 percent of the world's timber production) and most of it is used in the United States for home construction. The lumber subsidy programs in place in Canada are possible because Canadian provinces own the vast majority of the commercially viable timber in the country.
The U.S. federal government also heavily subsidizes logging on public land in a variety of ways, sometimes indirectly, including reimbursements to wood industry contractors for costs incurred in building roads needed to get to logging tracts on federal land. In 2014, the Independent Record in Helena Mont. reported, ​"Nationwide, Congress gave the Forest Service about $4 billion to log four million acres of fish and wildlife habitat — which amounts to a subsidy of about $1000 per acre." That said, the majority of softwood timber production in the United States is facilitated primarily through (corporate and non-corporate) private land leases.
According to Richard Garneau, the CEO of Quebec-based Resolute Forest Products, ​"Canada has traditionally accounted for about one-third of the U.S. lumber market, but the United States is rumored to want that to gradually decrease to 22 percent." In order to accomplish this change in the market, producers in the United States have been petitioning the federal government to impose tariffs on imported Canadian lumber.
The U.S. Lumber Coalition (USLC) — an alliance of large and small softwood lumber producers from around the country that formed in 1985 ​"to respond to the devastating effects of Canada's lumber subsidies on the U.S. lumber industry" — explains that Canada's majority ownership of the country's timberland ​"allows the provinces to set prices for public timber far below market value, thus lowering production costs for Canadian lumber companies."
According to the coalition's website:
Canada's unfair lumber subsidies have for decades harmed the U.S. lumber industry, threatening its workers with mounting unemployment, and denying many tree farmers a market for their timber crops. The impact of these subsidies is apparent everywhere. Border measures against subsidized and unfairly traded Canadian lumber imports are essential— otherwise differences between the U.S. (mostly private) and Canadian (mostly public) timber sales systems give Canadian producers an unfair cost advantage. About half of Canadian lumber production is shipped to the U.S. market, accounting for approximately one third of U.S. total consumption. Left unchecked, Canadian trade practices would yield ever increasing market share for Canadian product displacing U.S. producers, workers, and landowners, or even allowing Canadian mills to take over U.S. assets.
Earlier this week, the coalition praised the release of a bipartisan-sponsored letter, signed by 41 members of the House of Representatives, that expresses support for a new agreement that will level the playing field for domestic lumber producers.
The letter states that ​"without an effective agreement to counter this subsidy, Canadian trade practices would yield ever increasing market shares for Canadian product and producers, displacing and harming U.S. manufacturers, mill workers, loggers, and many local businesses and jobs in their communities."
It's important to note that the North American logging industry is also facing headwinds from recent environmental protection measures. These policies, aimed at conservation, often affect rural economies in small towns. On October 6, for example, it was announced that a lumber mill in northern Idaho — Tri-Pro Forest Products in Orofino county — is shutting down, resulting in the layoffs of 40 people. In this case, the closure has little to do with international trade agreements.
In a local news report, Tri-Pro Resource Manager, Mike Boeck, explained that a lack of access to cedar logs had forced the business to curtail operations at the mill in recent weeks, but now they can no longer stay afloat. Boeck says, ​"It's not that there's a lack of resource. It's that it gets tied up in litigation. These environmental groups have pretty much devastated our industry over the years. This isn't a new problem."
Long story short, in 2014, Tri-Pro purchased the rights to 3 to 4 million board feet of cedar along the lower Selway River, but the deal was opposed by two environmental advocacy organizations— Friends of the Clearwater and Idaho Rivers United — that brought a lawsuit against the U.S. Forest Service. The groups maintained that the sale of the trees, which were on public land, was illegal because the Forest Service had failed to consider the environmental impact of the logging operation.
Gary Macfarlane, Ecosystem Defense Director with Friends of the Clearwater, explained the groups' victory this way: ​"We won in the court of law because the sale was illegal…these are national forests. They do not belong to the lumber industry. They belong to all Americans."
Differences of opinion on how to best balance the environment and the economy continue to divide Americans, often along rural and urban lines, and a similar lack of consensus currently surrounds international trade deals. Canada's Federal International Trade Minister, Chrystia Freeland, recently stated that, when it comes to negotiating a new lumber deal, Canada will not necessarily accept whatever offer the United States proposes:
"We want and are working towards a good deal for Canadians, but not just any deal," said Freeland at a September meeting in China with U.S. Trade Representative Michael Froman. ​"If we fail to achieve a deal, which I very much hope will not be the case but is certainly a possibility, and if duties are imposed, we are prepared to litigate."
At the moment, it's looking like no deal will be reached by the October 12 deadline.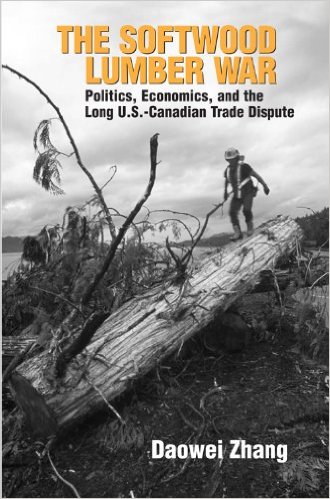 For more background on the subject, check out this 2007 book by Daowei Zhang. (Cover: Google Images)
[If you like what you've read, help us spread the word. ​

"

Like" Rural America In These Times on Facebook. Click on the ​

"

Like Page" button below the bear on the upper right of your screen. Also, follow RAITT on Twitter @RuralAmericaITT]