The Brooklyn Tenant Union That's Fighting Gentrification Through Collective Bargaining
For the past two years, the Crown Heights Tenant Union of Brooklyn has used collective bargaining strategies to win victories around rent control and tenant protection laws.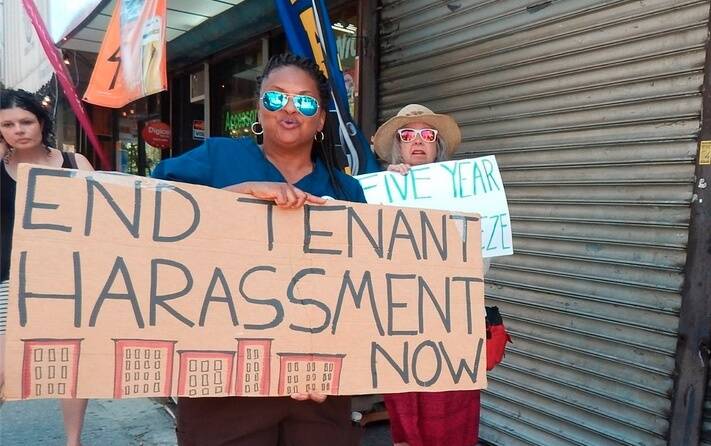 This is an expand­ed veri­son of the sto­ry that ran in the Sep­tem­ber issue of In These Times.
Instead of depending on unreliable government officials to defend them, CHTU has decided to push for collective bargaining agreements between tenants and landlords that would write protections for tenants directly into the deeds of rented buildings.
The past two months have been a roller-coast­er ride for afford­able hous­ing activists in New York. Despite a fight over the renew­al of state rent reg­u­la­tions that end­ed in an unsat­is­fy­ing stale­mate between land­lords and renter advo­cates, activists won an unprece­dent­ed rent freeze for all rent-sta­bi­lized apart­ments with one-year leas­es in New York City from May­or de Blasio's Rental Guide­lines Board just one week lat­er, rais­ing hopes for future victories.
But one group of orga­niz­ers, based in the rapid­ly gen­tri­fy­ing Brook­lyn neigh­bor­hood of Crown Heights, sees bet­ter prospects for change out­side of the devel­op­er-friend­ly state cap­i­tal. They've decid­ed that the prob­lem with afford­able hous­ing is not nec­es­sar­i­ly that ten­ant laws aren't strong enough — New York has some of the strongest hous­ing reg­u­la­tions in the coun­try — it's that ten­ants lack the pow­er to ensure that the law is enforced. The Crown Heights Ten­ant Union (CHTU) is exact­ly what its name implies — a union in the Brook­lyn neigh­bor­hood of Crown Heights based around an orga­niz­ing mod­el adapt­ed from the labor move­ment. Instead of depend­ing on unre­li­able gov­ern­ment offi­cials to defend them, CHTU has decid­ed to push for col­lec­tive bar­gain­ing agree­ments between ten­ants and land­lords that would write pro­tec­tions for ten­ants direct­ly into the deeds of rent­ed buildings.
CHTU's ulti­mate goal is to nego­ti­ate a neigh­bor­hood-wide con­tract between land­lords and ten­ants that would reg­u­late future rent increas­es (and impose a five-year rent freeze on all units), cod­i­fy stan­dards on repairs and ren­o­va­tions, guar­an­tee auto­mat­ic lease renewals and pro­tect ten­ants from dis­place­ment and harass­ment, putting the brakes on sky­rock­et­ing rents that have forced many long-time res­i­dents to leave the neighborhood.
"The land­lords are so pow­er­ful polit­i­cal­ly that we felt we had to con­front them direct­ly if we want­ed to get real con­ces­sions, and the only thing that is tru­ly bind­ing is a con­tract," says Joel Fein­gold, an Occu­py vet­er­an who helped found the group in Octo­ber 2013.
That's just one of many rea­sons why CHTU is so unique. Few oth­er groups in the Unit­ed States are using this strat­e­gy, save for City Life/​Vida Urbana, an afford­able-hous­ing group in Boston, pushed for col­lec­tive­ly bar­gained ​"afford­abil­i­ty agree­ments" in the mid-2000s, win­ning hous­ing sub­si­dies and lim­its on rent increas­es in more than 40 build­ings. Ten­ant unions are com­mon­place, how­ev­er, in coun­tries like Swe­den, where they form the back­bone of ten­ant-friend­ly hous­ing regulations.
This mod­el has helped CHTU build an alliance between old and new res­i­dents that lies at the heart of its orga­niz­ing strat­e­gy. While pop­u­lar con­cep­tions often paint gen­tri­fi­ca­tion as a clash between long-time res­i­dents of low-income com­mu­ni­ties and bespec­ta­cled hordes of invad­ing hip­sters, CHTU is premised on the idea that both groups have fun­da­men­tal­ly shared interests.
"What is typ­i­cal­ly called ​'gen­tri­fi­ca­tion' is actu­al­ly a cycle of exploita­tion, where long-term work­ing-class ten­ants in a neigh­bor­hood are pushed out, and then the same land­lords turn around and over­charge — ille­gal­ly, in many instances — the new ten­ants," Fein­gold says. ​"Not only are there shared mate­r­i­al inter­ests, but both groups need each oth­er to break that cycle."
So far, CHTU has yet to suc­cess­ful­ly nego­ti­ate a con­tract for any of its build­ings, but it's come close. CHTU Local 2, which com­pris­es four build­ings owned by the pri­vate equi­ty firm Burke Leighton, forced build­ing man­age­ment to the bar­gain­ing table after months of protests and legal action when the land­lord ​"cut and ran" by sell­ing off sev­er­al build­ings to anoth­er real estate firm, effec­tive­ly end­ing negotiations.
That expe­ri­ence, says Fein­gold, was a water­shed moment for the ten­ant union. Real­iz­ing that indi­vid­ual land­lords could scut­tle nego­ti­a­tions by sell­ing off build­ings and forc­ing ten­ants to start nego­ti­a­tions from scratch with the new land­lord — a prob­lem com­pound­ed by ram­pant spec­u­la­tion in the real estate mar­ket — CHTU has shift­ed its focus from nego­ti­at­ing with indi­vid­ual land­lords to secur­ing a col­lec­tive bar­gain­ing agree­ment for the entire neigh­bor­hood. Toward that end, CHTU is launch­ing a mas­sive orga­niz­ing cam­paign seek­ing to expand CHTU's reach into near­ly every rental unit in the neighborhood.
While this may seem like an ambi­tious goal, Fein­gold thinks the rad­i­cal­ly demo­c­ra­t­ic struc­ture of the ten­ant union will help make it pos­si­ble. An orga­niz­ing com­mit­tee pro­vides lead­er­ship on issues of strat­e­gy and orga­ni­za­tion, but ulti­mate­ly all deci­sion-mak­ing pow­er lies in the hands of the rank and file, which dis­cuss­es and votes on pro­pos­als dur­ing month­ly meet­ings. These meet­ings also serve as spaces for edu­ca­tion on both legal and prac­ti­cal issues: how to find your unit's rent his­to­ry and com­bat rent over­charge, how to write a press release, how to report a land­lord for fail­ing to make repairs, how to orga­nize neigh­bors and more.
Roger Myers, a mem­ber of CHTU who has lived in Crown Heights for more than 40 years, says these train­ings have been one of the group's biggest suc­cess­es, empow­er­ing res­i­dents to fight back against ille­gal evic­tions and oth­er harass­ment tac­tics used by land­lords to push out old­er res­i­dents in favor of more afflu­ent new­com­ers will­ing to pay top dol­lar for an apart­ment in an up-and-com­ing Brook­lyn neigh­bor­hood. In years past, he says, ​"We put up with all the killing and the vio­lence. Now that the neigh­bor­hood is bet­ter, they want to take it from us."
And for a long time, it seemed like ​"they" would. Over the past five years, new land­lords, often backed by large Wall Street pri­vate equi­ty firms, have flood­ed the neigh­bor­hood, buy­ing up build­ings and fill­ing them with new res­i­dents who often pay three or four times the exist­ing rent. To force old res­i­dents to leave, land­lords some­times resort to harass­ment cam­paigns and ille­gal tac­tics: refus­ing to cash rent checks, fail­ing to make basic repairs, serv­ing ten­ants pho­ny evic­tion notices. Two years ago, Myers says his land­lord changed the locks to the build­ing and refused to give him or his moth­er (who lives with him) a new key, even threat­en­ing to have them arrest­ed if they tried to break the locks. He had to take his land­lord to court before he could final­ly get a new set of keys.
But now he thinks res­i­dents have a fight­ing chance. A cam­paign to report over­due repairs in his build­ing led to a vis­it from the city inspec­tor, edu­ca­tion­al efforts have helped ten­ants learn to nav­i­gate New York's com­pli­cat­ed hous­ing bureau­cra­cy and the landlord's office has even become a lit­tle friend­lier since the lawsuit.
"Now they real­ize we know what our rights are. Knowl­edge is pow­er. If you know what you're owed, it's hard­er for them to take advan­tage of you. They have to take you seri­ous­ly," he says. ​"If I didn't have that knowl­edge, I'd prob­a­bly be out on my heels."
While it's too ear­ly to tell how this mod­el will hold up in the long run, CHTU has already grown to encom­pass six active locals spread across two dozen build­ings in less than two years of exis­tence. Fein­gold sees this as a sign that the union mod­el is able to gain res­i­dents' trust, a cru­cial chal­lenge for afford­able hous­ing groups across the country:
"We've grown through being very sin­cere about build­ing a demo­c­ra­t­ic, mil­i­tant, ten­ant-led union move­ment in this neigh­bor­hood. We cre­ate vic­to­ries in indi­vid­ual build­ings that help us cre­ate a demo­c­ra­t­ic tide of sup­port. Sol­i­dar­i­ty works."
This arti­cle orig­i­nal­ly stat­ed that City Life/​Vida Urbana has tran­si­tioned away from a col­lec­tive bar­gain­ing strat­e­gy for ten­ants. While CL/VU has shift­ed some of its orga­niz­ing to home­own­ers in fore­clo­sure since the finan­cial cri­sis, the group con­tin­ues to orga­nize tenants.
Ethan Corey
is a writer and researcher based in New York. His work has appeared in The Nation, Rolling Stone and MEL magazine.