Trump Nominates a Secretary of Agriculture (and, No, It's Not Wendell Berry)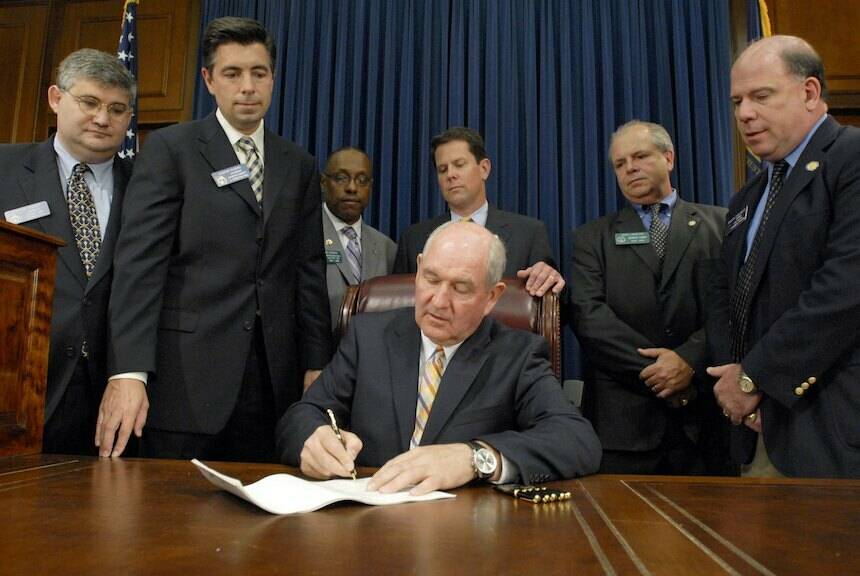 Fill­ing the last remain­ing vacan­cy on his incom­ing administration's cab­i­net, Pres­i­dent-elect Don­ald Trump has nom­i­nat­ed for­mer Geor­gia gov­er­nor Son­ny Per­due for sec­re­tary of agri­cul­ture. The announce­ment puts an end to weeks of mount­ing spec­u­la­tion over who (on Mon­day, Jan­u­ary 23, pre­sum­ably at around 9:00 a.m.) will be show­ing up to replace Tom Vil­sack as the Depart­ment of Agriculture's new boss. (Vil­sack resigned from the post one week ear­ly and is report­ed­ly tak­ing his tal­ents to the U.S. Dairy Export Council.)
Once con­firmed and sworn in, Per­due will have the unen­vi­able task of nav­i­gat­ing a third straight year of declin­ing net farm incomes, push­back from farm­ers and ranch­ers on Oba­ma-era envi­ron­men­tal reg­u­la­tions, heav­i­ly-lever­aged fam­i­ly farms strug­gling to com­pete, a mas­sive glob­al agribusi­ness indus­try hell bent on con­sol­i­da­tion and, per­haps most impor­tant­ly, the draft­ing of the 2018 farm bill — an omnibus law revis­it­ed by Con­gress every five years that gov­erns myr­i­ad aspects of our food supply.
On the human side of the equa­tion, mil­lions of Amer­i­can gro­cery shop­pers increas­ing­ly want to know what they're eat­ing, where it comes from, whether or not it's been treat­ed with chem­i­cals and/​or if it's been genet­i­cal­ly engi­neered in a lab­o­ra­to­ry. The world's largest pur­vey­ors of insec­ti­cides, her­bi­cides, patent­ed seeds and heav­i­ly-processed food would much pre­fer these details remain a mys­tery and lob­by accord­ing­ly. Caught in the mid­dle, most farm­ers just want to make a decent, reli­able liv­ing that doesn't involve jump­ing through unnec­es­sary hoops for a hyper­ac­tive Uncle Sam. Depend­ing on where a sec­re­tary of agriculture's sym­pa­thies lie, he (or she) can tip the scales one way or anoth­er on a num­ber of impor­tant issues.
Here's what we know about Son­ny Perdue:
George Ervin ​"Son­ny" Per­due III, 70, is the son of a farmer and has been involved in some aspect of agri­cul­ture for his entire life. In the 1970s, Per­due stud­ied and prac­ticed vet­eri­nary med­i­cine pri­or to start­ing sev­er­al agribusi­ness­es. His most recent ven­ture, found­ed in 2011, is Per­due Part­ners, LLC. Accord­ing to this Bloomberg bio, the LLC ​"oper­ates as a glob­al trad­ing com­pa­ny that facil­i­tates U.S. com­merce focus­ing on the export of U.S. goods and ser­vices through trad­ing, part­ner­ships, con­sult­ing ser­vices and strate­gic acqui­si­tions." Depend­ing on your faith in pub­lic ser­vants these days, such inti­mate knowl­edge of com­mod­i­ty trad­ing is either a good sign of prac­ti­cal busi­ness expe­ri­ence or deeply trou­bling. But Perdue's inter­na­tion­al trade cre­den­tials, which include open­ing Georgia's inter­na­tion­al trade office in Bei­jing while Gov­er­nor, are bound to be a sell­ing point for some.
Per­due got his start in pol­i­tics as a Demo­c­rat and served as a Geor­gia state sen­a­tor from 1991 to 2001, but switched par­ties in 1998. In 2003, he became Georgia's first Repub­li­can gov­er­nor in 130 years. Under his lead­er­ship, Geor­gia enact­ed some of the harsh­est ille­gal immi­gra­tion mea­sures in the nation, though he's since scold­ed the Repub­li­can par­ty for fail­ing to be more inclu­sive. While in office Per­due was involved in a land scan­dal that threat­ened to cost Geor­gia tax­pay­ers upwards of $30 mil­lion but received a good deal more nation­al crit­i­cism in 2007 when, dur­ing a par­tic­u­lar­ly bad region­al drought, he asked Geor­gians to ​"pray for rain" on the steps of the Capi­tol. Per­due, a Bap­tist and father of four, was also crit­i­cized for imple­ment­ing strict anti-wel­fare poli­cies that neg­a­tive­ly impact­ed the poor in his state. He is the first cousin of David Per­due, a U.S. Sen­a­tor, and not affil­i­at­ed with Per­due Farms — the chick­en, turkey and pork pro­cess­ing com­pa­ny based in Maryland.
Pos­i­tive and neg­a­tive reactions
Numer­ous polit­i­cal allies and large farm orga­ni­za­tions were quick to praise Trump's deci­sion. Zip­py Duvall, pres­i­dent of the Amer­i­can Farm Bureau Fed­er­a­tion, called Son­ny Perdue's nom­i­na­tion ​"wel­come news to the nation's farm­ers and ranch­ers." At least the new sec­re­tary of agri­cul­ture is not a Mon­san­to exec­u­tive. Last Wednes­day, pri­or to announc­ing his pick, Trump met with exec­u­tives from Mon­san­to and Bay­er — two of the world's five lead­ing biotech com­pa­nies — to dis­cuss their pro­posed $66 bil­lion merg­er. This sent chills down the spines of count­less already trau­ma­tized polit­i­cal junkies. Per­haps, Amer­i­cans should take some com­fort in the fact Trump end­ed up select­ing some­one who actu­al­ly grew up around farm­ing and is pre­sum­ably aware of the strug­gle many farm­ers face.
That said, there's no doubt Per­due gives envi­ron­men­tal­ists — and the sus­tain­able food move­ment more gen­er­al­ly — plen­ty to wor­ry about. He's a well-known cli­mate change skep­tic and a dis­ci­ple of big agri­cul­ture. In an arti­cle siz­ing up Trump's poten­tial picks for the posi­tion and their stance on the issues, Organ­ic Con­sumers Asso­ci­a­tion pub­lished the fol­low­ing blurb ahead of Perdue's nomination:
[Son­ny Per­due] sup­ports fac­to­ry farms, pes­ti­cides and genet­i­cal­ly engi­neered crops. In 2009, he signed a bill into law that blocked local com­mu­ni­ties in Geor­gia from reg­u­lat­ing fac­to­ry farms to address ani­mal cru­el­ty, pol­lu­tion or any oth­er haz­ard. He took mon­ey from Mon­san­to and oth­er pes­ti­cide com­pa­nies for his guber­na­to­r­i­al cam­paigns. The Biotech­nol­o­gy Inno­va­tion Orga­ni­za­tion, a front group for the GMO indus­try, named Per­due their 2009 Gov­er­nor of the Year.
Hop­ing Trump might yield to pres­sure and diver­si­fy his large­ly white male cab­i­net at the last minute, many Democ­rats are no doubt dis­ap­point­ed. Abel Mal­don­a­do, the eldest son of Mex­i­can-Amer­i­can farm­work­ers and for­mer Lieu­tenant Gov­er­nor of Cal­i­for­nia was a lead­ing con­tender for the spot as was Elsa Mura­no, for­mer Pres­i­dent of Texas A&M. Sug­gest­ing Trump's final deci­sion came down to the wire, yes­ter­day evening Mal­don­a­do was tweet­ing pic­tures from Trump Tow­er. He com­ment­ed on the hotel's ele­gance while enjoy­ing what (in the opin­ion of Rur­al Amer­i­ca In These Times) could eas­i­ly be mis­con­strued for a cel­e­bra­to­ry glass of champagne: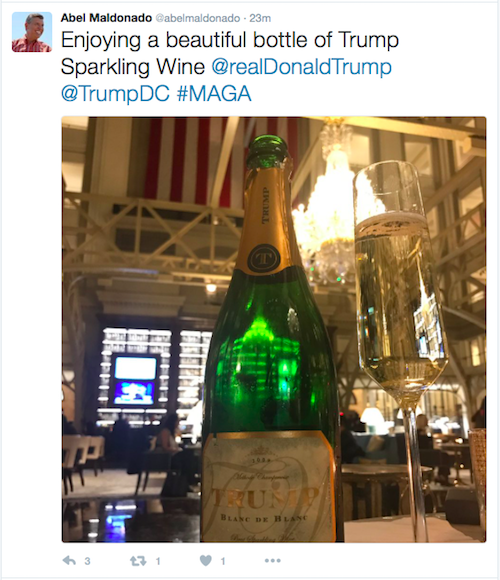 Fol­low­ing the announce­ment, both can­di­dates expressed grat­i­tude for their con­sid­er­a­tion and offered to sup­port Per­due in any way they could. But Per­due has crit­ics on the right as well. Accord­ing to the neo-con­fed­er­ate South­ern Par­ty for Geor­gia web­site, Son­ny Per­due is ​"bought and paid for" by the same spe­cial inter­ests he once crit­i­cized while cam­paign­ing to get elect­ed in the state. Reac­tions to Perdue's nom­i­na­tion are still com­ing in from across the polit­i­cal spec­trum and Rur­al Amer­i­ca In These Times will be cov­er­ing his tran­si­tion close­ly in the com­ing weeks.
Why this pick was important
Rur­al vot­ers ulti­mate­ly made Trump's path to 270 elec­toral votes pos­si­ble and this par­tic­u­lar cab­i­net selec­tion was viewed by many as his first chance to deliv­er a per­ceived win for the eco­nom­i­cal­ly strug­gling farm­ing and min­ing com­mu­ni­ties that sup­port­ed him. Perdue's pri­or­i­ties and poli­cies will deter­mine if he meets rur­al expec­ta­tions, but much more than agri­cul­ture falls under the USDA's ​"umbrel­la" and the department's poli­cies affect every American.
Pres­i­dent Lin­coln estab­lished the Depart­ment of Agri­cul­ture in 1862. Pleased with its progress two-and-a-half years lat­er, he called it ​"pre­cise­ly the people's Depart­ment." Today the USDA, which con­sists of 29 dif­fer­ent agen­cies and ser­vices that employ more than 100,000 peo­ple, is respon­si­ble for facil­i­tat­ing and imple­ment­ing fed­er­al pol­i­cy in a dizzy­ing num­ber of areas. In 2015, the Department's annu­al oper­at­ing bud­get was $139.7 billion.
Both the For­est Ser­vice (FS), which man­ages 193 mil­lion acres of pub­lic lands, nation­al forests and grass­lands (mak­ing it the largest nat­ur­al resource research orga­ni­za­tion in the world) and Food and Nutri­tion Ser­vices (FNS), for exam­ple, fall under USDA super­vi­sion. In 2014, FNS over­saw the dis­tri­b­u­tion of $74.1 bil­lion in food assis­tance (SNAP) to 46.5 mil­lion low-income Americans.
Often crit­i­cized for using ​"tax pay­er mon­ey to pick win­ners and losers" in the com­mod­i­ty mar­kets, USDA is per­haps best known for the peren­ni­al con­tro­ver­sies sur­round­ing the dis­tri­b­u­tion of farm sub­si­dies. But the agency also has offices in every state, con­ducts year-round agri­cul­tur­al research and per­forms nation­wide food safe­ty inspec­tions. In addi­tion to drum­ming up domes­tic and inter­na­tion­al mar­ket­ing strate­gies, which include the for­mu­la­tion and imple­men­ta­tion of nation­al organ­ic stan­dards and pro­duc­tion prac­tices, USDA also has an agency aimed specif­i­cal­ly at rur­al devel­op­ment (RD).
Under Sec­re­tary Vil­sack, the RD office imple­ment­ed numer­ous pro­grams aimed at ​"revi­tal­iz­ing" rur­al economies. Indeed, for the last eight years, a steady stream of press releas­es announc­ing new afford­able hous­ing ini­tia­tives, high-speed inter­net infra­struc­ture devel­op­ment projects, small busi­ness grants, nutri­tion pro­grams to com­bat child­hood obe­si­ty, sup­port for util­i­ty coop­er­a­tives and renew­able ener­gy incen­tives for exist­ing rur­al busi­ness­es (and more) could be found on the ​"news­room" sec­tion of the Department's web­site. Unfor­tu­nate­ly, assess­ing the effi­ca­cy of these pro­grams — deter­min­ing whether or not they help the peo­ple who need it most — is nowhere near as easy. What is clear, how­ev­er, is that recent fed­er­al efforts have failed to ade­quate­ly ease the eco­nom­ic pain being felt in count­less rur­al communities.
In a recent Grist arti­cle, ​"The Exit Inter­view: Ag Sec­re­tary Vil­sack on Obama's Food Lega­cy," Nathanael John­son dis­sects the pop­u­lar crit­i­cism among food activists that the out-going admin­is­tra­tion essen­tial­ly rolled over and let cor­po­rate agribusi­ness steer the ship. On whether such cri­tiques of Vilsack's per­for­mance were fair, John­son writes, ​"Vil­sack pre­ferred to wield the car­rot rather than the stick in try­ing to pro­tect the envi­ron­ment. The USDA rolled out one vol­un­tary rule after anoth­er, empha­siz­ing coop­er­a­tion and part­ner­ship rather than reg­u­la­tion and enforce­ment." Vol­un­tary or not, undo­ing any reg­u­la­tions that make farm­ers, ranch­ers, min­ers and ener­gy work­ers jobs hard­er or less prof­itable has become a cor­ner­stone of Trump's pledge to rur­al Amer­i­ca. The envi­ron­men­tal impli­ca­tions of this promise are enormous.
Wait­ing until the last minute
Trump's drawn out selec­tion process caused plen­ty of frus­tra­tion in the Ag world. As ear­ly as Dec. 14, Sec­re­tary Vil­sack was express­ing con­cern that Trump had not yet announced his cab­i­net pick. Pri­or to that, in Novem­ber, the man assigned to assem­ble Trump's agri­cul­tur­al team, a lob­by­ist for the agri­cul­ture indus­try named Michael Tor­rey, abrupt­ly resigned when Trump banned lob­by­ists from being involved in his tran­si­tion. (Before con­grat­u­lat­ing Trump for mak­ing good on cam­paign rhetoric, it's worth con­sid­er­ing the pos­si­bil­i­ty that the army of well-con­nect­ed mil­lion­aires now on his cab­i­net has ren­dered most lob­by­ists obso­lete redundancies.)
As the weeks passed, numer­ous poten­tial can­di­dates made the trip to Trump Tow­er or Mar-a-lago to meet with Trump and/​or vice-pres­i­dent-elect Mike Pence. Though a series of fron­trun­ners emerged in the head­lines, top-picks came and went as agri­cul­tur­al orga­ni­za­tions began wor­ry­ing fur­ther delay would com­pro­mise a ​"smooth tran­si­tion." All told, Trump may very well hold the record as the pres­i­dent-elect who wait­ed the longest to announce his pick for agri­cul­ture sec­re­tary. The last five pres­i­dents, at least, announced their selec­tions short­ly after Elec­tion Day or some­time in December.
But the ques­tion of who should lead the Depart­ment of Agri­cul­ture — an aca­d­e­m­ic, states­man or actu­al farmer — has been the sub­ject of debate since the agency's con­cep­tion. In his essay, Lincoln's Agri­cul­tur­al Lega­cy, Wayne D. Ras­mussen writes that short­ly after sign­ing the bill that estab­lished the Depart­ment of Agri­cul­ture, Lin­coln began receiv­ing ​"much unso­licit­ed advice, par­tic­u­lar­ly in the columns of the farm press, on the appoint­ment of the first Com­mis­sion­er of Agriculture":
Some urged the appoint­ment of a dis­tin­guished sci­en­tist, oth­ers an out­stand­ing ​"prac­ti­cal" man. A few peri­od­i­cal edi­tors were cer­tain that one of their num­ber would be the best choice. How­ev­er, Lin­coln turned to Isaac New­ton, a farmer who had served as chief of the agri­cul­tur­al sec­tion of the Patent Office since August 1861.
A sim­i­lar debate has tak­en place in recent weeks and Trump has been the recip­i­ent of sim­i­lar­ly unso­licit­ed advice from a vari­ety of news­pa­pers and farm pub­li­ca­tions across the coun­try. The major­i­ty were writ­ten by farm­ers in sup­port of the idea that an actu­al farmer is best suit­ed to run the Depart­ment of Agriculture.
The strug­gle continues
For sus­tain­abil­i­ty advo­cates, this was nev­er going to go well. Once Bernie Sanders left the race, this elec­tion cycle offered the food move­ment lit­tle in the way of a promis­ing can­di­date. Hillary Clin­ton, who food activists nick­named the ​"Bride of Franken­food" for her finan­cial ties to Mon­san­to and oth­er agri­chem­i­cal cor­po­ra­tions, remained silent (or uncon­vinc­ing) on too many of the issues this move­ment finds important.
In coun­tries all over the world, resis­tance to cor­po­ra­tion-con­trolled agri­cul­ture is spread­ing. As pub­lic aware­ness grows, the threats indus­tri­al meth­ods and fac­to­ry farms pose to soil, water, air, nutri­tion and cli­mate are going to be increas­ing­ly dif­fi­cult to ignore. Clash­es between the pow­er­ful eco­nom­ic forces heav­i­ly invest­ed in stay­ing this cur­rent course, and the politi­cians with whom they are aligned, are inevitable. The fight for a less eco­log­i­cal­ly destruc­tive approach to food isn't going any­where. You can't put that tooth­paste back in the tube.
Trump has repeat­ed­ly claimed that his admin­is­tra­tion will work on behalf of the Amer­i­can peo­ple, not cor­po­ra­tions or spe­cial inter­ests. Tomor­row we'll all have a new pres­i­dent, and in rur­al Amer­i­ca the world's lead­ing chem­i­cal, ener­gy, biotech and food com­pa­nies will be poised to fur­ther con­sol­i­date their wealth and pow­er. Son­ny Per­due is unlike­ly to stand in their way.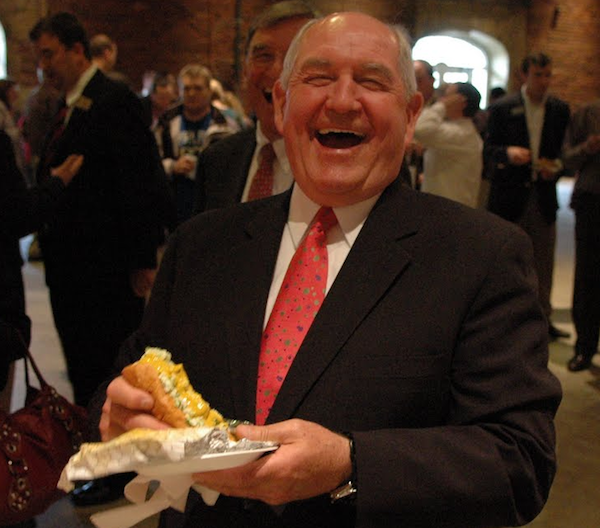 George Ervin ​"Son­ny" Per­due III will be the nation's 31st sec­re­tary of agri­cul­ture. (Pho­to: wepar​ty​pa​tri​ots​.com)
[If you like what you've read, help us spread the word. ​

"

Like" Rur­al Amer­i­ca In These Times on Face­book. Click on the ​

"

Like Page" but­ton below the bear on the upper right of your screen. Also, fol­low RAITT on Twit­ter @RuralAmericaITT]