In the Shadow of Detroit, a Michigan City Is Taking the Solar Transition Into Its Own Hands
Amid poverty and frequent power blackouts, a cutting-edge renewable energy program is underway in Highland Park.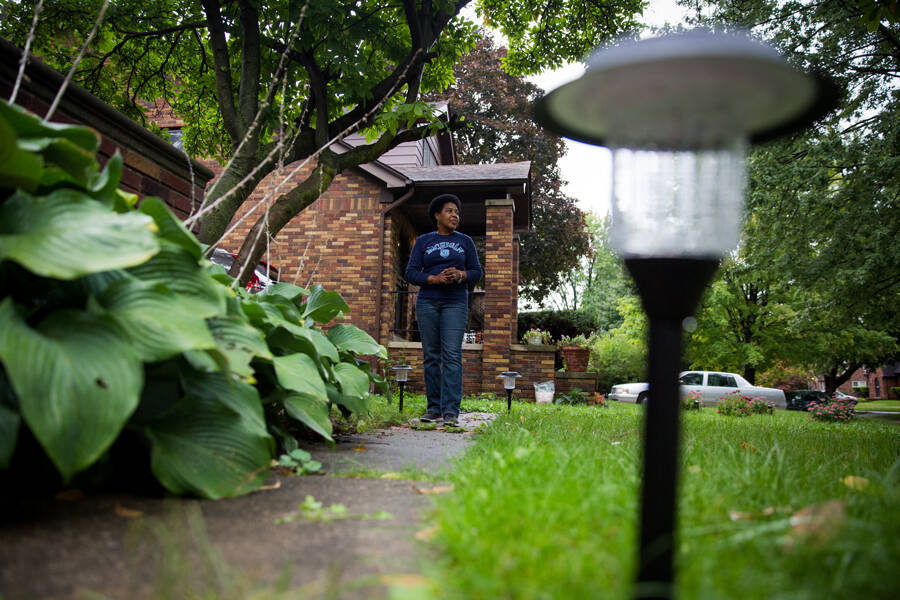 DETROIT — Lin­da Huff's street is often dark because of fre­quent neigh­bor­hood black­outs, but her house always shines bright. New out­door solar-pow­ered light­ing makes her home look and feel safer than the oth­ers on her block.
'It's fueled by the God-given sun. The lights at our house are on. Because of that, I'm on the bandwagon.'
Huff par­tic­i­pates in a bulk solar-buy­ing club with the High­land Park-based non­prof­it Soular­dar­i­ty, one of the most for­ward-think­ing solar pro­grams in the coun­try. Soular­dar­i­ty launched in 2012 after pow­er com­pa­ny DTE Ener­gy shut off 1,400 street­lights in a deal to save the munic­i­pal­i­ty $4 mil­lion. The group put for­ward a plan for city­wide solar streetlights.
High­land Park is a small city inside Detroit, one of two com­mu­ni­ties that incor­po­rat­ed before a rapid­ly expand­ing Motor City could annex them. This is where Hen­ry Ford built the Mod­el T. Once boom­ing, High­land Park now has a pover­ty rate of 46 per­cent. Blight, arson and deep pot­holes are ubiq­ui­tous. The elec­tric grid is old and poor­ly main­tained, result­ing in fre­quent blackouts.
Worse, DTE plans to raise res­i­den­tial rates by 9 to 12 per­cent as ear­ly as June 2019. ​"If we don't change this dynam­ic, util­i­ty costs will con­tribute to dis­place­ment," says Jack­son Koep­pel, 26, exec­u­tive direc­tor of Soulardarity.
To cre­ate ener­gy resilience, Soular­dar­i­ty launched a pro­gram in 2016 that lets res­i­dents pur­chase solar infra­struc­ture for their homes or busi­ness­es at bulk rates. The pro­gram has 75 par­tic­i­pants in High­land Park and neigh­bor­ing Detroit. Each pur­chas­es and installs enough solar pan­els to pow­er exte­ri­or light­ing, a lamp, lap­top or cell phone charg­er. No one has been able to take their homes entire­ly off-grid — yet.
Huff has bought solar for both the Shek­inah Taber­na­cle Gospel Church, where her hus­band min­is­ters, as well as their home. She nev­er before saw her­self as an envi­ron­men­tal­ist: ​"I'm not gonna sit here and tell you I was all solar this and clean water that," she tells In These Times. But now she's a con­vert. The out­door solar lights have low­ered her elec­tric bills and don't come with the haz­ards of reg­u­lar elec­tric pow­er, such as the fre­quent black­outs in her neigh­bor­hood or the downed, live pow­er line in her backyard.
Soular­dar­i­ty is also sup­port­ing Park­er Vil­lage, an area of High­land Park being devel­oped into one of Michigan's first ​"smart neigh­bor­hoods"—one built around sus­tain­able ener­gy and green design. It start­ed because life­long High­land Park res­i­dent Juan Shan­non want­ed to build an aquapon­ic fish farm and raised gar­den. He need­ed pow­er to pump cap­tured rain­wa­ter, and want­ed to do it in a way that was eco-friend­ly and save mon­ey. Solar was the answer.
Soular­dar­i­ty brought togeth­er mul­ti­ple groups to help Shan­non build a solar sta­tion, includ­ing the Ann Arbor-based Appro­pri­ate Tech­nol­o­gy Col­lab­o­ra­tive, which spe­cial­izes in teach­ing how to install solar around the world. The Black Cau­cus Foun­da­tion of Detroit brought in high school seniors to learn how to install a solar panel.
The fin­ished solar sta­tion is only about the size of a small gar­den shed, but it can pow­er Shannon's water pumps with ener­gy left over to charge cell phones and pow­er tools need­ed for con­struc­tion on the project's next phase. A shut­tered ele­men­tary school will be trans­formed into the Park­er Vil­lage Com­mu­ni­ty Resource Cen­ter, from which Shan­non plans to work with the com­mu­ni­ty to build out a whole new infra­struc­ture for the sur­round­ing block: LED light­ing, solar pow­er and blue infra­struc­ture to man­age waste­water and storm water runoff.
While Shan­non works on that, Huff is look­ing for­ward to pur­chas­ing more solar infra­struc­ture through the bulk pro­gram and fur­ther edu­cat­ing her com­mu­ni­ty about the ben­e­fits of solar. ​"It's fueled by the God-giv­en sun," she says. ​"The lights at our house are on. Because of that, I'm on the bandwagon."
Valerie Vande Panne
is an inves­tiga­tive fel­low with
In These Times
' Leonard C. Good­man Insti­tute for Inves­tiga­tive Reporting.