It's 395 Years Since the First "Thanksgiving" but at Standing Rock Things Haven't Changed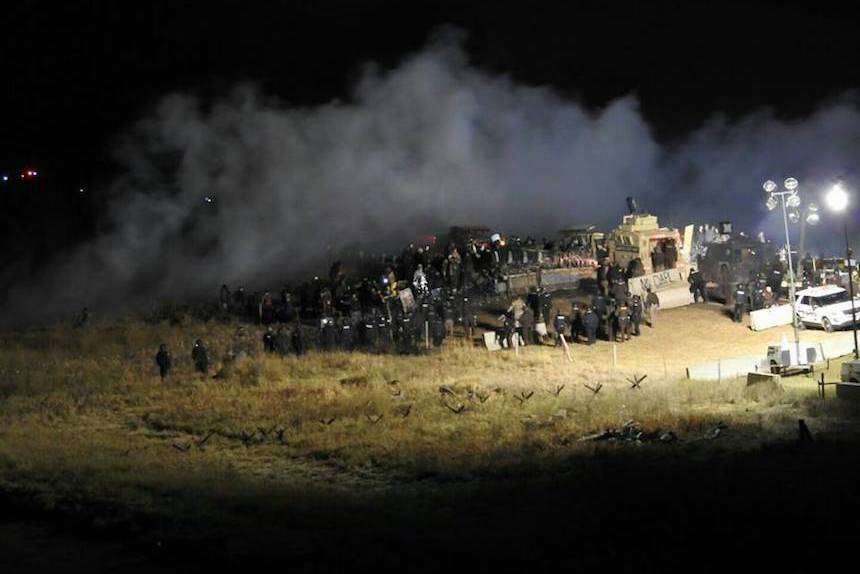 On Sunday night, near the Backwater Bridge on Hwy 1806 in Morton County, N.D., law enforcement officers used water cannons in below-freezing temperatures to disperse people protesting the Dakota Access Pipeline (DAPL). An estimated 400 demonstrators, who refer to themselves as water protectors, were attempting to dismantle a nearly month-old roadblock that they say is preventing emergency services from quickly accessing the Oceti Sakowin (Seven Council Fires) protest camp and the Standing Rock community at large.
In a statement released Sunday night at 11:11 p.m. local time, camp medics reported that 167 people had been injured (three of whom were elders) and seven had been hospitalized with ​"severe head injuries." Many were being treated for hypothermia. By Monday night, the official number of reported hospitalizations had risen to 17.
Amid growing public concern that Republican Gov. Jack Dalrymple is essentially authorizing the use of militarized force against Native Americans on behalf of a Texas-based energy company, combined with palpable fear of what Donald Trump's denial of climate change might mean for our nation's approach to the environment, many are criticizing the Obama administration's decision to remain silent on the issue.
"Standing Rock is the moral center of the nation right now," Bill McKibben the founder of 350​.org told Grist. ​"The real question is why there's no response from the White House to the kind of abuses that would make us protest loudly if they happened abroad."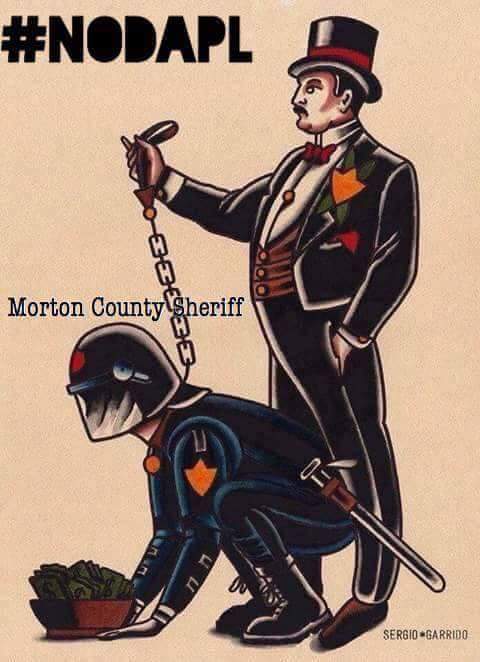 Dakoa Access protest poster, by Sergio Garrido, implying North Dakota law enforcement are being used like ​"attack dogs" by wealthy special interests. (Image: Twitter)
Public outrage, uncertainty and federal silence
The Backwater Bridge, which crosses over Cantapeta Creek to the north of the Standing Rock Indian Reservation, has been closed and barricaded by state officials since October 27 when police from multiple state agencies conducted a similarly violent crackdown on the ​"1851 Treaty Camp" — a temporary encampment directly in the path of the nearly completed pipeline. The Standing Rock Sioux maintain the land in question, recently acquired by Texas-based Energy Transfer Partners, is unceded Dakota territory as affirmed in the Ft. Laramie Treaty of 1851.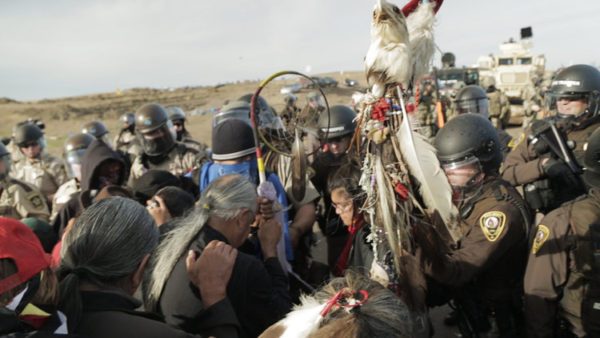 October 28, 2016 — 300 heavily armed police officers from several states arrive to clear the ​"1851 Treaty Camp" just east of Highway 1806. (Photo: sacred​stonecamp​.org)
During the late-October clash, military vehicles blocking the Backwater Bridge were set on fire and 147 people were arrested. But instead of removing the damaged vehicles, state officials left them where they were and, citing potential structural damage to the bridge as a result of the flames, closed the highway. Now, according to a spokesman for Dalrymple's office, the area must be free of protestors before it's declared safe enough for engineers to make a damage assessment and, if necessary, repairs before reopening the public road. In the meantime, water protectors claim that by keeping the highway closed the state is strangling the local economy and unnecessarily putting Native lives at risk.
According to a press release issued yesterday by 350​.org, a global environmental advocacy group currently working with Standing Rock:
Despite the obvious public safety risk, and despite promises from Morton County that they would clear the road, law enforcement has insisted on keeping the vehicles on the bridge for weeks. This obstruction of Highway 1806 threatens the lives of the water protectors and residents of the Standing Rock Sioux Reservation, as emergency services have been needed but unable to reach camp quickly. The blockage also unjustly restricts the free movement of local residents and hurts the Tribe economically by cutting off travel to and from the Prairie Knights Casino. Images of the burned vehicles have fed negative, distorted, and sensationalist media portrayals of the encampment.
Dallas Goldtooth, an organizer for the Indigenous Environmental Network called the use of water cannons ​"an excessive and potentially deadly use of force." He says that due to the police enforced roadblock, ambulances currently need an extra 30 minutes to get to and from the hospital. ​"Those are life and death numbers right there," says Goldtooth, ​"and Morton County and the State of North Dakota will be responsible for the tally."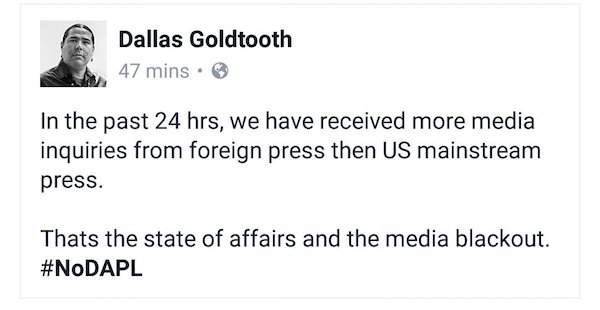 Goldtooth notes on social media early Monday that foreign media interest in Standing Rock was surpassing that of mainstream, domestic news agencies. (Screengrab: Dallas Goldtooth / Twitter)
On Monday afternoon, the Morton County Sheriff, Kyle Kirchmeier, and Mandan Police Chief Jason Ziegler held a joint press conference to update the public and field questions from the media about their ongoing handling of Standing Rock protest camps, now entering their seventh month. Citing ​"very aggressive" behavior on the part of demonstrators on Sunday night, both officials largely stood by their actions. When a reporter asked the Sheriff directly, ​"Were water cannons used on the protestors last night?" Kirchmeier responded:
"No, we don't have water cannons. I don't know where the term ​'water cannon' comes from. This was just a fire hose. Basically the fire trucks got called down there because of the numerous fires that were occurring as these activities took place….As a result of that, some of the water was used to repel some of the protest activities."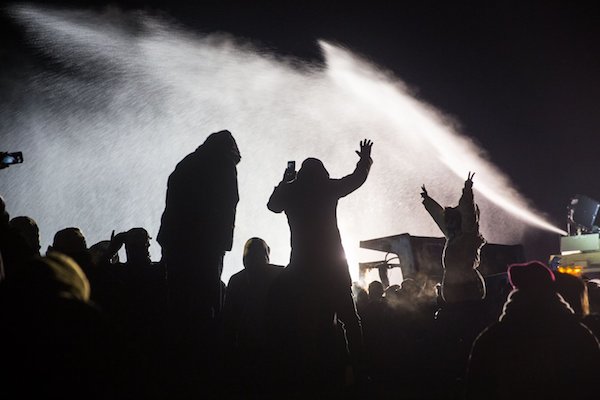 Novermber 20, 2016 — Standing Rock water protectors get sprayed with water as temperatures drop to the mid-twenties. (Photo: Google Images / Sacred Stone Camp)
But Linda Black Elk, of the Catawba tribe and a member of the Standing Rock Medic and Healer Council, told NBC News that she treated numerous people for hypothermia and cited ​"the real risk of loss of life due to severe hypothermia under these conditions." Physicians and tribal healers at Standing Rock have since called for ​"the immediate cessation of use of water cannons on people who are outdoors in 28F ambient weather with no means of active rewarming in these conditions."
When asked if he anticipated using similar tactics against protestors in future confrontations, Chief Ziegler said it ​"depends on the circumstances."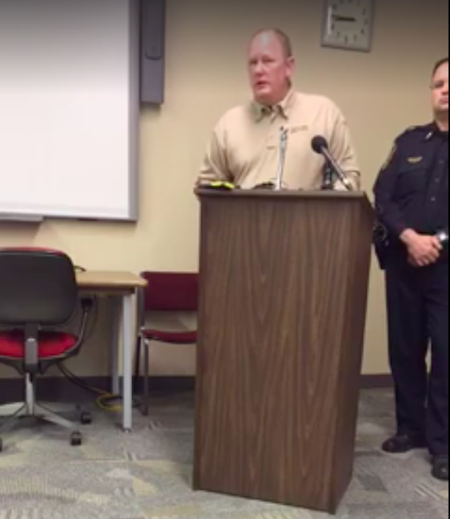 Morton County Sheriff Kyle Kirchmeier (left) and Mandan Police Chief Jason Ziegler hold press conference on November 21, 2016. (Photo: Morton County Sheriff Department / Facebook)
In other important news, on the (increasingly diabolical) financial side of this fiasco, Sunoco Logistics (NYSE: SUN) has just announced that it will be acquiring Energy Transfer Partners (NYSE: ETP), the company behind the Dakota Access Pipeline, in a forthcoming $20 billion merger. While rising energy prices sent U.S. stock markets to record highs on Monday, Sunoco shares briefly fell as much as 7.5 percent as potential investors kept one eye on North Dakota.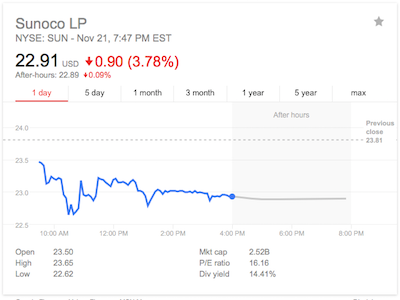 After hours SUN chart just prior to posting. (Graphic: Google Finance)
(Ed. Note 11/22: This afternoon, in an interview with the New York Times, Donald Trump acknowledged that there is ​"some connectivity" between humans and climate change. He had previously said climate change is ​"a hoax" perpetrated by the Chinese.)
[If you like what you've read, help us spread the word. ​

"

Like" Rural America In These Times on Facebook. Click on the ​

"

Like Page" button below the bear on the upper right of your screen. Also, follow RAITT on Twitter @RuralAmericaITT]
The Rise of a New Left
"An engrossing, behind-the-scenes account of our decade's breakout political movement." –Atossa Araxia Abrahamian
For a limited time, when you donate $30 or more to support In These Times, we'll send you a copy of the new book, The Rise of a New Left: How Young Radicals Are Shaping the Future of American Politics, by Raina Lipsitz.