Standing Rock Tribal Chairman: "Leave Camp When Weather Allows ... More Battles Ahead"
On Tues­day, fol­low­ing the Army Corps of Engi­neers (USACE) deci­sion not to grant Ener­gy Trans­fer Part­ners (ETP) and Suno­co Logis­tics the ease­ment nec­es­sary to bury the Dako­ta Access Pipeline (DAPL) under the Lake Oahe reser­voir, Stand­ing Rock Sioux Trib­al Chair­man Dave Archam­bault II released a state­ment say­ing the time had come for water pro­tec­tors to leave the protest camps when roads are safe and return home.
On Mon­day, the day after the USACE announce­ment, a bliz­zard moved through much of cen­tral North Dako­ta. While many had been antic­i­pat­ing the arrival of freez­ing weath­er for months, scores of peo­ple who had trav­elled to Stand­ing Rock to sup­port the tribe over the week­end were caught unpre­pared by the storm and sought shel­ter on the reser­va­tion at the Prairie Knights Casi­no and Resort. The gen­er­al man­ag­er of the casi­no, Everett Iron Eyes Jr., told local reporters 600 to 700 peo­ple spent Mon­day night there — many hap­py to sleep in hall­ways if it meant stay­ing warm.
Stay­ing warm in North Dako­ta this time of year isn't easy. The pro­ject­ed high tem­per­a­ture in Can­non­ball, N.D., today (Dec. 8, 2016) is 2 degrees. The low is neg­a­tive 14.
Acknowl­edg­ing that the fight isn't over, but con­cerned for the safe­ty of all par­ties involved, Archam­bault encour­aged every­one to leave the camp­sites as soon as pos­si­ble — even, he said, if ETP con­tin­ues drilling towards fed­er­al lands in an effort to pro­voke campers. ​"We do not need to engage them in this; we need to go home," wrote Archam­bault, ​"While this phase of the strug­gle relied large­ly on the pro­tec­tors at camp, this next stage will be focused on the legal bat­tles, and keep­ing the cur­rent deci­sion in place."
The fate of the near­ly-com­plet­ed, $3.7 bil­lion project is uncer­tain. Though the USACE deci­sion sug­gests alter­nate routes be explored while a full envi­ron­men­tal impact state­ment (EIS) is pre­pared, com­pa­ny exec­u­tives were quick to reas­sure their investors they remain ​"ful­ly com­mit­ted" to fin­ish­ing the pipeline. Fear­ing ETP will drill under the reser­voir any­way and sim­ply pay a fine after the fact, many water pro­tec­tors and their sup­port­ers are skep­ti­cal of leav­ing. But Archam­bault main­tains that the increas­ing risk of injury or death, due either to extreme cold or fur­ther con­fronta­tions with law enforce­ment, now jeop­ar­dizes all that has been accomplished.
Archam­bault's state­ment reads:
If the camp stays where it is cur­rent­ly locat­ed, peo­ple are risk­ing their lives. The cur­rent weath­er is severe, mak­ing trav­el impos­si­ble. If the camp stays, we run a risk of fur­ther provo­ca­tion from local law enforce­ment. Once one per­son is hurt or prop­er­ty is destroyed, that will lead to more out­sized actions by law enforce­ment. The longer the camp stays, the greater risk we run of see­ing fur­ther vio­lence at the hands of law enforce­ment and poten­tial injury to our supporters.

Our great lead­ers of the past would nev­er put the peo­ple at risk of harm, espe­cial­ly women and chil­dren. I don't want any­one to be liv­ing in an unsafe envi­ron­ment. We need to stay in prayer, believe in our prayer, and begin our jour­ney home in prayer. I believe in my prayers and in the Cre­ator. Take the lessons we learned here and apply them at home — uni­ty, peace, prayer.
As the skies began to clear on Wednes­day, how­ev­er, many pro­tes­tors were still debat­ing whether leav­ing was the best course of action. Rumors that the phrase ​"come inau­gu­ra­tion day" had been used in leaked inter­nal ETP emails cir­cu­lat­ed on social media — reen­forc­ing the pop­u­lar expec­ta­tion that Don­ald Trump will reverse the USACE deci­sion the moment he takes office. Mark Tilsen, of South Dako­ta, told the Rapid City Jour­nal that many peo­ple were leav­ing after Monday's bliz­zard, but that he and oth­ers planned to stay. Tilsen wrote on his Face­book page: ​"Ain't over until I'm smok­ing a cig­ar on the drill pad."
Echo­ing Archambault's request, orga­niz­ers of Vet­er­ans Stand for Stand­ing Rock—a recent demon­stra­tion in which thou­sands of sol­diers trav­elled to the Oceti Sakowin camp to pro­tect water pro­tec­tors from police vio­lence and demand action from the fed­er­al gov­ern­ment — called for all of its mem­bers to respect the wish­es of Trib­al elders and evac­u­ate as soon as possible: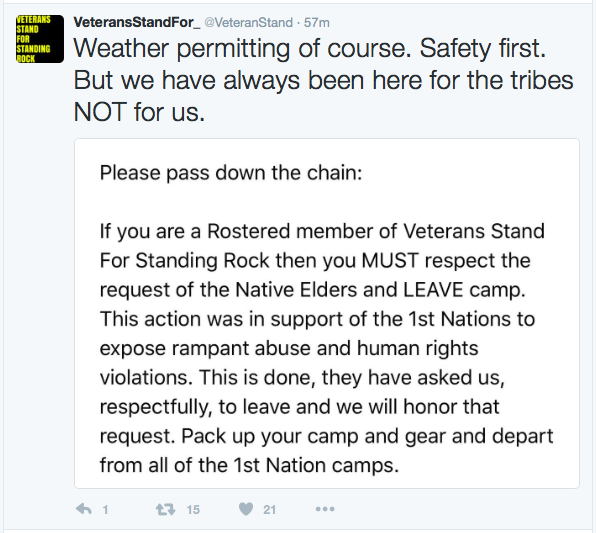 (Screen­grab: @VeteranStand)
The #NoDAPL move­ment and pub­lic sup­port for the Sioux, in some cas­es, has man­aged to tran­scend par­ti­san pol­i­tics and bring peo­ple togeth­er. But there are also those who feel equal­ly pas­sion­ate about spend­ing their free time using racist threats to stand up for face­less multi­na­tion­al oil inter­ests in motel park­ing lots. On Wednes­day after­noon, a chill­ing video of a Stand­ing Rock Sioux trib­al mem­ber and his friend get­ting cut off in their vehi­cle and threat­ened by a group of masked men out­side a Rama­da Inn in Bis­mar­ck, N.D., went viral. Those guys either hate Indi­ans or real­ly love oil. It's not fair to spec­u­late who the men behind the masks vot­ed for, but in 42 days the admin­is­tra­tion respon­si­ble for this tem­po­rary pause in pipeline con­struc­tion will be gone and replaced by Pres­i­dent-elect Don­ald Trump — a man who while on the cam­paign trail in North Dako­ta last May head­lined an annu­al oil and gas indus­try con­fer­ence in Bis­mar­ck, hint­ed at a bright future for coal and enthu­si­as­ti­cal­ly declared:
Amer­i­ca has 1.5 times as much oil as the com­bined proved resources of all OPEC coun­tries. We have more nat­ur­al gas than Rus­sia, Iran, Qatar and Sau­di Ara­bia com­bined. We have three times more coal than Rus­sia. Our total untapped oil and gas reserves on fed­er­al lands equal an esti­mat­ed $50 tril­lion. Think of that. We're loaded. We didn't even know it. We're loaded. We had no idea how rich we were. We're rich­er than all of them, folks. (See: ​"Amer­i­ca First, Plan­et be Damned: Trump Calls for Orgy of Extrac­tion in North Dako­ta Ener­gy Speech")
But Archam­bault's state­ment is cau­tious­ly opti­mistic. He says revers­ing Sunday's his­toric deci­sion will not be easy for the next admin­is­tra­tion and that ETP ​"will face an uphill bat­tle in try­ing to dis­man­tle the process ini­ti­at­ed by this deci­sion." He also remind­ed every­body engaged in this fight that while the Dako­ta Access pipeline man­aged to grab the world's atten­tion, count­less oth­er pipelines do not. (Coin­ci­den­tal­ly, on Mon­day, a leak­ing pipeline was shut down 200 miles west of Stand­ing Rock. For what­ev­er rea­son, the main­stream media failed to pick up the story.)
For those won­der­ing what comes next, Archam­bault in his state­ment offers the following:
I know this is a vic­to­ry for this one DAPL bat­tle, but we have not yet won the DAPL war. There will be more bat­tles ahead and we will con­tin­ue to strate­gize and win. The camp has brought us this far — now it is time we piv­ot to the next phase of this strug­gle. That will be lead on dif­fer­ent fronts like in court, with the new Admin­is­tra­tion, with Con­gress, and with the investors.

We are estab­lish­ing a path now to help the world under­stand that what we asked for and what we got is the right deci­sion. The world is watch­ing us and our behav­ior will deter­mine the final outcome.
In the mean­time, he says, water pro­tec­tors need to leave the camps:
I am ask­ing each and every one of you to come up with a strat­e­gy to close and exit the camp. I respect­ful­ly ask that you leave the land as it was when you arrived, and return home before the win­ter grows more severe. Pass this on — let every­one know that we are thank­ful for their pas­sion and com­mit­ment and we are thank­ful for them all stand­ing with us. It's time now to enjoy this win­ter with your fam­i­lies. We need all to respect the host tribe's wish­es. We are ask­ing all tribes to pass this on to their members.

This storm is a glimpse of what is to come as tem­per­a­tures are still not reach­ing the win­ter lows of this region. I under­stand that folks can­not go at this moment, but as soon as this cur­rent storm has passed, we must exe­cute an exit strat­e­gy and con­tin­ue our bat­tles to pro­tect water. These efforts are not only need­ed in Stand­ing Rock, but they are need­ed through­out Indi­an Coun­try, across Amer­i­ca and inter­na­tion­al­ly. I want you to know that Stand­ing Rock stands with you as you return home to car­ry this ener­gy and move­ment into the future.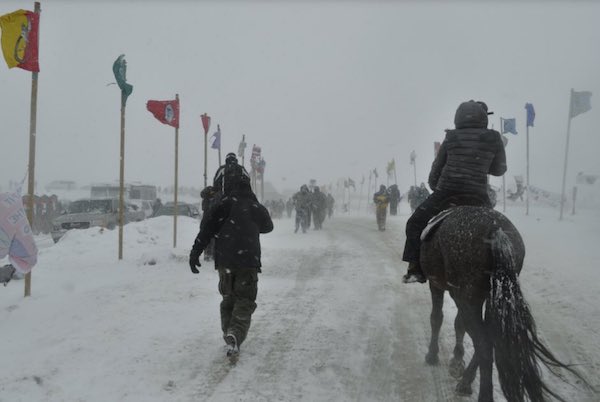 Dec. 7, 2016 — Water pro­tec­tors on foot and horse­back trav­el through camp. (Pho­to: John­ny Viz­caino / Twitter)
[If you like what you've read, help us spread the word. ​

"

Like" Rur­al Amer­i­ca In These Times on Face­book. Click on the ​

"

Like Page" but­ton below the bear on the upper right of your screen. Also, fol­low RAITT on Twit­ter @RuralAmericaITT]