Union Teachers Are Donating Their Stimulus Checks to the Undocumented
Undocumented workers are excluded from unemployment protections and stimulus checks, but not from union solidarity.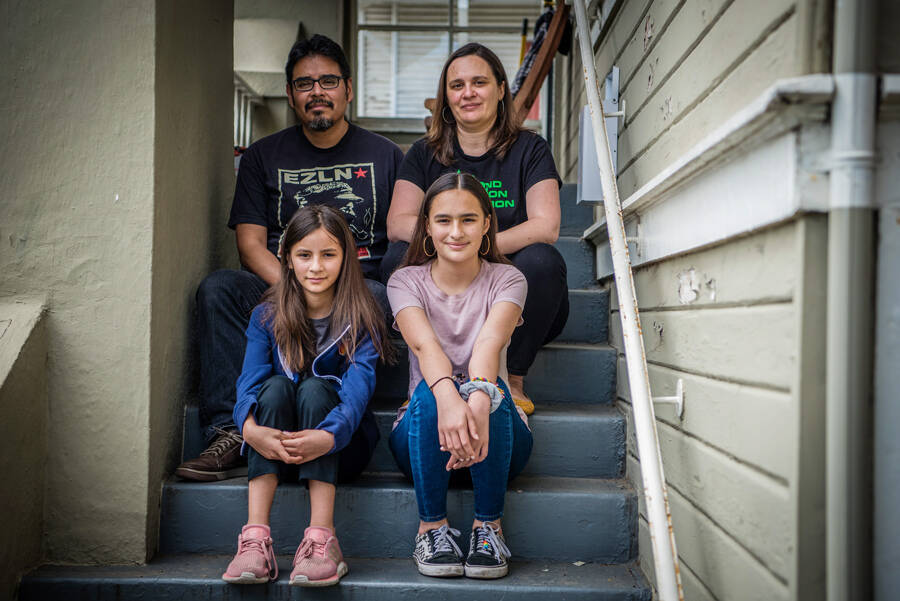 OAK­LAND, Calif.—Olivia Udovic and her hus­band, Edgar Sánchez — both teach­ers in Oak­land — are among mil­lions of Amer­i­cans receiv­ing fed­er­al stim­u­lus checks. The mon­ey didn't stay in their bank account for long, how­ev­er; the pair is part of a nation­wide move­ment of teach­ers pay­ing their checks for­ward to undoc­u­ment­ed fam­i­lies in their schools.
Udovic teach­es kinder­garten at Man­zani­ta SEED Ele­men­tary, a dual-lan­guage school serv­ing many immi­grant house­holds. Six­ty-five per­cent of stu­dents there receive free or reduced-cost lunch. When schools closed March 27 in response to Covid-19, Udovic and her cowork­ers called par­ents for well­ness check-ins. ​"Fam­i­lies were los­ing jobs, couldn't pay rent and were left with­out food — espe­cial­ly undoc­u­ment­ed folks who couldn't access unem­ploy­ment ben­e­fits," Udovic says.
The $2.2 tril­lion fed­er­al Covid-19 stim­u­lus pack­age pro­vides $1,200 to tax­pay­ers bring­ing home less than $75,000 a year (plus $500 per child) and expands unem­ploy­ment ben­e­fits. But undoc­u­ment­ed work­ers are exclud­ed from both pro­vi­sions, despite col­lec­tive­ly pay­ing bil­lions in tax­es. Cal­i­for­nia cre­at­ed its own $125 mil­lion coro­n­avirus dis­as­ter relief fund to pro­vide $500 in cash to some 250,000 undoc­u­ment­ed immi­grants in the state — a lit­tle less than 15% of the undoc­u­ment­ed work­force. For many, that won't fill the gap.
So Udovic and oth­er mem­bers of her union, the Oak­land Edu­ca­tion Asso­ci­a­tion (OEA), orga­nized teach­ers to pledge their stim­u­lus checks to Cen­tro Legal de la Raza's Oak­land Undoc­u­ment­ed Relief (OUR) Fund. The fund pro­vides $500 checks or pre-paid deb­it cards to each fam­i­ly — an impor­tant con­sid­er­a­tion for many undoc­u­ment­ed peo­ple who do not have bank accounts. Accord­ing to Udovic, as of April 20, 33 teach­ers have pledged more than $16,000.
Hen­ry Sales is a leader in Oakland's Mam com­mu­ni­ty, many of whom arrived from Guatemala with­out papers. ​"Many Mam peo­ple have come to the U.S. to work as day labor­ers, or they are sell­ing fruit on the street," Sales says. ​"They tell me, ​'If I can't work, how will I care for my fam­i­ly, pay elec­tric­i­ty, rent, food?'"
Oak­land teach­ers are not alone. Frank Lara teach­es fifth grade at Bue­na Vista Horace Mann K‑8 Com­mu­ni­ty School, a dual-lan­guage Span­ish immer­sion school in San Fran­cis­co. While Lara tran­si­tioned to online class­es, he was also talk­ing to his undoc­u­ment­ed neigh­bors in the Mis­sion Dis­trict. The heav­i­ly Lati­no neigh­bor­hood is home to many essen­tial work­ers and has been hard-hit by the virus.
"It became appar­ent that undoc­u­ment­ed folks who are hold­ing the entire U.S. econ­o­my togeth­er would be side­lined," Lara says. ​"Thanks to the strength of the union, we've main­tained full-time jobs and ben­e­fits. Because we're in that priv­i­leged posi­tion, peo­ple want­ed to give. We said, ​'Let's do it collectively.'"
Lara's union, the Unit­ed Edu­ca­tors of San Fran­cis­co, orga­nized to give to Undocu­Fund SF — with 340 teach­ers pledg­ing more than $115,000 so far.
Teach­ers in New York, Philadel­phia and Chica­go have also orga­nized funds.
Anna Lane, a his­to­ry teacher at Thomas Kel­ly Col­lege Prepara­to­ry in Chica­go, has been work­ing through the Chica­go Teach­ers Union to sur­vey par­ents, dis­trib­ute resource lists and orga­nize cowork­ers to donate to the Brighton Park Neigh­bor­hood Council's Com­mu­ni­ty Response Fund to sup­port undoc­u­ment­ed families.
"We're not rolling in the dough," Lane says. ​"But I get to stay home while my stu­dents' par­ents work dan­ger­ous jobs or have been laid off. If I have that priv­i­lege, how do I help? Giv­ing my check is not a sac­ri­fice, it's a neces­si­ty. We're sup­posed to take care of each other."
Back in Oak­land, Udovic cred­its her union's sup­port in part to its increased empha­sis on rank-and-file lead­ers. OEA's his­toric week­long 2019 strike trained hun­dreds of teach­ers to become union activists. ​"Many peo­ple doing the work today didn't know how to par­tic­i­pate before the strike," Udovic says.
"The com­mu­ni­ty coali­tion and rela­tion­ships with par­ents that we built dur­ing the strike helped us be in a posi­tion dur­ing the Covid pan­dem­ic to rapid­ly address the needs of our fam­i­lies," says OEA Pres­i­dent Kei­th Brown.
For many unions, this moment is not just about pro­vid­ing imme­di­ate mutu­al aid to stu­dents' fam­i­lies, but back­ing broad­er com­mu­ni­ty demands.
"Just like in the strike, we do this for the fam­i­lies," Lane says. ​"I'm proud of my union for pro­mot­ing equi­ty across Chica­go by sign­ing onto the Right to Recov­ery for all Chicagoans." The Right to Recov­ery is a ​"com­mon good" plat­form, put for­ward by dozens of labor and com­mu­ni­ty orga­ni­za­tions with many local and state elect­ed offi­cials, call­ing for paid time off, free Covid-19 test­ing and a mora­to­ri­um on evic­tions, mort­gage pay­ments and util­i­ty shutoffs.
In Oak­land, Udovic says, ​"The OEA is vot­ing to be in sol­i­dar­i­ty with the rent strikes," refer­ring to the move­ment of ten­ants with­hold­ing rent and call­ing for its can­cel­la­tion, giv­en they can­not earn income while shel­ter­ing in place.
Lara empha­sizes that the polit­i­cal cli­mate neces­si­tates unions help their com­mu­ni­ties as a whole. ​"We should see this as the tra­jec­to­ry of the union," he says. ​"We're one with the com­mu­ni­ties we serve. With­out the sup­port of those com­mu­ni­ties, we can't win broad­er, rad­i­cal reforms in pub­lic education."
Brooke Ander­son is an orga­niz­er and pho­to­jour­nal­ist based in Oak­land, Calif.
Brooke Ander­son
is an Oak­land, Cal­i­for­nia-based orga­niz­er and pho­to­jour­nal­ist. She has spent
20
years build­ing move­ments for social, eco­nom­ic, racial and eco­log­i­cal jus­tice. She is a proud union mem­ber of the Pacif­ic Media Work­ers Guild, CWA
39521
, AFL-CIO.