In 2012, Steve Lovelace, an artist, writer and pho­tog­ra­ph­er based in Texas, designed the above map to accom­pa­ny Cor­po­rate Feu­dal­ism: The End of Nation States—a self-pub­lished blog post in which he likens socioe­co­nom­ic trends in the ear­ly 21st cen­tu­ry to those in the Mid­dle Ages and Frank Herbert's sci-fi clas­sic, Dune. Lovelace writes, ​"We are wit­ness­ing the end of the nation state and the rise of cor­po­ra­tions that con­trol the world's resources like feu­dal lords."
It's an old idea, but one that's get­ting new legs. For starters, though we often dif­fer on who or what to blame, it's become clear that income inequal­i­ty isn't some­thing Bernie Sanders made up for kicks. Mil­lions of Amer­i­cans are liv­ing pay­check to pay­check while Wall Street sets records. The oil, phar­ma­ceu­ti­cal, agribusi­ness and telecom­mu­ni­ca­tions cor­po­ra­tions that already have their respec­tive glob­al sec­tors cor­nered are merg­ing and con­sol­i­dat­ing even fur­ther. On the home front, con­di­tions vary but mil­lenials (some­how respon­si­ble for most of the plan­et's prob­lems) are putting form­ing fam­i­lies on hold, rou­tine­ly spend­ing 50 per­cent or more of their stag­nant wages on small­er and small­er apart­ments, default­ing on stu­dent loans and shar­ing each oth­ers Net­flix accounts — all while get­ting dai­ly reminders that robots haven't start­ed replac­ing the good jobs…yet. (At last count, 44.2 mil­lion Amer­i­cans owe $1.28 tril­lion in col­lege debt and the del­i­quen­cy rate stands at 11 per­cent.) On the oth­er end of the age spec­trum, half of Amer­i­can baby boomers have less than $100,000 saved for retire­ment, and 25 per­cent have already tapped what lit­tle they do have for non-retire­ment relat­ed expenses.
But how bad is it real­ly? How far-fetched is a world in which multi­na­tion­al cor­po­ra­tions wield more pow­er than the nation states that cul­ti­vat­ed them? How close are we to a new age where a ​"free" citizen's access to food, shel­ter, water or health­care is influ­enced less by the poli­cies of an elect­ed gov­ern­ment, and more by the whims of a few wealthy, all-pow­er­ful oligarchs?
Fun­ny you should ask.
As of Jan­u­ary 17, eight men own as much wealth as half the world. Released to coin­cide with the annu­al meet­ing of polit­i­cal and busi­ness lead­ers last month in Davos, Switzer­land, a new Oxfam report reveals Bill Gates, Aman­cio Orte­ga, War­ren Buf­fett, Car­los Slim, Jeff Bezos, Mark Zucker­berg, Lar­ry Elli­son and Michael Bloomberg are worth a com­bined $426 bil­lion. The poor­est half of human­i­ty — 3.6 bil­lion peo­ple — own an esti­mat­ed $409 billion.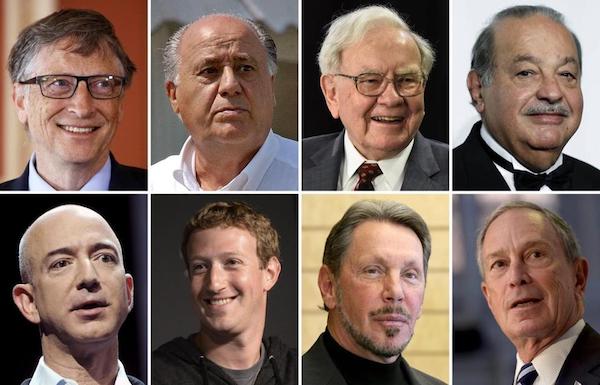 These eight men own as much wealth as the world's poor­est 3.6 bil­lion peo­ple. (Pho­to: Euro­pean Press Pho­to Agency)
While shock­ing to think about, head­lines like these hard­ly get a sec­ond glance these days. In the first week of Don­ald Trump's pres­i­den­cy, for exam­ple, the 10 rich­est Amer­i­cans (many with names you'll rec­og­nize from the last para­graph) gained an easy $16 bil­lion in new wealth. For those who punch clocks, such sums are hard to fath­om. Indeed, it's hard to imag­ine that only eight short years ago this same Wall Street need­ed a $700 bil­lion loan from the Amer­i­can tax­pay­er in order to pre­vent a glob­al finan­cial cat­a­stro­phe that threat­ened to make the Great Depres­sion look like Sesame Street. The cause? An arro­gant, elite bank­ing cul­ture of greed, ram­pant spec­u­la­tion and a total lack of account­abil­i­ty. (Only one banker went to jail and we're still bail­ing out some of the biggest banks.)
In order to min­i­mize the chances of this hap­pen­ing again, Pres­i­dent Oba­ma signed the Dodd-Frank Wall Street Reform and Con­sumer Pro­tec­tion Act in 2010. At the time, it was wide­ly hailed by most Amer­i­cans as bet­ter than noth­ing. (A few hedge-fund man­agers com­plained pub­li­cal­ly, which made every­body else feel like progress might be hap­pen­ing.) Last week, how­ev­er, Pres­i­dent Trump dis­agreed and signed an exec­u­tive order to begin rolling back parts of the law before it was ever ful­ly imple­ment­ed. The mar­kets, of course, rallied.
Much of this is old news, but it brings us to the crux of Amer­i­can dys­func­tion — the inter­sec­tion of mon­ey and pol­i­tics and a Supreme Court case known as Cit­i­zens Unit­ed v. Fed­er­al Elec­tion Com­mis­sion. Quick recap: In 1988, the con­ser­v­a­tive 501(c)(4) non­prof­it orga­ni­za­tion known as Cit­i­zens Unit­ed sued the FEC to change a law that barred cor­po­ra­tions from pay­ing for polit­i­cal ads pri­or to an elec­tion. They won and now pub­lic office is a multi­bil­lion dol­lar industry.
The point of this post, how­ev­er, is not to stoke par­ti­san out­rage. (Don­ald ​"drain the swamp" Trump did hire David Bossie, the pres­i­dent and chair­man of Cit­i­zens Unit­ed, to be his Deputy Cam­paign Man­ag­er and his cab­i­net is the wealth­i­est in his­to­ry…but this stuff has been going on for decades.) Rather, in an ide­al world, the glar­ing absur­di­ty of 21st cen­tu­ry finance would help illus­trate what pre­cious lit­tle our rabid sep­a­rate­ness has accom­plished in recent years (and thus­ly stoke bipar­ti­san out­rage). We've been divid­ed, com­part­men­tal­ized and split into war­ring fac­tions by two sup­pos­ed­ly dif­fer­ent ide­olo­gies. Yet regard­less who wins, the rich get rich­er and cor­po­rate pow­er grows.
Case in point: Accord­ing to new data from the Cen­ter for Respon­sive Pol­i­tics, these 50 com­pa­nies spent more than $716 mil­lion lob­by­ing Con­gress and the fed­er­al gov­ern­ment last year: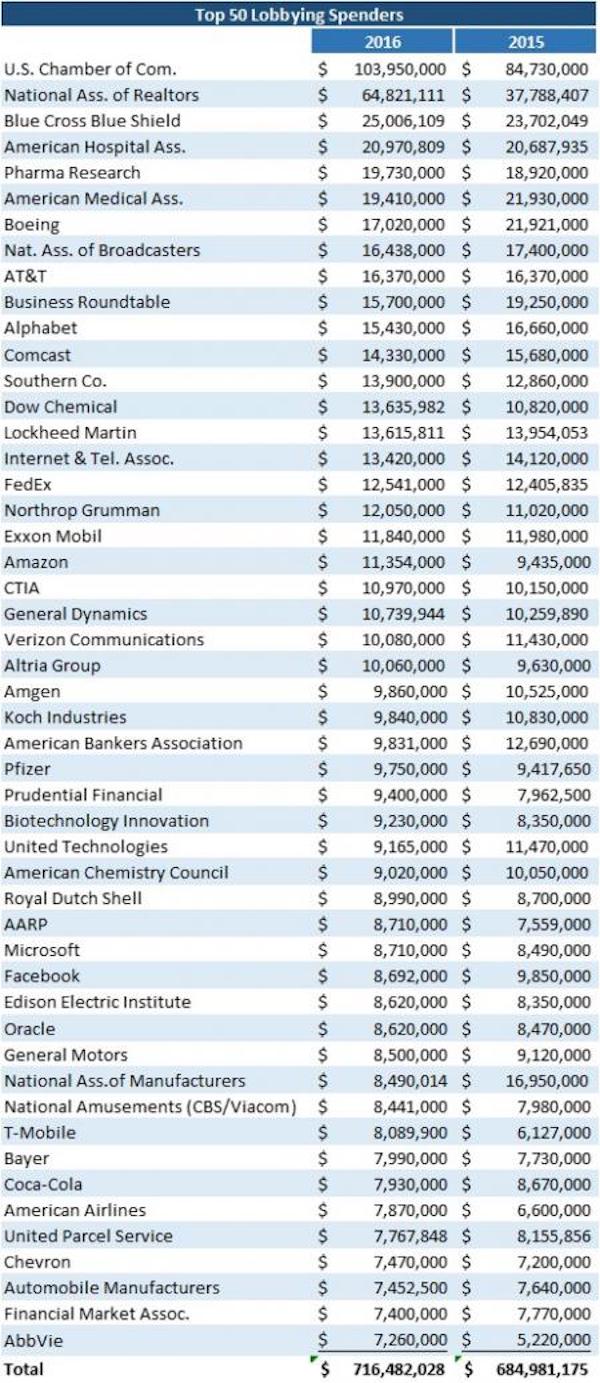 (Chart: Cen­ter for Respon­sive Politics)
In their assess­ment of the find­ings, The Hill reports:
Some of the com­pa­nies and groups that boost­ed their lob­by­ing spend­ing last year did so in response to major leg­isla­tive and reg­u­la­to­ry fights.

Dow Chem­i­cal, which is seek­ing to merge with DuPont, boost­ed its advo­ca­cy spend­ing by 26 per­cent, to $13.6 million…

Oth­er com­pa­nies and busi­ness groups dialed back their lob­by­ing spend­ing last year, in part due to the lack of leg­isla­tive activ­i­ty on Capi­tol Hill…

The Amer­i­can Petro­le­um Insti­tute, Qual­comm, America's Health Insur­ance Plans and George Soros's Open Soci­ety Pol­i­cy Cen­ter all slashed spend­ing on advo­ca­cy in 2016. The Gro­cery Man­u­fac­tur­ers Asso­ci­a­tion, which scored a win on a GMO label­ing law mid­way through 2016, reduced its advo­ca­cy 44 per­cent from the year before, spend­ing $4.7 million.
New year, new data
In oth­er news, the Depart­ment of Agriculture's Eco­nom­ic Research Ser­vice (USDA-ERS) released its annu­al Rur­al Amer­i­ca at a Glance report and it includes the fol­low­ing info­graph­ic detail­ing how indus­try is dis­trib­uted nationwide: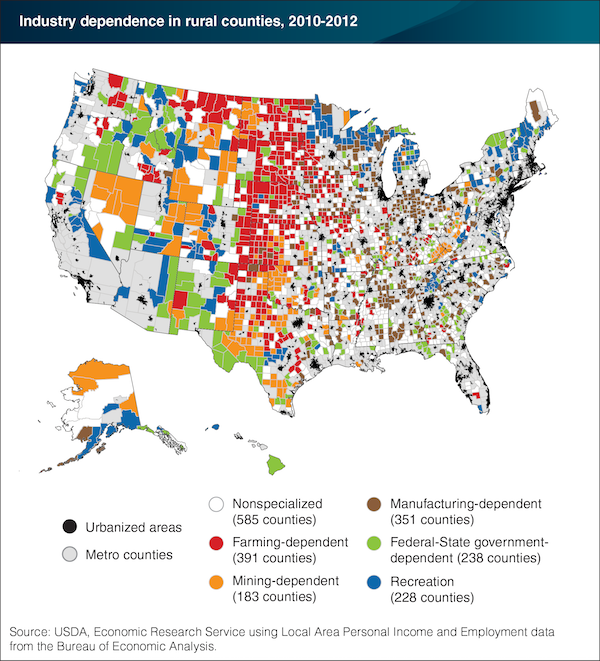 There's noth­ing too saucy in this report, but it pro­vides a good overview of region­al employ­ment sta­tis­tics. Here's an excerpt:
Recent trends in employ­ment by indus­try have not dif­fered great­ly between rur­al areas and urban areas. Min­ing employ­ment (though still a small com­po­nent of total employ­ment) more than dou­bled from 2001 to 2014 in both rur­al and urban coun­ties, reflect­ing a boom in uncon­ven­tion­al oil and nat­ur­al gas pro­duc­tion. Of the 537 coun­ties with sub­stan­tial oil and gas pro­duc­tion, 444 are rur­al and 93 are urban. Over 2001 – 14, the much larg­er pro­duc­er ser­vices sec­tor has seen employ­ment growth of more than 20 per­cent in both rur­al and urban areas. Between 2001 and 2010, man­u­fac­tur­ing employ­ment fell by close to 30 per­cent in both rur­al and urban areas, reflect­ing the impacts of trade com­pe­ti­tion, ris­ing labor pro­duc­tiv­i­ty, and the Great Reces­sion. While man­u­fac­tur­ing employ­ment has recov­ered some since 2010, it remains well below lev­els of the ear­ly 2000s. The great­est rur­al-urban dif­fer­ence in jobs growth is in recre­ation employ­ment, which has risen marked­ly faster in urban areas; this may reflect both over­all pop­u­la­tion growth in urban areas and their suc­cess in attract­ing younger adults.
Last­ly, Olivet Nazarene Uni­ver­si­ty recent­ly released this map and report of the largest employ­ers in each state: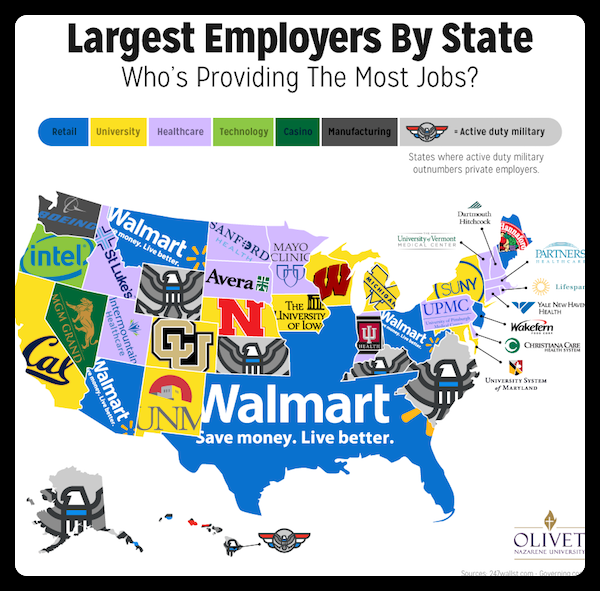 Clear­ly, if this is the dawn of what Lovelace calls cor­po­rate feu­dal­ism, Wal­mart is off to a roar­ing start.
[If you like what you've read, help us spread the word. ​

"

Like" Rur­al Amer­i­ca In These Times on Face­book. Click on the ​

"

Like Page" but­ton below the bear on the upper right of your screen. Also, fol­low RAITT on Twit­ter @RuralAmericaITT]