The GOP and ALEC's War on Cities
The Right has hijacked Congress and State Houses. Now it's coming for the cities.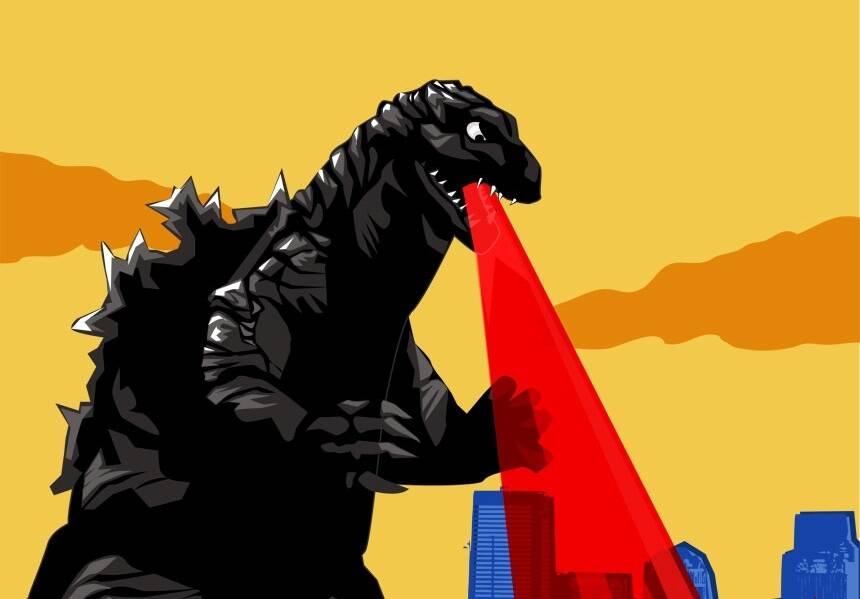 Few ideas are more pow­er­ful in U.S. pol­i­tics than local con­trol. The South ral­lied around states' rights dur­ing the Civ­il War. Con­ser­v­a­tives rage at the fed­er­al gov­ern­ment for med­dling in local matters.
Few ideas are more powerful in U.S. politics than local control. ... Conservatives rage at the federal government for meddling in local matters. But when local control favors progressives, it turns out to be "a form of collectivism" rather than a cherished conservative principle.
But when local con­trol favors pro­gres­sives, it turns out to be ​"a form of col­lec­tivism" rather than a cher­ished con­ser­v­a­tive principle.
That's what Repub­li­can Texas Gov­er­nor Greg Abbott recent­ly called the trend of city-lev­el bans on plas­tic bags, frack­ing and tree-cut­ting. They form ​"a patch­work quilt of bans and rules and reg­u­la­tions," Abbott said, ​"that are erod­ing the Texas mod­el" and turn­ing the state into California.
Texas leg­is­la­tors have respond­ed with pro­pos­als to pre­empt local laws, includ­ing a bill that would pre­vent local gov­ern­ments from issu­ing any ordi­nance that ​"con­flicts with or is more strin­gent than a state statute or rule."
Such bills block­ing pro­gres­sive laws are grow­ing in pop­u­lar­i­ty across the Unit­ed States, espe­cial­ly in GOP-con­trolled leg­is­la­tures. Last year, for exam­ple, when Okla­homa City debat­ed rais­ing its min­i­mum wage to $10.10, the state leg­is­la­ture passed a law pre­vent­ing cities from enact­ing wage increases.
Pro­gres­sive mus­cle-flex­ing by urban Amer­i­ca on the min­i­mum wage, frack­ing and oth­er key eco­nom­ic and envi­ron­men­tal issues pos­es a seri­ous chal­lenge to the GOP's pro­gram of obstruc­tion in Con­gress. It also threat­ens the deep bias of our nation­al pol­i­tics toward red states and con­ser­v­a­tive ide­ol­o­gy. That makes sub­vert­ing the pow­er of cities an urgent task for con­ser­v­a­tives, even if it means becom­ing ​"med­dling bureau­crats" themselves.
As a staff mem­ber of the right-wing Amer­i­can Leg­isla­tive Exchange Coun­cil (ALEC) said last year while dis­cussing the trend toward min­i­mum-wage increas­es: ​"Per­haps the biggest threat comes from the local level."
ALEC has been a key actor in the push for state-lev­el pre­emp­tion laws. It now aims to push local con­ser­vatism direct­ly with an ini­tia­tive called the Amer­i­can City Coun­cil Exchange (ACCE), which will cre­ate mod­el leg­is­la­tion at the local lev­el, just as ALEC does for state leg­is­la­tures. ​"Work­ing togeth­er," accord­ing to the ACCE mis­sion state­ment, ​"mem­bers learn from oth­ers' chal­lenges and eval­u­ate how free-mar­ket poli­cies work when applied to local governments."
ACCE will hold its sec­ond annu­al meet­ing this sum­mer in San Diego, includ­ing a ses­sion on ​"local labor issues" like min­i­mum wage laws and col­lec­tive bargaining.
Our rur­al overlords
Rel­a­tive to the total pop­u­la­tion, cities attract a younger and more edu­cat­ed work­force. They also tend to be home to more immi­grants and racial and sex­u­al minori­ties. Cities are, in short, the home of the Demo­c­ra­t­ic base. The greater the pop­u­la­tion den­si­ty, the bluer they become.
Of the 10 most pop­u­lous U.S. cities, only San Diego has a Repub­li­can may­or. (Its pre­vi­ous may­or, a Demo­c­rat, resigned in 2013 in the wake of a sex­u­al harass­ment scan­dal.) Met­ro­pol­i­tan areas of at least one mil­lion peo­ple vot­ed for Barack Oba­ma by a spread of eight points in 2012. By con­trast, Mitt Rom­ney won towns and cities with few­er than 250,000 peo­ple by a spread of 13 points, and cities of up to 500,000 peo­ple by 3 points.
Even the deep-red swathes of the polit­i­cal map are stud­ded with blue urban out­posts, such as Hous­ton, Phoenix and Salt Lake City. While Texas con­ser­v­a­tives still talk about seced­ing from the Union, the state's cities have already seced­ed from Texas, at least in spir­it. Near­ly a dozen cities in Texas have imple­ment­ed a plas­tic-bag tax. Hous­ton elect­ed an open­ly les­bian mayor.
But the voic­es and votes of city dwellers are sys­tem­at­i­cal­ly dis­count­ed by our polit­i­cal struc­ture, and major­i­ty white, rur­al vot­ers are over­rep­re­sent­ed. This allows the GOP to par­a­lyze Con­gress and makes pro­gres­sive poli­cies impos­si­ble to pass at the fed­er­al lev­el, regard­less of pub­lic support.
On ener­gy pol­i­cy, for exam­ple, a Pew Research Cen­ter poll found that more Amer­i­cans oppose frack­ing (47 per­cent) than sup­port it (41 percent).
Sup­port for pro­gres­sive eco­nom­ic pol­i­cy is even stronger. Polling by Pew and USA Today found that 73 per­cent of Amer­i­cans favor a min­i­mum wage hike to $10.10. Eighty-eight per­cent sup­port paid sick days for workers.
Yet the struc­tur­al imbal­ances in Con­gress, aggres­sive­ly exploit­ed by the GOP, make the prospect of pass­ing fed­er­al leg­is­la­tion on any of these issues next to nil.
Because Demo­c­ra­t­ic vot­ers tend to clus­ter in urban areas, it is easy to group them into a few dis­tricts — leav­ing vast rur­al areas, and many sub­urbs, safe for Repub­li­cans. As a result, only a small frac­tion of House races are com­pet­i­tive. Of 435 seats in the House, 373 will be safe for incum­bents in 2016, accord­ing to an analy­sis by the non­par­ti­san orga­ni­za­tion FairVote.
Peri­od­ic redis­trict­ing, required by the Con­sti­tu­tion after each decen­ni­al cen­sus, makes the prob­lem worse if it becomes a hyper-par­ti­san process, as it was after the Repub­li­cans' big wins in 2010 at both the state and con­gres­sion­al lev­els. In 2012, in the sev­en states in which Repub­li­cans redrew House dis­tricts, vot­ers pre­ferred Repub­li­cans by a slight mar­gin — 16.7 mil­lion to 16.4 mil­lion votes. But that small edge in votes yield­ed more than twice as many seats for the GOP — 73 to 34.
The House races in North Car­oli­na were per­haps the worst-case sce­nario. The new­ly elect­ed Repub­li­can Gen­er­al Assem­bly used redis­trict­ing to ger­ry­man­der the Demo­c­ra­t­ic vote into just a few dis­tricts in 2012. As a result, Democ­rats took only 4 of 13 seats while win­ning 51 per­cent of the pop­u­lar vote. The out­come was so skewed that it prompt­ed a Repub­li­can, writ­ing in the Char­lotte Busi­ness Jour­nal, to call for a non­par­ti­san redis­trict­ing process.
His par­ty did not heed his advice. Using state leg­is­la­tures to dra­mat­i­cal­ly skew the make­up of Con­gress was, in fact, the plan all along. In the run-up to the 2010 elec­tion, the GOP invest­ed more than $30 mil­lion in the Redis­trict­ing Major­i­ty Project, or REDMAP, which tar­get­ed state-lev­el races that held the most poten­tial to shape the sub­se­quent redis­trict­ing process. REDMAP invest­ed more than $1 mil­lion in six can­di­dates for the Ohio House, for exam­ple. Five of them won. It spent anoth­er mil­lion on three win­ning can­di­dates in Pennsylvania.
REDMAP was the start of a state-lev­el coup for the GOP. Repub­li­cans con­trolled 36 of the 98 par­ti­san state cham­bers before the 2010 elec­tion. After the elec­tion, they con­trolled 57. Democ­rats have steadi­ly lost ground since — part­ly because of their own neglect, and part­ly because of the GOP's high­ly orga­nized, well-fund­ed efforts. After the 2014 elec­tion, Repub­li­cans con­trolled 68 cham­bers, includ­ing all of the South except for the Ken­tucky House of Delegates.
Tyran­ny of the minority
While the House has become fierce­ly anti-demo­c­ra­t­ic, the Sen­ate takes it to an entire­ly dif­fer­ent lev­el. Red states and rur­al, white vot­ers hold pow­er in the Sen­ate that is out­ra­geous­ly out of pro­por­tion to their numbers.
Though the five most pop­u­lous states — Cal­i­for­nia, Texas, Flori­da, New York and Illi­nois — account for about 37 per­cent of the U.S. pop­u­la­tion, they have just 10 per­cent of the votes in the Sen­ate. They are also home to the nation's four largest cities: New York, Los Ange­les, Chica­go and Hous­ton. Only two of these states are red.
Mean­while, the five least pop­u­lous states — South Dako­ta, North Dako­ta, Alas­ka, Ver­mont and Wyoming — account for about 1 per­cent of the pop­u­la­tion but have 10 per­cent of Sen­ate votes. Their most pop­u­lous city is Anchor­age, Alas­ka. With a pop­u­la­tion of about 300,000, it is the 63rd largest U.S. city. Ver­mont is the only blue state.
This rur­al bias cor­re­lates with a pro­found racial basis. Whites are about 82 per­cent of the pop­u­la­tion in the five small­est states. In the 2010 Cen­sus, they made up 78 per­cent of the total rur­al pop­u­la­tion. Yet they account for just 63 per­cent of the U.S. pop­u­la­tion overall.
The upshot is that sparse­ly pop­u­lat­ed, pre­dom­i­nate­ly white regions of the nation have become vast­ly over-rep­re­sent­ed in both the House and the Sen­ate. Fil­i­bus­ter­ing now allows 21 states, rep­re­sent­ing lit­tle more than 10 per­cent of the U.S. pop­u­la­tion, to block any bill from mov­ing forward.
Bright lights, big city
These rur­al, white bias­es, which are the root of the often-lament­ed ​"dys­func­tion" of Con­gress, have made cities into the most fer­tile ground for pro­gres­sive policies.
Those hopes are reflect­ed in a spate of recent book titles on the sub­ject, such as The Met­ro­pol­i­tan Rev­o­lu­tion: How Cities and Met­ros are Fix­ing Our Bro­ken Pol­i­tics and Frag­ile Econ­o­my and If May­ors Ruled the World: Dys­func­tion­al Nations, Ris­ing Cities.
Ben­jamin Bar­ber, author of If May­ors Ruled the World, writes that cities might ​"res­cue democ­ra­cy" and ​"find ways to help us gov­ern our world demo­c­ra­t­i­cal­ly and bottom-up."
Pro­gres­sives liv­ing in Rahm Emanuel's neolib­er­al Chica­go, or Michael Nutter's Philadel­phia, might object — with good rea­son — to the premise that may­oral rule brings about a pro­gres­sive utopia. Still, it's unde­ni­able that the demo­c­ra­t­ic ener­gy blocked by Con­gress is seep­ing into and trans­form­ing local pol­i­tics. The recent city-led push for high­er wages is one man­i­fes­ta­tion. In 2014, accord­ing to the Nation­al Employ­ment Law Project, 11 cities approved some form of min­i­mum wage hike.
The San Diego City Coun­cil vot­ed last year to require employ­ers to give paid sick leave. It also vot­ed to raise the min­i­mum wage to $11.50. (Push­back from the busi­ness com­mu­ni­ty forced a ref­er­en­dum; vot­ers will decide these issues in June.) San Fran­cis­co approved a min­i­mum wage hike to $15 an hour by 2018, and in March, Oakland's min­i­mum wage increased to $12.25.
In Los Ange­les, mean­while, the city coun­cil vot­ed last fall to raise the min­i­mum wage for hotel work­ers to $15.37 an hour. It takes effect this July for hotels with at least 300 rooms and in July 2016 for those with at least 150 rooms. There is now dis­cus­sion in the city about rais­ing wages more broad­ly, with Demo­c­ra­t­ic May­or Eric Garcetti sup­port­ing a hike to $13.25.
Port­land, Maine, has also joined the move­ment. In mid-April, a City Coun­cil com­mit­tee approved a hike to $8.75 and sent the pro­pos­al for a full vote.
Portland's move came after Repub­li­can Gov­er­nor Paul LeP­age vetoed an increase passed by the state leg­is­la­ture in 2013. LeP­age alleged a pop­ulist ratio­nale for his veto, say­ing, ​"It is time to put Maine peo­ple before pol­i­tics." He is now col­lab­o­rat­ing with Repub­li­can state leg­is­la­tors to pass a bill that would pro­hib­it cities from enact­ing wage hikes.
Urban war­fare
How suc­cess­ful­ly Repub­li­cans can adapt to this new blue bat­tle­ground is an open ques­tion. Repub­li­cans are tak­ing pro­gres­sives' urban offen­sive seri­ous­ly and exper­i­ment­ing with strate­gies to fight back.
In the red regions of the coun­try, state leg­is­la­tures have become tools for obstruc­tion. Eleven of them (all GOP-con­trolled) have passed laws pre­empt­ing paid sick time. Fif­teen states have done so on the issue of the min­i­mum wage — near­ly half of them since 2010.
Repub­li­cans are also mov­ing swift­ly to roll back or block city-led envi­ron­men­tal ini­tia­tives, espe­cial­ly those relat­ed to fracking.
In Feb­ru­ary, the Ohio Supreme Court ruled that cities and coun­ties have no author­i­ty to reg­u­late frack­ing inde­pen­dent of state law. The rul­ing came in response to a ban on the prac­tice by sev­er­al cities across the state.
The ques­tion is now in the spot­light in sev­er­al oth­er states. Bills that would pre­vent cities from reg­u­lat­ing frack­ing advanced in the Flori­da, Okla­homa and Texas leg­is­la­tures in April. The Okla­homa bill was pro­posed after a state report linked a 600-fold increase in earth­quake activ­i­ty to waste­water wells asso­ci­at­ed with oil and gas drilling. A recent Uni­ver­si­ty of Texas poll found that 58 per­cent of peo­ple polled nation­wide believe cities should have the pow­er to reg­u­late frack­ing, and only 25 per­cent believe they should not.
Texas House mem­bers aver­aged more than $25,000 in con­tri­bu­tions from oil and gas com­pa­nies in 2013 and 2014, accord­ing to a Tex­ans for Pub­lic Jus­tice report.
One of the Texas leg­is­la­tors sup­port­ing such efforts is Repub­li­can Phil King, the nation­al chair of ALEC's board of direc­tors. Though ALEC does not claim involve­ment with the leg­is­la­tion in Texas, its web­site offers a mod­el bill to give state gov­ern­ments the sole author­i­ty to reg­u­late frack­ing. It was approved by ALEC's board in 2009 and re-approved ear­ly this year. The bill was orig­i­nal­ly aimed against fed­er­al intru­sions on state author­i­ty but is adapt­able to threats from local ordi­nances as well.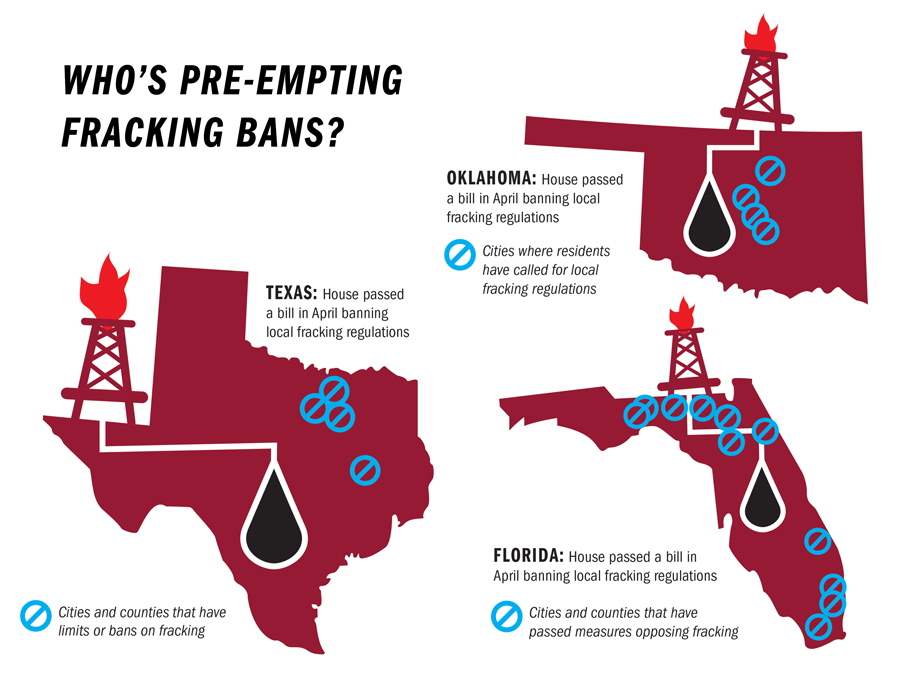 A house divided
Pre­emp­tion laws that nul­li­fy pro­gres­sive urban poli­cies are just the lat­est sal­vo in the GOP's long-term cam­paign to exploit the over­rep­re­sen­ta­tion of white, rur­al vot­ers in our polit­i­cal sys­tem. That cam­paign is essen­tial­ly the sto­ry of the mod­ern GOP. One of its main tac­tics is old-fash­ioned polit­i­cal hardball.
Con­sid­er the push for stricter vot­er require­ments to address the myth of vot­er fraud. Sev­en of the 11 states with the high­est African-Amer­i­can vot­er turnout in 2008 have sub­se­quent­ly passed laws mak­ing it more dif­fi­cult to vote, accord­ing to the Bren­nan Cen­ter for Jus­tice. Sim­i­lar­ly, since 2008, nine of the 12 states with the fastest-grow­ing His­pan­ic pop­u­la­tion have passed new vot­ing restrictions.
While ger­ry­man­der­ing dilutes the pow­er of minor­i­ty vot­ers, the new restric­tions aim to deter minori­ties from vot­ing alto­geth­er. In 2013, for exam­ple, North Car­oli­na passed sev­er­al new restric­tions, includ­ing a state-issued ID require­ment, a reduced ear­ly vot­ing peri­od and the end of same-day vot­er reg­is­tra­tion. Each of these ​"reforms" dis­pro­por­tion­ate­ly affects minori­ties. Though African Amer­i­cans account for 23 per­cent of the state's reg­is­tered vot­ers, for exam­ple, they account­ed for 33 per­cent of vot­ers who used the ear­ly vot­ing peri­od in 2012 — and 34 per­cent of those who didn't have a state-issued ID. The state leg­is­la­ture passed the restric­tions just a month after the U.S. Supreme Court struck down crit­i­cal parts of the Vot­ing Rights Act.
Along with its new bare-knuck­le pol­i­tics, the GOP's cam­paign to exploit the rur­al bias­es in Con­gress has a long, com­pelling narrative.
It's the sto­ry of a vic­tim­ized but right­eous peo­ple: the ​"silent major­i­ty" that Richard Nixon appealed to in his 1968 pres­i­den­tial cam­paign, the ​"moral major­i­ty" of the 1980s, the ​"val­ues vot­ers" of the 1990s, the ​"real Amer­i­ca" of Sarah Palin and the ​"pro­duc­er class" of the Tea Par­ty. The vir­tu­ous, so the sto­ry goes, are under mer­ci­less assault by those who aim to impose god­less val­ues on the nation. At an ACCE con­fer­ence last win­ter, a rep­re­sen­ta­tive of the Amer­i­can Petro­le­um Insti­tute cap­tured the essence of the nar­ra­tive per­fect­ly, if absurd­ly, by draw­ing a par­al­lel between the rise of Germany's Nazi Par­ty and ​"what I see hap­pen­ing in our small towns on issues like fracking."
That nar­ra­tive plays to the fears of the GOP's base, rur­al vot­ers and con­ser­v­a­tive Chris­tians who see the advance of social jus­tice — espe­cial­ly in the realms of fem­i­nism and LGBT equal­i­ty — as the destruc­tion of the tra­di­tion­al moral order. The truth of the nar­ra­tive is large­ly irrel­e­vant. For con­ser­v­a­tive Chris­tians, it evokes famil­iar bib­li­cal themes and sto­ries of per­se­cut­ed believ­ers. For rur­al, white vot­ers, it plays to fears of being left behind by an increas­ing­ly diverse, urban society.
The cor­rupt­ing influ­ence of mon­ey in pol­i­tics is often decried, espe­cial­ly since the Supreme Court's 2010 Cit­i­zens Unit­ed deci­sion. But in truth, the cor­rup­tion goes far deep­er than the influ­ence of mon­ey. The wealthy are empow­ered by the out­ra­geous­ly out-of-bal­ance influ­ence of a small frac­tion of the pop­u­la­tion that per­ceives itself as under siege — and is thus high­ly mobi­lized. An alliance of plu­to­crats and rur­al over­lords par­a­lyzes our nation­al pol­i­tics, despite broad sup­port for at least mod­est­ly pro­gres­sive reforms on most major issues.
In the emerg­ing bat­tle for con­trol of U.S. cities, the stakes are high. For Repub­li­cans, the crit­i­cal ques­tion is just how far — and for how long — they can push their exploita­tion of the rur­al white vote. There has been much talk about how the GOP will be forced to broad­en its appeal to minori­ties and younger vot­ers, but that assumes our elec­tions actu­al­ly reflect the will of the peo­ple. What if the GOP's struc­tur­al advan­tages in Con­gress give it no incen­tive to reform, allow­ing it to pros­per as an obstruc­tion­ist par­ty that appeals pri­mar­i­ly to the rur­al white vote?
For pro­gres­sives, the crit­i­cal ques­tion is: Can the prin­ci­ple of local con­trol address urgent nation­al issues, espe­cial­ly in the realms of cli­mate change and eco­nom­ic inequality?
"Pow­er con­cedes noth­ing with­out a demand," Fred­er­ick Dou­glass wrote. Injus­tice and wrong­do­ing will, as Dou­glass put it, ​"con­tin­ue until they are resist­ed with either words or blows, or with both." Cities are begin­ning to demand an end to our nation­al polit­i­cal paral­y­sis and to imple­ment poli­cies that most of us agree on. Con­ser­v­a­tives are push­ing back. The evi­dence sug­gests that the war between urban Amer­i­ca and a polit­i­cal sys­tem rad­i­cal­ly rigged against it is just beginning.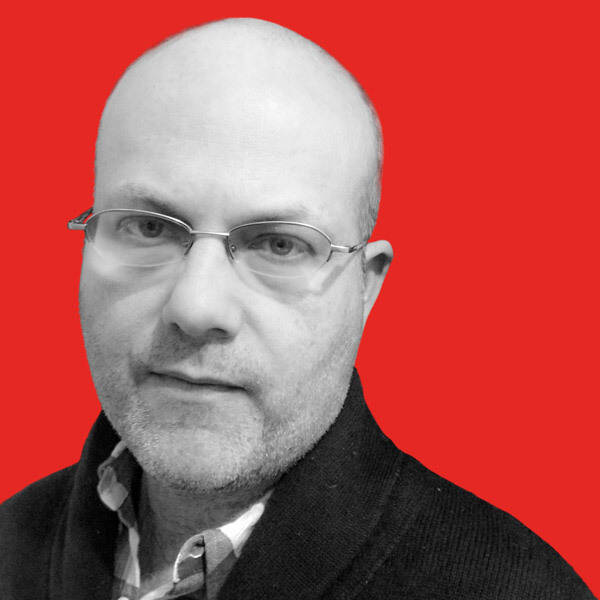 Theo Ander­son
is an In These Times con­tribut­ing writer. He has a Ph.D. in mod­ern U.S. his­to­ry from Yale and writes on the intel­lec­tu­al and reli­gious his­to­ry of con­ser­vatism and pro­gres­sivism in the Unit­ed States. Fol­low him on Twit­ter @Theoanderson
7
.