Hulu's Brilliant Adaptation of "The Handmaid's Tale" Says More About Our Present Than Our Future
For many marginalized women, dystopia is already here.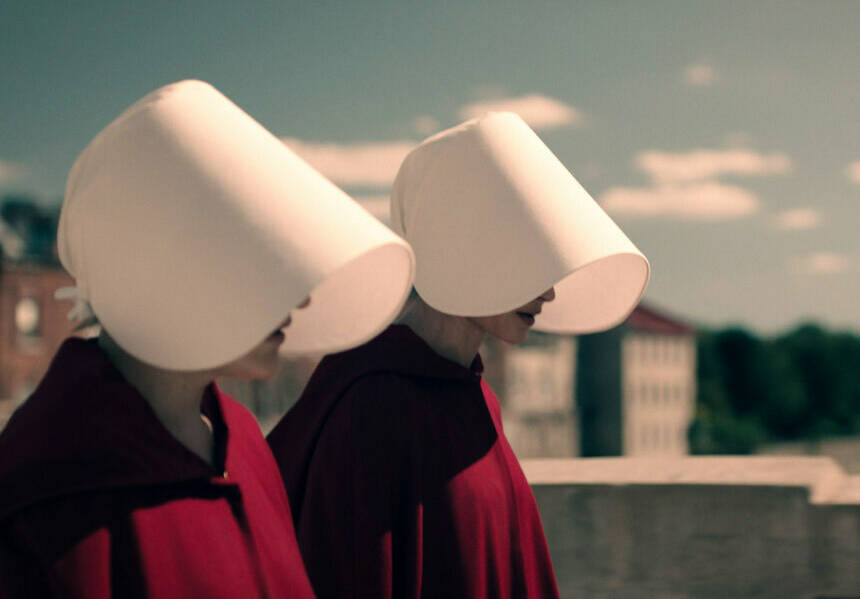 This Feb­ru­ary, 32 years after its pub­li­ca­tion, Mar­garet Atwood's The Handmaid's Tale became Amazon's num­ber one best­seller. The fem­i­nist dystopia imag­ines a gov­ern­ment takeover by misog­y­nist author­i­tar­i­ans, and the book's sales were pro­pelled by the fear that its fic­tion was merg­ing into reality.
Why should a corporate capitalist state bother with repression when the distractions of cheap goods and good TV render the public compliant and complicit?
Yet three months under Trump, we don't live in The Handmaid's Tale: no secret police; no hijacked bank accounts; no reed­u­ca­tion camps. As many have observed, such total­i­tar­i­an tales feel less rel­e­vant to 21st-cen­tu­ry Amer­i­ca than con­sumerist dystopias, like Brave New World or Civil­War­Land in Bad Decline. Why should a cor­po­rate cap­i­tal­ist state both­er with repres­sion when the dis­trac­tions of cheap goods and good TV ren­der the pub­lic com­pli­ant and complicit?
Then again, our auto­crat-in-chief has a pen­chant for less sub­tle means of con­trol, and works like Atwood's remain calls for vig­i­lance. She says she wrote the book as an antipredic­tion: ​"If this future can be described in detail, maybe it won't happen."
The draw of that ​"maybe" will lead many to tune in to an eeri­ly well-timed tele­vi­sion adap­ta­tion com­ing to Hulu in late April. Like the book, the 10-part series is chill­ing, riv­et­ing, designed to sear itself into our brains. Tight shots place us claus­tro­pho­bi­cal­ly in the world of the ​"hand­maid," June, who has been thrust into repro­duc­tive slav­ery, forced to bear a child for one of the coup's com­man­ders. As June, Mad Men​'s Elis­a­beth Moss uses elo­quent microex­pres­sions to con­vey the fatigued adren­a­line of cap­tiv­i­ty. Even rape is simul­ta­ne­ous­ly ter­ri­fy­ing and bor­ing, as she stares at the ceil­ing and, in an inter­nal mono­logue, riffs on the col­or blue ("Blue Moon," ​"Tan­gled Up in Blue").
How did we get here? As the back sto­ry emerges, we learn that, like all sea changes, it seemed to hap­pen overnight, yet clues were there. ​"I was asleep before," June reflects. ​"When they slaugh­tered Con­gress. When they blamed ISIS. We didn't wake up then either. They said it would be tem­po­rary. Noth­ing changes instan­ta­neous­ly. … In a grad­u­al­ly heat­ing bath­tub, you'd be boiled to death before you know it." On the day it comes to boil — when women's bank accounts are frozen, their employ­ment ter­mi­nat­ed, their assets trans­ferred to their near­est male kin — June and her best friend, Moira (Sami­ra Wiley) join a band of rag­tag pro­test­ers wav­ing hand­made signs. It's a scene that could have been ripped straight from Jan­u­ary 21 — except that the police open fire, jolt­ing Moira and June awake to the new real­i­ty, too late. There­in lies a warn­ing: Are our civ­il rights more pre­car­i­ous than we realize?
But to read The Handmaid's Tale as sim­ply a cau­tion­ary tale about a total­i­tar­i­an future is to miss its rich res­o­nances. It is a sto­ry about the past, and the present. Atwood describes the writ­ing of the book as brico­lage, an assem­blage pulled togeth­er from mate­r­i­al she had avail­able to her: her own trips behind the Iron Cur­tain, accounts of slav­ery and cults, and oth­er doc­u­men­ta­tion of myr­i­ad ways that states have reg­u­lat­ed their cit­i­zens and patri­archies have con­trolled women's bodies.
For those who watch in fear that Trump may one day come for them, the take­away of this series will be its res­o­nance with the ways peo­ple are already dis­em­pow­ered. For some, Amer­i­ca is already a police state. When a dark van full of secret police, known as ​"Eyes," pulls up beside June, we cringe with her as she schools her­self to keep walk­ing, to act nor­mal, it's hard not to see the par­al­lel to (and the pun on) ICE. The shots of police open­ing fire on pro­test­ers echo the footage of police train­ing hoses and rub­ber bul­lets on Stand­ing Rock water pro­tec­tors. Per­haps most uncan­ny is how the open­ing scene of June flee­ing for the Cana­di­an bor­der, alter­nate­ly car­ry­ing and drag­ging her young daugh­ter through the woods, mir­rors the news footage of Sudanese refugees flee­ing to Cana­da to escape Trump's ban, toss­ing chil­dren and bag­gage over an imag­i­nary line in the brush.
The Handmaid's Tale offers no smil­ing Moun­tie to scoop up June's daugh­ter. She is ripped away, and June's des­per­a­tion to reclaim her dri­ves the rest of the show. That quest makes vis­cer­al the lived real­i­ty of many who rarely find their way into news­casts: the chil­dren and par­ents sep­a­rat­ed by war, by a wel­fare sys­tem that pun­ish­es the poor, by the imper­a­tives of glob­al cap­i­tal­ism, and by refugee and immi­gra­tion policy.
Trans­lat­ing these over­looked injus­tices into TV dra­ma — and putting a famous white woman in the star­ring role — is a sedi­tious way to smug­gle them into our liv­ing rooms. The imme­di­a­cy of June's sto­ry punc­tures our numb­ness, our com­pas­sion fatigue and the feel­ing of being over­whelmed by intractable forces. For too long we have accept­ed things as they are. The Handmaid's Tale wakes us to the strange­ness of reality.
At a re-edu­ca­tion cen­ter for June and the oth­er new ​"hand­maids," a Miss Trunch­bull-esque instruc­tor coos, ​"I know this must feel strange. But ordi­nary is just what you are used to. This may not seem ordi­nary to you right now, but after a time it will." June strug­gles to hold on to her sense of what's nor­mal and right. And through that strug­gle, The Handmaid's Tale demands an answer: What have we let become ordi­nary, and how can we ren­der it not?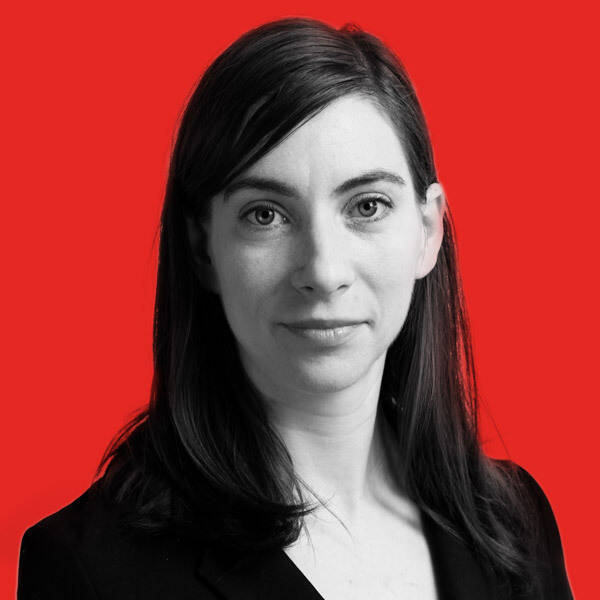 Jes­si­ca Stites is Exec­u­tive Edi­tor of In These Times, where she runs the Leonard C. Good­man Insti­tute for Inves­tiga­tive Report­ing and edits sto­ries on labor, neolib­er­al­ism, Wall Street, immi­gra­tion, mass incar­cer­a­tion and racial jus­tice, among oth­er top­ics. Before join­ing ITT, she worked at Ms. mag­a­zine and George Lakof­f's Rock­ridge Insti­tute. Her writ­ing has been pub­lished in the Los Ange­les Review of Books, Ms., Bitch, Jezebel, The Advo­cate and Alter­Net. She is board sec­re­tary of the Chica­go Read­er and a for­mer Chica­go Sun-Times board member.