The Struggle to Save 'La Casita' (SLIDESHOW)
A school occupation begins anew, as parents try to hold the Chicago Public School system to its word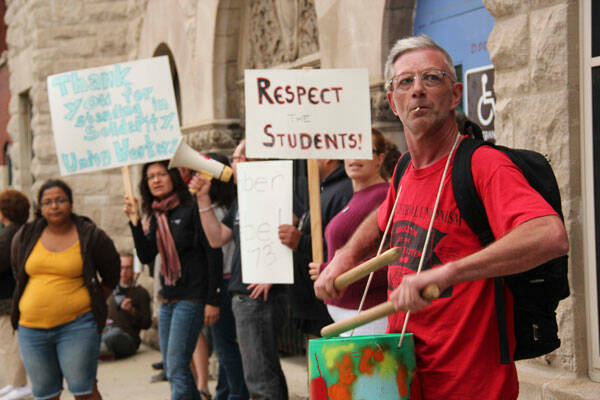 CHICA­GO — The Whit­ti­er Par­ent Com­mit­tee (WPC) has big plans for the library at the La Casita field house in Chicago's Pilsen neigh­bor­hood. Children's books are stacked in crates and shelves in the bright­ly col­ored space which, for now, is walled off by a cur­tain. There is even a social jus­tice sec­tion – a sub­ject par­ents at Whit­ti­er learned from first­hand experience.
Activists formed a picket line at Whittier elementary school in the early morning hours of Friday June 25, urging union crews not to cross the improvised line.
Whit­ti­er Ele­men­tary School par­ents began work on the library dur­ing a suc­cess­ful 43-day sit-in last fall to save the field house from demo­li­tion by the Chica­go Pub­lic Schools (CPS).
The occu­pa­tion began anew on Wednes­day, June 22, after CPS attempt­ed to begin con­struc­tion inside of the school, part of a plan to demol­ish a spe­cial edu­ca­tion class­room and replace it with a small library. The par­ents cried foul, charg­ing that CPS was reneg­ing on their fall 2010 agree­ment to ren­o­vate the field house and mis­us­ing pre­vi­ous­ly allo­cat­ed funds for a cost­ly con­struc­tion project inside an already over­crowd­ed school that would result in the dis­place­ment of spe­cial needs students.
Activists formed a pick­et line at the school on Fri­day June 24 (see slideshow), and near­ly 80 peo­ple gath­ered in sol­i­dar­i­ty in the ear­ly morn­ing hours, urg­ing union crews not to cross the impro­vised line. Two groups guard­ed the main entrances to the school, while oth­ers pick­et­ed the entrance gate near the playground.
"We thought the mon­ey was going to come to us, and now that we're here again, it was a big dis­ap­point­ment for me," Whit­ti­er par­ent Araceli Gon­za­lez said. Gon­za­lez was at La Casita every­day last fall dur­ing the orig­i­nal occu­pa­tion to pro­tect the field house. She has vowed to stick it out at La Casita again, for how­ev­er long it takes. ​"I'm wait­ing for the worst because I feel they're going to come pre­pared know­ing that every­body else is com­ing back," she said.
A num­ber of police cars showed up by 7 a.m. on Fri­day and blocked off the streets sur­round­ing the school. In response, activists orga­nized into pairs and knocked on the doors of their neigh­bors to build a larg­er pres­ence in the demon­stra­tion. Orga­niz­ers also flood­ed the answer­ing machines of the Chica­go Police Department's 10th Dis­trict Com­man­der Berscott Ruiz, 25th Ward Alder­man Dan­ny Solis, State Rep­re­sen­ta­tive Edward Aceve­do and CPS offices, demand­ing that police leave and the scene and that CPS nego­ti­ate with the par­ents. The police block­ade was even­tu­al­ly called off.
Fol­low­ing days of stonewalling, CPS CEO Jean-Claude Brizard final­ly agreed to meet with a group of 10 par­ents at 3 p.m. on Mon­day June 27 at the CPS office in down­town Chicago.
Dur­ing that meet­ing, Brizard told the par­ents that CPS would apply the min­i­mum Amer­i­can Dis­abil­i­ty Act (ADA) stan­dards to Whit­ti­er by mov­ing spe­cial needs chil­dren into a room pre­vi­ous­ly used for small group inter­ven­tions and con­struct the library in their old room. ADA stan­dards pro­vide a loop­hole for build­ings built before its pas­sage, like Whit­ti­er, mean­ing the plan would dis­place spe­cial needs stu­dents by forc­ing them to enroll elsewhere.
Brizard admit­ted to dis­plac­ing stu­dents in a let­ter released to par­ents after the meet­ing, in which he wrote: ​"In the case of Whit­ti­er, there are two neigh­bor­hood ele­men­tary schools with­in one mile: Fin­kl Ele­men­tary and Oroz­co Com­mu­ni­ty Acad­e­my. Under CPS pol­i­cy, a stu­dent or par­ent with a dis­abil­i­ty who needs an acces­si­ble school would be eli­gi­ble for trans­fer to one of those schools."
As Whit­ti­er is the only dual-lan­guage school in the Pilsen com­mu­ni­ty, spe­cial needs stu­dents may be forced to attend an Eng­lish-only school. If CPS does dis­place spe­cial needs stu­dents at Whit­ti­er, par­ents might have to split up their kids among dif­fer­ent schools to meet their dif­fer­ent needs. The reper­cus­sions of the CPS plan for Whit­ti­er could be avoid­ed, how­ev­er, through the ren­o­va­tion of La Casita. But no offi­cial agree­ment was made between Whit­ti­er par­ents and CPS.
The bud­get has been a major con­cern for both CPS and the Whit­ti­er Par­ent Com­mit­tee. CPS had agreed to allo­cate the $364,000 orig­i­nal­ly meant for the demo­li­tion of La Casita toward its ren­o­va­tion last fall. State Rep­re­sen­ta­tive Aceve­do was able to bring in anoth­er $200,000 for the ren­o­va­tion from the Board of Edu­ca­tion. Accord­ing to a finan­cial record on CPS' web­site that Whit­ti­er par­ent Evelin San­tos said was lat­er removed, CPS autho­rized a trans­fer of $18,840 from City­wide Cap­i­tal for the inte­ri­or ren­o­va­tion of La Casita. Where exact­ly the mon­ey came from is still unclear, but it's mon­ey gone down the drain if, as the par­ents fear, La Casita is demolished.
CPS did not respond to In These Times' request for comment.
Brizard told Whit­ti­er par­ents that con­struc­tion of the library inside the school is still on the table for at least anoth­er two weeks as CPS offi­cials con­tin­ue to work with con­trac­tors on the issue.
"What do we have to do?" Gon­za­lez asked, won­der­ing, ​"Isn't this about democ­ra­cy, about vot­ing for what you want, about the peo­ple, about the kids?"
Gonzalez's daugh­ter, 10-year-old Whit­ti­er stu­dent Daniela, is going to be in 6th grade next semes­ter. She walked the pick­et line on Fri­day, film­ing activists as they chant­ed. ​"I want to show every­one what is true and what is real­i­ty," said Daniela, who wants to make a doc­u­men­tary about La Casita. ​"I want all schools to be equal."
Can­dice Bernd
is an edi­tor and staff reporter at
Truthout
. Her work has also appeared in sev­er­al oth­er pub­li­ca­tions, includ­ing
The Nation
,
In These Times
, the
Texas Observ­er
,
Salon
, Rewire.News,
YES! Mag­a­zine
and
Earth Island Jour­nal
, as well as in
Truthout
​
'
s anthol­o­gy on police vio­lence,
Who Do You Serve, Who Do You Pro­tect?
She received two awards from the San Fran­cis­co Press Club in Novem­ber
2018
, and the Dal­las Peace and Jus­tice Cen­ter's annu­al jour­nal­ism award in Decem­ber
2016
. Fol­low her on Twit­ter:
@CandiceBernd
.