When Scott Walk­er became gov­er­nor of Wis­con­sin in 2011, he put up signs along state bor­ders pro­claim­ing the state ​"open for business."
Democrats must tell a better story about what's possible, and what has worked—in both the progressive Minnesota of today and the progressive Wisconsin of the past.
The signs, Walk­er said, marked a pro­found shift in the way Wis­con­sin ​"treats job cre­ators." With­in months of tak­ing office, he pushed through a series of tax cuts aimed at cor­po­ra­tions and the rich. Man­u­fac­tur­ing and agri­cul­tur­al busi­ness­es, for exam­ple, saw an esti­mat­ed $874 mil­lion sliced from their tax­es over 10 years. Walk­er promised that such mea­sures would super­charge the econ­o­my and lead to 250,000 new jobs in four years. Forbes applaud­ed his agen­da and com­pared it favor­ably to Min­neso­ta, where ​"Gov. Mark Day­ton push­es for tax increas­es on the rich."
The com­par­i­son between Wis­con­sin and Min­neso­ta was apt: The pop­u­la­tion, his­to­ry and land­scape of the neigh­bor­ing states have made them some­thing like twins. Both were set­tled in large part by North­ern Euro­peans. Both depend heav­i­ly on water resources — by some counts, Wis­con­sin has more lakes than Min­neso­ta, ​"the land of 10,000 lakes." And both have strong pro­gres­sive tra­di­tions of invest­ment in the pub­lic good, par­tic­u­lar­ly their schools and nat­ur­al resources.
Bad­gers vs. Gophers
For six years, Walk­er has bull­ish­ly deliv­ered on his promise to make Wis­con­sin into a paragon of low tax­es and few reg­u­la­tions. His and the GOP legislature's union-bust­ing efforts have seen the state's union­ized work­force decline from 14 per­cent in 2010 to 8 per­cent in 2016. And he has greased the skids for cor­po­rate exploita­tion of nat­ur­al resources.
One exam­ple among many: Min­ing com­pa­ny Goge­bic Taconite want­ed to build a mas­sive iron ore mine in north­ern Wis­con­sin but chafed at com­ply­ing with the state's envi­ron­men­tal pro­tec­tions. In 2013, in col­lab­o­ra­tion with the com­pa­ny, Walk­er suc­cess­ful­ly pushed for leg­is­la­tion to ease restric­tions on wet­land destruc­tion. As it turned out, Goge­bic Taconite had con­tributed $700,000 to the Wis­con­sin Club for Growth, a ​"pro-growth" advo­ca­cy group that has sup­port­ed Walker's guber­na­to­r­i­al bids — and for which Walk­er has been a key fundrais­er. The com­pa­ny even­tu­al­ly can­celed its plans in 2015, in part because it feared con­flict with the EPA over wet­lands. But the leg­is­la­tion that Walk­er pushed through paved the way for swift per­mit­ting of the mine and the destruc­tion of ​"irre­place­able lakes, rivers, streams, wet­lands and wildlife habi­tat," as the Sier­ra Club's Wis­con­sin chap­ter not­ed. The relaxed pro­tec­tions remain in place for new proposals.
Yet the results of Walker's ​"open for busi­ness" agen­da haven't been as promised; ​"job cre­ators" have been derelict in their duty. Last year, the num­ber of jobs in the state increased by about 17,000, bring­ing the total jobs cre­at­ed under Walk­er to rough­ly 185,000 — some 65,000 short of what he'd promised to accom­plish by Jan­u­ary 2015. Dur­ing Walker's tenure, Wis­con­sin has con­sis­tent­ly trailed most oth­er states in job growth.
Min­neso­ta, mean­while, tacked the oth­er way and raised tax­es on the rich in order to invest in schools. The 2013 bud­get levied a two per­cent tax increase on cou­ples who make more than $250,000 per year. The hike gen­er­at­ed $1.1 bil­lion over two years, about half of which was ear­marked to cov­er the state's bud­get deficit. Much of the rest went to edu­ca­tion: $234 mil­lion in gen­er­al fund­ing for pub­lic schools, $134 mil­lion to expand all-day kinder­garten statewide, and anoth­er $80 mil­lion to invest in ear­ly child­hood edu­ca­tion and spe­cial education.
Right-wing skep­tics warned that high­er tax­es would send the wealthy flee­ing to low-tax states like Wis­con­sin. Instead, the num­ber of fil­ers in the top tax brack­et increased by six per­cent. And the econ­o­my has pros­pered. Over­all, Min­neso­ta ranked 21st in pri­vate-sec­tor job growth between 2011 and 2016, ver­sus 34th for Wis­con­sin. In its 2017 rank­ing of the top 10 states, U.S. News & World Report rat­ed Min­neso­ta the eighth-best state to find a job, based on its unem­ploy­ment rate of 3.8 per­cent and a labor-force par­tic­i­pa­tion rate of near­ly 70 per­cent, among the high­est in the nation. U.S. News also ranked Min­neso­ta the third-best state over­all, based on its strong econ­o­my, excel­lent schools, low cost of liv­ing and high medi­an income. Wis­con­sin didn't make either list.
But by focus­ing on short-term mea­sures of eco­nom­ic per­for­mance, accounts of the grow­ing divide between Wis­con­sin and Min­neso­ta often miss or bury a key piece of the sto­ry. A social-demo­c­ra­t­ic pro­gram entails invest­ment in all aspects of the pub­lic good, and treats them as insep­a­ra­ble: A healthy and flour­ish­ing econ­o­my begins with a healthy and flour­ish­ing society.
The two states' envi­ron­men­tal approach­es illus­trate the point. Wis­con­sin has opt­ed for eco-aus­ter­i­ty, embrac­ing the con­ser­v­a­tive dog­ma that envi­ron­men­tal pro­tec­tions are the great ene­my of eco­nom­ic vital­i­ty. Min­neso­ta has gone the oppo­site route. The result? While Wis­con­sin has sac­ri­fced its envi­ron­ment for a neolib­er­al agen­da that fails to deliv­er, Min­neso­ta has invest­ed in its envi­ron­ment and seen eco­nom­ic growth.
Water, water everywhere
Wisconsin's nat­ur­al splen­dor shaped the out­look of two pio­neers of the envi­ron­men­tal­ist move­ment, John Muir and Aldo Leopold. Muir once wrote of his mid-19th-cen­tu­ry child­hood in cen­tral Wis­con­sin: ​"On Sun­days, after or before chores and ser­mons and Bible-lessons, we drift­ed about on the lake for hours, espe­cial­ly in lily time, get­ting nest lessons and ser­mons from the water and owers, ducks, shes and muskrats."
Nat­ur­al resources remain a crit­i­cal part of Wisconsin's econ­o­my and iden­ti­ty. It has 2,022 lakes larg­er than 50 acres and 860 miles of shore­line along Lake Michi­gan and Lake Supe­ri­or. ​"When peo­ple think of their fam­i­ly tra­di­tions, so many of them are tied to lake hous­es up north, or hunt­ing with their fam­i­ly and swim­ming in the lakes," says Ker­ry Schu­mann, exec­u­tive direc­tor of the Wis­con­sin League of Con­ser­va­tion Voters."It's just a very big part of our culture."
Walker's agen­da of envi­ron­men­tal degra­da­tion threat­ens those tra­di­tions. In nam­ing the head of the Wis­con­sin Depart­ment of Nat­ur­al Resources (DNR), Walk­er said he was look­ing for ​"some­one with a cham­ber-of-com­merce men­tal­i­ty" who would rein in the ​"out of con­trol" agency. He found that per­son in Cathy Stepp, a con­struc­tion com­pa­ny own­er who had railed against the DNR on a local con­ser­va- tive blog. In a 2009 post, Stepp called DNR employ­ees ​"unelect­ed bureau­crats who have only cubi­cle walls to bounce ideas off of," adding that they were ​"anti-devel­op­ment" but ​"pro-garter snakes."
Under Walk­er and Stepp, the DNR has been slow­ly hol­lowed out. The 2015 – 17 bud­get cut 18 posi­tions from the DNR's Bureau of Sci­ence Ser­vices, or about a third of the bureau's bud­get­ed staff. George Mey­er, a for­mer DNR head appoint­ed by Repub­li­can Gov. Tom­my Thomp­son, vocal­ly opposed the staff cuts, not­ing that ​"when you start los­ing data, you start mak­ing bad man­age­ment deci­sions." Mey­er called it ​"the worst anti-con­ser­va­tion bud­get I've seen in 50 years."
Last year, Wisconsin's Leg­isla­tive Audit Bureau pub­lished a sting­ing report on the DNR, find­ing that water qual­i­ty reg­u­la­tors ​"failed to fol­low their own poli­cies on enforce­ment against pol­luters more than 94 per­cent of the time over the last decade," accord­ing to the Wis­con­sin State Jour­nal. Only 33 of 558 cita­tions that should have been issued were actu­al­ly writ­ten up.
The fail­ures cit­ed by the bureau began under Walker's pre­de­ces­sor, Jim Doyle, a Demo­c­rat. But if Democ­rats neglect­ed the agency, Walk­er and the GOP have utter­ly defanged it. Stepp has boast­ed that cor­po­ra­tions now see the depart­ment as ​"a safe space."
One Repub­li­can state sen­a­tor, Dale Schultz, found Walker's approach to envi­ron­men­tal issues so ​"embar­rass­ing" that he decid­ed to retire in 2014, after 32 years in the legislature."I think what's going on is appalling," Schultz told Sci­en­tif­ic Amer­i­can. ​"I'm a pret­ty pro-busi­ness Repub­li­can. But a clean envi­ron­ment is essen­tial to business."
The deple­tion of the DNR is so severe that, last year, the EPA began an inves­ti­ga­tion into whether the agency is so weak­ened and inef­fec­tive that it should be stripped of its author­i­ty. The inves­ti­ga­tion is unre­solved. The ongo­ing dev­as­ta­tion, mean­while, is quite clear.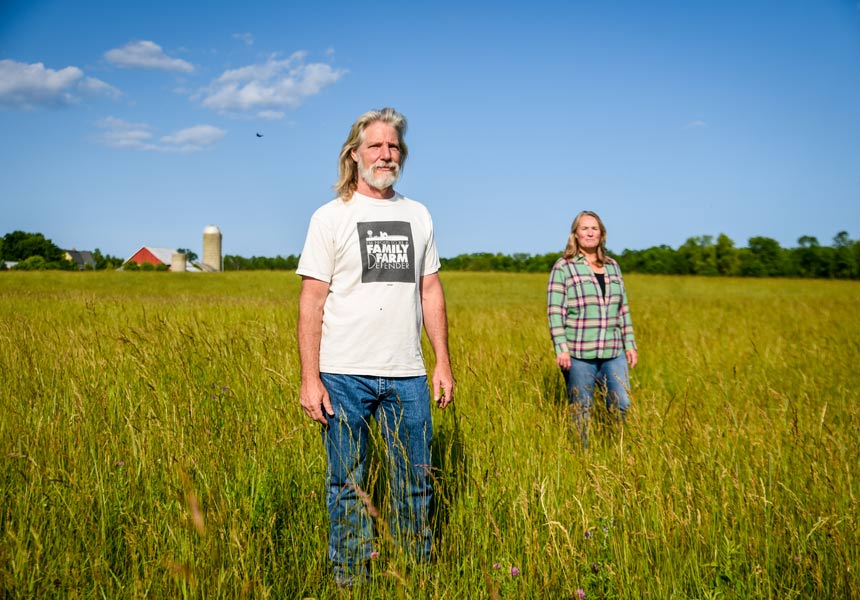 Nan­cy and Lynn Utesch raise free-range, grass-fed cat­tle on their Kewaunee Coun­ty, Wis., farm. (Mike Peters)
Shit storm
Lynn and Nan­cy Utesch spend much of their time doc­u­ment­ing the dev­as­ta­tion. They have a 150-acre farm near Kewaunee, Wis., a town of about 3,000 peo­ple nes­tled along Lake Michi­gan. Dri­ving along the main street that cuts through the city's cen­ter, you can see white­caps glint­ing in the dis­tance. The Utesches have lived in a yel­low, post- card-per­fect farm­house since 2004. They raise about 50 cat­tle and sell the high-end, grass-fed beef direct­ly to their customers.
A sign on the edge of Kewaunee wel­comes you to ​"the good life on a great lake." But under the sur­face, thou­sands of tons of manure are sink­ing into the area's water sup­ply, mak­ing it tox­ic for many res­i­dents, who have been forced to use bot­tled water.
The manure deba­cle results from the recent, explo­sive growth of huge fac­to­ry farms and con­sol­i­da­tion with­in the dairy indus­try. Since 2010, the num­ber of con­cen­trat­ed ani­mal feed­ing oper­a­tions, or CAFOs, has quin­tu­pled in Wis­con­sin. Kewaunee Coun­ty now has 16.
Waste cre­at­ed by the thou­sands of cows at each CAFO is ulti­mate­ly spread across farm fields. In the­o­ry, there are reg­u­la­tions about the amount of manure that can be spread, but lit­tle or no enforce­ment in prac­tice. And the soil is high­ly per­me­able, so the manure seeps into the groundwater.
In 2014, a judge blamed ​"mas­sive reg­u­la­to­ry fail­ure" for the con­t­a­m­i­na­tion of ground­wa­ter in Kewaunee Coun­ty. He not­ed in the rul­ing that ​"numer­ous wit­ness­es tes­ti­fied cred­i­bly and force­ful­ly about the hard­ship and finan­cial ruin that well water con­t­a­m­i­na­tion has had on their busi­ness­es, homes and dai­ly life." at rul­ing is under appeal, and water qual­i­ty is an ongo­ing cri­sis in the coun­ty, like­ly because the DNR lacks both the staff and the will to enforce reg­u­la­tions. More than one-third of test­ed wells in the coun­ty have exces­sive lev­els of nitrate, E. coli and oth­er con­t­a­m­i­nants asso­ci­at­ed with manure.
At a late-June hear­ing in Lin­coln, a town in Kewaunee Coun­ty, the Utesches and sev­er­al oth­er locals showed up to protest the pro­posed expan­sion of a local CAFO that wants to dou­ble its herd size by adding about 3,000 cows. The hear­ing was part of the DNR's per­mit-grant­i­ng process.
The increase ​"is just com­plete­ly and total­ly incom­pre­hen­si­ble," the chair of the town's plan­ning com­mis­sion, Mick Sagril­lo, told two DNR staffers at the hear­ing. ​"I'm just real­ly stunned by the increase in herd size."
Sev­er­al wit­ness­es entered evi­dence of the area's degrad­ed water qual­i­ty into the record, and they made their pleas to the DNR to reject the pro­pos­al. But Nan­cy Utesch says it was most­ly a mat­ter of bear­ing wit­ness and cre­at­ing a paper trail. The dairy indus­try is a major donor to Scott Walk­er, and under him, the DNR has been com­plete­ly neutered. The 3,000 new cows will be added, and the water qual­i­ty will dete­ri­o­rate further.
"For those of us who live here, it feels like the DNR is real­ly work­ing against us," Nan­cy says. ​"They've com­plete­ly lost their way. We're left vul­ner­a­ble to not only the pol­lu­tion, but to this hap­pen­ing over and over again."
Sev­er­al CAFOs are locat­ed near the Utesches' prop­er­ty, and the cou­ple reg­u­lar­ly tests their water. It isn't con­t­a­m­i­nat­ed, but with the DNR in the pock­et of indus­try, and with ever-more manure being piled onto the near­by fields, it might only be a mat­ter of time.
We can have nice things
Min­nesotans, mean­while, opt­ed in 2008 to tax them­selves to improve their water qual­i­ty. Vot­ers approved an amend­ment to the state's con­sti­tu­tion that raised the sales tax by three-eighths of one cent. The mon­ey would go toward a range of envi­ron­men­tal, artis­tic and cul­tur­al projects. One-third was ear­marked for a clean water fund.
That tax increase yields about $100 mil­lion annu­al­ly for efforts to improve the state's water­ways and safe­guard its sto­ried lakes. Many are small-scale projects of just a few thou­sand dol­lars. One, which will receive $2.5 mil­lion from the fund this year, is a statewide ini­tia­tive to address pol­lu­tant runoff.
In April 2015, the state's Pol­lu­tion Con­trol Agency pub­lished a report not­ing that, in urban areas or areas where land was heav­i­ly farmed, half (or few­er) of lakes didn't meet the ​"swim­ma­bil­i­ty" stan­dard, due to high lev­els of pol­lu­tants such as nitrate and phos­pho­rous. As in Wis­con­sin, a major source of con­t­a­m­i­na­tion is CAFOs.
Gov. Mark Day­ton suc­cess­ful­ly pushed for the state to begin con­struct­ing a sys­tem of aquat­ic ​"buffers"— strips of veg­e­ta­tion up to 50 feet wide along­side Minnesota's pub­lic waters and drainage sys­tems — to pro­tect the waters from soil ero­sion and fer­til­iz­er runoff. Buoyed by that win, Day­ton has made water qual­i­ty a core mis­sion for his final two years in office. (Though eli­gi­ble, Day­ton has said he won't run again.) He acknowl­edges that the buffers alone are far from a com­plete solu­tion: ​"It's a very impor­tant first step, but it's not the last step."
At an envi­ron­men­tal con­fer­ence in Feb­ru­ary, Day­ton announced the goal of a 25 per­cent improve­ment in Minnesota's water qual­i­ty by 2025. Accord­ing to Rebec­ca Flood, assis­tant com­mis­sion­er of the Min­neso­ta Pol­lu­tion Con­trol Agency, no sin­gle mea­sure can achieve such an ambi­tious goal. ​"There are a whole vari­ety of dif­fer­ent things that need to hap­pen, in both urban and rur­al land­scapes," she says. ​"It's largescale changes. It's not a small effort."
On July 31, Day­ton will begin a series of 10 town-hall meet­ings around the state to gath­er ideas and build ener­gy for local ini­tia­tives. In some areas, the most rel­e­vant dis­cus­sion might be which crops work best to pre­vent pol­lu­tion runoff from farm­ing. In oth­er areas, it might be how to improve waste­water treat­ment. In all cas­es, it means a will­ing­ness to buck cor­po­rate grasp­ing at short-term prof­its in order to pro­tect the long-term health and safe­ty of res­i­dents. The momen­tum for the ongo­ing water-qual­i­ty push in Min­neso­ta, Flood says, goes back to get­ting vot­er buy-in for water-qual­i­ty invest­ments back in 2008, when Min­nesotans approved the sales tax increase. ​"Hav­ing a con­sti­tu­tion­al­ly ded­i­cat­ed fund has been so impor­tant in set­ting the stage," she says.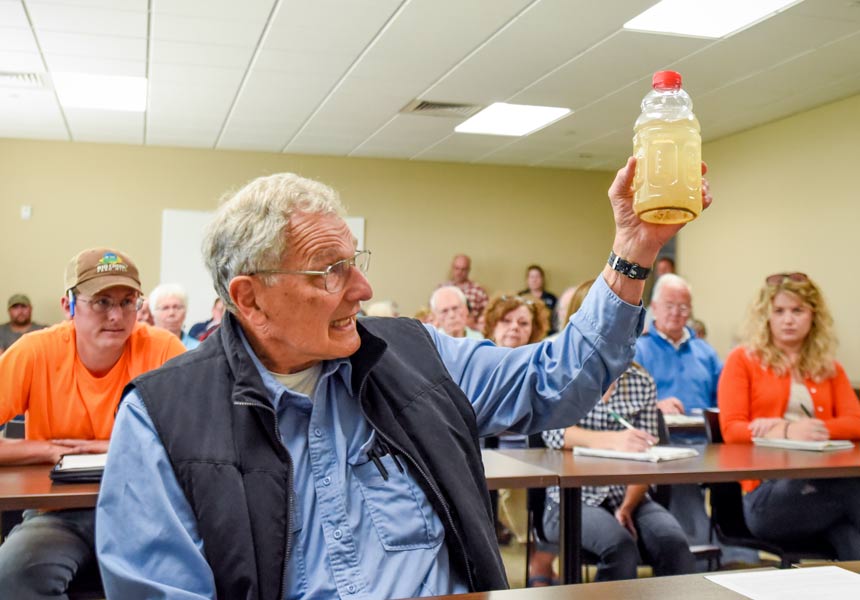 William Fall­er holds up a water sam­ple from a local creek con­tain­ing an over­abun­dance of silt, bac­te­ria and nutri­ents dur­ing a water qual­i­ty hear­ing in Kewaunee Coun­ty on June 27. (Mike Peters)
Gopher it, Democrats
Min­neso­ta is hard­ly a per­fect torch­bear­er for social-demo­c­ra­t­ic val­ues. Many pro­gres­sives were dis­ap­point­ed that Dayton's buffer pro­gram didn't go far enough. The bill that passed was a scaled-back ver­sion of an ear­li­er, more ambi­tious bill. And since Repub­li­cans gained con­trol of the state leg­is­la­ture in 2016, they've talked about rolling it back even fur­ther. They've also passed a $650 mil­lion tax cut, pro­vok­ing an ongo­ing show­down with Dayton.
Even so, six years of a rel­a­tive­ly pro­gres­sive admin­is­tra­tion in Min­neso­ta, ver­sus a rad­i­cal­ly right-wing admin­is­tra­tion in Wis­con­sin, leaves us with a sub­stan­tial body of evi­dence. What's the takeaway?
Minnesota's tax increas­es and invest­ment in pub­lic goods demon­strate they are com­pat­i­ble with a vibrant econ­o­my and sup­port the the­o­ry that a healthy econ­o­my is insep­a­ra­ble from a healthy pub­lic realm.
Wisconsin's tax-cut­ting and dereg­u­la­tion didn't deliv­er the growth Scott Walk­er promised and are mort­gag­ing the state's future by degrad­ing its nat­ur­al resources. It also seems clear that Walker's assaults on the pub­lic sec­tor were as much about enrich­ing cor­po­ra­tions and repay­ing polit­i­cal donors as stim­u­lat­ing the econ­o­my. With Trump push­ing the same agen­da at the fed­er­al lev­el, it's tempt­ing for pro­gres­sives to focus on pre­vent­ing the wounds inflict­ed on Wis­con­sin from being repli­cat­ed nationwide.
But the Wis­con­sin-Min­neso­ta case study offers anoth­er, equal­ly pow­er­ful les­son — one about what works to cre­ate shared prosperity.
"There is a high lev­el of sim­mer­ing anger in rur­al parts of Wis­con­sin about what the right-wing agen­da has done to the state's nat­ur­al resources," says Robert Kraig, exec­u­tive direc­tor of Cit­i­zen Action of Wis­con­sin (and a mem­ber of In These Times' board of direc­tors). ​"Democ­rats just haven't learned to chan­nel it yet. What we need is an alter­na­tive vision of how we can use the lever­age of our democ­ra­cy to cre­ate a liv­ing wage and a full-employ­ment econ­o­my, and in a way that pre­vents a glob­al cli­mate catastrophe."
Walker's flame­out in the 2016 pres­i­den­tial race leaves him free to pur­sue a third guber­na­to­r­i­al term in 2018. Though his poll num­bers are in the 40s, he has a for­mi­da­ble war chest from nation­al donors and has defied polit­i­cal grav­i­ty more than once. His vic­to­ries in the recall elec­tion of 2011, and again in the reg­u­lar elec­tion of 2014, still sting.
Kraig sees an oppor­tu­ni­ty for the race to become a test­ing ground for a dif­fer­ent approach to chal­leng­ing the GOP's neolib­er­al­ism: Tell a bet­ter sto­ry about what's pos­si­ble, and what has worked — in both the pro­gres­sive Min­neso­ta of today and the pro­gres­sive Wis­con­sin of the past.
If there is an over­ar­ch­ing les­son from this grand exper­i­ment, it's that Democ­rats have a strong case that pub­lic invest­ment deliv­ers shared ben­e­fits. Focus­ing pri­mar­i­ly on the neg­a­tive didn't work against Trump, and it has nev­er worked against Walk­er. Unseat­ing him next year — and dethron­ing the GOP in Con­gress — will depend on pro­gres­sives and Democ­rats find­ing their voice and artic­u­lat­ing a com­pelling vision. It will mean talk­ing about not only how Wis­con­sin lost its way, but about how Min­neso­ta took the left­ward path to prosperity.