The Great Midwestern Divide: Why Minnesota and Wisconsin's Political Schism Matters
The governorships of conservative Scott Walker (R-Wis.) and progressive Mark Dayton (D-Minn.) have yielded dramatically different results.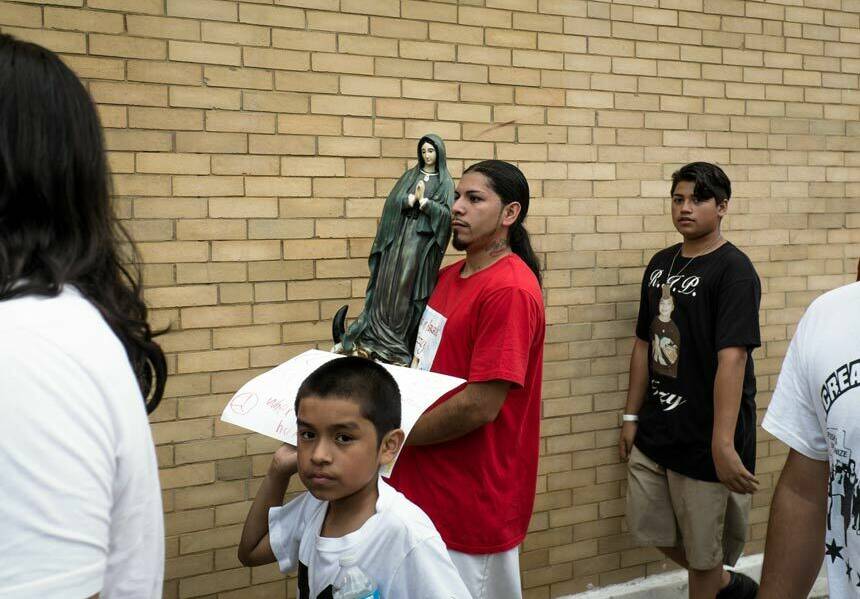 When Scott Walker became governor of Wisconsin in 2011, he put up signs along state borders proclaiming the state ​"open for business."
Democrats must tell a better story about what's possible, and what has worked—in both the progressive Minnesota of today and the progressive Wisconsin of the past.
The signs, Walker said, marked a profound shift in the way Wisconsin ​"treats job creators." Within months of taking office, he pushed through a series of tax cuts aimed at corporations and the rich. Manufacturing and agricultural businesses, for example, saw an estimated $874 million sliced from their taxes over 10 years. Walker promised that such measures would supercharge the economy and lead to 250,000 new jobs in four years. Forbes applauded his agenda and compared it favorably to Minnesota, where ​"Gov. Mark Dayton pushes for tax increases on the rich."
The comparison between Wisconsin and Minnesota was apt: The population, history and landscape of the neighboring states have made them something like twins. Both were settled in large part by Northern Europeans. Both depend heavily on water resources — by some counts, Wisconsin has more lakes than Minnesota, ​"the land of 10,000 lakes." And both have strong progressive traditions of investment in the public good, particularly their schools and natural resources.
Badgers vs. Gophers
For six years, Walker has bullishly delivered on his promise to make Wisconsin into a paragon of low taxes and few regulations. His and the GOP legislature's union-busting efforts have seen the state's unionized workforce decline from 14 percent in 2010 to 8 percent in 2016. And he has greased the skids for corporate exploitation of natural resources.
One example among many: Mining company Gogebic Taconite wanted to build a massive iron ore mine in northern Wisconsin but chafed at complying with the state's environmental protections. In 2013, in collaboration with the company, Walker successfully pushed for legislation to ease restrictions on wetland destruction. As it turned out, Gogebic Taconite had contributed $700,000 to the Wisconsin Club for Growth, a ​"pro-growth" advocacy group that has supported Walker's gubernatorial bids — and for which Walker has been a key fundraiser. The company eventually canceled its plans in 2015, in part because it feared conflict with the EPA over wetlands. But the legislation that Walker pushed through paved the way for swift permitting of the mine and the destruction of ​"irreplaceable lakes, rivers, streams, wetlands and wildlife habitat," as the Sierra Club's Wisconsin chapter noted. The relaxed protections remain in place for new proposals.
Yet the results of Walker's ​"open for business" agenda haven't been as promised; ​"job creators" have been derelict in their duty. Last year, the number of jobs in the state increased by about 17,000, bringing the total jobs created under Walker to roughly 185,000 — some 65,000 short of what he'd promised to accomplish by January 2015. During Walker's tenure, Wisconsin has consistently trailed most other states in job growth.
Minnesota, meanwhile, tacked the other way and raised taxes on the rich in order to invest in schools. The 2013 budget levied a two percent tax increase on couples who make more than $250,000 per year. The hike generated $1.1 billion over two years, about half of which was earmarked to cover the state's budget deficit. Much of the rest went to education: $234 million in general funding for public schools, $134 million to expand all-day kindergarten statewide, and another $80 million to invest in early childhood education and special education.
Right-wing skeptics warned that higher taxes would send the wealthy fleeing to low-tax states like Wisconsin. Instead, the number of filers in the top tax bracket increased by six percent. And the economy has prospered. Overall, Minnesota ranked 21st in private-sector job growth between 2011 and 2016, versus 34th for Wisconsin. In its 2017 ranking of the top 10 states, U.S. News & World Report rated Minnesota the eighth-best state to find a job, based on its unemployment rate of 3.8 percent and a labor-force participation rate of nearly 70 percent, among the highest in the nation. U.S. News also ranked Minnesota the third-best state overall, based on its strong economy, excellent schools, low cost of living and high median income. Wisconsin didn't make either list.
But by focusing on short-term measures of economic performance, accounts of the growing divide between Wisconsin and Minnesota often miss or bury a key piece of the story. A social-democratic program entails investment in all aspects of the public good, and treats them as inseparable: A healthy and flourishing economy begins with a healthy and flourishing society.
The two states' environmental approaches illustrate the point. Wisconsin has opted for eco-austerity, embracing the conservative dogma that environmental protections are the great enemy of economic vitality. Minnesota has gone the opposite route. The result? While Wisconsin has sacrifced its environment for a neoliberal agenda that fails to deliver, Minnesota has invested in its environment and seen economic growth.
Water, water everywhere
Wisconsin's natural splendor shaped the outlook of two pioneers of the environmentalist movement, John Muir and Aldo Leopold. Muir once wrote of his mid-19th-century childhood in central Wisconsin: ​"On Sundays, after or before chores and sermons and Bible-lessons, we drifted about on the lake for hours, especially in lily time, getting nest lessons and sermons from the water and owers, ducks, shes and muskrats."
Natural resources remain a critical part of Wisconsin's economy and identity. It has 2,022 lakes larger than 50 acres and 860 miles of shoreline along Lake Michigan and Lake Superior. ​"When people think of their family traditions, so many of them are tied to lake houses up north, or hunting with their family and swimming in the lakes," says Kerry Schumann, executive director of the Wisconsin League of Conservation Voters."It's just a very big part of our culture."
Walker's agenda of environmental degradation threatens those traditions. In naming the head of the Wisconsin Department of Natural Resources (DNR), Walker said he was looking for ​"someone with a chamber-of-commerce mentality" who would rein in the ​"out of control" agency. He found that person in Cathy Stepp, a construction company owner who had railed against the DNR on a local conserva- tive blog. In a 2009 post, Stepp called DNR employees ​"unelected bureaucrats who have only cubicle walls to bounce ideas off of," adding that they were ​"anti-development" but ​"pro-garter snakes."
Under Walker and Stepp, the DNR has been slowly hollowed out. The 2015-17 budget cut 18 positions from the DNR's Bureau of Science Services, or about a third of the bureau's budgeted staff. George Meyer, a former DNR head appointed by Republican Gov. Tommy Thompson, vocally opposed the staff cuts, noting that ​"when you start losing data, you start making bad management decisions." Meyer called it ​"the worst anti-conservation budget I've seen in 50 years."
Last year, Wisconsin's Legislative Audit Bureau published a stinging report on the DNR, finding that water quality regulators ​"failed to follow their own policies on enforcement against polluters more than 94 percent of the time over the last decade," according to the Wisconsin State Journal. Only 33 of 558 citations that should have been issued were actually written up.
The failures cited by the bureau began under Walker's predecessor, Jim Doyle, a Democrat. But if Democrats neglected the agency, Walker and the GOP have utterly defanged it. Stepp has boasted that corporations now see the department as ​"a safe space."
One Republican state senator, Dale Schultz, found Walker's approach to environmental issues so ​"embarrassing" that he decided to retire in 2014, after 32 years in the legislature."I think what's going on is appalling," Schultz told Scientific American. ​"I'm a pretty pro-business Republican. But a clean environment is essential to business."
The depletion of the DNR is so severe that, last year, the EPA began an investigation into whether the agency is so weakened and ineffective that it should be stripped of its authority. The investigation is unresolved. The ongoing devastation, meanwhile, is quite clear.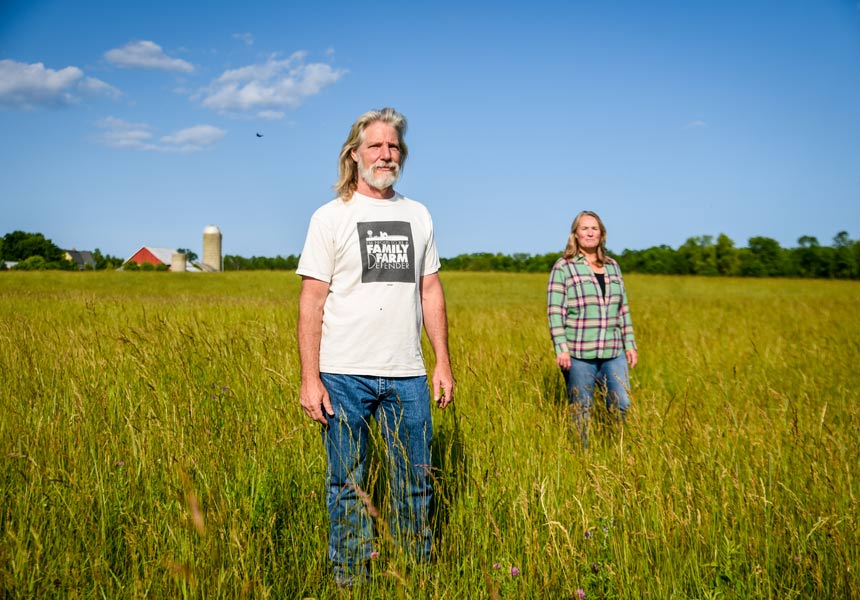 Nancy and Lynn Utesch raise free-range, grass-fed cattle on their Kewaunee County, Wis., farm. (Mike Peters)
Shit storm
Lynn and Nancy Utesch spend much of their time documenting the devastation. They have a 150-acre farm near Kewaunee, Wis., a town of about 3,000 people nestled along Lake Michigan. Driving along the main street that cuts through the city's center, you can see whitecaps glinting in the distance. The Utesches have lived in a yellow, post- card-perfect farmhouse since 2004. They raise about 50 cattle and sell the high-end, grass-fed beef directly to their customers.
A sign on the edge of Kewaunee welcomes you to ​"the good life on a great lake." But under the surface, thousands of tons of manure are sinking into the area's water supply, making it toxic for many residents, who have been forced to use bottled water.
The manure debacle results from the recent, explosive growth of huge factory farms and consolidation within the dairy industry. Since 2010, the number of concentrated animal feeding operations, or CAFOs, has quintupled in Wisconsin. Kewaunee County now has 16.
Waste created by the thousands of cows at each CAFO is ultimately spread across farm fields. In theory, there are regulations about the amount of manure that can be spread, but little or no enforcement in practice. And the soil is highly permeable, so the manure seeps into the groundwater.
In 2014, a judge blamed ​"massive regulatory failure" for the contamination of groundwater in Kewaunee County. He noted in the ruling that ​"numerous witnesses testified credibly and forcefully about the hardship and financial ruin that well water contamination has had on their businesses, homes and daily life." at ruling is under appeal, and water quality is an ongoing crisis in the county, likely because the DNR lacks both the staff and the will to enforce regulations. More than one-third of tested wells in the county have excessive levels of nitrate, E. coli and other contaminants associated with manure.
At a late-June hearing in Lincoln, a town in Kewaunee County, the Utesches and several other locals showed up to protest the proposed expansion of a local CAFO that wants to double its herd size by adding about 3,000 cows. The hearing was part of the DNR's permit-granting process.
The increase ​"is just completely and totally incomprehensible," the chair of the town's planning commission, Mick Sagrillo, told two DNR staffers at the hearing. ​"I'm just really stunned by the increase in herd size."
Several witnesses entered evidence of the area's degraded water quality into the record, and they made their pleas to the DNR to reject the proposal. But Nancy Utesch says it was mostly a matter of bearing witness and creating a paper trail. The dairy industry is a major donor to Scott Walker, and under him, the DNR has been completely neutered. The 3,000 new cows will be added, and the water quality will deteriorate further.
"For those of us who live here, it feels like the DNR is really working against us," Nancy says. ​"They've completely lost their way. We're left vulnerable to not only the pollution, but to this happening over and over again."
Several CAFOs are located near the Utesches' property, and the couple regularly tests their water. It isn't contaminated, but with the DNR in the pocket of industry, and with ever-more manure being piled onto the nearby fields, it might only be a matter of time.
We can have nice things
Minnesotans, meanwhile, opted in 2008 to tax themselves to improve their water quality. Voters approved an amendment to the state's constitution that raised the sales tax by three-eighths of one cent. The money would go toward a range of environmental, artistic and cultural projects. One-third was earmarked for a clean water fund.
That tax increase yields about $100 million annually for efforts to improve the state's waterways and safeguard its storied lakes. Many are small-scale projects of just a few thousand dollars. One, which will receive $2.5 million from the fund this year, is a statewide initiative to address pollutant runoff.
In April 2015, the state's Pollution Control Agency published a report noting that, in urban areas or areas where land was heavily farmed, half (or fewer) of lakes didn't meet the ​"swimmability" standard, due to high levels of pollutants such as nitrate and phosphorous. As in Wisconsin, a major source of contamination is CAFOs.
Gov. Mark Dayton successfully pushed for the state to begin constructing a system of aquatic ​"buffers"— strips of vegetation up to 50 feet wide alongside Minnesota's public waters and drainage systems — to protect the waters from soil erosion and fertilizer runoff. Buoyed by that win, Dayton has made water quality a core mission for his final two years in office. (Though eligible, Dayton has said he won't run again.) He acknowledges that the buffers alone are far from a complete solution: ​"It's a very important first step, but it's not the last step."
At an environmental conference in February, Dayton announced the goal of a 25 percent improvement in Minnesota's water quality by 2025. According to Rebecca Flood, assistant commissioner of the Minnesota Pollution Control Agency, no single measure can achieve such an ambitious goal. ​"There are a whole variety of different things that need to happen, in both urban and rural landscapes," she says. ​"It's largescale changes. It's not a small effort."
On July 31, Dayton will begin a series of 10 town-hall meetings around the state to gather ideas and build energy for local initiatives. In some areas, the most relevant discussion might be which crops work best to prevent pollution runoff from farming. In other areas, it might be how to improve wastewater treatment. In all cases, it means a willingness to buck corporate grasping at short-term profits in order to protect the long-term health and safety of residents. The momentum for the ongoing water-quality push in Minnesota, Flood says, goes back to getting voter buy-in for water-quality investments back in 2008, when Minnesotans approved the sales tax increase. ​"Having a constitutionally dedicated fund has been so important in setting the stage," she says.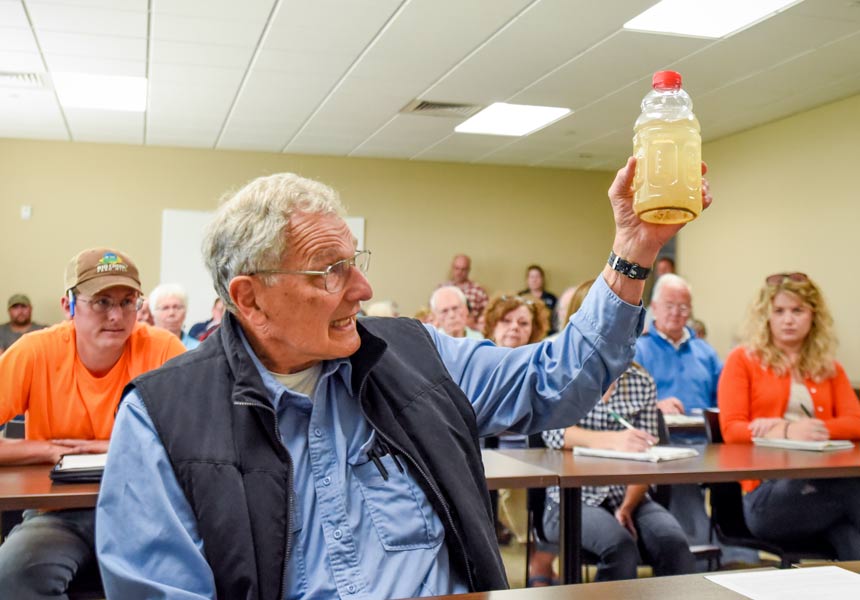 William Faller holds up a water sample from a local creek containing an overabundance of silt, bacteria and nutrients during a water quality hearing in Kewaunee County on June 27. (Mike Peters)
Gopher it, Democrats
Minnesota is hardly a perfect torchbearer for social-democratic values. Many progressives were disappointed that Dayton's buffer program didn't go far enough. The bill that passed was a scaled-back version of an earlier, more ambitious bill. And since Republicans gained control of the state legislature in 2016, they've talked about rolling it back even further. They've also passed a $650 million tax cut, provoking an ongoing showdown with Dayton.
Even so, six years of a relatively progressive administration in Minnesota, versus a radically right-wing administration in Wisconsin, leaves us with a substantial body of evidence. What's the takeaway?
Minnesota's tax increases and investment in public goods demonstrate they are compatible with a vibrant economy and support the theory that a healthy economy is inseparable from a healthy public realm.
Wisconsin's tax-cutting and deregulation didn't deliver the growth Scott Walker promised and are mortgaging the state's future by degrading its natural resources. It also seems clear that Walker's assaults on the public sector were as much about enriching corporations and repaying political donors as stimulating the economy. With Trump pushing the same agenda at the federal level, it's tempting for progressives to focus on preventing the wounds inflicted on Wisconsin from being replicated nationwide.
But the Wisconsin-Minnesota case study offers another, equally powerful lesson — one about what works to create shared prosperity.
"There is a high level of simmering anger in rural parts of Wisconsin about what the right-wing agenda has done to the state's natural resources," says Robert Kraig, executive director of Citizen Action of Wisconsin (and a member of In These Times' board of directors). ​"Democrats just haven't learned to channel it yet. What we need is an alternative vision of how we can use the leverage of our democracy to create a living wage and a full-employment economy, and in a way that prevents a global climate catastrophe."
Walker's flameout in the 2016 presidential race leaves him free to pursue a third gubernatorial term in 2018. Though his poll numbers are in the 40s, he has a formidable war chest from national donors and has defied political gravity more than once. His victories in the recall election of 2011, and again in the regular election of 2014, still sting.
Kraig sees an opportunity for the race to become a testing ground for a different approach to challenging the GOP's neoliberalism: Tell a better story about what's possible, and what has worked — in both the progressive Minnesota of today and the progressive Wisconsin of the past.
If there is an overarching lesson from this grand experiment, it's that Democrats have a strong case that public investment delivers shared benefits. Focusing primarily on the negative didn't work against Trump, and it has never worked against Walker. Unseating him next year — and dethroning the GOP in Congress — will depend on progressives and Democrats finding their voice and articulating a compelling vision. It will mean talking about not only how Wisconsin lost its way, but about how Minnesota took the leftward path to prosperity.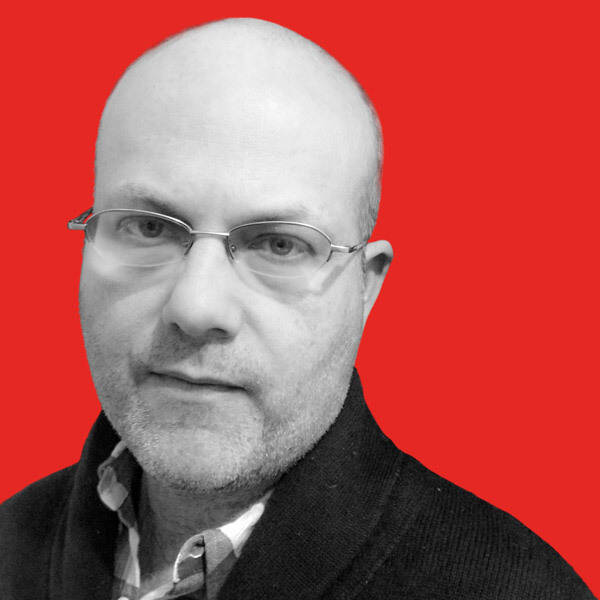 Theo Anderson
is an In These Times contributing writer. He has a Ph.D. in modern U.S. history from Yale and writes on the intellectual and religious history of conservatism and progressivism in the United States. Follow him on Twitter @Theoanderson
7
.