Farm Policy Watchdog Stands by Organic Farmers. Will Secretary of Agriculture Perdue?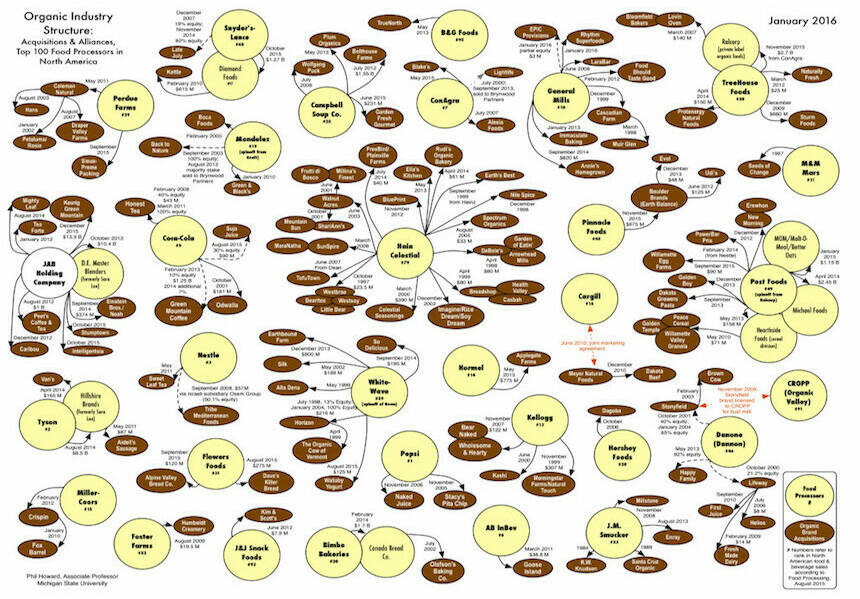 In the Unit­ed States, demand for organ­i­cal­ly pro­duced fruit, veg­eta­bles, meat, milk and eggs con­tin­ues to grow. Accord­ing to the Depart­ment of Agri­cul­ture (USDA), organ­ic prod­ucts are now being sold in three out of four con­ven­tion­al gro­cery stores. In 2015, organ­ic food sales reached $43.3 bil­lion — a new record, but one that's expect­ed to be sur­passed (again) as soon as 2016 con­sumer data is tal­lied and released.
This steady increase in demand for min­i­mal­ly-processed ​"real food" — pes­ti­cide-free greens and meat from live­stock who spent at least some of their lives out­side eat­ing plants — has not gone unno­ticed by the nation's largest con­ven­tion­al food com­pa­nies. In order to cap­i­tal­ize on the organ­ic trend with­out mas­sive­ly restruc­tur­ing their core enter­pris­es, food and bev­er­age cor­po­ra­tions have respond­ed by acquir­ing dozens of small­er organ­ic brands to mar­ket along­side their sta­ples. Naked Juice, Van's and Annie's Home­grown, for exam­ple, are owned by Pep­si, Tyson and Gen­er­al Mills respec­tive­ly. Often lost in the ensu­ing mar­ket­ing wars are the val­ues that start­ed the local, sus­tain­able food move­ment in the first place — a wide­ly per­ceived need for sys­temic change that includes, but also goes far beyond, the rejec­tion of pesticides.
Matthew Hoff­man, a researcher, organ­ic farmer, author and Ful­bright Schol­ar, has spent the last 20 years involved in sus­tain­able agri­cul­ture. In a recent essay (pub­lished here on the Green­horns Irre­sistible Fleet of Bicy­cles blog) Hoff­man makes the case that, while hydro­pon­i­cal­ly pro­duced food may well be an impor­tant part of food pro­duc­tion now and in the future, the method should not be con­sid­ered organic…or even agri­cul­ture. He also recaps how organ­ics became part of a larg­er call for eco­log­i­cal sus­tain­abil­i­ty and eco­nom­ic sanity:
As a move­ment, sus­tain­able agri­cul­ture is a reac­tion against mod­ern agriculture's ten­den­cy to do away with the com­plex nat­ur­al process­es and rela­tion­ships on which farm­ing used to depend.

The essen­tial dif­fer­ence lies not in any par­tic­u­lar set of tech­niques, but in the way the dif­fer­ent sys­tems are orga­nized. In the past, for exam­ple, plants and ani­mals were raised in the same place and fer­til­i­ty was returned to the soil in the form of ani­mal manure. Today, ani­mals are kept by the thou­sands in large build­ings in some parts of the coun­try, where their waste becomes a prob­lem, while oth­er parts of the coun­try are trans­formed into end­less miles of corn, treat­ed with syn­thet­ic fer­til­iz­er that pol­lutes the water­ways. In both places, coun­try­side and coun­try life disappear.

The pur­pose of sus­tain­able agri­cul­ture — viewed as a sys­tem, rather than a set of tech­niques — is to reor­ga­nize pro­duc­tion in a way that main­tains healthy rur­al land­scapes and healthy com­mu­ni­ties. Organ­ic farm­ing prac­tices are an impor­tant part of this broad project.
Hoff­man makes some impor­tant points. First, under­stand­ing and respect­ing how nature works was not always a rad­i­cal con­cept. Some­where down the line, the pur­suit of end­less eco­nom­ic growth required putting prof­its ahead of healthy food, mean­ing­ful work, land stew­ard­ship, water pro­tec­tion, ani­mal wel­fare, resilient com­mu­ni­ties, local economies etc. And the ​"civ­i­lized" world fell for it.
The sus­tain­abil­i­ty move­ment, of which organ­ic agri­cul­ture is one part, formed in direct response to the com­pound­ing toll this sys­tem is tak­ing not just on the envi­ron­ment, but on human health and the qual­i­ty of our dis­con­nect­ed dai­ly lives. Like chang­ing how we gen­er­ate ener­gy, sus­tain­able agri­cul­ture faces an immense set of built-in chal­lenges and threat­ens the estab­lished order. Today, our hopes for a viable alter­na­tive food sys­tem are con­tin­gent upon the con­tin­u­ing eco­nom­ic suc­cess of small organ­ic farms. Part of that suc­cess will increas­ing­ly involve pro­tect­ing con­sumer trust in the integri­ty of the organ­ic label.
Defin­ing and defend­ing what ​
"

organ­ic" means

The Nation­al Organ­ic Pro­gram (NOP), part of the USDA's Agri­cul­tur­al Mar­ket­ing Ser­vice, is respon­si­ble for devel­op­ing nation­al stan­dards for organ­i­cal­ly-pro­duced agri­cul­tur­al prod­ucts. They're also respon­si­ble for estab­lish­ing inter­na­tion­al organ­ic import and export polices as well as inves­ti­gat­ing and enforc­ing report­ed vio­la­tions of the reg­u­la­tions they devel­op. Accord­ing to the NOP, their stan­dards ​"assure con­sumers that prod­ucts with the USDA organ­ic seal meet con­sis­tent, uni­form stan­dards." High NOP stan­dards are good for the organ­ic com­mu­ni­ty. It's in Big Food's best inter­est to lob­by to keep USDA's inter­pre­ta­tion of ​"organ­ic" as loose as pos­si­ble. Occa­sion­al­ly, brands with earthy sound­ing names (pack­aged to con­jure bucol­ic images in the minds of met­ro­pol­i­tan gro­cery shop­pers) are not what they appear to be.

Enter the Cor­nu­copia Insti­tute, a non-prof­it, organ­ic agri­cul­ture resource cen­ter based in Cor­nu­copia, Wis., that advo­cates on behalf of agri­cul­tur­al poli­cies that make sense for small-scale farm­ers while pro­tect­ing the sin­cer­i­ty of the organ­ic des­ig­na­tion. In addi­tion to pro­vid­ing con­sumers with food com­pa­ny score­cards and updates on nation­al farm pol­i­cy, the Insti­tute acts as an organ­ic indus­try watch­dog. Their mis­sion is to ​"pro­tect eth­i­cal, fam­i­ly-scale farms from unfair com­pe­ti­tion and to pro­tect organ­ic eaters so that they can have con­fi­dence in the safe­ty and authen­tic­i­ty of their food."

Farmer Mark Kas­tel, the Institute's co-founder and Senior Farm Pol­i­cy Ana­lyst, puts it this way: ​"Cor­nu­copia is adamant­ly non­par­ti­san, sup­port­ed by a diverse mem­ber­ship. We all unite in the con­vic­tion that shift­ing to eco­log­i­cal agri­cul­tur­al prac­tices, and eat­ing the very best food, pays div­i­dends for our fam­i­lies, espe­cial­ly our chil­dren, and soci­ety as a whole." Below, excerpt­ed from a recent Cor­nu­copia update, Kas­tel explains why last minute Oba­ma admin­is­tra­tion changes to ani­mal wel­fare farm pol­i­cy were ​"too lit­tle, too late" and he explores what Trump's pick for sec­re­tary of agri­cul­ture, Son­ny Per­due, might mean for organics.
Unchart­ed waters
Perdue's per­spec­tive on organ­ic food and agri­cul­ture is a mys­tery; he has nev­er pub­licly spo­ken about it.

Dur­ing his cam­paign, Pres­i­dent-elect Trump expressed his dis­dain for fed­er­al reg­u­la­tions and vowed to relieve reg­u­la­to­ry bur­den on busi­ness­es. So how will this apply to the Nation­al Organ­ic Pro­gram (NOP) at the USDA? The most con­ser­v­a­tive fac­tion in Con­gress, the Free­dom Cau­cus, has sug­gest­ed elim­i­nat­ing the NOP.

The NOP was estab­lished by an act of Con­gress, the Organ­ic Foods Pro­duc­tion Act of 1990. The organ­ic com­mu­ni­ty — farm­ers and con­sumers — actu­al­ly asked Con­gress for strict reg­u­la­tion. We want­ed the organ­ic label to mean something!

Ever since, large agribusi­ness, agro­chem­i­cal and biotech­nol­o­gy inter­ests like Mon­san­to, have been doing their best to dis­cred­it organ­ics and have appealed to politi­cians to pull the plug.

In the mean­time, organ­ics has grown into a more than $40 bil­lion a year indus­try. Many organ­ic brands have been pur­chased by major cor­po­rate food inter­ests rep­re­sent­ed by their own lob­by group, the Organ­ic Trade Asso­ci­a­tion (OTA). Cor­po­rate inter­ests have done their best to expand and weak­en the work­ing def­i­n­i­tion of organ­ic so it fits their indus­tri­al­ized food grow­ing and pro­cess­ing practices.

Which pow­er­ful lob­by­ing fac­tion in Wash­ing­ton will win out? Or will the swamp tru­ly be drained at the NOP and, once again, will the ​"people's" inter­ests be respect­ed and protected?
On the Oba­ma admin­is­tra­tion's last minute changes to organ­ic policy…
Dur­ing its final days, the Oba­ma admin­is­tra­tion pub­lished two exceed­ing­ly con­tro­ver­sial rule­mak­ing ini­tia­tives as gifts to the OTA and busi­ness lob­by. First, over the objec­tion of cer­ti­fied organ­ic farm­ers, they have paved the path for a pro­pos­al from cor­po­rate lob­by­ists to tax farm­ers and oth­er par­tic­i­pants in the organ­ic indus­try to pay for pro­mo­tion and research (com­mon­ly called the organ­ic check-off). Then, on Jan. 18, after a years-long delay the USDA pub­lished a final rule pur­port­ed­ly improv­ing organ­ic ani­mal wel­fare. But unlike Europe, where organ­ic chick­ens are required to have access to 43 ft² out­doors, the USDA's ane­mic rule only requires 2 ft² out­doors and as lit­tle as 1 ft² indoors. Even that is too much for the largest cor­po­rate fac­to­ry live­stock oper­a­tors. Sen­ate Agri­cul­ture Com­mit­tee Chair­man Pat Roberts (R‑Kan.) has told the Asso­ci­at­ed Press he will work with Pres­i­dent Trump to reverse the rule​.It was also announced in the wan­ing days of the Oba­ma admin­is­tra­tion that USDA Sec­re­tary Thomas Vil­sack resigned to take a lucra­tive job lead­ing the U.S. Dairy Export Coun­cil, a posi­tion that paid $800,000 last year. Ethics ques­tions are sur­fac­ing as Mr. Vil­sack, char­ac­ter­is­ti­cal­ly, pass­es through the ​"revolv­ing door" after his agency approved five or six mil­lion dol­lars last year for the Export Council.

To view the USDA's lat­est Organ­ic Live­stock and Poul­try Prac­tices rul­ing, click here. (Image: usda​.gov)
Cor­nu­copi­a's list of things to do
It's the chang­ing of an era in the White House and at the USDA, and Cor­nu­copia will con­tin­ue to care­ful­ly mon­i­tor and report on the agency's activ­i­ties on behalf of all organ­ic indus­try stake­hold­ers. We will engage with the new Trump/​Perdue admin­is­tra­tion in an attempt to:

1. Spark vig­or­ous enforce­ment crack­ing down on con­fine­ment of organ­ic dairy cows, beef cat­tle, lay­ing hens, and oth­er live­stock in indus­tri­al set­tings. Lack of enforce­ment has dis­ad­van­taged eth­i­cal fam­i­ly farm­ers and betrayed con­sumer trust — an endem­ic prob­lem dur­ing both the Bush and Oba­ma administrations.

2. Seek a vig­or­ous inves­ti­ga­tion, and ongo­ing over­sight, of vast amounts of organ­ic ani­mal feed and food ingre­di­ents being shipped to the U.S. from Chi­na and oth­er non-rep­utable sources.

3. Reverse the arbi­trary and capri­cious pow­er grab (now the sub­ject of fed­er­al law­suits) that have under­mined the author­i­ty of the Nation­al Organ­ic Stan­dards Board (NOSB), the pan­el Con­gress set up to buffer organ­ic reg­u­la­tions from cor­rup­tion by cor­po­rate lob­by­ists. (Back­ground: The NOSB is a 15-per­son advi­so­ry com­mit­tee that makes rec­om­men­da­tions to the USDA regard­ing organ­ic food and prod­ucts. Mem­bers are appoint­ed by the sec­re­tary of agri­cul­ture to serve a five-year term. It is of the utmost impor­tance that seats on this board are filled by actu­al organ­ic farm­ers — not indus­try exec­u­tives mas­querad­ing on behalf of sus­tain­able fam­i­ly-sized farms. In 2016, the Cor­nu­copia Insti­tute filed suit against the USDA for its appoint­ment of two indi­vid­u­als with indus­tri­al agribusi­ness ties on grounds that Con­gress has reserved those seats for organ­ic farmers.)

4. Encour­age the USDA to keep its Obama/Vilsack's promise to ban con­ven­tion­al replace­ment ani­mals that are facil­i­tat­ing the expan­sion of giant fac­to­ry dairies. (Back­ground via Ag Week­ly: ​"The department's Nation­al Organ­ic Pro­gram has been accused of facil­i­tat­ing the expan­sion of ​"fac­to­ry farms" pro­duc­ing organ­ic milk, meat and eggs through the agency's lax enforce­ment of exist­ing reg­u­la­tions… Some large indus­tri­al-scale dairy oper­a­tors sell all their baby calves at birth and replace them with con­ven­tion­al ani­mals that have been raised on conventional/​GMO feed, antibi­otics and oth­er drugs banned in organ­ic production.")

5. Seek enforce­ment action ban­ning the ille­gal label­ing of soil­less (hydro­pon­ic) pro­duce as organ­ic. (You can also read: ​"Do We Want Organ­ic Agri­cul­ture, Or Just Organ­ic Food?" by Matthew Hoff­man @ Cor­nu­copia News.)
Let's see what hap­pens when farm­ers (not Big Food) decide what fed­er­al farm pol­i­cy looks like
Nobody's ask­ing (rather, expect­ing) Son­ny Per­due's USDA to start throw­ing fed­er­al wrench­es into the gears of the glob­al food machine. (See: ​"Trump Nom­i­nates a Sec­re­tary of Agri­cul­ture (and, No, It's Not Wen­dell Berry)") How­ev­er, in vot­ing for Don­ald ​"the reg­u­la­tion slay­er" Trump, mil­lions of Amer­i­cans — includ­ing plen­ty of farm­ers — are expect­ing to see their well­be­ing con­spic­u­ous­ly placed above the already wealthy and powerful.
Farm­ing com­mands respect. Farm­ers have a long his­to­ry of ris­ing to the task of doing what it takes to keep the rest of us alive and well. Fac­to­ry farms have a much short­er his­to­ry of doing the oppo­site. Year after year, as demand for organ­ic food grows, a com­pelling eco­nom­ic case is being made for doing that which is also eco­log­i­cal­ly respon­si­ble. Sus­tain­able farm­ers in rur­al Amer­i­ca who are doing the hard work for the right rea­sons deserve all the sup­port they can get.
Small farms are small busi­ness­es, but they are unique­ly out-sized, out-fund­ed and polit­i­cal­ly out-gunned when it comes to fac­ing off against their cor­po­rate coun­ter­parts. As Trump rides in on a wave of exec­u­tive orders, promis­ing trade deals that will put an end to the Oba­ma administration's so-called war on pros­per­i­ty, he bet­ter make sure the reg­u­la­tions he's rolling back are not just spe­cial inter­est hand­outs that end up mak­ing it even hard­er for small busi­ness­es to compete.
Come to think of it, what's the sta­tus of that Bay­er-Mon­san­to merger?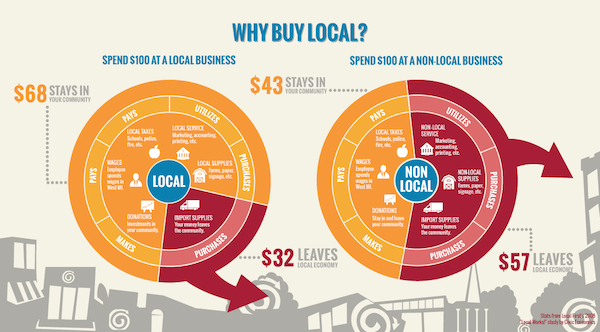 (Source: Busi­ness Alliance for Local Liv­ing Economies.)
To view a larg­er ver­sion of the ​"Who Owns Organ­ic" chart fea­tured at the top of this post, click here.
[If you like what you've read, help us spread the word. ​

"

Like" Rur­al Amer­i­ca In These Times on Face­book. Click on the ​

"

Like Page" but­ton below the bear on the upper right of your screen. Also, fol­low RAITT on Twit­ter @RuralAmericaITT]