Vermont Yankee: A Nuclear Battle Over States' Rights
There's no end in sight to Vermont's long-running legal struggle to shutter an aging power plant.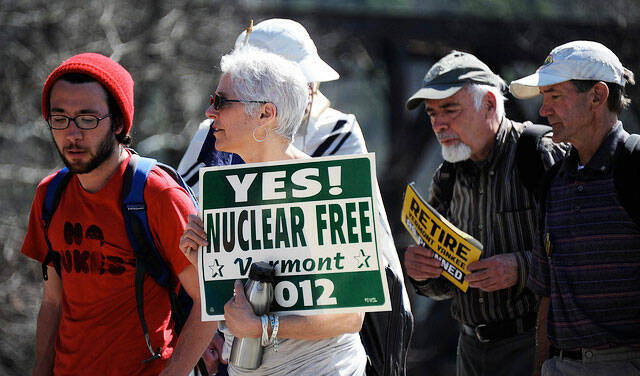 It was a 40th birth­day bash attend­ed by more than 1,000 peo­ple in three states – but the atten­dees came to demon­strate, not cel­e­brate. The Ver­mont Yan­kee nuclear pow­er plant, a poster child for anti-nuclear protests through­out its four-decade his­to­ry, was the tar­get. Only the day before, on March 21, its state per­mit to oper­ate expired and the leg­is­la­ture vot­ed to shut it down. But the pow­er plant was still operating.
In a controversial decision that raises issues of states' rights to address nuclear issues within their borders, a judge ruled that Vermont's laws were pre-empted by federal law.
The protest brought demon­stra­tors ("Hell no, we won't glow") to Ver­mont Yankee's own­er, the Enter­gy Cor­po­ra­tion, and its offices in Brat­tle­boro, Vt., White Plains, N.Y., and cor­po­rate head­quar­ters in New Orleans. There, they put up a yel­low crime tape out­side the build­ing and went inside to demand an inter­view with CEO J. Wayne Leonard.
In a state­ment, Enter­gy said it was ​"busi­ness as usu­al for our employ­ees, who are focused on pro­vid­ing safe, clean and afford­able electricity."
Vermont's legal bat­tle to shut down the Yan­kee pow­er plant is on the radar screen in states through­out the coun­try where local com­mu­ni­ties are fight­ing the reli­cens­ing of aging nuclear sites. Cit­i­zens are con­cerned by ongo­ing radioac­tive leaks that con­t­a­m­i­nate ground­wa­ter, shut­downs result­ing from degrad­ing sys­tems and lax main­te­nance, and fears that cor­po­rate own­ers won't pay the near $1 bil­lion price tag to decom­mis­sion plants.
Entergy's Ver­mont Yan­kee plant in Ver­non, on the Con­necti­cut Riv­er, its Indi­an Point plant on the Hud­son Riv­er out­side New York City, and its Pil­grim nuclear plant on Cape Cod Bay in Ply­mouth, Mass., are all at the cen­ter of fierce bat­tles aimed at shut­ting the plants down. But in recent months, the Ver­mont Yan­kee bat­tle has tak­en cen­ter stage.
In Jan­u­ary, a fed­er­al dis­trict judge upheld Entergy's chal­lenge to Ver­mont laws adopt­ed in 2006 (and agreed to by Yan­kee) that give the state leg­is­la­ture veto pow­er over approv­ing a fed­er­al license exten­sion for the Yan­kee plant. In 2010, the Ver­mont Sen­ate over­whelm­ing­ly (26 to 4) reject­ed allow­ing the plant to oper­ate beyond its 40-year fed­er­al oper­at­ing license.
Last year, despite the state's oppo­si­tion, the Nuclear Reg­u­la­to­ry Com­mis­sion (NRC) approved a 20-year license exten­sion – but NRC chair­man Gre­go­ry Jaz­co said he would not inter­fere with Ver­mont leg­is­la­tors' deci­sion. A month lat­er, Enter­gy took Ver­mont to court.
In a con­tro­ver­sial deci­sion that rais­es issues of states' rights to address nuclear issues with­in their bor­ders, fed­er­al judge Charles Murtha ruled that Vermont's laws were pre-empt­ed by fed­er­al law – the Atom­ic Ener­gy Act (1954) – that puts nuclear safe­ty issues under the sole juris­dic­tion of the Nuclear Reg­u­la­to­ry Commission.
Murtha said the leg­isla­tive record showed that safe­ty was the state's main con­cern in pass­ing the leg­is­la­tion. The record con­tained instances ​"almost too numer­ous to count" that ​"reveal leg­is­la­tors' radi­o­log­i­cal safe­ty moti­va­tions and reflect their wish to empow­er the leg­is­la­ture to address their con­stituents' fear of radi­o­log­i­cal risk," accord­ing to the judge's ruling.
Ver­mont offi­cials, well aware of fed­er­al pre-emp­tion on nuclear safe­ty issues, have stat­ed that the leg­is­la­tion – which makes no ref­er­ence to ​"safe­ty" – was adopt­ed because of con­cerns about the reli­a­bil­i­ty of the Yan­kee plant going for­ward. But they've also said that the plant does not fit into the state's long-term plan­ning for sus­tain­able ener­gy or serve the pub­lic good.
"It is incon­ceiv­able to me that Enter­gy can force Ver­mont to allow con­tin­ued oper­a­tion of Ver­mont Yan­kee, an aging and prob­lem-plagued nuclear plant, when the peo­ple of Ver­mont want to move aggres­sive­ly to ener­gy effi­cien­cy and sus­tain­able ener­gy," Ver­mont Sen. Bernie Sanders said in January.
Gov. Peter Shum­lin, who took office in Jan­u­ary 2011, cam­paigned on shut­ting the plant down. ​"Enter­gy has not been a trust­wor­thy part­ner with the state of Ver­mont," Shum­lin said in a state­ment after Murtha's rul­ing. ​"I con­tin­ue to believe that it is in Vermont's best inter­est to retire the plant.
'

It's rare for a state to act this way'

Both Ver­mont and Enter­gy have appealed Murtha's rul­ing to the 2nd U.S. Court of Appeals in New York. Enter­gy is chal­leng­ing Murtha's uphold­ing of the role of the Ver­mont Pub­lic Ser­vice Com­mis­sion, which must issue a state per­mit for con­tin­ued oper­a­tion of the plant. The cur­rent per­mit is now expired; hear­ings on a new per­mit are entan­gled in legal proceedings.

The vote in 2010 to shut the plant came in the wake of a few well-pub­li­cized inci­dents: the col­lapse of a cool­ing tow­er in 2009 and a tri­tium leak the fol­low­ing year. The leak cre­at­ed an under­ground plume that reached the Con­necti­cut Riv­er where water con­tain­ing radioac­tive tri­tium was found in sam­ples tak­en in August and Novem­ber last year.

The leak also revealed that plant offi­cials had ear­li­er made ​"mis­state­ments" under oath when they tes­ti­fied before state boards that the plant had no under­ground pipes that car­ried radioac­tive efflu­ent. The leak proved otherwise.

Con­tribut­ing to the no-vote were sus­pi­cions aroused when Enter­gy, in the months fol­low­ing the col­lapse of the cool­ing tow­er, pro­posed spin­ning off Ver­mont Yan­kee and five of its oth­er aging plants, includ­ing Indi­an Point and Pil­grim, into a new and high­ly lever­aged hold­ing com­pa­ny. It would have had no assets except the six plants, which all required heavy invest­ment. The NRC approved the plan, but it didn't give the reg­u­la­to­ry approval it need­ed in New York, and Enter­gy sub­se­quent­ly dropped it.

"Leg­is­la­tors and oppo­nents saw the pro­pos­al as a shell game, an effort to avoid the lia­bil­i­ty of pay­ing for plant decom­mis­sion­ing by cre­at­ing an under-fund­ed and debt-rid­den new enti­ty, keep­ing the more valu­able assets with Enter­gy," writes Richard Watts, an assis­tant research pro­fes­sor at the Uni­ver­si­ty of Ver­mont, in a new book, Pub­lic Melt­down: The Sto­ry of the Ver­mont Yan­kee Nuclear Pow­er Plant.

In an inter­view, Watts said Vermont's vote to shut down the Yan­kee plant was an uncom­mon action. ​"It's rare for a state to act this way," he said, not­ing that the last time a sim­i­lar action occurred was in 1989, when a suc­cess­ful state bal­lot ini­tia­tive shut down the Ran­cho Seco nuclear plant near Sacra­men­to. That bal­lot dri­ve was led Ben Davis, who is cur­rent­ly lead­ing a new ini­tia­tive under­way in Cal­i­for­nia to shut down the San Onofre and Dia­blo Canyon nuclear plants.

The big ques­tion raised by the Ver­mont Yan­kee bat­tle, Watts says, is: What is the role of states in over­see­ing the nuclear pow­er plants with­in their borders?

"Tra­di­tion­al­ly, states have had over­sight on a whole range of issues now at stake in this case – eco­nom­ic ben­e­fits, the role of a nuclear plant in a state's ener­gy plan­ning, waste dis­pos­al, land use and water dis­charge issues. Those are all at issue here," he said.