Wage Theft's Top Cop
Meet Julie A. Su, bane of the deadbeat employer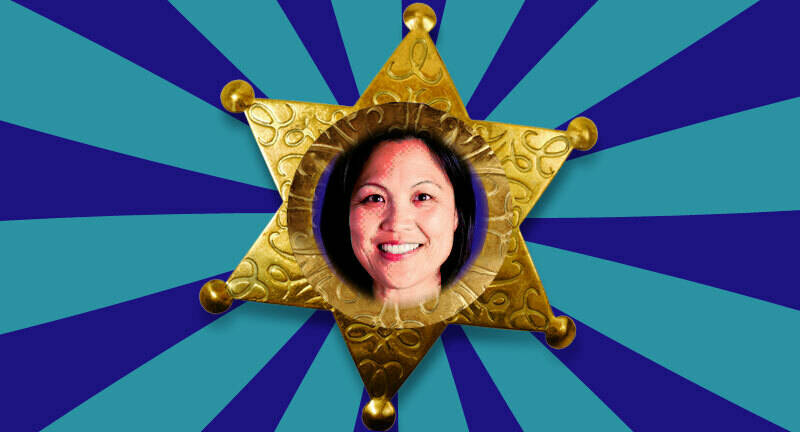 At around 7 p.m. on April 4, along a drab com­mer­cial stretch out­side San Diego, a team of four U.S. Mar­shals and a state labor depart­ment inves­ti­ga­tor named Craig East­ep inter­cept­ed and arrest­ed local restau­ra­teur David Dadon as he left his hotel room. Two days ear­li­er, fed­er­al agents had arrest­ed Dadon's son Bar­ry. The pair had for­mer­ly co-owned the State Street Grill, which was the sub­ject of a lengthy wage theft inves­ti­ga­tion by California's labor department.
Employment law investigators handcuffing and hauling exploitative bosses into jail is hardly a common occurrence. Yet California may be changing this.
A mem­ber of California's new unit of gun-tot­ing offi­cers charged with inves­ti­gat­ing crim­i­nal vio­la­tions of labor code, East­ep had been exam­in­ing the Dadon fam­i­ly restau­rant for the past year, his inves­ti­ga­tion reveal­ing hun­dreds of thou­sands of dol­lars in alleged unpaid wages. The father and son were charged with a num­ber of crimes, includ­ing grand theft of labor.
(When con­tact­ed by In These Times, Bar­ry Dadon's attor­ney said that his client main­tains that ​"he nev­er cheat­ed or stole from any employ­ees," and that his father made the busi­ness deci­sions at the restau­rant. David Dadon could not be reached for comment.)
Employ­ment law inves­ti­ga­tors hand­cuff­ing and haul­ing exploita­tive boss­es into jail is hard­ly a com­mon occur­rence. Yet Cal­i­for­nia may be chang­ing this, thanks large­ly to the efforts of Julie A. Su, the state's new labor com­mis­sion­er. Since Gov. Jer­ry Brown (D) appoint­ed her in 2011, Su has qui­et­ly reworked the Cal­i­for­nia Depart­ment of Indus­tri­al Rela­tions' Divi­sion of Labor Stan­dards Enforce­ment (DLSE) into what could be the most aggres­sive and effec­tive state labor law enforce­ment divi­sion in the country.
​"Employ­ers who break the law have learned that the chances of get­ting caught are slim and the costs, if they are caught, are mar­gin­al — the cost of doing busi­ness," Su tells In These Times. ​"It's my job to change that cal­cu­lus and we are find­ing every effi­cien­cy pos­si­ble to max­i­mize the effec­tive­ness of our division."
Under Su's man­age­ment, DLSE has stream­lined its admin­is­tra­tion, cut waste and trained inves­ti­ga­tors. These efforts mul­ti­plied its enforce­ment capa­bil­i­ties, Su says, allow­ing it to launch a proac­tive cam­paign to tame the state's wide­spread vio­la­tions of employ­ment law. The Depart­ment of Indus­tri­al Rela­tions (DIR) now stands in sharp con­trast to oth­er state labor depart­ments across the coun­try, many of which have seen their bud gets shrink while the work­forces they police have bal­looned, leav­ing many depart­ments with swelling case­loads and weak­ened morale.
A top pri­or­i­ty for Su's admin­is­tra­tion is to stamp out wage theft — the delib­er­ate non-pay­ment of mon­ey owed to employ­ees. Last year, Su announced the for­ma­tion of the Crim­i­nal Inves­ti­ga­tion Unit (CIU), a team of six armed inves­ti­ga­tors tasked with pur­su­ing exploita­tive employ­ers. Since then, the divi­sion has filed 10 felony wage-theft cas­es against employ­ers in the state, includ­ing the State Street Grill.
In 2012, the DLSE's Bureau of Field Enforce­ment (BOFE) assessed more than five times the amount of owed min­i­mum wages and more than sev­en times the amount of owed over­time pay than in 2010 — the year before Su took office — despite the fact that field enforce­ment staffing lev­els increased by less than 5 per­cent from 2010 to 2012. Both of those totals made 2012 by far the high­est vol­ume year ever for DLSE's investigators.
Su made head­lines in Jan­u­ary when her inves­ti­ga­tors fined Queti­co, a ware­house oper­a­tor, $1.3 mil­lion for sys­tem­at­i­cal­ly under­pay­ing work­ers. (The com­pa­ny rejects the charges and has filed an appeal; a hear­ing is sched­uled for Sep­tem­ber.) Each month since, Su has rolled out high-pro­file fines against major Cal­i­for­nia companies.
In recent years, the U.S. Cham­ber of Com­merce has opposed stronger employ­ee pro­tec­tions. Yet Su has won broad sup­port from the state's major busi­ness asso­ci­a­tions, includ­ing the Cal­i­for­nia Cham­ber — allies that Su iden­ti­fies as essen­tial to her suc­cess. ​"I believe very strong­ly that there's a lot of com­mon ground between what's good for employ­ers and what's good for work­ers," says Su. ​"Good employ­ers know that their prof­itabil­i­ty, sta­bil­i­ty and long-term suc­cess are all tied to the con­tin­u­al well-being of their workers. "
Su has empha­sized to the busi­ness com­mu­ni­ty that in the absence of strong enforce­ment, unscrupu­lous employ­ers gain an unfair advan­tage by mis­treat­ing work­ers. This, she says, under­cuts upright busi­ness­es and cre­ates a struc­tur­al ten­den­cy toward ille­gal and exploita­tive busi­ness practices.
​"We are very sup­port­ive of her efforts to cre­ate a more lev­el play­ing field for all of our employ­ers who are try­ing to com­ply with the law," says Jen­nifer Bar­rera, a pol­i­cy advo­cate at the Cal­i­for­nia Cham­ber, which is the state's largest busi­ness asso­ci­a­tion. ​"She does a great job of com­mu­ni­cat­ing exact­ly what she is doing and has cre­at­ed a lev­el of trans­paren­cy that removes the sus­pi­cion that the labor com­mis­sion­er is com­ing after any­one and everyone."
Par­tial­ly because of the busi­ness community's input, the Bureau of Field Enforce­ment is tak­ing extra care not to impose inspec­tions on law-abid­ing busi­ness­es. To that end, the divi­sion has improved its tar­get­ing strate­gies and is spend­ing extra ener­gy in the ini­tial phase of inves­ti­ga­tions to make sure a com­pa­ny is worth examining.
​"It's an exam­ple of empha­siz­ing qual­i­ty over quan­ti­ty," says Su. That means more pre-inspec­tion work, such as coop­er­at­ing with labor, com­mu­ni­ty and busi­ness groups to iden­ti­fy tar­gets, sur­veilling busi­ness­es and con­duct­ing employ­ee inter­views off-site (where they can freely speak with­out fear of retal­i­a­tion), and using infor­ma­tion from wage-theft claims to tar­get employ­ers for broad­er inves­ti­ga­tion. The result, says Su, has been an increase in the per­cent­age of employ­er inspec­tions that lead to cita­tions. In 2012, the department's ratio of cita­tions to inspec­tions was 80 per­cent, com­pared to an aver­age of 48 per­cent between 2002 and 2010.
Employ­ers often pun­ish employ­ees who share infor­ma­tion with author­i­ties dur­ing a work­place inves­ti­ga­tion, which can dis­cour­age employ­ees from coop­er­at­ing and pro­long, or even thwart, inves­ti­ga­tions. To address this, in addi­tion to con­duct­ing off-site inter­views, Su's admin­is­tra­tion cut out sev­er­al inter­me­di­ary steps for work­ers seek­ing to file retal­i­a­tion complaints.
In the past, employ­ees who believed they had been retal­i­at­ed against for coop­er­at­ing with a BOFE inves­ti­ga­tion had to bring their com­plaint to a sep­a­rate depart­ment, rather than the BOFE deputy con­duct­ing the inves­ti­ga­tion. Now, when a work­er approach­es a BOFE inves­ti­ga­tor to report retal­i­a­tion, the inves­ti­ga­tor works with oth­er DLSE deputies to ensure that the com­plaint is assigned to a retal­i­a­tion inves­ti­ga­tor and dealt with imme­di­ate­ly. Su also reworked the department's com­plaint forms to include sec­tions where wit­ness­es to retal­i­a­tion could con­fi­den­tial­ly describe their work­place expe­ri­ences with­out any fear of the infor­ma­tion mak­ing it back to management.
Su's effort to rein in man­age­ment retal­i­a­tion is one of the numer­ous steps she's tak­en to stream­line the divi­sion. When asked to describe one exam­ple of a key reform that she'd imple­ment­ed, Su list­ed nine cat­e­gories — and var­i­ous sub­cat­e­gories — of changes she's made. The point seems clear: There's noth­ing sim­ple about reform­ing a gov­ern­ment agency. ​"It's been an ardu­ous two years for us," says Su.
Although Su isn't an expert on the prob­lems fac­ing oth­er labor depart­ments around the coun­try, she does think her administration's gen­er­al approach can be repli­cat­ed. Her main guid­ing prin­ci­ple seems to be a relent­less crit­i­cal exam­i­na­tion of how things are done. ​"It's about nev­er think­ing you should con­tin­ue doing some­thing just because that's the way it's been done before," says Su. ​"That is one thing I nev­er want to hear."
Spencer Wood­man
is a jour­nal­ist based in New York. He has writ­ten on labor for
The Nation
and
The Guardian
.You can fol­low him on Twit­ter at
@spencerwoodman
and reach him via email at Contactspencerwoodman@​gmail.​com.