Democ­rats are hop­ing to make one word syn­ony­mous with Bush admin­is­tra­tion pol­i­cy in Iraq, and judg­ing by the gen­er­al­ly reli­able polit­i­cal barom­e­ter of late-night com­e­dy writ­ers, their strat­e­gy may be work­ing. ​"Pres­i­dent Bush is ask­ing Con­gress for $80 bil­lion to help rebuild Iraq," David Let­ter­man quipped in a Sep­tem­ber mono­logue. ​"And when you make out that check, remem­ber there are two Ls in Halliburton."

A big fuss has been made — and right­ly so — about the multi­bil­lion-dol­lar, no-bid con­tracts hand­ed out to a sub­sidiary of Dick Cheney's old firm. The most com­pre­hen­sive study to date, released in late Octo­ber by the Cen­ter for Pub­lic Integri­ty, iden­ti­fies 71 com­pa­nies and indi­vid­u­als who received a total of $8 bil­lion worth of con­tracts in post­war Afghanistan and Iraq. These same inter­ests have con­tributed more mon­ey to George W. Bush than to any oth­er fed­er­al can­di­date since 1990.

But the tru­ly sur­pris­ing thing about the report wasn't how much these com­pa­nies gave to Bush, but how lit­tle. Com­bined they gave Bush $500,000, an aver­age of just $7,000 each. That's hard­ly enough to get a table at a Bush fund-rais­er, let alone estab­lish a quid pro quo.

This is not to say that com­pa­nies don't make cam­paign con­tri­bu­tions to influ­ence pol­i­cy and seek out spe­cial favors. Or that these firms didn't ben­e­fit from crony­ism and insid­er access. Some com­pa­nies — espe­cial­ly mil­i­tary-indus­tri­al con­trac­tors — have more effec­tive and effi­cient ways of secur­ing gov­ern­ment busi­ness. These include keep­ing the vice pres­i­dent on the com­pa­ny pay­roll. Hal­libur­ton has paid Cheney hun­dreds of thou­sands of dol­lars in deferred salary since he took office.

Indus­tries with­out such close ties must demon­strate their loy­al­ty in oth­er ways. The finan­cial ser­vices indus­try is a good exam­ple. Ini­tial­ly, Wall Street — which tends to hedge its bets by giv­ing equal­ly to both par­ties — had lit­tle access to the Bush admin­is­tra­tion. No Wall Street CEOs were invit­ed to Bush's busi­ness lead­ers forum held a few weeks before his inau­gu­ra­tion, and none par­tic­i­pat­ed in his August 2002 eco­nom­ic summit.

But times have changed. Since June, Wall Street has giv­en the Bush cam­paign $3.8 mil­lion, accord­ing to the Cen­ter for Respon­sive Pol­i­tics. Mer­rill Lynch, Bush's top con­trib­u­tor, has giv­en as much as all 71 post­war con­trac­tors com­bined. At least a dozen top Wall Street exec­u­tives have joined the ranks of Bush's ​"Rangers" and ​"Pio­neers" by bundling hun­dreds of thou­sands of dol­lars in cam­paign con­tri­bu­tions. (Only one of these rain­mak­ers was ranked among Bush's top fund-rais­ers in 2000.) Short­ly after Bush's Sep­tem­ber speech to the Unit­ed Nations, the pres­i­dent met behind closed doors with a small group of top Wall Street execs.

There's a chick­en-and-egg debate over whether con­tri­bu­tions influ­ence pol­i­cy or pol­i­cy influ­ences con­tri­bu­tions — but it works both ways. The invest­ment community's out­pour­ing of sup­port stems large­ly from the Bush administration's tax poli­cies, which slashed div­i­dend and cap­i­tal gains tax rates. Wall Street led the fight for Bush's plan, which the Secu­ri­ties Indus­try Asso­ci­a­tion declared to be ​"the num­ber one issue on our advo­ca­cy agen­da." These cuts not only ben­e­fit­ed the industry's rich­est cus­tomers — Wall Street CEOs stood to per­son­al­ly save millions.

There's a lot more on the industry's leg­isla­tive and reg­u­la­to­ry wish list. But to accom­plish any of it, Wall Street must first shake off the taint of cor­po­rate scan­dal. Appar­ent­ly, their strat­e­gy has noth­ing to do with reform­ing the prac­tices that have bilked investors out of bil­lions. Instead, Wall Street is whin­ing about being over-reg­u­lat­ed. Mer­ill Lynch CEO Stan O'Neal, a Ranger, wrote an op-ed in the Wall Street Jour­nal last spring warn­ing, ​"If we attempt to elim­i­nate risk — to leg­is­late, reg­u­late or lit­i­gate it out of exis­tence — the ulti­mate result will be eco­nom­ic stag­na­tion, per­haps even eco­nom­ic failure."

O'Neal's arti­cle was a thin­ly veiled attack on New York Attor­ney Gen­er­al Eliot Spitzer — who launched the inves­ti­ga­tion that led to a $1.4 bil­lion ​"glob­al set­tle­ment" by Mer­rill Lynch and nine oth­er big Wall Street firms over alle­ga­tions of fraud­u­lent con­flicts of inter­est between invest­ment bankers and stock ana­lysts. Exec­u­tives from sev­en of those firms are now Rangers or Pioneers.

U.S. Rep. Richard Bak­er (R‑La.) intro­duced a bill last sum­mer to pre­vent state reg­u­la­tors like Spitzer from forc­ing struc­tur­al changes in the secu­ri­ties indus­try, an idea shopped around the Hill a year ear­li­er by Mor­gan Stan­ley. Mor­gan Stan­ley is not only Baker's biggest cam­paign con­trib­u­tor, but the firm's man­ag­ing direc­tor has become a Ranger. The bill — endorsed by the chair­man of the SEC — was shelved after attract­ing too much neg­a­tive press. But it is sure to resurface.

Since then, Spitzer has fur­ther humil­i­at­ed Wall Street — and the lap­dogs at the SEC — by going after hedge and mutu­al funds for fraud­u­lent trad­ing prac­tices. In the lat­ter case, firms alleged­ly allowed select wealthy investors ​"to bet today on yesterday's horse races," as Spitzer put it. The industry's calls to muz­zle him have only intensified.

Despite the president's pledge after the col­lapse of World­com ​"to ush­er in a new era of integri­ty in cor­po­rate Amer­i­ca," Wall Street knows a good invest­ment when it sees one. Bush's tax cuts are just the first step in a push toward mak­ing all invest­ment income tax-free. Wall Street hopes to deter fur­ther reg­u­la­tion of hedge funds, deriv­a­tives trad­ing and arcane, high­ly prof­itable tax-avoid­ance schemes. The indus­try also aims to remod­el the retire­ment and pen­sion sys­tems, lim­it class-action law­suits and pri­va­tize Social Security.

The hand­outs to invest­ment bankers and their wealthy clients dur­ing a sec­ond Bush admin­is­tra­tion won't be as eas­i­ly quan­tifi­able as the post­war con­tracts. But the Demo­c­ra­t­ic pres­i­den­tial con­tenders — and the rest of us — would be wise to remem­ber that there also are two Ls in Mer­rill Lynch.
Despite the president's pledge after the collapse of Worldcom "to usher in a new era of integrity in corporate America," Wall Street knows a good investment when it sees one.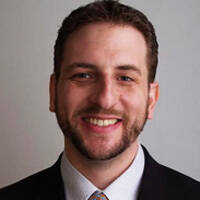 Craig Aaron
is senior pro­gram direc­tor of the nation­al media reform group
Free Press
and a for­mer man­ag­ing edi­tor of
In These Times
.