Resister's Digest: Want to Fight Trump? Upcoming Special Elections Could Hand Him Defeats
"Tax Day" marches and rallies for immigrant rights are also planned this week.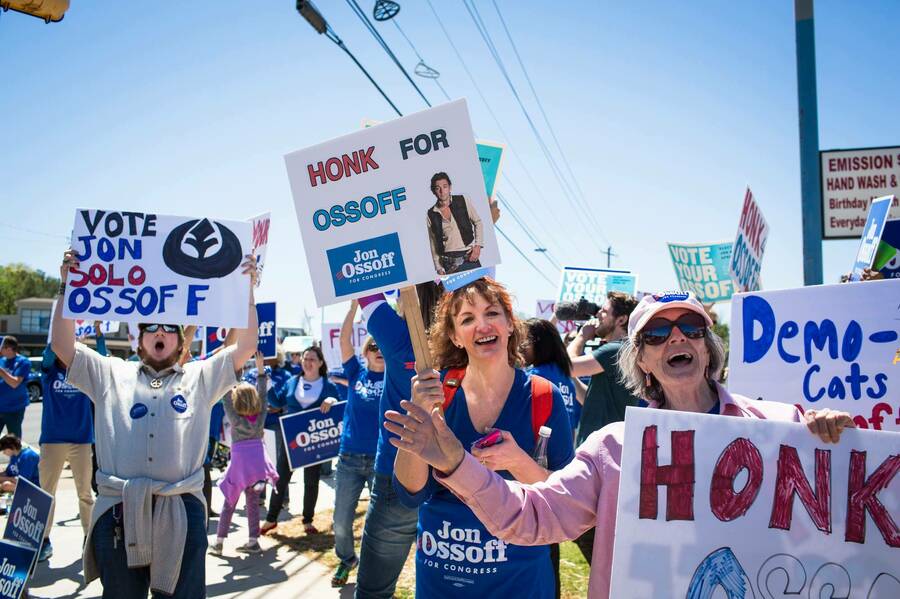 Resister's Digest is a week­ly roundup that spot­lights ways read­ers can con­nect with and learn about cam­paigns to oppose Pres­i­dent Don­ald Trump's agen­da, pro­tect human rights and pro­mote equal­i­ty. Have ques­tions or tips? Con­tact writer Theo Ander­son at theo@​inthesetimes.​com.
"The races will measure the electoral intensity of the resistance to Trump."
The first spe­cial elec­tions of Don­ald Trump's pres­i­den­cy are approach­ing, with House elec­tions sched­uled for Tues­day, in Kansas, and in Geor­gia on Tues­day, April 18. The races will mea­sure the elec­toral inten­si­ty of the resis­tance to Trump, since both races are in tra­di­tion­al GOP strong­holds. Trump won the Kansas dis­trict by about 30 points, but the Repub­li­can can­di­date, Ron Estes, has run a weak cam­paign, and Vice Pres­i­dent Mike Pence has been enlist­ed to help out. Mean­while, in a sub­ur­ban dis­trict north of Atlanta, Demo­c­rat Jon Ossoff leads in the polls, run­ning on a ​"Make Trump Furi­ous" cam­paign. If no can­di­date gets a major­i­ty of the votes, the top two can­di­dates will com­pete in a June 20 election.
In Mon­tana, a Bernie Sanders sup­port­er and pop­u­lar folk singer, Rob Quist, is run­ning for the state's only House seat. The elec­tion will be May 25. Quist's pri­or­i­ties include sup­port for a sin­gle-pay­er health­care sys­tem and preser­va­tion of pub­lic lands. Though Mon­tana tra­di­tion­al­ly votes Repub­li­can, one of its sen­a­tors, Jon Tester, is a Demo­c­rat. Sanders has said he will go to Mon­tana to cam­paign with Quist as part of a nation­al move­ment-build­ing tour that launch­es in the com­ing weeks.
There are sev­er­al resources for track­ing and engag­ing with elec­toral politics:
"

Tax Day" uprising

"Tax Day" march­es are planned for April 15 in most major cities and many small­er cities across the nation, includ­ing Yuma, Ari­zona, Boise, Ida­ho, Greenville, South Car­oli­na, Mar­quette, Michi­gan, and Cheyenne, Wyoming. Trump's not-yet-released tax returns will be a pri­ma­ry focus of most ral­lies, but many — such as the one in Ban­gor, Maine — are also focus­ing broad­ly on greater trans­paren­cy in gov­ern­ment and a fair­er tax sys­tem. Search for near­by ral­lies here.
Resis­tance recess rallies
Indi­vis­i­ble has a ​"recess toolk­it" for apply­ing pres­sure on mem­bers of Con­gress dur­ing their April recess. The toolk­it includes Robert Reich's sug­ges­tions for the most impor­tant issues to dis­cuss with leg­is­la­tors, sam­ple ques­tions for town halls and advice for resist­ing Trump's pro­posed bud­get. Find the toolk­it here, and search for Indi­vis­i­ble groups and events here.
Immi­grant rights actions
On Thurs­day, April 13, Chica­go-area Jews and allies will use the rit­u­als of the Passover seder to protest the Trump administration's anti-immi­grant, anti-Mus­lim, anti-refugee poli­cies. The orga­niz­ers note that ​"we will par­tic­i­pate as a com­mu­ni­ty in a pro­gram that rec­og­nizes that we are all refugees flee­ing from tyran­ny; we are all immi­grants in a strange land." Details here. In New York City, there will be a ​"seder in the streets" to demand that the may­or ​"make New York a real Sanc­tu­ary City for all of those fac­ing oppres­sion." Reg­is­ter here.
In Los Ange­les on Thurs­day, a coali­tion of faith, labor, civ­il rights and immi­grant groups will gath­er for the Inter­faith Day of Prophet­ic Action. ​"We call on all peo­ple of good­will to cre­ate sanc­tu­ary spaces when­ev­er pos­si­ble," they note, ​"and to pro­vide rad­i­cal hos­pi­tal­i­ty to the immi­grant and refugee com­mu­ni­ty." Find details on the day of action here. In Boston, there will be a ral­ly for immi­grant rights on the Boston Com­mon, in which col­lege ​"cam­pus­es across Boston will stand togeth­er to show sol­i­dar­i­ty and sup­port for immi­grants in our com­mu­ni­ties and on our cam­pus­es." Details here.
Kids car­a­van to D.C.
Forty young peo­ple have embarked on a jour­ney from Mia­mi to Wash­ing­ton D.C., with stops in Atlanta and Raleigh, North Car­oli­na. They're part of the ​"We Belong Togeth­er" kids car­a­van, a project of the Nation­al Domes­tic Work­ers Alliance and sev­er­al allied orga­ni­za­tions. Many of the young peo­ple have been affect­ed by depor­ta­tions, dis­in­vest­ment in their schools and the crim­i­nal­iza­tion of friends. On Thurs­day after­noon, April 13, in Wash­ing­ton, they'll lead demon­stra­tions in front of the White House. Fol­low their jour­ney on Twit­ter (@WomenBelong and #webe­long­to­geth­er). Learn details and sign up for email updates here.
Momen­tum build­ing for sin­gle-pay­er healthcare
Pub­lic opin­ion is build­ing across the polit­i­cal spec­trum for a sin­gle-pay­er health­care sys­tem. An Econ­o­mist/​YouGov poll in ear­ly April found that 60 per­cent of Amer­i­cans favor expand­ing the Medicare pro­gram to cov­er every­one. In Jan­u­ary, Rep. John Cony­ers, a Demo­c­rat from Michi­gan, re-intro­duced a ​"Medicare-for-All" bill, which now has more than 90 co-spon­sors. Cony­ers recent­ly said that he ​"has nev­er seen this much ener­gy or grass­roots pres­sure behind this issue." Sanders is expect­ed to release a sim­i­lar bill in the Sen­ate soon. Find details of his plan here.
While much of the spot­light is focused on pass­ing sin­gle pay­er at the fed­er­al lev­el, there are also orga­ni­za­tions pur­su­ing sin­gle-pay­er reform in more than a dozen states. Con­nect with them here.
GOP attack­ing hikes in min­i­mum wage
In late March, Iowa became the most recent state to pass a pre­emp­tion law that pro­hibits cities and towns from pass­ing a min­i­mum wage high­er than the state's min­i­mum. And Bloomberg reports that Repub­li­cans are in the process of con­test­ing and attempt­ing to roll back the min­i­mum wage hikes approved by vot­ers in sev­er­al states last year: ​"In Wash­ing­ton, where vot­ers opt­ed for a $13.50 an hour min­i­mum wage by 2020, and Maine, where it was set to rise to $12 that year, state leg­is­la­tors have pro­posed a bat­tery of bills to water down the increas­es." Crit­ics usu­al­ly claim that hikes in the min­i­mum wage kill jobs. See this report for an analy­sis of that claim. Fol­low Fight for $15 for updates on the move­ment for a high­er min­i­mum wage. And fol­low the Cam­paign to Defend Local Solu­tions for updates on the fight against state pre­emp­tion laws.
Bernie Sanders, pod­cast­er
Sanders has a new pod­cast, ​"The Bernie Sanders Show," which is avail­able on iTunes and on his web­site. Three episodes have been released so far — inter­views with Rev. William Bar­ber, sci­ence guy Bill Nye and play­wright Josh Fox.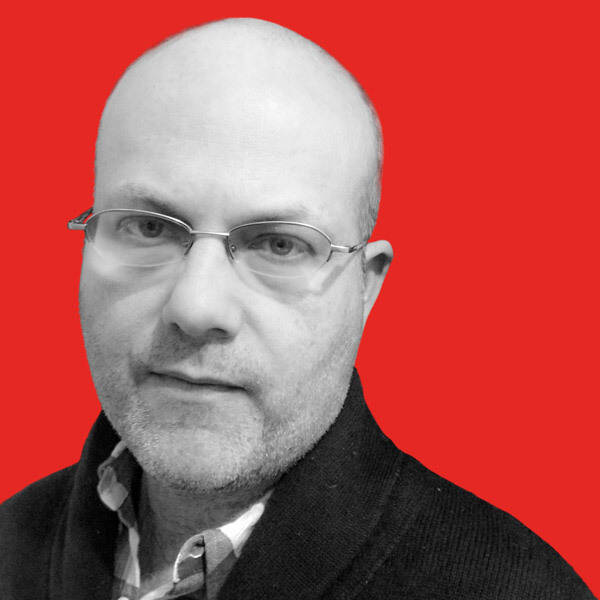 Theo Ander­son
is an In These Times con­tribut­ing writer. He has a Ph.D. in mod­ern U.S. his­to­ry from Yale and writes on the intel­lec­tu­al and reli­gious his­to­ry of con­ser­vatism and pro­gres­sivism in the Unit­ed States. Fol­low him on Twit­ter @Theoanderson
7
.