Why So Many Celebrities Are Scientologists: Going Clear, Revealing New HBO Doc, Holds Clues
One explanation is hidden in plain sight: the way the cult mirrors the star-obsessed, profit-driven culture of Hollywood.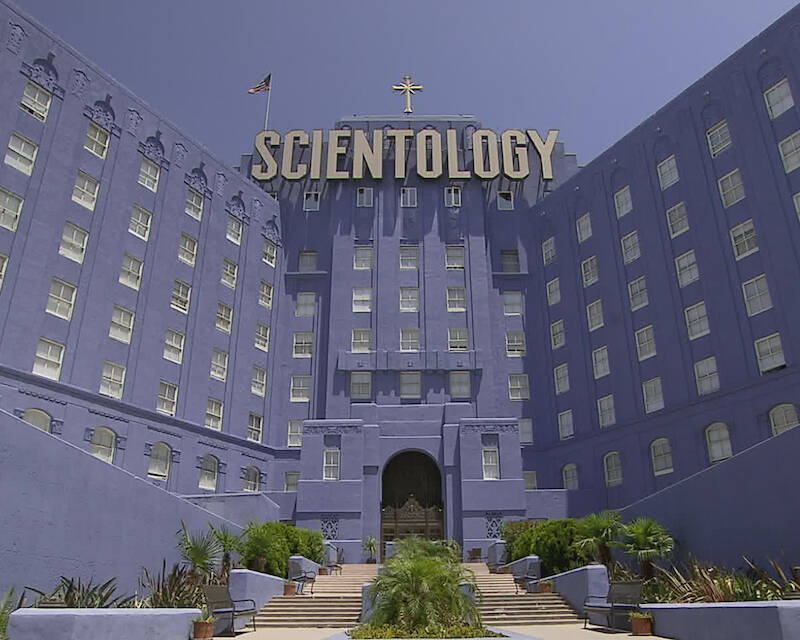 The Church of Sci­en­tol­ogy has attempt­ed to dis­cred­it the doc­u­men­tary Going Clear: Sci­en­tol­ogy and the Prison of Belief in var­i­ous ways since it made a pleas­ant­ly shock­ing debut at the Sun­dance Film Fes­ti­val in Jan­u­ary: offi­cial state­ments of repu­di­a­tion by Church rep­re­sen­ta­tives, hun­dreds of tweets, and a YouTube video smear­ing not just direc­tor Alex Gibney's cred­i­bil­i­ty but his father's as well. The video's female nar­ra­tor informs us in melo­dra­mat­i­cal­ly grim tones that the late Frank Gib­ney mere­ly mas­quer­ad­ed as a legit­i­mate jour­nal­ist while work­ing as part of a covert CIA pro­gram spread­ing pro­pa­gan­da through var­i­ous media, and ​"appar­ent­ly the apple doesn't fall far from the tree."
Sea Org, Scientology's equivalent of a monastic order, provides an army of virtual slave labor for its celebrity converts, getting 40 cents an hour to satisfy Cruise's lightest whim. When Cruise had a fantasy of running through a pastoral meadow with Nicole Kidman, Sea Org peons planted the meadow, then ripped it up and replanted it when it didn't pass Miscavige's inspection.
Still, it's pret­ty mild stuff, giv­en the church's fear­ful rep­u­ta­tion for all-out attacks on per­ceived ene­mies, and not like­ly to do much oth­er than pro­vide some free pub­lic­i­ty for Going Clear, which airs on HBO this Sun­day at 8 pm.
For those who know almost noth­ing about the sin­is­ter side of Sci­en­tol­ogy — pre­sum­ing there is any oth­er side than the sin­is­ter side—Going Clear will be a ter­rif­ic rev­e­la­tion. Gib­ney has dis­tilled a wealth of info from Lawrence Wright's 560-page expose, Going Clear: Sci­en­tol­ogy, Hol­ly­wood, and the Prison of Belief, and goosed it up with visu­als. We get the on-cam­era tes­ti­mo­ny of high-pro­file defec­tors; the bizarre life tra­jec­to­ry of Sci­en­tol­ogy founder L. Ron Hub­bard (from incred­i­bly pro­lif­ic pulp sci-fi writer to pho­ny war hero to para­noid cult leader); the weird, top-secret Hub­bard-authored ori­gin sto­ry about humanity's begin­nings on the slave-plan­et Earth; the group's tri­umphant legal cru­sade to achieve tax-exempt reli­gion sta­tus; the perks show­ered on celebri­ty mem­bers like Tom Cruise; the abu­sive pun­ish­ments of errant mem­bers; and the noto­ri­ous vendet­tas against apostates.
But for those who've paid any sig­nif­i­cant atten­tion to the wide­ly report­ed scan­dals that have engulfed Sci­en­tol­ogy with remark­able reg­u­lar­i­ty over the years, this doc­u­men­tary will seem like — as Yogi Berra put it — déjà vu all over again.
Nor is Going Clear a rev­e­la­to­ry exer­cise in film­mak­ing — noth­ing inter­est­ing is being done with the doc­u­men­tary form here. Gib­ney has made a num­ber of respect­ed doc­u­men­taries—Taxi to the Dark Side (2007), We Steal Secrets: The Sto­ry of Wik­ileaks (2013) — but he's not exact­ly a wow as a styl­ist. Which reminds me — what­ev­er hap­pened to that scin­til­lat­ing era of the fea­ture film doc­u­men­tary when high-pro­file auteurs like Wern­er Her­zog and Errol Mor­ris and Ter­ry Zwigoff and Michael Moore rou­tine­ly made chal­leng­ing, must-see non-fic­tion films that peo­ple flocked to see? Seems like yes­ter­day, and yet here we are back in the swamp of the infor­ma­tive but unex­cit­ing ​"syn­the­sis doc­u­men­tary" with its bor­ing­ly shot talk­ing heads, its over­ly emphat­ic musi­cal sound­track dic­tat­ing how we should feel about things, and its effaced direc­tor as the man behind the cur­tain that we're all sup­posed to ignore.
The inter­face of celebri­ties and Sci­en­tol­ogy pro­vides the showiest part of the doc­u­men­tary, and gives the film its main source of fas­ci­na­tion. Spec­u­la­tion about who's a Sci­en­tol­o­gist among suc­cess­ful Hol­ly­wood actors has long been a lurid­ly enjoy­able source of gos­sip. Google ​"celebri­ty Sci­en­tol­o­gists" and you'll find mul­ti­ple online sites list­ing who's report­ed­ly in (or in and then out again.) It is no mys­tery why Sci­en­tol­ogy wants to attract celebri­ties, but it is an ongo­ing mys­tery to the gen­er­al pub­lic why the rich and famous, pre­sum­ably the most free and autonomous indi­vid­u­als in a cap­i­tal­ist soci­ety, would tie them­selves to a high­ly con­tro­ver­sial and con­trol­ling reli­gion. What pulls in major stars such as Tom Cruise and John Tra­vol­ta, and what keeps them in the fold?
L. Ron Hub­bard estab­lished ​"Project Celebri­ty" in 1955, with a list of major stars who might be per­suad­ed to put an attrac­tive face on the new orga­ni­za­tion. Lat­er came Scientology's ​"Celebri­ty Cen­tres" described by church offi­cials in lofty lan­guage as con­sti­tut­ing ​"a spe­cial Church of Sci­en­tol­ogy that would cater to…the artists, politi­cians, lead­ers of indus­try, sports fig­ures, and any­one with the pow­er and vision to cre­ate a bet­ter world." The lav­ish cen­ter in Los Ange­les is known as the like­li­est place to go star-gaz­ing in hopes of catch­ing sight of a famous Sci­en­tol­o­gist, per­haps Kirstie Alley, Juli­ette Lewis, Priscil­la Pres­ley, Gio­van­ni Ribisi, Jen­na Elf­man, Eliz­a­beth Moss, Jason Lee, Beck, or Isaac Hayes.
Briefly men­tioned in the film are the celebri­ties such as Leonard Cohen and the Grate­ful Dead, who were tem­porar­i­ly drawn in by the church's 1970s siren song, ​"Get high with­out drugs!" The film also shows inter­view footage of a much younger, slim­mer Tra­vol­ta prais­ing a reli­gion where the ​"joy is the oper­a­tive con­cept" and which allows one to imag­ine ​"a world with­out war, a world with­out crim­i­nal­i­ty, a world with­out insanity."
Beyond these ini­tial lures, the film hints at anoth­er rea­son for the cult's appeal to celebri­ties: Sci­en­tol­ogy pro­vides suck­ing up on a vast scale. Ear­ly on we see remark­able footage of a Sci­en­tol­ogy event where Cruise leads a huge crowd of the faith­ful in a salute to a por­trait of ​"LRH." The mas­sive hall where this takes place resem­bles a cross between the tack­i­est Acad­e­my Awards back­drop you've ever seen and the Nurem­burg Ral­ly. Lat­er, we're shown the main event, the cer­e­mo­ny where Mis­cav­ige presents Cruise with the ​"Free­dom Medal of Val­or," invent­ed just for him. A ridicu­lous­ly large disc hang­ing from a fat mul­ti­col­ored rib­bon, it looks like a super­sized Olympic gold medal, a child's idea of a glo­ri­ous tribute.
We're told that mem­bers are instruct­ed, ​"You bet­ter have a fuck­ing smile on your face," when Cruise shows up. Sea Org, Scientology's equiv­a­lent of a monas­tic order, pro­vides an army of vir­tu­al slave labor for its celebri­ty con­verts, get­ting 40 cents an hour to sat­is­fy Cruise's light­est whim: One defec­tor attests that ​"they tricked out all his cars and his motor­cy­cles." And when Cruise had a fan­ta­sy of run­ning through a pas­toral mead­ow with Nicole Kid­man, Sea Org peons plant­ed the mead­ow, then ripped it up and replant­ed it when it didn't pass Miscavige's inspec­tion. Lat­er, the film reveals, when Kid­man was judged a ​"Sup­pres­sive Per­son" and her mar­riage to Cruise bro­ken up on Miscavige's orders, a new girl­friend, a pre-med stu­dent named Nazanin Bonia­di (who would lat­er become a sucess­ful actor), was recruit­ed from the ranks of the faith­ful, giv­en an expen­sive makeover, and deliv­ered to Cruise like an old-world concubine.
Still, that's an insuf­fi­cient answer. Cruise can pre­sum­ably get girl­friends on his own, and the whole world is pre­pared to suck up to a star of Cruise's wattage, no 40 cents an hour required.
Going Clear posits the rest of the answer, the same one that's been the source of gos­sip for years: Stars stick with Sci­en­tol­ogy because of the metic­u­lous­ly kept notes, record­ings and videos from E‑meter ​"audit­ing" ses­sions that are cen­tral to the religion's prac­tice, and make for ide­al black­mail mate­r­i­al. Going Clear opens with a close-up of one of Hubbard's patent­ed E‑meters, its nee­dle flick­ing, as we hear one of the insin­u­at­ing ques­tions asked of those under­go­ing the process of auditing:
"Do you have a secret you're afraid I will find out?"
A cho­rus of echo­ing voic­es answers ​"Yes." And indeed, what adult of any expe­ri­ence isn't both hor­ri­fied and fas­ci­nat­ed by the idea of answer­ing such a question?
The film rush­es on, not real­ly dwelling on this or any oth­er spe­cif­ic aspect of Sci­en­tol­ogy in its rush to cat­a­log the mad inner work­ings of the church. But with this open­ing scene, the film seemed for a moment to be set­ting up an in-depth analy­sis of how Sci­en­tol­ogy attracts and holds mem­bers. (Paul Thomas Anderson's 2012 film The Mas­ter is clear­ly an attempt to do just that, though when pub­li­ciz­ing the film, Ander­son was extreme­ly coy about whether he was depict­ing L. Ron Hub­bard and Scientology.)
Har­ness­ing the seduc­tive pow­er of con­fes­sion that the Catholics under­stood so well and tying it to pseu­do-sci­en­tif­ic tech­nol­o­gy seems like a bril­liant idea, when you think about it. Instead of a priest hear­ing your sins and impos­ing an appro­pri­ate form of repen­tance, thus secur­ing your immor­tal soul for anoth­er inter­lude, which is a com­pelling prac­tice but smacks of the Medieval, Sci­en­tol­ogy super­fi­cial­ly mod­ern­izes the process. Now you tell your secret fears and shames to a machine, which takes your mea­sure. An audi­tor sits near­by dur­ing the ses­sion, act­ing as a sort of hybrid technician/​ Father Confessor/​Freudian ana­lyst, tak­ing metic­u­lous notes, read­ing the meter and prob­ing for the source of ​"resis­tance" in the body that tells of emo­tion­al trau­ma, and method­i­cal­ly ​"clear­ing" you of such negativity.
It'll cost you, of course. But well worth it if only to have a machine that mea­sures your lev­els of guilt and ter­ror, and a prac­tice that relieves you of both.
This is the process that hooks peo­ple, from celebri­ties to ordi­nary mem­bers, as var­i­ous defec­tors attest in Going Clear. Actor Jason Beghe sets out to become a cham­pi­on at the process — like L. Ron Hubbard's suc­ces­sor, David Mis­cav­ige, who is regard­ed as a ​"prodi­gy at audit­ing." For­mer Sci­en­tol­o­gist Sylvia ​"Spanky" Tay­lor, who lat­er became John Travolta's han­dler, says she believed that Sci­en­tol­o­gists who com­mit to the process ​"had super­pow­ers … I thought, I'd like to have superpowers."
They're all aim­ing at ​"going clear" and suc­ceed­ing to the upper lev­els of the hier­ar­chy, becom­ing ​"Oper­at­ing Thetans," rank­ing I – VIII. ("You can't get any high­er than OT VIII," attests one inter­view sub­ject solemn­ly). These euphor­ic super-beings — with their trau­mat­ic mem­o­ries purged, their IQs shoot­ing up, their eye­sight improved, their asth­ma cured—move smooth­ly past all obsta­cles and get the inside sto­ry of our human ori­gins on Earth from L. Ron Hubbard's own scrib­bled notes. Direc­tor Paul Hag­gis, per­haps the best known of the defec­tors inter­viewed in the film, claims his incred­u­lous reac­tion upon final­ly earn­ing the priv­i­lege of read­ing Hubbard's account was, ​"What the FUCK are you talk­ing about?"
But it all begins with audit­ing. It was this process that so impressed writer William S. Bur­roughs, a very smart man and the last per­son you'd expect to get caught in the spell of the E‑meter, which in his own words is ​"a sort of slop­py form of elec­tri­cal brain stim­u­la­tion… a lie-detec­tor and a mind-read­ing machine." He was enrap­tured by audit­ing in the ear­ly years of Scientology's his­to­ry, back in the 1950s and 1960s, and claimed, ​"Sci­en­tol­ogy can do more in ten hours than psy­cho­analy­sis can do in ten years." But in the end he was repelled by ​"the fas­cist poli­cies of Hub­bard and his organization."
Pre­sum­ably, it's at such moments of defec­tion that audit­ing becomes a hold as well as a hook. It seems that Cruise and Tra­vol­ta don't dare leave because their con­fessed ​"secrets" could be made pub­lic. One for­mer Sci­en­tol­o­gist recalls that high­er-ups had ordered a ​"black PR" pack­age on Tra­vol­ta assem­bled, con­tain­ing the most damn­ing infor­ma­tion from his audits. Tra­vol­ta was can­ny enough to refuse to have his ses­sions video­taped, but the church holds the files con­tain­ing notes tak­en dur­ing every ses­sion, as a defec­tor describes, ​"in the most inti­mate detail." The sub­ject is ​"always encour­aged … always threat­ened, to dis­close more and more and more."
On the oth­er hand, Sci­en­tol­ogy can pro­vide a cer­tain amount of mus­cle in keep­ing the secrets of the faith­ful hid­den. The doc­u­men­tary makes clear that the famous­ly liti­gious orga­ni­za­tion (its infor­mal mot­to is ​"We nev­er defend, we always attack") has long damp­ened crit­i­cism of the orga­ni­za­tion and gos­sip about its mem­bers. And those who dare to pry or ques­tion or impugn are often per­son­al­ly harassed. We see footage of bel­liger­ent Sci­en­tol­o­gists sta­tioned on the doorstep of for­mer Sci­en­tol­ogy senior exec­u­tive Mar­ty Rath­bun, who has gone pub­lic with charges about the church's coer­cive and abu­sive practices.
But per­haps the sim­plest solu­tion to the mys­tery of why stars stick with Sci­en­tol­ogy is that they feel quite com­fort­able in its grip. I wish Gib­ney had gone fur­ther in expli­cat­ing how the work­ings of Hol­ly­wood dove­tail so nice­ly with the work­ings of Sci­en­tol­ogy. Judg­ing by what's implic­it in the film, it's no won­der the film indus­try is loaded up with mem­bers. Both are rapa­cious­ly prof­it-seek­ing cor­po­rate struc­tures; both revolve around celebri­ty-wor­ship; both love dis­plays of rank and sta­tus; both fos­ter ram­pant nar­cis­sism; both set up abu­sive hier­ar­chies that run on para­noia, with under­lings bad­ly treat­ed and bad­ly paid but afraid to speak out about it. And both rely on an amal­gam of neu­roses, fan­tasies and mag­i­cal think­ing — John Travolta's not the only suc­cess­ful actor-Sci­en­tol­o­gist to be con­vinced that the process of ​"going clear" got him the roles he audi­tioned for, mean­ing his star­dom is direct­ly reliant on Sci­en­tol­ogy, the way some oth­er super­sti­tious actors might attribute suc­cess to a favor­able moon or fail­ure to Mer­cury in retrograde.
There's no ques­tion that the fas­ci­na­tion with star Sci­en­tol­o­gists is dri­ving most of the pub­lic­i­ty for the film, even if Gib­ney did drop the ​"Hol­ly­wood" out of Wright's book title, Going Clear: Sci­en­tol­ogy, Hol­ly­wood, and the Prison of Belief. It should be not­ed that his film also deals with the per­plex­ing way so many non-stars cling to Sci­en­tol­ogy, even the most abused Sea Org mem­bers fight­ing to stay in ​"the Hole" where they're harsh­ly over­worked, demeaned and tor­tured, some­times for years on end. But let's face it: We under­stand pret­ty well how read­i­ly cowed and brain­washed peo­ple are when they have no mon­ey or pow­er or ready access to escape routes.
That brings us right back to stars again.
The doc­u­men­tary con­cludes by mak­ing a strong case for the impor­tance of get­ting a ​"mouth­piece" like Cruise or Tra­vol­ta to repu­di­ate the Church of Sci­en­tol­ogy. And direc­tor Gib­ney and writer Lawrence Wright have both reit­er­at­ed this point in inter­views pro­mot­ing the book and film. The Hol­ly­wood Reporter host­ed a sold-out Q&A in L.A. with author Lawrence Wright where he ​"called upon the reli­gion's ​"celebri­ty pitch­men" to use their ​"moral author­i­ty" to bring about reform in the church."
And as the New York Post's Page Six reports,
Film­mak­er Alex Gib­ney said this week that as a pub­lic face of the con­tro­ver­sial church, Cruise ​"can espouse his beliefs, that's fine. But not to address the alle­ga­tions of abuse seems to me pal­pa­bly irresponsible….It seems to me [Cruise] has an oblig­a­tion to speak out."
Per­haps Wright and Gib­ney have rea­sons of their own to believe that Cruise or Tra­vol­ta will pub­licly crit­i­cize or even repu­di­ate Sci­en­tol­ogy after decades of pugna­cious­ly defend­ing the church. Though if their own claims about the prob­a­bil­i­ty of black­mail are true, they know it's not like­ly to happen.
It's hard to resist the cyn­i­cal sus­pi­cion that though they must be per­fect­ly aware there's no point pub­licly exhort­ing Cruise and Tra­vol­ta to come clean, they can count on the celebri­ty con­nec­tion to sell Going Clear just like it sells Scientology.
Eileen Jones
is a film crit­ic at
Jacobin
and author of the book
Film­suck, USA
. She teach­es at the Uni­ver­si­ty of Cal­i­for­nia, Berkeley.