Mas­sive wild­fires that began on March 6 have scorched mil­lions of acres across Kansas, Okla­homa and Texas. Entire towns were evac­u­at­ed, homes and farms were lost, and sev­en peo­ple died. Along the Texas pan­han­dle, 340,000 acres burned, mak­ing it the third-biggest blaze in Texas his­to­ry. The fire that raged along Kansas' south­ern bor­der with Okla­homa was the state's largest ever.
Fueled by extreme­ly dry con­di­tions, high winds and low humid­i­ty, the fast-mov­ing flames killed thou­sands of cat­tle and live­stock. Some ranch­ers have report­ed the loss of entire herds; oth­ers are only begin­ning to assess the scope of the dam­age. In total, near­ly 1.6 mil­lion acres of Amer­i­can pas­ture­land has been charred black. For many, the after­math is surreal.
After tour­ing a fam­i­ly ranch in Ash­land, Kan., reporter Jack Healy wrote in the New York Times:
Dozens of their Angus cows lay dead on the black­ened ground, hooves jut­ting in the air. Oth­ers stag­gered around like bro­ken toys, unable to see or breathe, their black fur and dark eyes burned, plas­tic iden­ti­fi­ca­tion tags melt­ed to their ears. Young calves lay dying.
In cas­es such as this, injured ani­mals are shot. Ranch­ers are then tasked with bury­ing or oth­er­wise remov­ing the car­cass­es strewn across the land­scape. Depend­ing on the size of the herd lost, this chore can take weeks. Infra­struc­ture loss­es are also stag­ger­ing. For exam­ple, at rough­ly $2 per foot — or over $10,000 per mile — the cost of re-fenc­ing sprawl­ing tracts of land is enor­mous. No amount of mon­ey, how­ev­er, can speed up the land's nat­ur­al recov­ery. That takes time.
Yes­ter­day, in an effort to pre­vent the fur­ther loss of live­stock due to star­va­tion, the U.S. Depart­ment of Agri­cul­ture (USDA) announced it is autho­riz­ing emer­gency graz­ing on Con­ser­va­tion Reserve Pro­gram (CRP) lands in the three affect­ed states.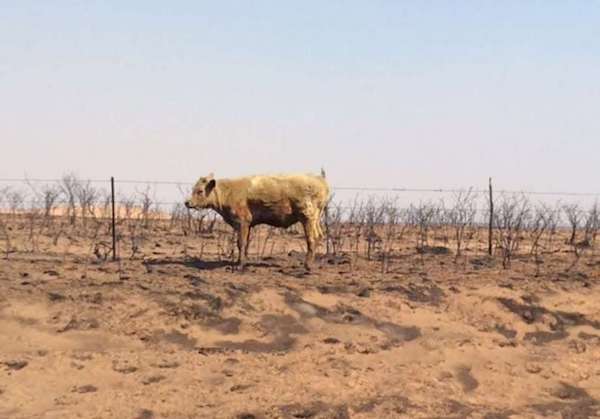 The fires in Texas killed an esti­mat­ed 3,000 cat­tle and 1,900 pigs. (Pho­to: Bea­con Exam­in­er)
Signed into law by Pres­i­dent Rea­gan in 1985, the CRP is a vol­un­tary land con­ser­va­tion pro­gram admin­is­tered by the USDA's Farm Ser­vice Agency (FSA). As explained by the agency's web­site: ​"In exchange for a year­ly rental pay­ment, farm­ers enrolled in the pro­gram agree to remove envi­ron­men­tal­ly sen­si­tive land from agri­cul­tur­al pro­duc­tion and plant species that will improve envi­ron­men­tal health and quality."
The program's long-term goal in these des­ig­nat­ed areas is to re-estab­lish ground cov­er, reduce soil ero­sion, improve water qual­i­ty and increase habi­tat for threat­ened species. But the USDA has the author­i­ty to forego this mis­sion in an emer­gency and, accord­ing to this press release, the sever­i­ty of the recent wild­fires qualifies:
WASH­ING­TON, April 4, 2017 – The U.S. Depart­ment of Agri­cul­ture (USDA), act­ing in response to a direc­tive from Pres­i­dent Don­ald J. Trump, today autho­rized emer­gency graz­ing on Con­ser­va­tion Reserve Pro­gram (CRP) lands locat­ed in Kansas, Okla­homa, and Texas — the three states which were most heav­i­ly impact­ed by ongo­ing wild­fires which began on March 6, 2017. USDA Act­ing Deputy Sec­re­tary Michael L. Young issued a mem­o­ran­dum autho­riz­ing the emer­gency graz­ing of cat­tle by ranch­ers, who are fac­ing the ruina­tion of their herds due to lack of suf­fi­cient graz­ing land. The autho­riza­tion is pur­suant to appro­pri­ate restric­tions and con­ser­va­tion mea­sures, which can be found in the Act­ing Deputy Secretary's memorandum.

"Ranch­ers are fac­ing dev­as­tat­ing con­di­tions and eco­nom­ic calami­ty because of these wild­fires and they need some relief, or else they face the total loss of their herds in many cas­es," said Act­ing Deputy Sec­re­tary Young. ​"These mea­sures will allow them to sal­vage what remains of their cat­tle and return to the impor­tant busi­ness of feed­ing Amer­i­cans and the rest of the world. I com­mend and thank Pres­i­dent Trump for act­ing deci­sive­ly in response to this dire situation."

The USDA action is required to direct the Farm Ser­vice Agency to per­mit the graz­ing on lands cov­ered by the CRP, which exists to con­serve and improve wildlife resources. In this case, the graz­ing will over­lap with the pri­ma­ry nest­ing sea­son of the less­er prairie chick­en. CRP has pro­ce­dures in place, already devel­oped with the U.S. Fish and Wildlife Ser­vice, to per­mit emer­gency graz­ing on pro­tect­ed lands dur­ing nest­ing sea­son. Less­er prairie chick­en nest­ing sea­son runs in Texas from March 1 to June 1, in Kansas from April 15 to July 15, and in Okla­homa from May 1 to July 1.

Ranch­ers and farm­ers are only now able to begin to esti­mate loss­es, since the fires are still burn­ing in some places and access to the lands to sur­vey the dam­age has been lim­it­ed. Dam­ages in the states are expect­ed to grow, but are now esti­mat­ed as follows:

Kansas

Coun­ties affect­ed include Clark, Comanche, Ellis, Ellsworth, Ford, Hodge­man, Kiowa, Lane, Lin­coln, Meade, Ness, Rus­sell, and Seward.
An esti­mat­ed

630

,

000

acres burned, pri­mar­i­ly pasturelands.
Esti­mat­ed live­stock loss: between

3

,

000

and

9

,

000

head of cattle.
Large vol­umes of hay and feed destroyed.
Esti­mat­ed cost of fenc­ing destroyed exceeds $

36

million.

Okla­homa

Coun­ties affect­ed include Beaver, Ellis, Harp­er, Roger Mills, Wood­ward, and Woods.
An esti­mat­ed

389

,

533

acres burned.
Esti­mat­ed live­stock loss:

3

,

000

head of cattle.
An esti­mat­ed cost of struc­ture loss of $

2

million.
Esti­mat­ed cost of fenc­ing destroyed exceeds $

22

million.

Texas

Coun­ties affect­ed include Arm­strong, Car­son, Collingsworth, Don­ley, Gray, Hans­ford, Hemphill, Hutchin­son, Lip­scomb, Moore, Ochiltree, Pot­ter, Ran­dall, Roberts, Sher­man, and Wheeler.
An esti­mat­ed

550

,

000

acres burned, affect­ing

346

farms and ranches.
Esti­mat­ed live­stock loss: at least

3

,

000

cat­tle and

1

,

900

swine.
Thou­sands of miles of fences expect­ed to be a total loss, but so far unable to be surveyed.

The Act­ing Deputy Secretary's mem­o­ran­dum can be found on the USDA web­site
Bud­get cuts, cli­mate change and blame
Though it's not uncom­mon for fed­er­al agen­cies to heap praise on the exec­u­tive branch in press releas­es, affect­ed farm­ers and ranch­ers in Kansas crit­i­cized Pres­i­dent Trump for not acknowl­edg­ing the fires as they were burn­ing. He was instead, as Healy men­tions in the sto­ry quot­ed above, tweet­ing about nasty reporters and Snoop Dogg. That said, and even though Trump's new bud­get pro­pos­es slash­ing the agen­cy's fund­ing by 21 per­cent, the USDA por­tion of his #MAGA plan ​"ful­ly funds wild­land fire pre­pared­ness and sup­pres­sion activ­i­ties at $2.4 bil­lion, 100 per­cent of the 10-year aver­age for sup­pres­sion oper­a­tions, to ensure the resources nec­es­sary to pro­tect life and property."
The Envi­ron­men­tal Pro­tec­tion Agency (EPA) isn't so lucky. If imple­ment­ed, Trump's plan would cut the EPA's cur­rent staff by 3,200 and their annu­al bud­get by $2.6 bil­lion. The pres­i­den­t's sup­port­ers hope few­er reg­u­la­tions will unleash a tor­rent of jobs that actu­al­ly pay a liv­ing wage. Skep­tics warn we're deal­ing with a Wall Street shark mas­querad­ing as a pop­ulist. But as the admin­is­tra­tion makes good on its promise to dis­man­tle Oba­ma-era envi­ron­men­tal ini­tia­tives in order to build more pipelines (and ressurect the coal indus­try), cli­mate activists (and every­day folks who think it's prob­a­bly time to tran­si­tion to sus­tain­able ener­gy) are more frus­trat­ed than ever.
On March 10, in an op-ed for New York Dai­ly News, envi­ron­men­tal­ist and author Bill McK­ibben wrote:
Here are two things that hap­pened this week:

1. Record-set­ting (and fatal) wild­fires burned out of con­trol in Okla­homa and Kansas. More than 1,000 square miles burned in Kansas, the largest blaze in the state's his­to­ry; entire towns had to be evac­u­at­ed in Okla­homa. This came after record-set­ting Feb­ru­ary heat led to drought con­di­tions across the plains — in fact, the Feb­ru­ary tem­per­a­ture in one Okla­homa town reached 99 degrees.

2. The for­mer attor­ney gen­er­al of Okla­homa, and now the man in charge of envi­ron­men­tal pro­tec­tion for the entire Unit­ed States, said in a tele­vi­sion inter­view: ​"I think that mea­sur­ing with pre­ci­sion human activ­i­ty on the cli­mate is some­thing very chal­leng­ing to do and there's tremen­dous dis­agree­ment about the degree of impact. So no, I would not agree that it's a pri­ma­ry con­trib­u­tor to the glob­al warm­ing that we see."
Pol­i­tics aside, pub­lic and pri­vate efforts to help those affect­ed by the fires are being orga­nized around the coun­try. Truck­loads of hay have been sent from out of state to keep ani­mals in Texas fed and the state of Kansas has signed a tax ememp­tion bill for fenc­ing mate­ri­als so ranch­ers who lost every­thing can begin the process of rebuilding.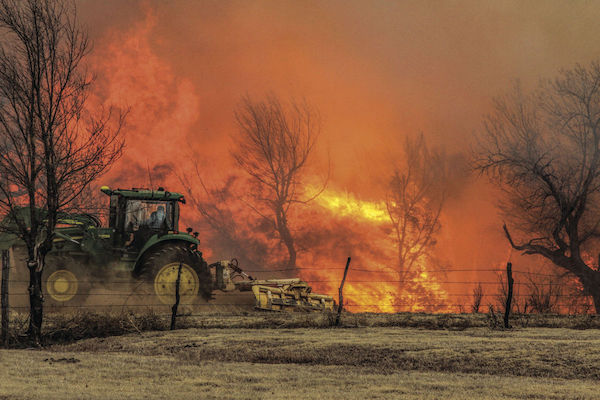 March 10, 2017 — Vol­un­teer fire­fight­ers and ranch­ers work to stop the fast-mov­ing flames in south­ern Kansas. (Pho­to: Denise Cleck­ler / High Plains Jour­nal)
[If you like what you've read, help us spread the word. ​

"

Like" Rur­al Amer­i­ca In These Times on Face­book. Click on the ​

"

Like Page" but­ton below the bear on the upper right of your screen. Also, fol­low RAITT on Twit­ter @RuralAmericaITT]