USDA Authorizes Emergency Grazing on Protected Lands After Fires Burn Millions of Acres in 3 States
Massive wildfires that began on March 6 have scorched millions of acres across Kansas, Oklahoma and Texas. Entire towns were evacuated, homes and farms were lost, and seven people died. Along the Texas panhandle, 340,000 acres burned, making it the third-biggest blaze in Texas history. The fire that raged along Kansas' southern border with Oklahoma was the state's largest ever.
Fueled by extremely dry conditions, high winds and low humidity, the fast-moving flames killed thousands of cattle and livestock. Some ranchers have reported the loss of entire herds; others are only beginning to assess the scope of the damage. In total, nearly 1.6 million acres of American pastureland has been charred black. For many, the aftermath is surreal.
After touring a family ranch in Ashland, Kan., reporter Jack Healy wrote in the New York Times:
Dozens of their Angus cows lay dead on the blackened ground, hooves jutting in the air. Others staggered around like broken toys, unable to see or breathe, their black fur and dark eyes burned, plastic identification tags melted to their ears. Young calves lay dying.
In cases such as this, injured animals are shot. Ranchers are then tasked with burying or otherwise removing the carcasses strewn across the landscape. Depending on the size of the herd lost, this chore can take weeks. Infrastructure losses are also staggering. For example, at roughly $2 per foot — or over $10,000 per mile — the cost of re-fencing sprawling tracts of land is enormous. No amount of money, however, can speed up the land's natural recovery. That takes time.
Yesterday, in an effort to prevent the further loss of livestock due to starvation, the U.S. Department of Agriculture (USDA) announced it is authorizing emergency grazing on Conservation Reserve Program (CRP) lands in the three affected states.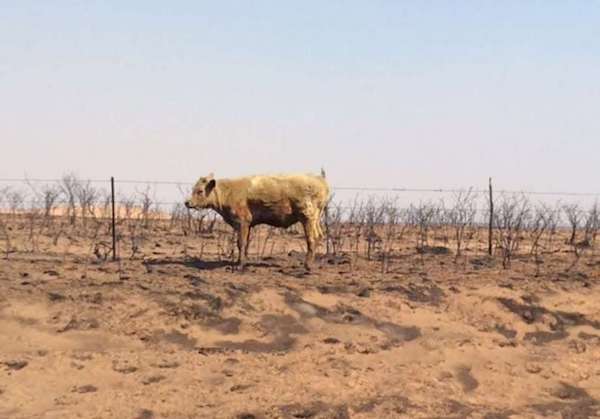 The fires in Texas killed an estimated 3,000 cattle and 1,900 pigs. (Photo: Beacon Examiner)
Signed into law by President Reagan in 1985, the CRP is a voluntary land conservation program administered by the USDA's Farm Service Agency (FSA). As explained by the agency's website: ​"In exchange for a yearly rental payment, farmers enrolled in the program agree to remove environmentally sensitive land from agricultural production and plant species that will improve environmental health and quality."
The program's long-term goal in these designated areas is to re-establish ground cover, reduce soil erosion, improve water quality and increase habitat for threatened species. But the USDA has the authority to forego this mission in an emergency and, according to this press release, the severity of the recent wildfires qualifies:
WASHINGTON, April 4, 2017 – The U.S. Department of Agriculture (USDA), acting in response to a directive from President Donald J. Trump, today authorized emergency grazing on Conservation Reserve Program (CRP) lands located in Kansas, Oklahoma, and Texas — the three states which were most heavily impacted by ongoing wildfires which began on March 6, 2017. USDA Acting Deputy Secretary Michael L. Young issued a memorandum authorizing the emergency grazing of cattle by ranchers, who are facing the ruination of their herds due to lack of sufficient grazing land. The authorization is pursuant to appropriate restrictions and conservation measures, which can be found in the Acting Deputy Secretary's memorandum.

"Ranchers are facing devastating conditions and economic calamity because of these wildfires and they need some relief, or else they face the total loss of their herds in many cases," said Acting Deputy Secretary Young. ​"These measures will allow them to salvage what remains of their cattle and return to the important business of feeding Americans and the rest of the world. I commend and thank President Trump for acting decisively in response to this dire situation."

The USDA action is required to direct the Farm Service Agency to permit the grazing on lands covered by the CRP, which exists to conserve and improve wildlife resources. In this case, the grazing will overlap with the primary nesting season of the lesser prairie chicken. CRP has procedures in place, already developed with the U.S. Fish and Wildlife Service, to permit emergency grazing on protected lands during nesting season. Lesser prairie chicken nesting season runs in Texas from March 1 to June 1, in Kansas from April 15 to July 15, and in Oklahoma from May 1 to July 1.

Ranchers and farmers are only now able to begin to estimate losses, since the fires are still burning in some places and access to the lands to survey the damage has been limited. Damages in the states are expected to grow, but are now estimated as follows:

Kansas

Counties affected include Clark, Comanche, Ellis, Ellsworth, Ford, Hodgeman, Kiowa, Lane, Lincoln, Meade, Ness, Russell, and Seward.
An estimated

630

,

000

acres burned, primarily pasturelands.
Estimated livestock loss: between

3

,

000

and

9

,

000

head of cattle.
Large volumes of hay and feed destroyed.
Estimated cost of fencing destroyed exceeds $

36

million.

Oklahoma

Counties affected include Beaver, Ellis, Harper, Roger Mills, Woodward, and Woods.
An estimated

389

,

533

acres burned.
Estimated livestock loss:

3

,

000

head of cattle.
An estimated cost of structure loss of $

2

million.
Estimated cost of fencing destroyed exceeds $

22

million.

Texas

Counties affected include Armstrong, Carson, Collingsworth, Donley, Gray, Hansford, Hemphill, Hutchinson, Lipscomb, Moore, Ochiltree, Potter, Randall, Roberts, Sherman, and Wheeler.
An estimated

550

,

000

acres burned, affecting

346

farms and ranches.
Estimated livestock loss: at least

3

,

000

cattle and

1

,

900

swine.
Thousands of miles of fences expected to be a total loss, but so far unable to be surveyed.

The Acting Deputy Secretary's memorandum can be found on the USDA website
Budget cuts, climate change and blame
Though it's not uncommon for federal agencies to heap praise on the executive branch in press releases, affected farmers and ranchers in Kansas criticized President Trump for not acknowledging the fires as they were burning. He was instead, as Healy mentions in the story quoted above, tweeting about nasty reporters and Snoop Dogg. That said, and even though Trump's new budget proposes slashing the agency's funding by 21 percent, the USDA portion of his #MAGA plan ​"fully funds wildland fire preparedness and suppression activities at $2.4 billion, 100 percent of the 10-year average for suppression operations, to ensure the resources necessary to protect life and property."
The Environmental Protection Agency (EPA) isn't so lucky. If implemented, Trump's plan would cut the EPA's current staff by 3,200 and their annual budget by $2.6 billion. The president's supporters hope fewer regulations will unleash a torrent of jobs that actually pay a living wage. Skeptics warn we're dealing with a Wall Street shark masquerading as a populist. But as the administration makes good on its promise to dismantle Obama-era environmental initiatives in order to build more pipelines (and ressurect the coal industry), climate activists (and everyday folks who think it's probably time to transition to sustainable energy) are more frustrated than ever.
On March 10, in an op-ed for New York Daily News, environmentalist and author Bill McKibben wrote:
Here are two things that happened this week:

1. Record-setting (and fatal) wildfires burned out of control in Oklahoma and Kansas. More than 1,000 square miles burned in Kansas, the largest blaze in the state's history; entire towns had to be evacuated in Oklahoma. This came after record-setting February heat led to drought conditions across the plains — in fact, the February temperature in one Oklahoma town reached 99 degrees.

2. The former attorney general of Oklahoma, and now the man in charge of environmental protection for the entire United States, said in a television interview: ​"I think that measuring with precision human activity on the climate is something very challenging to do and there's tremendous disagreement about the degree of impact. So no, I would not agree that it's a primary contributor to the global warming that we see."
Politics aside, public and private efforts to help those affected by the fires are being organized around the country. Truckloads of hay have been sent from out of state to keep animals in Texas fed and the state of Kansas has signed a tax ememption bill for fencing materials so ranchers who lost everything can begin the process of rebuilding.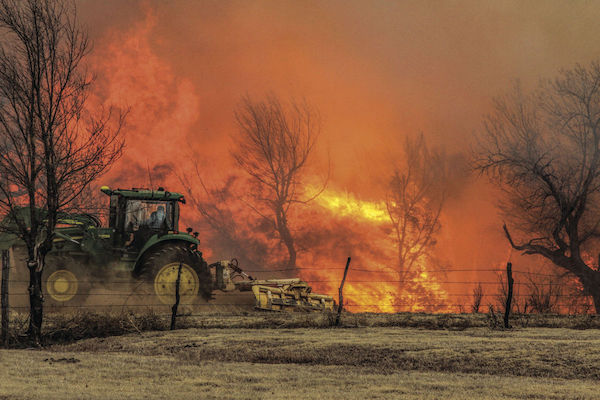 March 10, 2017 — Volunteer firefighters and ranchers work to stop the fast-moving flames in southern Kansas. (Photo: Denise Cleckler / High Plains Journal)
[If you like what you've read, help us spread the word. ​

"

Like" Rural America In These Times on Facebook. Click on the ​

"

Like Page" button below the bear on the upper right of your screen. Also, follow RAITT on Twitter @RuralAmericaITT]
For a limited time:
Donate $20 or more to In These Times and we'll send you a copy of Let This Radicalize You.
In this new book, longtime organizers and movement educators Mariame Kaba and Kelly Hayes examine the political lessons of the Covid-19 pandemic and its aftermath, including the convergence of mass protest and mass formations of mutual aid. Let This Radicalize You answers the urgent question: What fuels and sustains activism and organizing when it feels like our worlds are collapsing?
We've partnered with the publisher, Haymarket Books, and 100% of your donation will go towards supporting In These Times.