Will Catholic Bishops Be GOP Pawns?
The Church and evangelicals are finding common ground.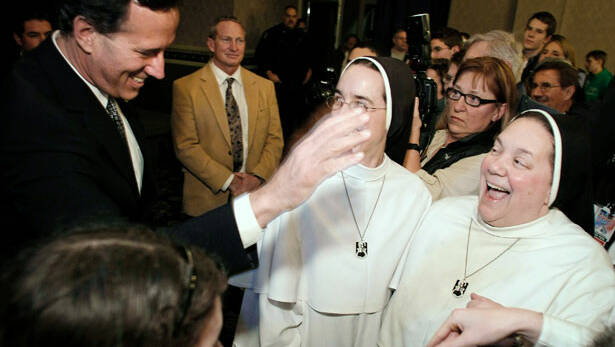 The GOP's base con­sists of five key con­stituen­cies bound togeth­er by a sense of being under siege – cul­tur­al­ly, eco­nom­i­cal­ly, reli­gious­ly or demographically.
What's at stake for the GOP is, of course, political power: The alliance broadens its coalition of the embattled. What's at stake for the Church is the nature and depth of its moral authority.
The first is the ​"silent gen­er­a­tion" of seniors who pre­ced­ed the Baby Boomers. With­in their adult life­times, they've wit­nessed trans­for­ma­tions in gen­der and racial rela­tions, in atti­tudes about homo­sex­u­al­i­ty and abor­tion, and in many oth­er realms of Amer­i­can life. They live in a dif­fer­ent coun­try than the one they were born into, and many of them long for the old one.
White males are the sec­ond key con­stituen­cy. While they still hold a dis­pro­por­tion­ate share of pow­er in the Unit­ed States, their rel­a­tive posi­tion has declined as women and peo­ple of col­or fill jobs and roles that were once off-lim­its. White males' siege men­tal­i­ty is root­ed in their loss of priv­i­lege and in the dis­ap­pear­ance of many jobs that were once the foun­da­tion of America's mid­dle class.
South­ern­ers and busi­ness inter­ests are the third and fourth con­stituen­cies. An odd pair­ing, on the face of it; it's a shared hos­til­i­ty to the intru­sions of the fed­er­al gov­ern­ment that makes them sim­pati­co. For South­ern­ers, the idea of man­dates imposed by Wash­ing­ton, D.C., still hits a raw nerve for all kinds of his­tor­i­cal rea­sons, and makes them recep­tive to busi­ness inter­ests' com­plaints about exces­sive tax­a­tion, over­reg­u­la­tion and gov­ern­ment gone wild.
The GOP has lim­it­ed room for growth with­in these four con­stituen­cies, since their num­bers are already so strong. Only the fifth group offers hope for expand­ing the base: the reli­gious­ly devout.
The recent brouha­ha over the Catholic Church and con­tra­cep­tion health­care cov­er­age has solid­i­fied and dra­ma­tized one of the most impor­tant U.S. polit­i­cal devel­op­ments of the last two decades: the alliance of evan­gel­i­cal Protes­tants and Catholics. It's a star­tling turn of events, giv­en that just a gen­er­a­tion or two ago the Catholic Church was, in the minds of many evan­gel­i­cals, the Whore of Baby­lon. The GOP's recent rhetoric about reli­gious lib­er­ty being under assault is aimed at this broad, rel­a­tive­ly new alliance.
What's at stake for the GOP is, of course, polit­i­cal pow­er: The alliance broad­ens the Repub­li­can coali­tion of the embat­tled. What's at stake for the Church is the nature and depth of its moral authority.
Eco­nom­ic jus­tice can wait
In 1986, the Unit­ed States Con­fer­ence of Catholic Bish­ops (USC­CB) issued a pas­toral let­ter titled ​"Eco­nom­ic Jus­tice For All," in which it argued that the high­est pri­or­i­ty in any eco­nom­ic sys­tem must be human well-being rather than prof­its. ​"The life and dig­ni­ty of mil­lions of men, women and chil­dren hang in the bal­ance," it read. ​"Deci­sions must be judged in light of what they do for the poor, what they do to the poor, and what they enable the poor to do for them­selves. The fun­da­men­tal moral cri­te­ri­on for all eco­nom­ic deci­sions, poli­cies and insti­tu­tions is this: They must be at the ser­vice of all peo­ple, espe­cial­ly the poor."
With­in a few years of that document's release, the USCCB's empha­sis on eco­nom­ic jus­tice had been eclipsed by cul­ture-war bat­tles. New­ly appoint­ed bish­ops tend­ed to be con­ser­v­a­tives, and while the USC­CB con­tin­ued to issue state­ments and let­ters that addressed the ques­tion of eco­nom­ic jus­tice, they were most vocal and ener­getic in their oppo­si­tion to abor­tion and homo­sex­u­al­i­ty. That trend has inten­si­fied over time. At their annu­al meet­ing in Bal­ti­more last fall, the bish­ops focused on strate­gies for oppos­ing gay rights and abor­tion and defend­ing reli­gious lib­er­ty – but couldn't find any time to dis­cuss eco­nom­ic jus­tice, not to men­tion the priest­ly pen­chant for pedophil­ia. Also last fall, they estab­lished a new ​"com­mit­tee for reli­gious lib­er­ty" that is intend­ed to ​"shape pol­i­cy in the face of accel­er­at­ing threats." And in Novem­ber, the Arch­bish­op of Philadel­phia, Charles Cha­put, made head­lines by declar­ing that the nation has entered an era of unprece­dent­ed hos­til­i­ty toward reli­gious belief. ​"It's not a ques­tion of when or if it might hap­pen," he said. ​"It's hap­pen­ing today."
The near-dis­ap­pear­ance of eco­nom­ic jus­tice as a pri­or­i­ty for Amer­i­can Catholic bish­ops is an aber­ra­tion, both his­tor­i­cal­ly and in the cur­rent glob­al con­text. Though rarely men­tioned by cur­rent U.S. bish­ops, ​"Eco­nom­ic Jus­tice For All" was very much in keep­ing with ortho­dox Catholic the­ol­o­gy and prac­tice, and lead­ers and laypeo­ple were inte­gral to the ear­ly pro­gres­sive movement.
Most notably, the work of John Ryan – a Catholic the­olo­gian and activist of bound­less ener­gy – was instru­men­tal in prepar­ing the way for the New Deal reforms of the 1930s. In A Liv­ing Wage, Dis­trib­u­tive Jus­tice and many oth­er works, Ryan argued for the crit­i­cal role of labor unions and an activist state in reliev­ing poverty.
Ryan's bedrock belief that eth­i­cal the­o­ry and eco­nom­ic prac­tice are insep­a­ra­ble is still hon­ored and artic­u­lat­ed by the Catholic hier­ar­chy world­wide. In a doc­u­ment released just last fall, the Vat­i­can argued that ​"to func­tion cor­rect­ly the econ­o­my needs ethics; and not just of any kind, but one that is peo­ple-cen­tered." It also called for an inter­na­tion­al insti­tu­tion invest­ed with the author­i­ty to tame the excess­es of capitalism.
The bat­tle has been joined – and part­ly lost
Nat­u­ral­ly, polit­i­cal con­ser­v­a­tives dis­missed the doc­u­ment as irrel­e­vant. The curi­ous thing is that U.S. bish­ops did the same – with their silence, at least – at a time when the Catholic Church in the Unit­ed States is des­per­ate­ly seek­ing to re-estab­lish its moral author­i­ty, and dur­ing the rise of the Occu­py move­ment last fall.
Why have the bish­ops had so lit­tle to con­tribute to the move­ment, despite the abun­dant his­tor­i­cal and the­o­log­i­cal resources they have at their disposal?
The Church is still pre­oc­cu­pied with resist­ing reforms that would acknowl­edge and respond to the cul­tur­al and social upheaval since the 1960s. Repro­duc­tive rights are one bat­tle in that war. But the issue that's most trou­bling for the lead­er­ship right now is gay rights. Abor­tion remains deeply divi­sive: Amer­i­cans are about even­ly split on the ques­tion. But there is no doubt that con­ser­v­a­tives are being rout­ed on the ques­tion of homo­sex­u­al­i­ty. On that front, the cul­ture war has been deci­sive­ly lost.
That fact pos­es all kinds of headaches and legal chal­lenges for the Church. State agen­cies and Catholic insti­tu­tions have begun to part ways over the pro­vi­sion of fos­ter care and adop­tion ser­vices, for exam­ple, since Catholic insti­tu­tions refuse to place chil­dren with same-sex cou­ples. Illi­nois is the most recent state to cut ties with the Church over the issue. Sim­i­lar clash­es in oth­er states seem inevitable.
Their cul­ture war obses­sions make the Church's lead­ers wel­come, if odd, polit­i­cal bed­fel­lows with the rest of the GOP's embat­tled base. When Catholics talk about los­ing their reli­gious lib­er­ty, they're real­ly talk­ing about feel­ing alien­at­ed for adher­ing to beliefs that, just a gen­er­a­tion ago, were per­fect­ly with­in the mainstream.
For the Church, the alliance with the GOP cre­ates a much-need­ed ally in the cul­ture wars. For the GOP, the alliance has the poten­tial of expand­ing its base to include more Catholics.
And the poten­tial ben­e­fits are large, since Catholic vot­ers are about even­ly split and con­sti­tute a quar­ter of the elec­torate. Barack Oba­ma won the Catholic vote by a mar­gin of nine points in 2008; George W. Bush won it by a mar­gin of five points in 2004; and Al Gore won it by three points in 2000. A shift of just a few points can swing a pres­i­den­tial elec­tion, and Catholics tend to be con­cen­trat­ed in elec­toral­ly cru­cial states.
If there are large poten­tial ben­e­fits to the alliance, though, there are even greater risks. The best-case sce­nario for both par­ties is that the Church's moral author­i­ty will but­tress the GOP's polit­i­cal prospects, and vice ver­sa. But moral author­i­ty is a neb­u­lous and fleet­ing thing, and the U.S. bish­ops have been pas­sive in the one area – eco­nom­ic jus­tice – where they pos­sess a deep well­spring of author­i­ty. Instead they seem pre­pared to go to the wall over sex, an area where the Church has lost all cred­i­bil­i­ty over the past decade.
So it's pos­si­ble that the alliance will become less a vir­tu­ous cycle than a death spi­ral. The bish­ops con­tin­ue to erode their moral author­i­ty with their silence on eco­nom­ic issues, while the GOP's resis­tance to gay rights, in def­er­ence to its reli­gious­ly devout vot­ers, becomes an increas­ing­ly extreme stance. In oth­er words, it might turn out to be a devil's bar­gain. Made with good inten­tions, of course.
The bish­ops should know very well where that path leads.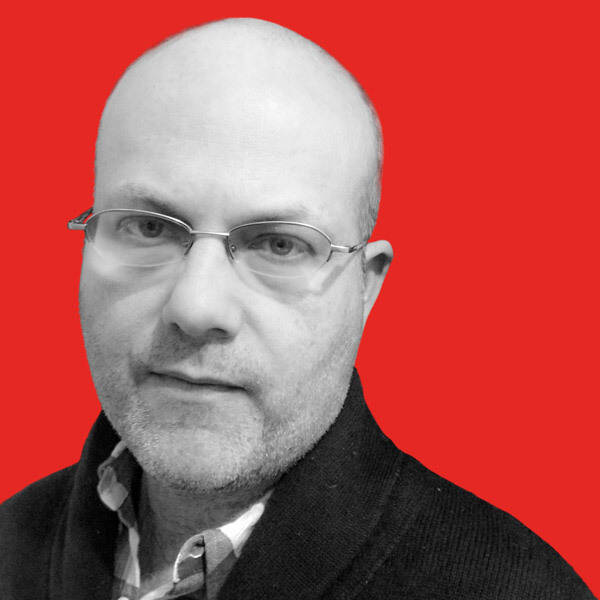 Theo Ander­son
is an In These Times con­tribut­ing writer. He has a Ph.D. in mod­ern U.S. his­to­ry from Yale and writes on the intel­lec­tu­al and reli­gious his­to­ry of con­ser­vatism and pro­gres­sivism in the Unit­ed States. Fol­low him on Twit­ter @Theoanderson
7
.