'Zee' End of Blackwater?
The troubled security firm gets a makeover.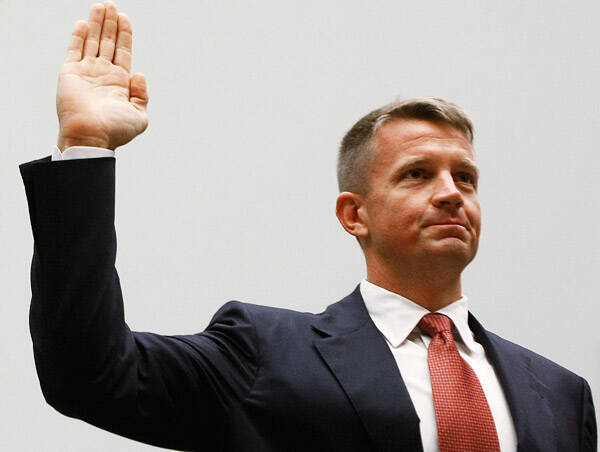 To dis­tance itself from ongo­ing con­tro­ver­sies, law­suits and can­celed con­tracts, Black­wa­ter World­wide, the pri­vate secu­ri­ty firm known for its mer­ce­nary work in Iraq and Afghanistan, has changed its name to Xe (pro­nounced ​"zee").
A new logo isn't a novel idea for Blackwater, which in October 2007 removed the crosshairs on its bear-claw logo in an attempt to soften its image.
The com­pa­ny announced this lin­guis­tic detox­i­fi­ca­tion after the U.S. State Depart­ment refused to renew its con­tract to pro­tect diplo­mats in Iraq. On March 2, Black­wa­ter founder Erik Prince resigned as CEO, a move that fol­lowed the recent depar­tures of the vice chair­man, chief oper­at­ing offi­cer, pres­i­dent and exec­u­tive vice president.
In late Jan­u­ary, the Iraqi gov­ern­ment denied Black­wa­ter a new oper­at­ing license, after unsuc­cess­ful­ly try­ing to get the com­pa­ny out of its coun­try since Sep­tem­ber 2007, when sev­er­al Black­wa­ter guards killed 17 unarmed Iraqis and wound­ed 20 more in a crowd­ed Bagh­dad intersection.
Com­pa­ny spokes­woman Anne Tyrrell told news orga­ni­za­tions that Blackwater's con­tro­ver­sies are now in the past. "[The company's Iraq lega­cy] is an aspect of our work that we feel we were defined by," Tyrrell told the Asso­ci­at­ed Press, which broke news of the name change on Feb. 13.
On Feb. 14, she told the Wash­ing­ton Post, ​"The idea is to define the com­pa­ny as what it is today and not what it used to be."
A re-brand­ing effort like this is a des­per­ate mea­sure, says Anne Land­man, an edi­tor at the Cen­ter for Media and Democ­ra­cy in Madi­son, Wis.
"It usu­al­ly means a com­pa­ny is in pret­ty deep yogurt," Land­man says. ​"When they do that, they're con­front­ed on all fronts: legal prob­lems, pub­lic rela­tions prob­lems, how they're por­trayed in the media. They need to jump out of their old skin and into a new one, and hope that we don't notice."
As for the name ​"Xe," Tyrrell tells In These Times that ​"it holds no spe­cial sig­nif­i­cance… We thought it had the best poten­tial for brand identity."
A new name and logo isn't a nov­el idea for the North Car­oli­na-based Black­wa­ter, which in Octo­ber 2007 had changed its name to Black­wa­ter World­wide from Black­wa­ter USA, and removed the crosshairs on its bear-claw logo in an attempt to soft­en its image.
But those changes did noth­ing to quell the pub­lic uproar against the company.
Tyrrell tells In These Times that the com­pa­ny will ​"return to our roots" of mil­i­tary and law enforce­ment train­ing. She says Black­wa­ter ​"nev­er want­ed to be in the busi­ness of pri­vate secu­ri­ty." But for­mer com­pa­ny Pres­i­dent Gary Jack­son told the New York Times in 2004, ​"I would like to have the largest, most pro­fes­sion­al pri­vate army in the world."
Black­wa­ter guards still oper­ate in Afghanistan and Iraq.
When asked how many guards Xe cur­rent­ly has in Afghanistan, Tyrrell says, ​"I can say it's less than the largest num­ber we've had in Iraq…less than a thousand."
When pressed if it was more than 100, she laughs, say­ing, ​"I don't know. And I prob­a­bly wouldn't tell you if I did."
After its Iraq con­tract ends in May, Black­wa­ter will like­ly still have guards in the country.
Since the com­pa­ny has long main­tained that its guards are not its own employ­ees, but are instead inde­pen­dent State Depart­ment con­trac­tors, for­mer Black­wa­ter guards could stay in Iraq by work­ing with Triple Canopy or Dyn­Corp, two pri­vate secu­ri­ty firms that have valid contracts.
Vague def­i­n­i­tions and loop­holes in U.S. and Iraqi law could allow guards to con­tin­ue to act with impunity.
The U.S.-Iraq Sta­tus of Forces Agree­ment, rat­i­fied by the Iraqi par­lia­ment in late 2008, sought to bring inde­pen­dent con­trac­tors under its juris­dic­tion, but ​"does not seem to cov­er State Depart­ment con­trac­tors," says Jon Tra­cy, assis­tant direc­tor of the non­prof­it Nation­al Insti­tute of Mil­i­tary Jus­tice. ​"Based on the def­i­n­i­tion of ​'con­trac­tors' in the agree­ment, it only cov­ers those that are con­tract­ed by the U.S. military."
Joel Han­d­ley
, a for­mer assis­tant edi­tor at In These Times, is a Chica­go-based inde­pen­dent jour­nal­ist and free­lance editor.