Zelaya Returns
The ousted and exiled Honduran president comes home.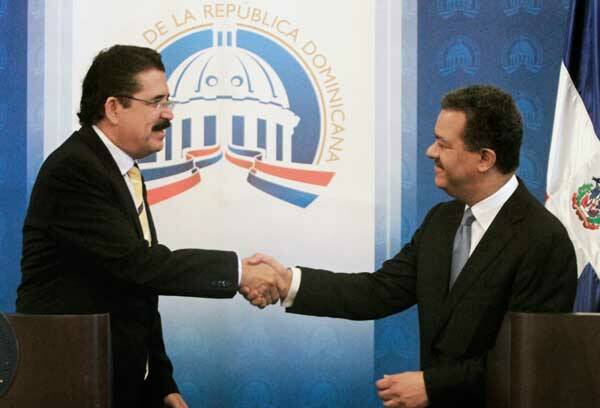 Reader donations, many as small as just $1, have kept In These Times publishing for 45 years. Once you've finished reading, please consider making a tax-deductible donation to support this work.
TEGUCIGALPA, HONDURAS – He's back. The former president of Honduras, Manuel Zelaya, returned home on May 28 after almost two years of exile. The victim of a military coup in June 2009, Zelaya had been living in the Dominican Republic while diplomats from across the region slowly negotiated his amnesty. Meanwhile, his country is on the brink of becoming a failed state. According to The Economist, Honduras is now one of the most dangerous countries in the world, with a murder rate of 67 per 100,000 – four times that of Mexico.
When it touched down on the tarmac, Zelaya's plane was greeted by 25,000 desperate but hopeful Hondurans. When Zelaya stood before them and promised a ​"return to rights and democracy," the crowd cheered for several cathartic minutes. But according to critics, it's going to take more than political theater and poetic speeches to turn things around. The coup deeply divided the nation, triggering political violence and economic atrophy that continues today.
"The human rights situation here is still very grave," says Andrés Pavon, president of the Committee for the Defense of Human Rights in Honduras (CODEH). ​"There is much state-sponsored oppression, including the killing of protesters and opposition organizers." When asked about the implications of Zelaya's return from exile, Pavon sighs. ​"By itself, it means nothing," he says. ​"This is not a victory."
The putsch against Zelaya gave birth to The National Front of the Popular Resistance (FNRP), a pro-democracy alliance of teachers, activists and trade unionists that has been frequently targeted by both government forces and right-wing paramilitary death squads. More than 34 members of the FNRP have been slain since President Porfirio Lobo, who backed the coup, came to power in January 2010 after a widely-boycotted election. Ten journalists have also been killed on Lobo's watch, two of them during the same week in May 2011. According to Pavon, none of those cases have been brought to trial.
Despite Zelaya's Rubicon-like moment at the airport, and the concomitant decision by the Organization of American States (OAS) to recognize the Lobo government, the ongoing climate of ​"impunity" in Honduras has caused a flurry of concern in Washington. On May 31, 87 members of the U.S. Congress sent a letter to Secretary of State Clinton urging her to ​"suspend U.S. assistance to the [Honduran] military and police" and to ​"require the Honduran government to respect its citizens' rights to freedom of expression and assembly, including an end to excessive use of force in response to protests."
But it isn't just Congress that's worried about U.S.-Honduras relations. On May 28, the Fellowship of Reconciliation (FOR), America's oldest and largest interfaith human rights organization, also sent out a letter, criticizing the State Department's cozy relationship with Lobo. Signed by more than 70 religious leaders, organizations and academics, the letter asks U.S. construction companies to avoid bidding on military contracts in Honduras, where the U.S. operates three bases – two of which have been built since the coup.
"The U.S. military is backing an oppressive regime in Honduras," says John Lindsay-Poland, FOR's research and advocacy director. "[The Lobo administration] is not a democratically-chosen government and anyone who opposes it faces violent reprisals. American companies shouldn't be involved in that kind of thing."
Although Lobo signed an amnesty agreement for both Zelaya and the FNRP on May 21, violent attacks against demonstrators have persisted. As a result, more than 20 Honduran and international human rights groups are demanding that the OAS halt plans to normalize relations with the Lobo regime. (The OAS declined multiple requests to be interviewed.) ​"Many Hondurans do not trust the promises made by a government they did not elect," Pavon says. ​"They're afraid there will never be any justice for the victims."
Your donation makes In These Times possible