America's Tween Soldiers
Middle schoolers: Uncle Sam wants you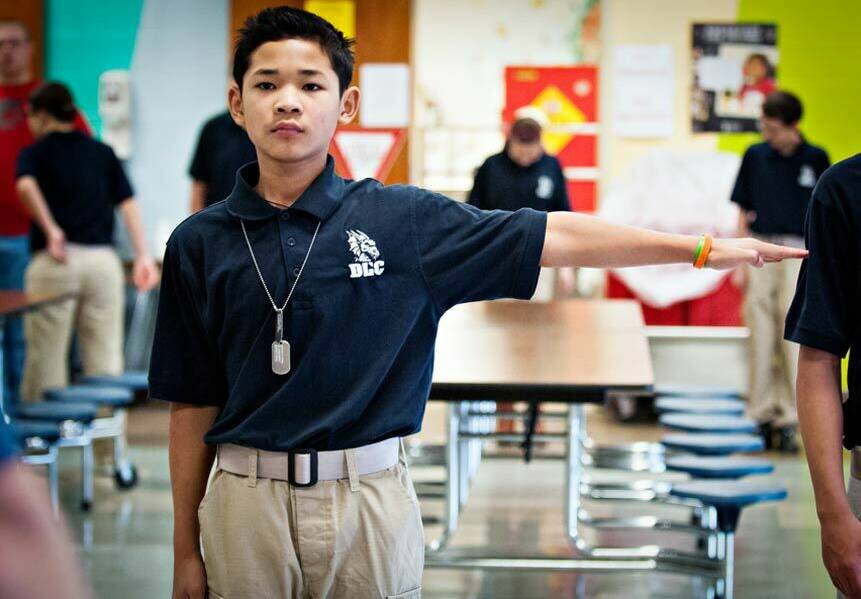 Last year, Hen­ry F. Moss Mid­dle School in Bowl­ing Green, Ohio, offered stu­dents a brand new course. And, as a head­line in the local news­pa­per pro­claimed, this was ​"not your tra­di­tion­al class." For starters, the teacher — an army sergeant — had told the Bowl­ing Green Dai­ly News that one of his goals was to expose these sev­enth- and eighth-graders to ​"mil­i­tary val­ues" that they could use as ​"build­ing blocks" in life. To that end, stu­dents in the class earn mil­i­tary style ranks, engage in army-style ​"PT" (phys­i­cal train­ing) and each Wednes­day, wear cam­ou­flage pants and boots.
A review of programs in more than a dozen states found that there are at least 97 public middle schools currently offering military-style education.
This is the Moss Mid­dle School Lead­er­ship Corps, part of the grow­ing trend of mil­i­tary-style edu­ca­tion for pre-adolescents.
Mid­dle school mil­i­tary pro­grams are younger cousins of the Junior Reserve Offi­cers' Train­ing Corps (JROTC), a Pen­ta­gon pro­gram taught by retired mil­i­tary offi­cers and present in more than 3,500 high schools nation­wide. Although there are strong sim­i­lar­i­ties with JROTC— mil­i­tary-style uni­forms, close-order drills, a cur­ricu­lum that empha­sizes patri­o­tism and mil­i­tary his­to­ry — the key dif­fer­ence is that JROTC is sup­port­ed by fed­er­al funds and mid­dle school mil­i­tary pro­grams are not, by fed­er­al law. That means the con­tin­ued exis­tence of the mid­dle school pro­grams depends on state or dis­trict fund­ing and, in some cas­es, char­i­ta­ble contributions.
Although the local­ized nature of the pro­grams and the vari­ety of names they go by — most com­mon­ly ​"lead­er­ship corps" or ​"cadet corps" — make them dif­fi­cult to quan­ti­fy, a review of pro­grams by In These Times in more than a dozen states found that there are at least 97 pub­lic mid­dle schools cur­rent­ly offer­ing mil­i­tary-style education.
A dri­ving force is the Fort Worth, Texas-based Nation­al Mid­dle School Cadet Corps (NMSCC), a non­prof­it that sup­plies cur­ricu­lum and sup­port to more than 50 mid­dle school mil­i­tary pro­grams nation­wide. In a 2013 pre­sen­ta­tion to Fort Worth school offi­cials, Jere­mi­ah Mar­shall, COO of NMSCC, dis­played a U.S. map with dozens of strate­gi­cal­ly affixed red dots. ​"Our goal and vision is to get a pro­gram every­where that you see one of those red dots," he said.
Though such pro­grams date back to the 1990s — begin­ning in Tul­sa, Okla­homa — it was only after a tremen­dous expan­sion of the pro­grams in the 2000s that mount­ing con­cerns about mid­dle school mil­i­tarism led to the first known cas­es of orga­nized resis­tance. In Feb­ru­ary 2004, at the height of grass­roots oppo­si­tion to the Iraq War, Los Ange­les-area activists con­vened a work­shop titled ​"Stop­ping Mil­i­tarism in Our Schools" that includ­ed extend­ed dis­cus­sion of mid­dle school mil­i­tary pro­grams. More sig­nif­i­cant and sus­tained orga­niz­ing has arisen in Louisville, Ken­tucky, where a local chap­ter of the Fel­low­ship of Rec­on­cil­i­a­tion (FOR) — a cen­tu­ry-old orga­ni­za­tion devot­ed to pro­mot­ing social jus­tice issues — has been at the fore­front of a cam­paign to block the mil­i­ta­riza­tion of a local mid­dle school.
Activist Chris Harmer, a mem­ber of Louisville FOR's steer­ing com­mit­tee, and his col­leagues leapt into action in Decem­ber 2012, when the coun­ty school board expressed inter­est in estab­lish­ing a ​"cadet acad­e­my" mag­net school at Myers Mid­dle School. To sup­port their case, coun­ty school board mem­bers pre­sent­ed an analy­sis of 900 high-school stu­dents by the school district's office of data man­age­ment. Their report con­clud­ed that JROTC stu­dents had bet­ter aca­d­e­m­ic out­comes, few­er dis­ci­pline prob­lems and high­er atten­dance than their non-JROTC peers.
Know­ing that the dis­trict would respect hard data more than activists' opin­ions, Harmer and his col­leagues invit­ed Jason Gain­ous, a polit­i­cal sci­ence pro­fes­sor at the Uni­ver­si­ty of Louisville, to scru­ti­nize the school district's study. At a school board meet­ing in Decem­ber 2013, Gain­ous unveiled his con­clu­sion: There was no sta­tis­ti­cal­ly sig­nif­i­cant dif­fer­ence between JROTC and non-JROTC stu­dents. Harmer says Gainous's study is ​"very embar­rass­ing to the school admin­is­tra­tion, which says it is com­mit­ted to evi­dence-based decision-making."
One of the most fre­quent­ly tout­ed claims by pro­po­nents of mid­dle school mil­i­tary train­ing is that the dis­ci­pline improves aca­d­e­m­ic and behav­ioral per­for­mance. How­ev­er, in what appears to be the only empir­i­cal study of this top­ic, a Uni­ver­si­ty of Hous­ton grad­u­ate stu­dent found that mid­dle school mil­i­tary pro­grams in three Texas school dis­tricts may lead to improved stu­dent atten­dance, but have no dis­cernible impact on read­ing and math scores. Crit­ics, seiz­ing on this lack of hard data, sug­gest that the most like­ly effect of these pro­grams is to encour­age youth to embrace the mil­i­tary as a career path.
So are such pro­grams sim­ply pro­mot­ing mil­i­tary careers to young chil­dren? In response to this ques­tion, Colonel Lar­ry Mor­den, exec­u­tive offi­cer of the Cal­i­for­nia Cadet Corps, a Nation­al Guard pro­gram with a pres­ence in approx­i­mate­ly 30 mid­dle schools, was emphat­ic: ​"The num­ber one goal is to pro­vide [the] cadet with lead­er­ship train­ing," he wrote in an email to In These Times. ​"We do NOT stress a mil­i­tary career."
How­ev­er, some pro­grams, like the one at Moss Mid­dle School, are explic­it­ly designed to pre­pare stu­dents for high school JROTC, which (accord­ing to the military's own sur­veys) sends about 40 per­cent of its grad­u­ates into the military.
Oppo­nents of mid­dle school mil­i­tary train­ing pro­grams often cite the appar­ent eth­nic pro­fil­ing of poor and minor­i­ty chil­dren. In 2003, two teach­ers' union activists pre­sent­ed res­o­lu­tions to the Los Ange­les school board to lim­it mil­i­tary pro­grams' out­reach and expan­sion, in which they not­ed that the Cal­i­for­nia Cadet Corps' mid­dle school pro­grams were ​"con­cen­trat­ed dis­pro­por­tion­ate­ly in low income, work­ing class communities."
Today, that pat­tern appears to hold. For exam­ple, the mil­i­tary pro­gram is cur­rent­ly present in eight of the 10 mid­dle schools in Comp­ton, one of the state's poor­est cities, where Lati­nos make up two-thirds of the pop­u­la­tion. At Myers Mid­dle School in Louisville, 69 per­cent of stu­dents are minori­ties and more than 80 per­cent qual­i­fy for free or reduced-price school lunches.
Crit­ics argue that equal­i­ty of edu­ca­tion­al oppor­tu­ni­ty is under­mined when schools over-expose African-Amer­i­can and Lati­no stu­dents at such a young age to the armed ser­vices. Mil­i­tary train­ing pro­grams can chew up a large por­tion of the school bud­get, leav­ing lit­tle room for aca­d­e­m­ic enrich­ment like music or after-school pro­grams — or even more basic fare, like col­lege prep class­es. Accord­ing to a 2006 report by UCLA's Insti­tute for Democ­ra­cy, Edu­ca­tion and Access, 73 per­cent of Los Ange­les Coun­ty high schools that offer JROTC ​"do not offer enough col­lege prepara­to­ry cours­es for all stu­dents to take a col­lege prepara­to­ry cur­ricu­lum." In Chris Harmer's words: ​"Poor and minor­i­ty kids are being tracked into mil­i­tary careers as ear­ly as sixth grade. That's what's so insid­i­ous about this."
Last Sep­tem­ber, the Fel­low­ship of Rec­on­cil­i­a­tion joined a coali­tion of near­ly 60 non-gov­ern­men­tal orga­ni­za­tions, aca­d­e­m­ic researchers and oth­ers to launch the cam­paign A Nation­al Call: Save Civil­ian Edu­ca­tion. Their goal: to resist fur­ther incur­sions from the mil­i­tary and to push oth­er pro­gres­sive orga­ni­za­tions to make the issue a priority.
At the same time, the cam­paign against mil­i­ta­riza­tion has led Louisville FOR — which is made up, Harmer says wry­ly, of ​"mid­dle-aged white left­ies"— to look at broad­er issues of race and class injus­tice. The group has joined a coali­tion focus­ing on anoth­er prob­lem in Louisville schools — racial dis­par­i­ties in stu­dent achievement.
"We need to con­tin­u­al­ly put our anti-mil­i­tarism work into the larg­er con­text," he wrote in an email to In These Times. What he and oth­er activists have called the ​"school-to-mil­i­tary pipeline" is an issue deeply con­nect­ed with anti-pover­ty and anti-racism work. Sim­ply put, Harmer added, ​"The work is an inte­gral piece of a broad­er move­ment toward a more just society."
Seth Ker­sh­n­er
is a writer and researcher whose work has appeared in out­lets such as Rethink­ing Schools, Sojourn­ers, and Boul­der Week­ly. He is the co-author (with Scott Hard­ing) of
Counter-Recruit­ment and the Cam­paign to Demil­i­ta­rize Pub­lic Schools
(Pal­grave Macmil­lan,
2015
).