Resister's Digest: Bernie Sanders Launches "Fight Back" Tour Against Trumpism
The senator hopes to build a Democratic party that is strong in all 50 states.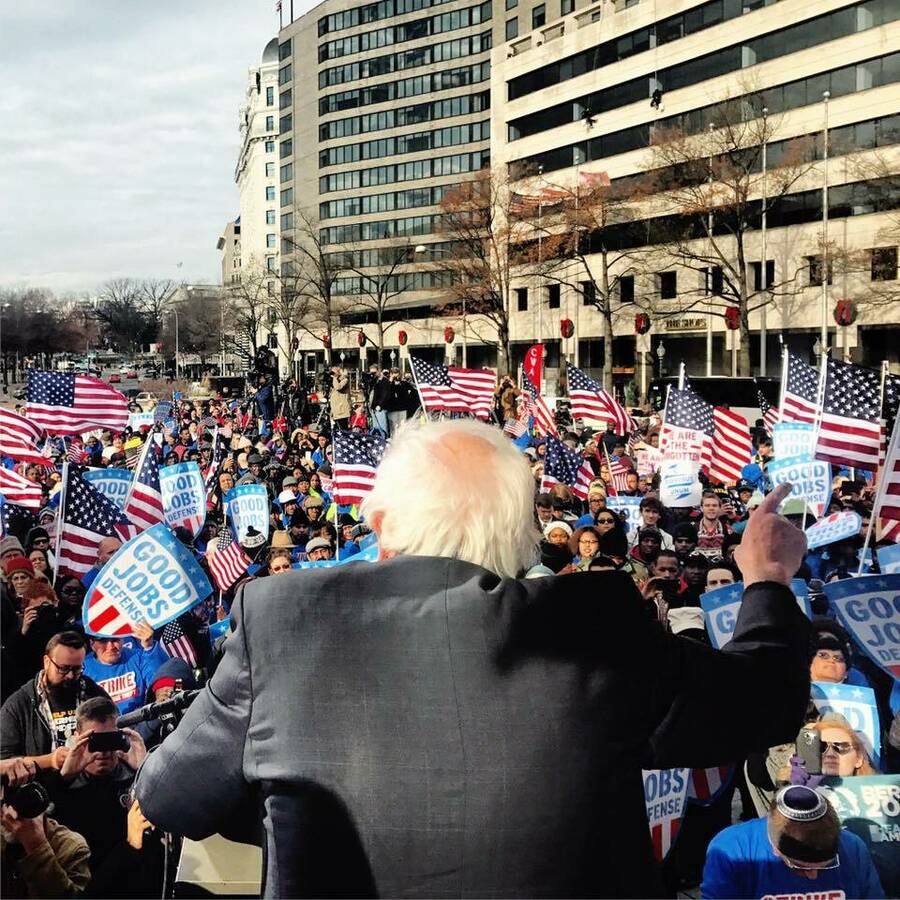 Resister's Digest is a week­ly roundup that spot­lights ways read­ers can con­nect with and learn about cam­paigns to oppose Pres­i­dent Don­ald Trump's agen­da, pro­tect human rights and pro­mote equal­i­ty. Have ques­tions or tips? Con­tact writer Theo Ander­son at theo@​inthesetimes.​com.
'It's clear that the energy on the left to protect Barack Obama's health care law—and oppose President Donald Trump—is still soaring.'
Ver­mont Sen. Bernie Sanders and the chair­man of the Demo­c­ra­t­ic Nation­al Com­mit­tee, Tom Perez, launch a tour of sev­er­al ​"red" and ​"pur­ple" states Mon­day, start­ing in Port­land, Maine. The tour then heads to Louisville, Ken­tucky, on Tues­day, Oma­ha, Nebras­ka, on Thurs­day, and Salt Lake City, Utah, and Mesa, Ari­zona, on Fri­day. Ral­lies are also ten­ta­tive­ly sched­uled for Flori­da, Mon­tana and Neva­da. Search for details here.
The tour will ​"begin the process of cre­at­ing a Demo­c­ra­t­ic Par­ty which is strong and active in all 50 states, and a par­ty which focus­es on grass­roots activism and the needs of work­ing fam­i­lies," accord­ing to an announce­ment by Sanders and Perez. Their pri­or­i­ties for the ​"Come Togeth­er and Fight Back Tour" include push­ing for a $15 min­i­mum wage and pay equi­ty for women, action on cli­mate change, reform­ing the immi­gra­tion and crim­i­nal jus­tice sys­tems and tax reform that ​"demands that the wealthy and large cor­po­ra­tions start pay­ing their fair share of taxes."
Sanders and his ideas have broad pop­u­lar sup­port. A Fox News poll released in mid-March found that 61 per­cent of respon­dents approve of him, while only 32 per­cent dis­ap­prove. And an Economist/​YouGov poll in ear­ly April found that 60 per­cent of respon­dents — includ­ing 46 per­cent of Repub­li­cans — sup­port expan­sion of the Medicare pro­gram to include all Amer­i­cans, a key issue for Sanders.
In Mon­tana, Sanders and Perez will help build sup­port for Rob Quist, the Demo­c­ra­t­ic can­di­date for the state's open House seat. Quist is a folk singer who's well-known in the state and has been endorsed by Sanders' orga­ni­za­tion, Our Rev­o­lu­tion. The elec­tion will be May 25. Quist recent­ly report­ed that he had raised $1.3 mil­lion for the cam­paign, most­ly through small con­tri­bu­tions. The Mon­tana race and the spe­cial elec­tion in Georgia's 6th Dis­trict, where Demo­c­rat Jon Ossoff is com­pet­ing against mul­ti­ple Repub­li­can can­di­dates on Tues­day, are being viewed as ear­ly gauges of the strength and mobi­liza­tion of the resis­tance to Trump.
More ​
"

furi­ous" town halls

Town halls are planned across the nation this week, as Con­gress con­tin­ues its recess. Halfway through the recess, Politi­co not­ed, ​"it's clear that the ener­gy on the left to pro­tect Barack Obama's health care law — and oppose Pres­i­dent Don­ald Trump — is still soaring."

MoveOn​.org main­tains a list of sched­uled events here. Indi­vis­i­ble offers a toolk­it of resources for mak­ing effec­tive use of the events here, includ­ing a primer on pol­i­cy pri­or­i­ties and a list of sam­ple ques­tions. The web­site FiveThir­tyEight tracks the vot­ing record of each mem­ber of Con­gress and ranks them accord­ing to how they align with, or against, Trump's agen­da. Find the ​"Trump Track­er" here.

Cov­er­age of Congress's first week of recess was bru­tal for the GOP. For exam­ple, Huff­in­g­ton Post said that House Repub­li­cans were ​"hav­ing the worst spring break ever." USA Today not­ed that many law­mak­ers had decid­ed to avoid town halls alto­geth­er. And The Hill report­ed from a ​"furi­ous" town hall of a New Jer­sey Republican.

Health­care reform has received most of the spot­light, but the town halls vary in their focus. In New York, for exam­ple, an event on Wednes­day, co-spon­sored by sev­er­al Indi­vis­i­ble and Demo­c­ra­t­ic groups, will fore­ground the future of immi­gra­tion in the Unit­ed States.
Ral­ly­ing for sci­ence and the planet
On Sat­ur­day, ​"sci­ence advo­cates, sci­ence edu­ca­tors, sci­en­tists, and con­cerned cit­i­zens" will stage a ​"March for Sci­ence" in Wash­ing­ton, D.C. About 500 more satel­lite march­es are sched­uled in towns and cities around the world. Orga­niz­ers note that ​"sci­ence is a vital fea­ture of a work­ing democ­ra­cy, spurring inno­va­tion, crit­i­cal think­ing, increased under­stand­ing, and bet­ter, health­i­er lives for all peo­ple," and they describe the march as ​"the first step of a glob­al move­ment to defend the vital role sci­ence plays in our health, safe­ty, economies, and gov­ern­ments." Go here to find a march, reg­is­ter for one and donate to the cause.
Sat­ur­day is also Earth Day, and var­i­ous ral­lies focused on envi­ron­men­tal­ism are planned through­out the week, such as a ben­e­fit for the Ver­mont chap­ter of the Sier­ra Club on Tues­day, the Min­neso­ta Water Action Day on Wednes­day, the Ral­ly for Water and Wildlife in Salem, Ore­gon, also on Wednes­day, and the Sus­taina­gan­za in Mis­soula, Mon­tana, on Thursday.
Sci­ence is increas­ing­ly under assault by the Trump admin­is­tra­tion and its allies in the con­ser­v­a­tive move­ment. For exam­ple, the Heart­land Insti­tute, a lib­er­tar­i­an think tank, has been dis­trib­ut­ing books and videos that cast doubt on the human con­tri­bu­tion to cli­mate change. Heart­land has so far mailed about 200,000 pack­ages to pub­lic school teach­ers, and it has ​"the goal of get­ting the mate­ri­als into the hands of every sci­ence teacher in the country."
The orga­ni­za­tion 314 Action is active­ly recruit­ing peo­ple with a sci­en­tif­ic back­ground to run for pub­lic office. Sign up here.
Build­ing bridges to Trump voters
Indi­vis­i­ble Berke­ley is host­ing a con­ver­sa­tion between soci­ol­o­gist Arlie Hochschild and lin­guist George Lakoff on the theme of ​"reach­ing out to Trump vot­ers." The event is Mon­day, and will be livestreamed (reg­is­ter here) and post­ed to the organization's web­site.
Lakoff is the author of Moral Pol­i­tics and oth­er books. Lis­ten to an inter­view with him about the pow­er of Trump's rhetoric on the ​"This is Your Brain on Trump" episode of the Make Me Smart pod­cast. Read a sum­ma­ry of it here. Hochschild is the author of Strangers in Their Own Land, an analy­sis of the nar­ra­tives and frame­works that shape the world­views of con­ser­v­a­tive vot­ers. Read the ITT review here.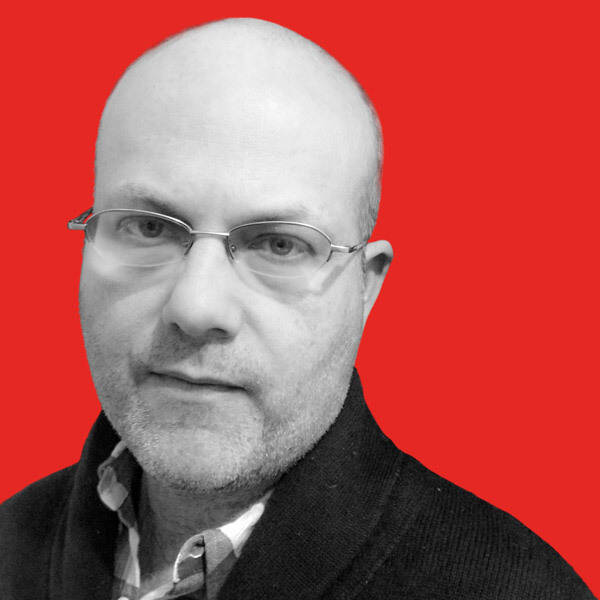 Theo Ander­son
is an In These Times con­tribut­ing writer. He has a Ph.D. in mod­ern U.S. his­to­ry from Yale and writes on the intel­lec­tu­al and reli­gious his­to­ry of con­ser­vatism and pro­gres­sivism in the Unit­ed States. Fol­low him on Twit­ter @Theoanderson
7
.