The One Thing Worse Than Big Dairy's Abuse of Cows? Its Abuse of Workers.
While the dairy industry's cruel treatment of cows has been well documented, workers face vile and often dangerous conditions.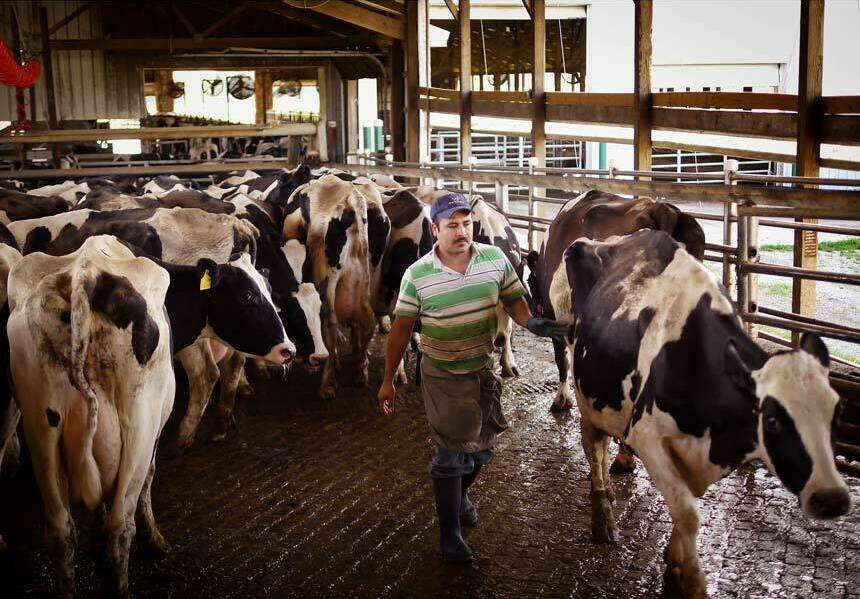 New Mexico's dairies, like almost all dairies in the Unit­ed States, nev­er stop run­ning. Cows are milked two or three times a day, every day. ​"Cows don't know hol­i­days," says Alfre­do Gomez, a 56-year-old dairy work­er in south­east­ern New Mex­i­co. ​"Here, there's no Christ­mas." For the vast major­i­ty of dairy work­ers in New Mex­i­co, as in most states, there's also no hol­i­day pay, no over­time, no sick pay and no work­ers' comp. They work in dirty, dif­fi­cult and some­times dan­ger­ous con­di­tions for an indus­try they're con­vinced val­ues milk over milkers.
Soto, who worked as a milker, says, 'Sometimes you're eating and taking a bite of a burrito, and a cow will shit on the burrito, and you have to throw it away.'
Dairy is big in New Mex­i­co. Big in num­ber of cows, with approx­i­mate­ly 320,000 statewide; big in aver­age herd size, with about 2,200 cows per dairy (the largest in the nation); and big in eco­nom­ic impact. Dairy is the num­ber one agri­cul­tur­al com­mod­i­ty in the state. The val­ue of New Mexico's milk pro­duc­tion topped $1.5 bil­lion last year. When you fac­tor in milk pro­cess­ing, goods and ser­vices pur­chased by the indus­try, and the wages work­ers spend local­ly, dairy's total eco­nom­ic impact on the state is over $4 bil­lion annu­al­ly. The indus­try also pro­vides more than 3,000 dairy jobs and 14,000 oth­er jobs statewide.
Big Dairy goes to great lengths to project a small image. It por­trays itself as com­prised of fam­i­ly farms, and as an indus­try deeply con­cerned about its cows and its work­ers. Pho­tographs on dairy co-op and lob­by­ing web­sites show clean black-and-white Hol­steins sprawled in lush green fields, with calves being bot­tle-fed by smil­ing young Anglos.
At best, that's a gross mis­rep­re­sen­ta­tion. Three-quar­ters of work­ers are Mex­i­can, and most of the milk pro­duced in New Mex­i­co (and nation­wide) comes from con­cen­trat­ed ani­mal feed­ing oper­a­tions, or CAFOs. Cows don't graze in green pas­tures. Instead, they are kept in cor­rals, stand­ing on dirt or, more fre­quent­ly, in the muck that is gen­er­at­ed by their urine and feces. A dairy cow expels as much as 150 pounds of manure a day.
"Basi­cal­ly, all the cows are walk­ing in the waste; nothing's clean," says Rober­to Achoa, a soft-spo­ken col­lege stu­dent who began work­ing in dairies as a sopho­more in high school. Like Gomez and all but two of the work­ers inter­viewed for this piece, Achoa request­ed a pseu­do­nym for fear of retal­i­a­tion from dairies.
Achoa is what's known as a cor­ralero, the per­son who dri­ves the cows from their pens to the milk­ing barns. Cor­raleros get plen­ty of exer­cise. ​"You walk and walk to get the cows and nev­er stop," says José Varela, who worked on dairies for sev­er­al years. ​"Maybe you're fat when you start, but in three months, you're a skele­ton." It's a dirty and treach­er­ous job. Achoa says, ​"Peo­ple sink into the waste, get stuck." Work­ing in pens with 200 or 300 cows has oth­er risks, explains José Mar­tinez, anoth­er cor­ralero. Dur­ing storms, the cows get scared: ​"They can turn around and run at you. They'll kick you, jump real high."
At milk­ing time, cows lum­ber from the cor­ral toward the milk­ing barns, the cor­ralero behind them, shout­ing and often wav­ing a small tow­el. The cows, who have done this thou­sands of times, know to file into the milk­ing barn and line up in two rows along raised plat­forms. Milk­ers move quick­ly up and down the plat­forms, milk­ing 2,000 or more cows in a shift.
"It's nasty [work]," says Matías Soto, a short, strong­ly built 59-year-old orig­i­nal­ly from Duran­go, Mex­i­co, who has worked in dairies in south­east­ern New Mex­i­co for three years. ​"We have aprons, [but they get] com­plete­ly cov­ered in manure and urine." The smell in a milk­ing barn can be nox­ious. Just a few min­utes in one can leave a last­ing foul taste in your mouth. But, work­ers say, you get used to it.
A fly on a CAFO's wall
On Sep­tem­ber 17, Mer­cy For Ani­mals (MFA), a Los Ange­les-based orga­ni­za­tion, released an under­cov­er video show­ing cows being phys­i­cal­ly abused at Win­ches­ter Dairy, locat­ed in Dex­ter, a tiny town in south­east­ern New Mex­i­co. The footage showed work­ers kick­ing and punch­ing cows, and using trac­tors to hoist up and drag ​"down­er cows," cows unable to stand.
"Win­ches­ter Dairy's own­ers allowed a cul­ture of cru­el­ty and neglect to flour­ish on this fac­to­ry farm for far too long," says Vand­hana Bala, gen­er­al coun­sel for MFA, adding that this was the organization's sixth under­cov­er oper­a­tion, and all six, con­duct­ed at dairies around the coun­try, found ​"hor­rif­ic ani­mal abuse."
"This leads us to believe that cru­el­ty and vio­lence run ram­pant in the dairy indus­try," Bala says. She adds that their inves­ti­ga­tions ​"result­ed in crim­i­nal ani­mal cru­el­ty con­vic­tions of work­ers, man­agers and even own­ers." Accord­ing to pub­lished reports, after the video's release, Win­ches­ter Dairy closed the farm and fired all of its work­ers, sup­ply­ing police with the names of the 11 ​"most abusive."
In the opin­ion of Tess Wilkes, a for­mer attor­ney at the New Mex­i­co Cen­ter on Law and Pover­ty (NMCLP) who has inter­viewed dozens of dairy work­ers, the Win­ches­ter Dairy work­ers were ​"unfair­ly blamed for an abuse that is actu­al­ly just a glimpse of a much larg­er prob­lem" in an indus­try where ​"prof­its are para­mount." Work­ers are under pres­sure to move the cows quick­ly and rarely receive any kind of train­ing. Indeed, Bala says that MFA's under­cov­er inves­ti­ga­tor, who worked as a cor­ralero, received no train­ing dur­ing the time of the investigation.
This appears to be typ­i­cal. ​"There's no train­ing — you just start work­ing," says Gus­ta­vo Varela, who, along with his broth­er José, were the only two work­ers will­ing to have their real names used. Gus­ta­vo worked at dairies for 10 years, feed­ing calves. Angel­i­ca Rosario, one of the very few female dairy work­ers, worked as a milk­er for a year and a half and agrees with Varela. ​"You just watch oth­er peo­ple" to learn the job, she says.
The lack of train­ing endan­gers not only cows, but also work­ers. Work­ing with large ani­mals pos­es a real risk of injury. In 2012, Wilkes was part of a team at the NMCLP that inter­viewed about 60 work­ers from var­i­ous dairies in the state. Almost 80 per­cent of the work­ers said they had nev­er received any safe­ty training.
Most of the cows are docile, but not all. ​"The younger ones are dan­ger­ous," says Anto­nio Jiménez, who worked in a dairy out­side of Roswell dur­ing high school. ​"They don't know how to be milked and [they] kick. Some­times the ones that have just giv­en birth [are dan­ger­ous], too." The NMCLP sur­vey found that 53 per­cent of the work­ers inter­viewed had been injured on the job, often more than once, and some­times seriously.
In March, Matías Soto was work­ing as a milk­er at a dairy in south­east­ern New Mex­i­co. Some­how, a bull had got­ten mixed in with the cows and stuck in one of the milk­ing par­lor gates. As Soto was try­ing to free the bull, he says, ​"It low­ered its head and attacked me, lift­ing me 6 or 7 feet in the air. I hit my head on the con­crete floor." His skull frac­tured. But, he says, he wasn't tak­en to the ER in Arte­sia, about 40 miles away, for three hours. He then had to be air­lift­ed to a hos­pi­tal capa­ble of han­dling his injury. The cost of the heli­copter alone was more than $60,000, and Soto's hos­pi­tal bills were in ​"the tens of thou­sands of dol­lars," says María Martínez Sánchez, a for­mer attor­ney at the NMCLP who worked with Soto. And the dairy had no work­ers' com­pen­sa­tion insurance.
Its med­ical insur­ance cov­ered Soto's med­ical bills, but not all of the heli­copter costs. Instead, says Martínez Sánchez, Soto went into debt, bor­row­ing from friends and rel­a­tives, although he even­tu­al­ly received a small amount of mon­ey in a set­tle­ment with the dairy.
Injuries: part of the job
Work­ers' comp is designed to cov­er a por­tion of work­ers' med­ical expens­es and lost wages if they're hurt on the job. In Soto's case, it would have cov­ered all of his acci­dent-relat­ed bills, plus some of the wages he lost dur­ing the time he had to take off work.
Require­ments vary from state to state, and New Mex­i­co has long exempt­ed dairies and farms from hav­ing to insure field work­ers and peo­ple work­ing direct­ly with ani­mals. In 2011, in a law­suit brought by three dairy work­ers (on which Martínez Sánchez was an attor­ney), a Dis­trict Court judge declared the exemp­tion uncon­sti­tu­tion­al. But New Mexico's Work­ers' Com­pen­sa­tion Admin­is­tra­tion (WCA) appealed, argu­ing that the rul­ing only applied to the three work­ers named in the suit. The WCA web­site now says that farm and ranch employ­ers are"strongly encour­aged" to get worker's comp and that sev­er­al pend­ing cas­es will clar­i­fy the law.
Although Soto's injury occurred after the 2011 rul­ing, many dairies were still not car­ry­ing the insur­ance because of the WCA's ini­tial state­ment. With­out work­ers' comp, ​"either the work­er doesn't get med­ical care, they go into great debt, or they are so injured they have to go to the emer­gency room, and the tax­pay­er pays," says Martínez Sánchez. ​"As tax­pay­ers, we're sub­si­diz­ing the agri­cul­tur­al industry."
Not all injuries are as cat­a­stroph­ic as Soto's, but injuries are part of the job. Unless debil­i­tat­ed, how­ev­er, dairy work­ers are loathe to take time off. Pedro Gar­cia says he didn't go on sick leave ear­li­er this year when a cow stepped on his foot, frac­tur­ing it. ​"The boss said I have to work," he says. ​"If you miss a day, you get fired." That's exact­ly what Juan Álvarez, a 37-year-old from Chi­huahua, Mex­i­co, says hap­pened to him: A cow kicked him, break­ing his leg, and he was out of work for three months. Although the dairy paid for his hos­pi­tal stay, he lost his job.
Fran­cis­co Pare­des is a major­do­mo (super­vi­sor) at a large dairy out­side of Clo­vis and, sur­pris­ing­ly, he was will­ing to talk about dairy work, which he's done for close to 30 years. Even he is not salaried, and is reluc­tant to take any time off. ​"If I do not work a day, I do not earn any mon­ey," he says. ​"The patron makes the rules. We know noth­ing of the law, noth­ing of the gov­ern­ment. If I or anoth­er work­er has some­thing to do … or I am sick, I have to find the replace­ment and pay them." Although work­ers at some dairies said their employ­er han­dles this, many said it was their respon­si­bil­i­ty — sim­ply the way things are done.
In years of work­ing with agri­cul­tur­al work­ers, Martínez Sánchez says she hasn't heard any­thing like this. ​"It's out­ra­geous," she says, her voice ris­ing with anger. ​"It's absolute­ly ille­gal. You can't make some­body pay some­body else. To own­ers of dairies, these work­ers are expend­able, almost not human. One gets sick or injured, and they're out the door. There are count­less more to take that posi­tion. It's very cal­lous, demor­al­iz­ing and dehumanizing."
No laws, no problem
Rober­to Achoa start­ed work­ing as a cor­ralero in a dairy in south cen­tral New Mex­i­co when he was 16. The Depart­ment of Labor (DOL) places no restric­tions on 16-year olds work­ing in agri­cul­ture. Like many high school stu­dents in that area, Achoa worked after school from 4 p.m. to 11 p.m., plus from 7 a.m. to 3 p.m. on Sat­ur­days. ​"The hours they gave you [meant] you got out of school, went straight to work, got out at 11, go to sleep and then school starts," he says. The only time he'd get a day off is when he'd show up only to be sent home because the dairy had too many workers.
The work is non­stop. Although some work­ers say they get a lunch break— rang­ing from 30 min­utes to just 5 — the major­i­ty say they get no breaks. ​"You're eat­ing your bur­ri­to," says Mar­tinez, the cor­ralero, ​"and a damn cow's shit­ting right next to you." Or worse. Soto, who worked as a milk­er, says, ​"Some­times you're eat­ing and tak­ing a bite of a bur­ri­to, and a cow will shit on the bur­ri­to, and you have to throw it away." Diego Jac­in­to has worked in dairies for over 10 years and has a spe­cial tech­nique for keep­ing flies and manure off his meals. He demon­strates, mim­ing that he is hold­ing a bur­ri­to. He pre­tends to take a bite and then quick­ly stuff it under his shirt as he hur­ries along.
Dairy own­ers may not be vio­lat­ing any laws by deny­ing work­ers breaks. Accord­ing to the DOL, the Fair Labor Stan­dards Act ​"does not require breaks or meal peri­ods be giv­en to work­ers." Any breaks are con­sid­ered a ​"ben­e­fit [and] a mat­ter of agree­ment between the employ­er and the employ­ee." Nor does New Mex­i­co law require breaks.
Peo­ple con­tin­ue to do dairy work because it's steady, year-round employ­ment and, at least on the sur­face, it pays well com­pared to oth­er farm work, which is often the only alter­na­tive in the area. But it's chal­leng­ing to get accu­rate data on how much the aver­age dairy work­er actu­al­ly earns, and few sources are in agree­ment. Sur­veys have found aver­age annu­al salaries any­where from $22,000 (in Atlanta) to $29,000 (in Den­ver). Com­pared with oth­er agri­cul­tur­al work, that seems like decent pay. But a clos­er look reveals it's not.
Alfre­do Gomez is a youth­ful 56, with short-cropped gray hair and a neat­ly trimmed mus­tache. He's a friend­ly man, but he doesn't like smil­ing for pho­tographs because he's miss­ing most of his front teeth. His job is feed­ing the cows, which he says isn't too stren­u­ous, although he wakes up at 2:30 a.m. and works 12-hour days.
Like most dairy work­ers, Gomez is paid a dai­ly rate and doesn't know his hourly wage — and it's near­ly impos­si­ble to fig­ure out. His biweek­ly pay stubs con­tain no record of days or hours worked. He made just over $34,000 in 2013, a decent salary, but he worked 12 hours a day, six days a week, and some­times more. Based on his typ­i­cal sched­ule, that means his hourly rate was some­where between $7.84 and $9.20. He nev­er received over­time pay.
Most work­ers inter­viewed for this arti­cle said they had to work an hour or two past their shift sev­er­al times a week with­out com­pen­sa­tion. The NMCLP sur­vey found the same.
By fed­er­al and New Mex­i­co law, dairy work­ers — and all farm­work­ers — are exempt from get­ting paid over­time. And, accord­ing to Wilkes, they're not enti­tled to any addi­tion­al pay even when they work extra hours, as long as they are mak­ing more than the min­i­mum wage and have no writ­ten con­tract enti­tling them to more pay, an arrange­ment that's almost unheard of in agriculture.
In addi­tion, many work­ers go unpaid dur­ing train­ing (if they receive any). Work­ers inter­viewed for this arti­cle talked about unpaid train­ing peri­ods that last­ed up to two weeks. That's almost cer­tain­ly ille­gal. Accord­ing toJoy Fore­hand, the deputy cab­i­net sec­re­tary at New Mexico's Depart­ment of Work­force Solu­tions, ​"In gen­er­al, if an employ­er requires employ­ees to attend… work-relat­ed train­ings, the employ­er must pay for that time."
Despite every­thing, very few work­ers com­plain, afraid they will be fired and black­balled. Near­ly half of the work­ers sur­veyed by Wilkes said they want­ed to com­plain about work­ing con­di­tions, but vir­tu­al­ly all decid­ed not to because of fear of retal­i­a­tion. Adding to the fear is the fact that, accord­ing to Wilkes' esti­mates, more than half of the work­ers are undoc­u­ment­ed. ​"Dairies pre­fer these peo­ple," says Jac­in­to, ​"because they are afraid to com­plain." If work­ers don't speak out and file law­suits, work­ing con­di­tions are unlike­ly to change.
But there's an inter­est­ing class-action law­suit being brought by two con­sumers against DariGold, one of the largest dairy proces­sors in the coun­try, that may bring some relief to work­ers in the North­west and set an exam­ple. Milk is pro­vid­ed to the Seat­tle-based DariGold by the 550 mem­ber dairies of the North­west Dairy Asso­ci­a­tion. DariGold's 2010 Cor­po­rate Social Respon­si­bil­i­ty Report states that its sup­pli­ers pro­vide excel­lent care for their ani­mals, are con­cerned for work­ers' safe­ty and pro­vide a ​"cul­ture of respect and engage­ment." Accord­ing to the law­suit, that's far from true: Cows are mis­treat­ed and work­ers are denied basic labor rights such as lunch breaks, drink­able water and an envi­ron­ment free of dis­crim­i­na­tion. If suc­cess­ful, the law­suit could change not only DariGold's mar­ket­ing but also how work­ers and cows are treat­ed, and serve as a mod­el for lit­i­ga­tion in oth­er states.
Work­ers in New Mexico's dairy regions don't have many options for work. In the south­east, it's the dairies or the oil fields, which pay bet­ter but are more dan­ger­ous and far­ther from work­ers' homes. In the south cen­tral region, it's dairies or farm work, which pays even less. So work­ers stay qui­et and trudge in day after day, know­ing how lit­tle they're val­ued. Every work­er inter­viewed for this arti­cle was asked if they believed dairy own­ers val­ued cows or work­ers more. With­out hes­i­ta­tion, each answered, ​"Cows."
Angel­i­ca Rosario adds, ​"They treat the cows like a per­son and the work­ers like slaves."
This report­ing was sup­port­ed by the Fund for Inves­tiga­tive Jour­nal­ism.
Joseph Sor­renti­no
is a writer and pho­tog­ra­ph­er. He has been doc­u­ment­ing the lives of agri­cul­tur­al work­ers on both sides of the U.S./Mexico bor­der for
12
years.