What We Got Wrong When Covering the Bill Clinton Sexual Abuse Allegations
In this #MeToo moment, looking back at our coverage.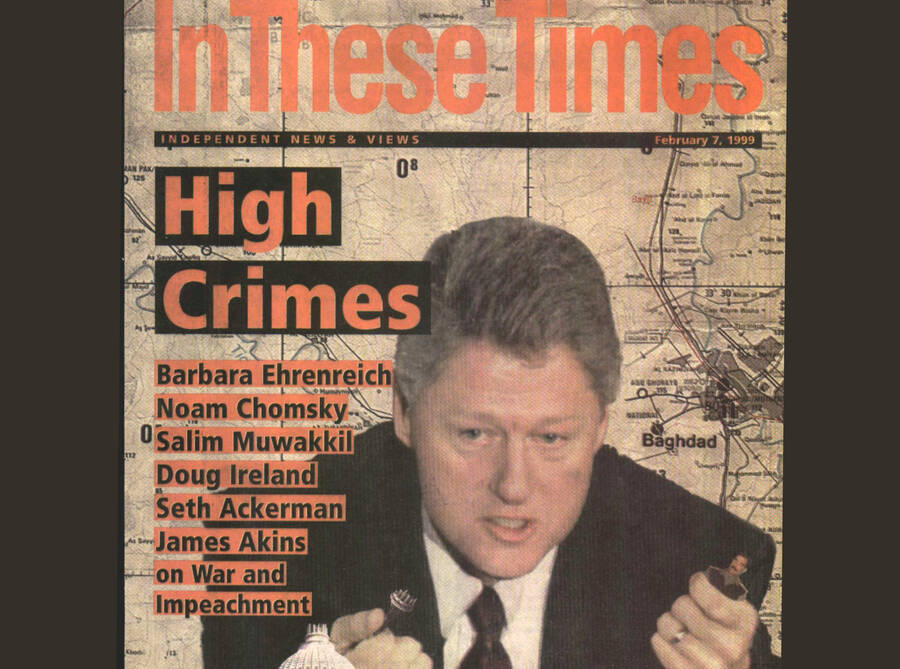 The Har­vey Wein­stein rev­e­la­tions have stirred up uncom­fort­able ques­tions about the past. On Nov. 10, 2017, MSNBC host Chris Hayes (senior edi­tor at In These Times from 2005 to 2006) tweet­ed:
We were right to question Kenneth Starr's integrity; as independent progressive media, we have a mandate to correct right-wing distortions. But in the 1990s, we let the political battles blinker our ability to see what was unfolding on the national stage.
As gross and cyn­i­cal and hyp­o­crit­i­cal as the right's ​

"

what about Bill Clin­ton" stuff is, it's also true that Democ­rats and the cen­ter left are over­due for a real reck­on­ing with the alle­ga­tions against him.
In that spir­it, we look back at In These Times' cov­er­age of the events. From 1998 through 1999, In These Times pub­lished 22 arti­cles dis­cussing the Mon­i­ca Lewin­sky scan­dal. One recur­ring theme was the nefar­i­ous­ness of Inde­pen­dent Coun­sel Ken­neth Starr, who, after spend­ing $40 mil­lion on fruit­less inves­ti­ga­tions into File­gate, Trav­el­gate and White­wa­ter, start­ed look­ing at any­thing that might bring down the Clin­ton administration.
In the issue dat­ed Oct. 14, 1998, Robert Par­ry wrote:
We are wit­ness­ing a kind of post­mod­ern polit­i­cal coup against the pres­i­dent, over charges that are essen­tial­ly triv­ial: a pathet­ic attempt to con­ceal a tawdry extra­mar­i­tal affair. Cer­tain­ly, the offense pales in seri­ous­ness when com­pared to the con­sti­tu­tion­al vio­la­tions com­mit­ted by Richard Nixon in Water­gate and by Ronald Rea­gan and George Bush in the Iran-Con­tra and relat­ed scandals.
The pre­vi­ous March, in his col­umn, ​"School for Scan­dal: Ken­neth Starr Grad­u­ates Vale­dic­to­ri­an," Joel Blei­fuss wrote:
Mon­i­ca Lewin­sky, the

24

-year-old for­mer intern who alleged­ly had sex­u­al rela­tions with the pres­i­dent, is not par­ty to a con­spir­a­cy. Clin­ton may have had an affair with the young woman, but that has no bear­ing on the fact that, in a larg­er sense, Hillary Clin­ton is right: A strong case can be made that the Repub­li­can right orches­trat­ed this scan­dal in an ongo­ing attempt to destroy the Clin­ton pres­i­den­cy. Like pre­vi­ous Clin­ton scan­dals, this sto­ry fol­lows a famil­iar tra­jec­to­ry, pass­ing from par­ti­san insid­ers to the right-wing media to Inde­pen­dent Coun­sel Ken­neth Starr's end­less inves­ti­ga­tion — and from there into the nation­al news. If this lat­est scan­dal is like the oth­ers, it will even­tu­al­ly all come to naught.
Today, Joel, now edi­tor and pub­lish­er, says that, ​"rather than describe Bill Clin­ton and Mon­i­ca Lewinsky's 17-month-long sex­u­al rela­tion­ship as ​'an affair,' I could have asked: Is con­sen­su­al sex pos­si­ble between a 22-year-old White House intern and the pres­i­dent of the Unit­ed States?"
Econ­o­mist Julianne Malveaux was one of the few In These Times con­trib­u­tors to point out the pow­er imbal­ance between Lewin­sky and Clin­ton. Her Oct. 14, 1998, arti­cle, ​"The White House Play­ers Club," reads:
While par­ti­san Repub­li­cans say the Starr report is ​

"

not just about sex," it men­tions sex more than

500

times, lying a cou­ple hun­dred times, a cig­ar about

40

times and White­wa­ter only twice. It is impos­si­ble for this pro­gres­sive Demo­c­ra­t­ic fem­i­nist to argue in sup­port of Pres­i­dent Clinton's behav­ior, but it is equal­ly impos­si­ble to argue that Starr's report is about any­thing but polit­i­cal entrap­ment. … Hav­ing said all that, where does that leave women in the work­place? Mon­i­ca Lewin­sky is no dif­fer­ent from mil­lions of sub­or­di­nate women who have had to ​

'

use what they got to get what they want.' Some have done it con­sen­su­al­ly and eager­ly, oth­ers halt­ing­ly and under duress. In the lat­ter case, we call it sex­u­al harass­ment and pros­e­cute boss­es who coerce sex from their work­ers. Con­sen­su­al sex in the work­place, though, is not a vic­tim­less event. It boils up, spills over and poi­sons work­place inter­ac­tions. That's why the law and the pub­lic frown on author­i­ty fig­ures who use their pow­er to facil­i­tate rela­tion­ships with subordinates.
These are not always exploita­tive rela­tion­ships, but they have an exploita­tive appear­ance because of the imbal­ance of pow­er. Those who under­stand the inequal­i­ty of pow­er between men and women have con­sis­tent­ly been con­cerned with the inher­ent pos­si­bil­i­ty for coer­cion in Clin­ton-Lewin­sky type relationships.
In a fol­low-up tweet, Hayes post­ed a link to a sto­ry about Juani­ta Broaddrick's alle­ga­tion that in April 1978, then-Arkansas Attor­ney Gen­er­al Bill Clin­ton raped her in a Lit­tle Rock hotel room. In the wake of Wein­stein, Hayes asked, ​"Does this sound familiar?"
In Feb­ru­ary 1999, the New York Times, fol­low­ing an inter­view with Broad­drick, reported:
Short­ly after he arrived [at a pre­arranged busi­ness meet­ing in her hotel room], she said, Mr. Clin­ton moved close to her and tried to kiss her, suc­ceed­ing only in bit­ing her upper lip, hard. Then, she said, he forced her down on to the bed and had inter­course with her.
"

I was so total­ly sur­prised, total­ly shocked,'' she said.
After­ward, she said, he got up from the bed, put on his sun­glass­es, and while walk­ing to the door, said, ​

"

You'd bet­ter put some ice on that,'' refer­ring to her bruised and bit­ten lip. Then he left.
The name Juani­ta Broad­drick has nev­er pre­vi­ous­ly appeared in the pages of In These Times.
We were right to ques­tion Ken­neth Starr's integri­ty; as inde­pen­dent pro­gres­sive media, we have a man­date to cor­rect right-wing dis­tor­tions. But in the 1990s, we let the polit­i­cal bat­tles blink­er our abil­i­ty to see what was unfold­ing on the nation­al stage.
We became com­plic­it in sidelin­ing and silenc­ing women's reports of sex­u­al abuse. In the months ahead, with more rev­e­la­tions to come, we have a chance to do better.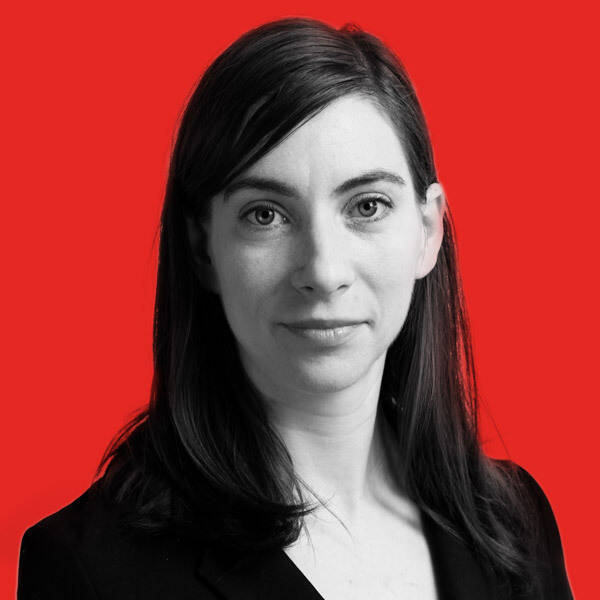 Jes­si­ca Stites is Exec­u­tive Edi­tor of In These Times, where she runs the Leonard C. Good­man Insti­tute for Inves­tiga­tive Report­ing and edits sto­ries on labor, neolib­er­al­ism, Wall Street, immi­gra­tion, mass incar­cer­a­tion and racial jus­tice, among oth­er top­ics. Before join­ing ITT, she worked at Ms. mag­a­zine and George Lakof­f's Rock­ridge Insti­tute. Her writ­ing has been pub­lished in the Los Ange­les Review of Books, Ms., Bitch, Jezebel, The Advo­cate and Alter­Net. She is board sec­re­tary of the Chica­go Read­er and a for­mer Chica­go Sun-Times board member.