Bioneers Bridge the Color Gap
Bioneers, or Biological Pioneers, are activists committed to green consciousness, racial reconciliation, organic, healthy sustainable foods and social justice coalitions.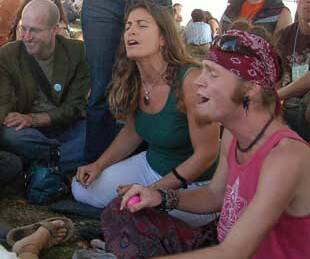 In Novem­ber, the Oxford Amer­i­can Dic­tio­nary announced that their Word of the Year was ​"car­bon neu­tral," which means, ​"cal­cu­lat­ing your total cli­mate-dam­ag­ing car­bon emis­sions, reduc­ing them where pos­si­ble, and then bal­anc­ing your remain­ing emis­sions." Greens may have fared poor­ly in the Midterm elec­tions, but they seem well on their way to win­ning the cul­ture war.
On the fore­front of the bat­tle to expand green con­scious­ness are the Bioneers (a con­trac­tion of ​"Bio­log­i­cal Pio­neers"), a group ded­i­cat­ed to unit­ing ​"nature, cul­ture and spir­it" (www​.bioneers​.org). Each year they con­vene for three days in Marin Coun­ty, Calif. (You can be one too if you cough of up the $50 annu­al mem­ber­ship fee).
The 17th Bioneers Con­fer­ence, held in Octo­ber, was like a pro­gres­sive hybrid of a yoga retreat and Burn­ing Man, replete with the oblig­a­tory drum cir­cles, dance par­ties and med­i­ta­tion work­shops. Inside, how­ev­er, dis­tin­guished speak­ers from var­i­ous fields spoke with an impres­sive thought­ful­ness, con­vic­tion and clarity.
Vet­er­an Bioneer Paul Hawken, a nat­u­ral­ist author and green busi­ness entre­pre­neur, per­formed an ide­o­log­i­cal coup when, speak­ing to the 3,000-plus crowd on the last day of the con­fer­ence, he rec­om­mend­ed that the Bioneers ded­i­cate them­selves next year to ​"racial under­stand­ing and reconciliation."
"It's very easy for the envi­ron­men­tal move­ment to turn to social jus­tice and say, ​'You should come on our bus and join us,' " Hawken said. ​"But I think that it's upside down and back­wards. Glob­al Warm­ing is injus­tice. It's a type of colo­nial­ism. We have to slow down and stop and change the bus. I think the envi­ron­men­tal move­ment has to get on the social jus­tice bus."
While Hawken's call came at the end of the week­end, the idea of coali­tion build­ing was preva­lent through­out. One of the most pop­u­lar speak­ers was Thomas Linzey, a rad­i­cal lawyer from Penn­syl­va­nia and co-founder of the Com­mu­ni­ty Envi­ron­men­tal Legal Defense Fund (CELDF), an orga­ni­za­tion that pro­vides free and afford­able legal ser­vices to those work­ing toward sus­tain­able communities.
Linzey, in a polo shirt and khakis, didn't look the part of the typ­i­cal Bioneer. But he and his part­ner Richard Gross­man have found a way to com­bat envi­ron­men­tal degra­da­tion while simul­ta­ne­ous­ly empow­er­ing com­mu­ni­ties. The two found­ed the Daniel Pen­nock Democ­ra­cy Schools, named after a 17 year-old boy who died from expo­sure to tox­ic sludge (now euphemisti­cal­ly called biosolids), which pro­vide three-day crash cours­es on the his­to­ry and work­ings of the U.S. gov­ern­ment. The aim is to teach stu­dents how to ​"reclaim their rights to demo­c­ra­t­ic self-gov­er­nance," par­tic­u­lar­ly in regards to rights now usurped by cor­po­ra­tions. Democ­ra­cy Schools now oper­ate in 26 states and more than 100 Penn­syl­va­nia munic­i­pal­i­ties have adopt­ed anti-cor­po­rate ordi­nances authored by CELDF.
The Bioneers' move­ment to com­bine green liv­ing and com­mu­ni­ty empow­er­ment does not stop with gov­ern­ment. Organ­ic, local­ly sourced agri­cul­ture has also proved a fer­tile vehi­cle for envi­ron­men­tal activism. At one pan­el, author and ​"slow food" activist Anna Lap­pé told the sto­ry of a feast she recent­ly attend­ed at Red Hook Farm in Brook­lyn. The farm employs young peo­ple from the com­mu­ni­ty (until recent­ly the neigh­bor­hood did not even have a gro­cery store) and teach­es them agri­cul­ture and job skills.
Lap­pé spoke of a young man who told her that before work­ing on the farm, the only pro­duce that he ate was the let­tuce and toma­toes on his burg­ers, but now his favorite food is bor­age – an edi­ble, lilac-col­ored flower. The boy took Lap­pé to the gar­den and told her, ​"This is bor­age, and it's the best thing you'll ever taste."
Urban farms like Red Hook are pop­ping up around the coun­try, pro­vid­ing low-income com­mu­ni­ties with access to healthy, sus­tain­able foods. Yet organ­ic options are still most­ly rel­e­gat­ed to high-end stores like Whole Foods and sus­tain­able lifestyles remain afford­able only to the rich. Con­nect­ing these strug­gles remains the next bat­tle for groups like the Bioneers.
As Hawken put it, ​"There can be no green move­ment unless there's a black, brown and cop­per-col­ored movement."
Chelsea Ross
is a Chica­go-based free­lance writer, pho­tog­ra­ph­er and graph­ic designer.