Cooperative Banking for Black Lives
After facing decades of disinvestment and targeting by powerful financial institutions, African-American-owned credit unions could offer a way to build economic power and grow black wealth.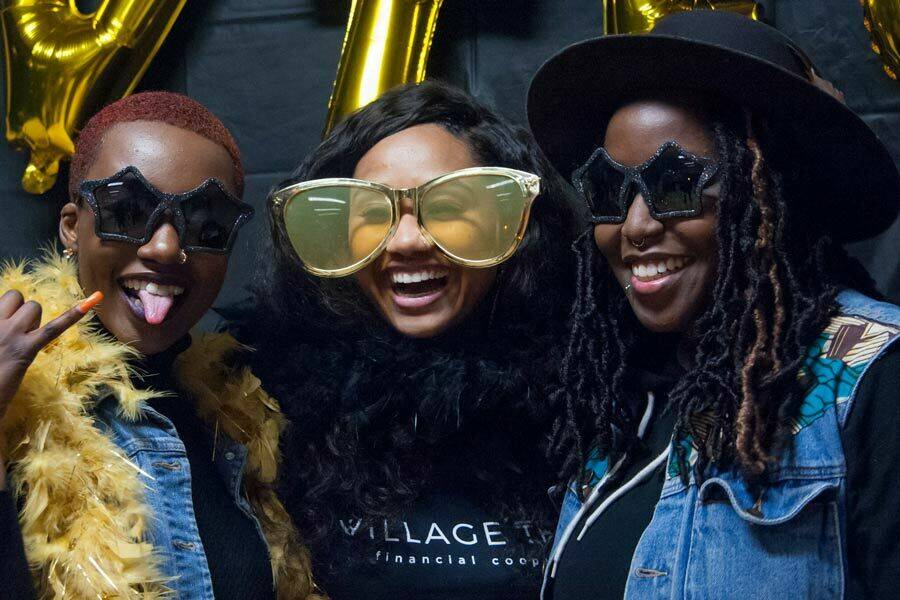 MIN­NEAPO­LIS — On an unsea­son­ably warm Fri­day in late Jan­u­ary, African-Amer­i­can busi­ness own­ers, activists, advo­cates, musi­cians, politi­cians and artists toast­ed with a ​"come-up" cock­tail: a healthy mix of Gold­schläger, vod­ka and sparkling cider over ice.
"It is critical we build our own structures for investment in our home communities," Jenkins said at the event.
A ​"come-up" sig­ni­fies mak­ing it to the next lev­el — and assem­bled com­mu­ni­ty mem­bers used the moment to reflect on recent progress and envi­sion the years to come. The par­ty, host­ed by the Asso­ci­a­tion for Black Eco­nom­ic Pow­er (ABEP) at its new office in North Min­neapo­lis, cel­e­brat­ed the grow­ing local move­ment to empow­er the black com­mu­ni­ty to invest in its own neigh­bor­hoods and divest from sys­temic harms (such as insti­tu­tions that extract local resources and wealth).
And there was much to cel­e­brate: For one, the 2017 city coun­cil vic­to­ries of event speak­ers Andrea Jenk­ins (the first African-Amer­i­can, open­ly trans woman to be elect­ed to pub­lic office) and Jere­mi­ah Elli­son (son of Min­neso­ta Con­gress­man Kei­th Ellison).
For anoth­er, ABEP's progress toward the cre­ation of an African-Amer­i­can cred­it union, Vil­lage Trust Finan­cial Coop­er­a­tive. The idea was born in the wake of the police killings of Phi­lan­do Castile in July 2016 and Jamar Clark in 2015, and the five Black Lives Mat­ter pro­test­ers shot by a white suprema­cist, also in 2015. For Me'Lea Con­nel­ly, it was too much. She won­dered how the black com­mu­ni­ty might, active­ly and demo­c­ra­t­i­cal­ly, deter­mine how to engage in protest with­out risk­ing the lives, bod­ies and men­tal health of its young people.
Con­nel­ly facil­i­tat­ed a num­ber of com­mu­ni­ty meet­ings that col­lec­tive­ly deter­mined to pur­sue a strat­e­gy of finan­cial divest­ment and rein­vest­ment, ulti­mate­ly decid­ing to build a cred­it union. They vot­ed on the name ​"Vil­lage Trust."
"It is crit­i­cal we build our own struc­tures for invest­ment in our home com­mu­ni­ties," Jenk­ins said at the event.
The black com­mu­ni­ty is high­ly tar­get­ed by mar­keters, aim­ing to cap­ture a buy­ing pow­er esti­mat­ed to reach $1.4 tril­lion by 2020. That's a lot of mon­ey to take out of giant cor­po­ra­tions and invest in local communities.
"We're in a moment where cor­po­rate pow­er is pret­ty high, wealth dis­par­i­ty is widen­ing," Elli­son said. ​"Being able to recap­ture that and say that we're going to cre­ate a class of folks who can afford to live in this coun­try com­fort­ably, not have one or two bil­lion­aires, but have plen­ty. … I think that's what it means to build black wealth."
His­tor­i­cal­ly, that wealth has been extract­ed from the com­mu­ni­ty. In the Twin Cities region, for exam­ple, from 2004 to 2006, half of mort­gages to blacks were sub­prime, com­pared to 10 per­cent to whites. Denied access to banks and cap­i­tal through racist prac­tices such as redlin­ing, pay­day loan loca­tions often become a community's default finan­cial insti­tu­tions, where an emer­gency loan of a few hun­dred dol­lars can car­ry a 450 per­cent inter­est rate.
"When you strip any com­mu­ni­ty of eco­nom­ic resources, what's left is vio­lence," Con­nel­ly tells In These Times. ​"The sys­tems of inequity are violent."
Vil­lage Trust's goal is to pro­vide an afford­able and acces­si­ble place to bank that keeps black wealth in the com­mu­ni­ty and builds it demo­c­ra­t­i­cal­ly. Vil­lage Trust's lead orga­niz­ers are ​"here as stew­ards to do what we're told," says Con­nel­ly, ​"and to make sure the enti­ty is sus­tain­able." ABEP has a page on its web­site where the com­mu­ni­ty can com­mu­ni­cate needs direct­ly to the cred­it union.
"Instead of talk­ing about stuff we can't fix our­selves, peo­ple pay atten­tion when you talk about mon­ey and chang­ing the way the sys­tem works," Kevin Chavis, a local polit­i­cal orga­niz­er and SEIU stew­ard, tells In These Times. ​"Where we move our mon­ey shows us where our val­ues are as well."
Con­nel­ly led the crowd in a call and response: ​"Those of you who were told you were too loud, too dis­rup­tive, who loved their hon­ey-dripped molasses voic­es too much to be qui­et, so we could — "
"Come up!" the par­ty called back.
"I want to hon­or the black women who … refused to put up so that we could — "
"Come up!"
At the end of the evening, ABEP exec­u­tive com­mit­tee mem­ber Amber Jones had a sim­ple request: Share their ideas with a friend.
"A lot of this work starts at the heart lev­el," Jones said. ​"We're not just cre­at­ing a cred­it union. We're cre­at­ing a movement."
Valerie Vande Panne
is an inves­tiga­tive fel­low with
In These Times
' Leonard C. Good­man Insti­tute for Inves­tiga­tive Reporting.