How the U.S. 'Solved' the Central American Migrant Crisis
By getting Mexico to do its dirty work—and making tens of thousands of migrants more vulnerable to rape, kidnapping, extortion and murder.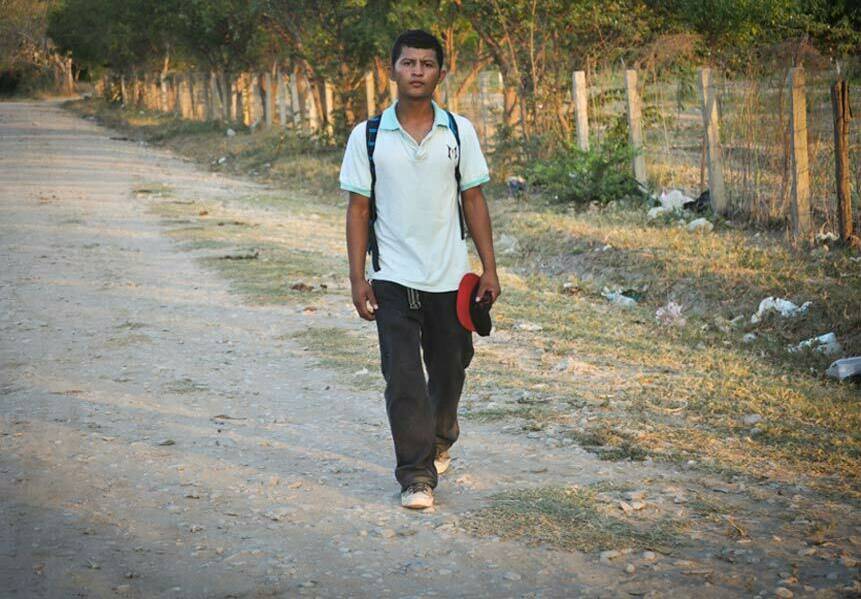 La Bes­tia is run­ning emp­ty now.
Amnesty International and other sources say that gangs routinely assault, rob, kidnap and murder Central American migrants. A 2010 report found that 60 percent of women migrating through Mexico were raped. WOLA estimates that 20,000 migrants are kidnapped each year.
For years, the freight trains col­lec­tive­ly known as ​"The Beast" car­ried Cen­tral Amer­i­can migrants north through Mex­i­co on their quest to reach the U.S. bor­der, flee­ing extreme pover­ty and vio­lence in their home coun­tries. Hun­dreds could be seen crammed on top of the cars, rid­ing between them or cling­ing to lad­ders on the sides. It's easy to fall off the bumpy trains. Many who do are killed or lose limbs. ​"It's dan­ger­ous — dan­ger­ous, but free," says San­tos Ricar­do Moli­na Cam­pos, a 37-year-old Sal­vado­ran who rode La Bes­tia when he migrat­ed to the Unit­ed States 24 years ago — and again in Decem­ber, after being deported.
But he's among the minor­i­ty. These days, the trains car­ry only a hand­ful of migrants, or none at all.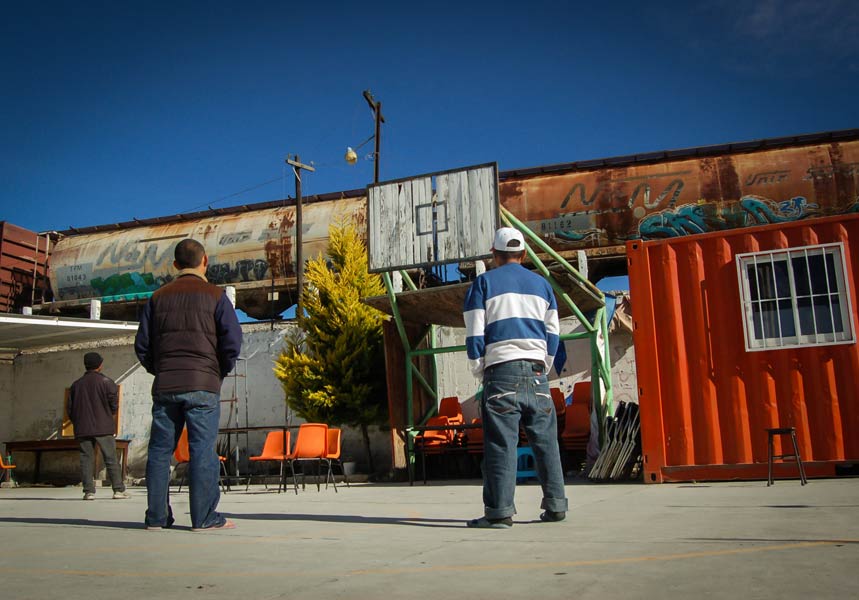 Migrants stop and stare as a freight train pass­es by La Sagra­da Famil­ia, a shel­ter in Apiza­co, Tlax­cala, Mex­i­co. The trains once car­ried hun­dreds of migrants.
Migrants haven't stopped com­ing; they've just been forced to find oth­er, even more dan­ger­ous routes. That's because of Pro­gra­ma Fron­tera Sur, Mexico's ​"South Bor­der Pro­gram," imple­ment­ed in July 2014 and aimed in large part at clear­ing the trains of migrants. The plan is the lat­est in a line of Mex­i­can poli­cies fund­ed or tac­it­ly endorsed by the Unit­ed States that have failed to curb — and some­times exac­er­bat­ed — what the Wash­ing­ton Office on Latin Amer­i­ca (WOLA) calls ​"one of the most severe human­i­tar­i­an crises in the West­ern Hemi­sphere": the rou­tine rape, assault, extor­tion, abduc­tion and mur­der of Cen­tral Amer­i­can migrants as they cross Mexico.
Stop­ping the surge
When news broke in June 2014 that an unprece­dent­ed 50,000 unac­com­pa­nied Cen­tral Amer­i­can chil­dren had arrived at the U.S. bor­der since Octo­ber 2013, the White House declared it an ​"urgent human­i­tar­i­an sit­u­a­tion." Pres­i­dent Barack Oba­ma met with Mex­i­can Pres­i­dent Enrique Peña Nieto ​"to devel­op con­crete pro­pos­als to address the root caus­es of unlaw­ful migra­tion from Cen­tral Amer­i­ca," accord­ing to a White House state­ment. Two and a half weeks lat­er, Peña Nieto announced Pro­gra­ma Fron­tera Sur.
The White House main­tains the pro­gram was ​"devel­oped by Mex­i­co and not a result of the meet­ing with Pres­i­dent Oba­ma in June."
Each of the dozen Mex­i­can and U.S. human-rights work­ers inter­viewed for this arti­cle, how­ev­er, had no doubt that U.S. pres­sure prompt­ed the immi­gra­tion pro­gram. ​"I think it is clear that, last sum­mer, the U.S. pres­sured Mex­i­co to increase these efforts [to crack down on migra­tion] as a way to help them deal with the ​'prob­lem' of Cen­tral Amer­i­cans flood­ing into South Texas," says Mau­reen Mey­er, WOLA's senior asso­ciate for Mex­i­co and migrant rights.
Car­los Bar­to­lo Solis, who directs a shel­ter near Mexico's south­ern bor­der that is often a first stop for migrants, agrees. ​"I believe Pro­gra­ma Fron­tera Sur is a response to U.S. poli­cies," he says. ​"I believe the Unit­ed States has pres­sured Mexico."
Daniel Ojal­vo, who has worked for two years at the Her­manos en el Camino shel­ter in Ixte­pec, Oax­a­ca, views the sit­u­a­tion this way: ​"The U.S. bor­der starts at Guatemala now."
It's also like­ly that U.S. funds are sup­port­ing Pro­gra­ma Fron­tera Sur. Accord­ing to a State Depart­ment spokesper­son, Mex­i­co has received more than $120 mil­lion for south­ern bor­der enforce­ment from the State Department's Meri­da Ini­tia­tive, an anti-nar­co­traf­fick­ing pro­gram. In tes­ti­mo­ny before the Sen­ate Appro­pri­a­tions Com­mit­tee in July 2014, three days after Pro­gra­ma Fron­tera Sur was announced, Ambas­sador Thomas A. Shan­non said the State Depart­ment ​"wel­comed" Mexico's new bor­der efforts and would com­mit $86 mil­lion to fund­ing them. The State Depart­ment did not answer In These Times' request for con­fir­ma­tion that this mon­ey was appropriated.
Osten­si­bly, Pro­gra­ma Fron­tera Sur is intend­ed to pro­tect migrants, ensure their safe­ty and erad­i­cate crim­i­nal groups that prey on them. In prac­tice, the plan makes it much more dif­fi­cult, and often impos­si­ble, for migrants to trav­el by any means except foot. Immi­gra­tion agents from the Insti­tu­to Nacional Migración, or INM, and police now rou­tine­ly stop trains and bus­es and detain any migrants they find.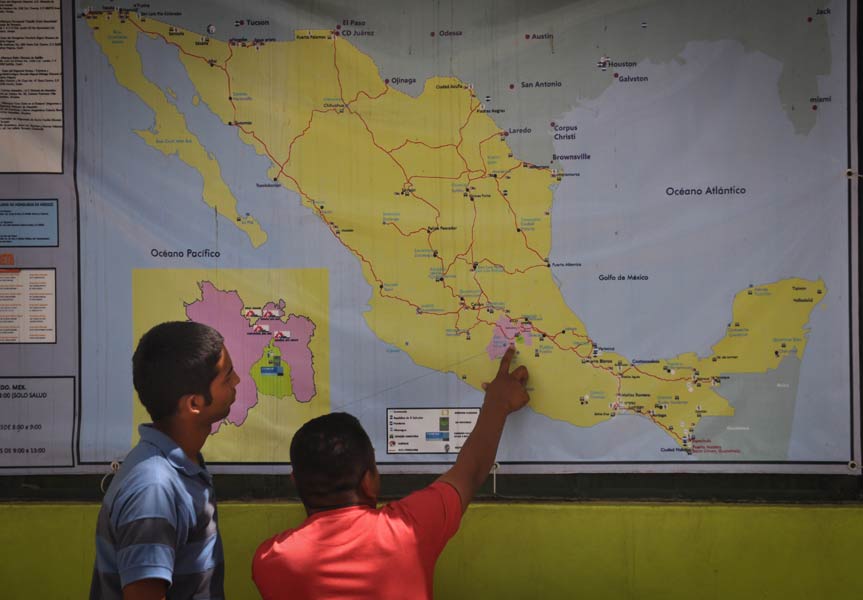 Two migrants in a shel­ter in Ixte­pec, Oax­a­ca, look over the routes they can take to the U.S. bor­der, more than 800 miles away.
The plan also calls for rail­road com­pa­nies to take steps to deter migrants. Some have increased the speed of trains so that migrants can't climb on board. In Apiza­co, Tlax­cala, a small city about 80 miles from Mex­i­co City, com­pa­nies have installed short con­crete poles next to the tracks to deter migrants from run­ning along­side and hop­ping the trains.
La Sagra­da Famil­ia, a shel­ter in Apiza­co, is locat­ed only about 30 feet from the embank­ment along which La Bes­tia runs. In Octo­ber, a few hours after leav­ing the shel­ter, a migrant named Arlem Nahúm Zepe­da Martínez attempt­ed to climb onto a slow-mov­ing train. He hit one of the con­crete poles and was swept under the train and killed. Car­la Patri­cia Juarez Peña, coor­di­na­tor of human and com­mu­ni­ty devel­op­ment at the shel­ter, says 14 migrants in Apiza­co have been injured by the new poles.
Some rail­road com­pa­nies, espe­cial­ly in the north, have also hired cus­to­dios, pri­vate secu­ri­ty, to keep migrants off the trains. They dress com­plete­ly in black, with masks (called pasa­mon­tañas) cov­er­ing their faces, max­i­miz­ing intim­i­da­tion. They often car­ry rifles and pis­tols. Migrants report cus­to­dios rob­bing them of what­ev­er they have: mon­ey, shoes, even their clothes.
"In Oriz­a­ba, cus­to­dios stole my mon­ey," says Juan Car­los Reyes Guillen, a 22-year-old Hon­duran stay­ing at the shel­ter in Apiza­co for a cou­ple of days in late Jan­u­ary. ​"The train was stopped and the cus­to­dios said, ​'Every­one down.' " Point­ing rifles at the migrants, they took 2,000 pesos (about $130) from Guillen. He had a few more pesos tucked in a shoe and was able to take a bus to the shelter.
Guillen is hop­ing to make it back to Dal­las, where he lived for 12 years. A few hours after we spoke, he packed his small back­pack. It con­tained show­er shoes, hair gel, toi­let paper and a small mir­ror, which he held up, smil­ing shy­ly. He zipped up the back­pack, shook my hand and head­ed north.
Worse than ​'The Beast'
Even before the Pro­gra­ma, the 400,000 Cen­tral Amer­i­can migrants who attempt to cross Mex­i­co each year faced grave risks. In addi­tion to the per­ils of La Bes­tia, there are the pre­da­tions of gangs. Reli­able sta­tis­tics are hard to come by, but Amnesty Inter­na­tion­al and oth­er sources say that gangs rou­tine­ly assault, rob, kid­nap and mur­der Cen­tral Amer­i­can migrants. A 2010 report found that 60 per­cent of women migrat­ing through Mex­i­co were raped. WOLA esti­mates that 20,000 migrants are kid­napped each year. A sur­vey of morgues and ceme­ter­ies by Mex­i­can news­pa­per Mile­nio found that an aver­age of 4,000 uniden­ti­fied bod­ies are buried annually.
But Pro­gra­ma Fron­tera Sur has made things even worse, accord­ing to the 60 advo­cates, shel­ter work­ers and migrants I inter­viewed dur­ing a sev­en-week trip this win­ter along one of Mexico's main migra­tion routes. Almost all of the 35 migrants I met spoke of walk­ing for days between shel­ters, on routes that exposed them to increased dan­ger. ​"More peo­ple are assault­ed, more women are raped, more peo­ple are dis­ap­pear­ing," says Ojal­vo, the shel­ter worker.
"We thought we could not see any­thing worse than the train," says Luís López-Lago Ortiz, who works with Scouts de Extremadu­ra, a Span­ish NGO. ​"But there is some­thing worse: walk­ing on the road."
An emer­gency shelter
In response to the flood of migrants trav­el­ing on foot, in Sep­tem­ber Padre Ale­jan­dro Solalinde, the founder of the shel­ter in Ixte­pec, opened an emer­gency shel­ter in Chahuites, Oax­a­ca, a small city about 100 miles east of Ixte­pec. Accord­ing to Car­los Mori­ano, the shelter's coor­di­na­tor, ​"Almost every­one reach­ing the shel­ter has been assaulted."
Chahuites is a poor town, filled with small hous­es con­struct­ed of unpaint­ed cin­der blocks, many with tin roofs. The entire front of the store adja­cent to the shel­ter has bars across it; mon­ey and mer­chan­dise are exchanged through the gaps. When I arrived in Feb­ru­ary, Mori­ano took me aside and told me nev­er to leave the shel­ter alone because of the risk of being robbed.
The shel­ter holds between 40 and 50 migrants in con­di­tions that resem­ble a refugee camp. It was pre­vi­ous­ly an aban­doned house, and with migrants arriv­ing dai­ly, there's been lit­tle time to fix it up. There's no pri­va­cy, no per­son­al space. Migrants sleep on thin mats in a small court­yard. In the morn­ing, the mats are rolled up and stored on shelves. There's just one show­er stall, one small util­i­ty sink for wash­ing up and brush­ing teeth, and a bath­room that's a cement toi­let over an open hole.
Migrants' shoes are bad­ly worn, and almost every migrant I observed walked with a limp. Like many, Isamel, a Hon­duran woman I met at the shel­ter, had a bad­ly infect­ed wound on her foot. She was trav­el­ing with her hus­band and cousin, walk­ing most of the time because ​"com­bis [vans] cost too much." On their way to the shel­ter in Arria­ga, Chi­a­pas, three men with guns took all their mon­ey: about 700 pesos ($50). But Isamel counts her­self lucky: ​"The impor­tant thing is they did not beat us, or rape." When asked how she could con­tin­ue after the assault and with an infect­ed foot, she said, ​"I do not care. We are leav­ing. That is the spir­it you have to have."
Until last sum­mer, there were few reports of migrants being assault­ed with­in Chahuites' bor­ders. Now that migrants are walk­ing through the town rather than rid­ing La Bes­tia, that has changed. One after­noon, Mori­ano asked if I want­ed to see the area where crim­i­nals attack migrants. I held up my cam­era. ​"Is it safe to bring this?" I asked. ​"Yes," he replied. ​"We are bring­ing machetes."
Eight of us left the shel­ter and walked along a well-worn dirt path that par­al­lels the train tracks. It's the same path migrants walk. Fif­teen min­utes lat­er, Mori­ano point­ed to an over­grown area on the oth­er side of the tracks, and we crossed. In a small clear­ing lay a woman's boot and some clothes. This is where women are tak­en to be raped.
On a barbed wire fence behind the clear­ing hung three pairs of women's under­wear, neat­ly pinned: sick tro­phies. A few feet away lay more cloth­ing and bras, and a dirty sleep­ing bag. A few weeks after my trip, Mori­ano and some vol­un­teers cleared the weeds from that area so it would be more eas­i­ly seen from the path and burned some can­dles to puri­fy it.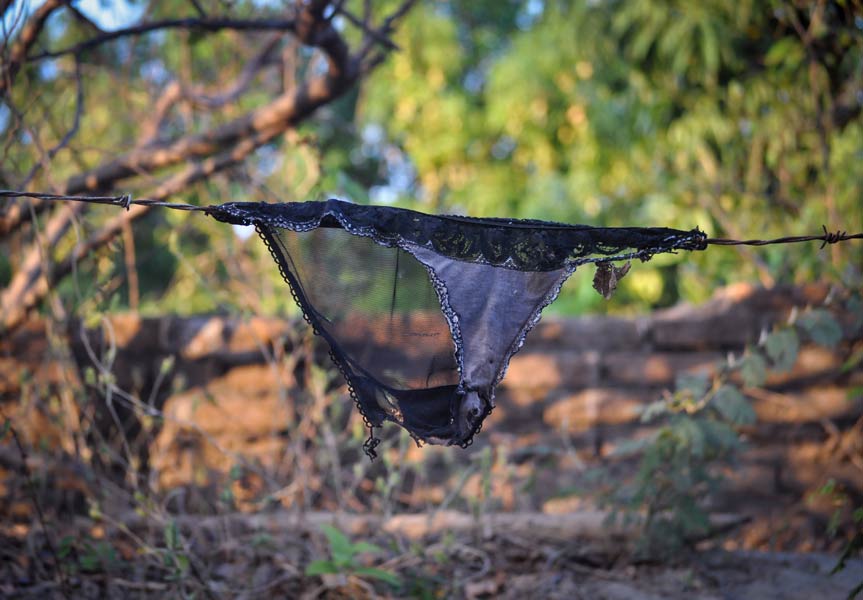 A woman's under­wear hangs on the barbed wire that rings an area in Chahuites, Oax­a­ca, where migrant women are raped.
Accord­ing to Mori­ano, some of the rapes in Chahuites are car­ried out by res­i­dents. ​"We hear this from some­one who tells some­one, who tells us," he says.
For the most part, how­ev­er, it's gangs that prey on migrants cross­ing Mex­i­co. Although the increased polic­ing of trains under the Pro­gra­ma is osten­si­bly to pro­tect migrants, there's no evi­dence it has curbed the pre­da­tions. The few migrants who still man­age to ride the trains remain sub­ject to extor­tion. Gangs demand a cuo­ta, or fee, of $100 from migrants who attempt to board trains in sev­er­al cities, includ­ing Palenque and Orizaba.
"We do not have that kind of mon­ey," says José Daniél Sanchez, an 18-year-old Hon­duran who could not afford the cuo­ta in Palenque. ​"We are poor. We are not the own­ers." Migrants who can't pay may get lucky, as Sanchez did, and sim­ply be passed over. But it's more like­ly they'll be beat­en and denied access to the trains, or thrown off, kid­napped or killed.
Deport at all costs
Pro­vi­sions in Pro­gra­ma Fron­tera Sur call for Mex­i­can agen­cies to respect migrants' human rights. That sounds good, but in prac­tice, says Alber­to Donis Rodríguez, coor­di­na­tor of the shel­ter in Ixte­pec, ​"It is total­ly the oppo­site. It is a vile hunt."
Accord­ing to every­one I inter­viewed, Pro­gra­ma Fron­tera Sur has brought a dra­mat­ic increase in what Mex­i­cans call oper­a­tivos: raids by police and INM on trains and bus­es, in which sus­pect­ed migrants are round­ed up and deport­ed. Migrants also report INM mak­ing arrests out­side shel­ters, which is ille­gal, and break­ing into hotel rooms where migrants are staying.
There are increas­ing reports of bru­tal force by INM offi­cials. Sev­er­al migrants said agents were using Tasers, and shel­ter direc­tors and advo­cates say they've heard this repeat­ed­ly. One migrant report­ed being shot at by INM agents. Anoth­er described an inci­dent in which INM agents set fire to a pas­ture to flush out migrants. Sev­er­al were report­ed­ly hos­pi­tal­ized with burns.
There are also dis­turb­ing reports about Grupo Beta, a unit of INM whose job is to give aid and pro­tec­tion to migrants. They're eas­i­ly rec­og­niz­able, dressed in bright orange shirts and kha­ki pants. ​"Before Pro­gra­ma Fron­tera Sur start­ed, they were real­ly a help," says one advo­cate, who asked not to be named. ​"Late­ly, every­thing has changed. We've had reports of migrants say­ing that they heard Grupo Beta mem­bers call­ing immi­gra­tion police to tell them where they were going to leave migrants so they could arrest them."
If the real intent of the Pro­gra­ma is to keep Cen­tral Amer­i­cans, par­tic­u­lar­ly chil­dren, from reach­ing the U.S. bor­der, it is work­ing. In the six months after the plan was enact­ed, depor­ta­tions of Sal­vado­rans, Hon­durans and Guatemalans from Mex­i­co rose by 34 per­cent, while appre­hen­sions of those Cen­tral Amer­i­cans by U.S. Bor­der Patrol dropped by 39 per­cent, accord­ing to sta­tis­tics pro­vid­ed by Bor­der Patrol. And the num­ber of unac­com­pa­nied Cen­tral Amer­i­can chil­dren appre­hend­ed at the U.S.-Mexico bor­der fell by 57 per­cent, from 45,000 in the first six months of 2014 to 19,000 in the last six months.
U.S. Immi­gra­tion and Cus­toms Enforce­ment does not expect anoth­er surge in Cen­tral Amer­i­can chil­dren migrat­ing this sum­mer. ​"I'm hap­py to say all the work we've done last year is bear­ing fruit," ICE Deputy Direc­tor Daniel Rags­dale said at the Bor­der Secu­ri­ty Expo in Phoenix in April. When asked what that work was, an ICE spokesper­son direct­ed In These Times to a press release about beefed-up U.S. bor­der staffing and technology.
Yet none of this will stop migra­tion. ​"If there is a wall, they will go around it," says Rubén Figueroa, coor­di­na­tor of the human rights group Sureste del Movimien­to Migrante Mesoamer­i­cano. In addi­tion to walk­ing along new routes, some are tak­ing boats along both the Pacif­ic Coast and the Gulf. Their rea­son­ing is sim­ple, says Ojal­vo: " ​'If I stay, I die. If I go, I may die.' They choose between cer­tain and pos­si­ble death."
Why they fled
Of the esti­mat­ed 400,000 Cen­tral Amer­i­can migrants who enter Mex­i­co each year, the over­whelm­ing major­i­ty plan to make it to the Unit­ed States. Most come from the North­ern Tri­an­gle coun­tries — Guatemala, Hon­duras and El Sal­vador — which are among the most impov­er­ished and vio­lent in the world. Accord­ing to the World Bank, as of 2011, 53.7 per­cent of Guatemalans live in pover­ty, defined as not hav­ing the resources or abil­i­ties to meet one's dai­ly needs (the equiv­a­lent of $1.25 per day in U.S. dol­lars). As of 2013, 29.6 per­cent of Sal­vado­rans live in pover­ty, and Hon­durans fare even worse, with 64.5 per­cent in pover­ty. In addi­tion, these coun­tries are plagued by unimag­in­able lev­els of vio­lence. A 2014 UN report revealed that Hon­duras has the world's high­est mur­der rate, El Sal­vador ranks fourth and Guatemala fifth. Much of this vio­lence stems from the gangs Mara 18 and Mara Sal­va­trucha (MS-13).
Both gangs start­ed in Los Ange­les in the 1980s. In 1996, the Unit­ed States began deport­ing gang mem­bers. ​"When they returned home," says WOLA's Mey­er, ​"they set up their gangs in Cen­tral Amer­i­ca and began recruit­ing more members."
That's just one thread in the Unit­ed States' tan­gled involve­ment with the North­ern Tri­an­gle, which goes back more than a cen­tu­ry. Notable ​"inter­ven­tions" include a CIA-backed coup in Guatemala in 1954, strong sup­port for the Sal­vado­ran mil­i­tary dur­ing the 1980 to 1992 civ­il war, and train­ing a Hon­duran army unit impli­cat­ed in killing civil­ians in the 1980s. These actions increased the insta­bil­i­ty — and vio­lence — in the region.
Most migrants I met were flee­ing gangs. César Augus­to Cruz, a 43-year-old Guatemalan, says that as a bus dri­ver, he had to pay 100 quet­za­les ($13) a week to the Mara 18.
"To live in my com­mu­ni­ty, you have to pay the gangs," says Jorge (who didn't want his last name used), a Sal­vado­ran migrant who earned $50 a week paint­ing build­ings. ​"If not, they will kill you. I have to pay $5 a week just to live on my own prop­er­ty." Jorge walked 20 days to trav­el the 500 miles from Ixte­pec to La Patrona, Ver­acruz, putting in about 25 miles a day. ​"It is like a marathon," he says, ​"but there is no prize at the end."
Extor­tion isn't the only way gangs prey on peo­ple: They also forcibly recruit young men. I met Her­bert, a qui­et 17-year-old Guatemalan, when he was stay­ing with his fam­i­ly at the shel­ter in Ixte­pec. His moth­er, who was with him dur­ing the inter­view, didn't want their last name used.
Her­bert was play­ing soc­cer one Jan­u­ary after­noon in a park near his home when mem­bers of a gang — he didn't spec­i­fy which — approached him. ​"They told me I had to go to a house of this gang mem­ber and if I didn't, they would kill my moth­er or broth­er," he says. ​"We arrived and the boss said, ​'If you do not join, we will kill all your fam­i­ly.' He said to go and return tomor­row." Her­bert went home and told his par­ents what had hap­pened. They packed up what they could and left that same day, walk­ing and tak­ing bus­es through Mex­i­co, aim­ing for the Unit­ed States. On one stretch, the fam­i­ly, includ­ing 8‑year-old José, walked 10 hours a day for four straight days.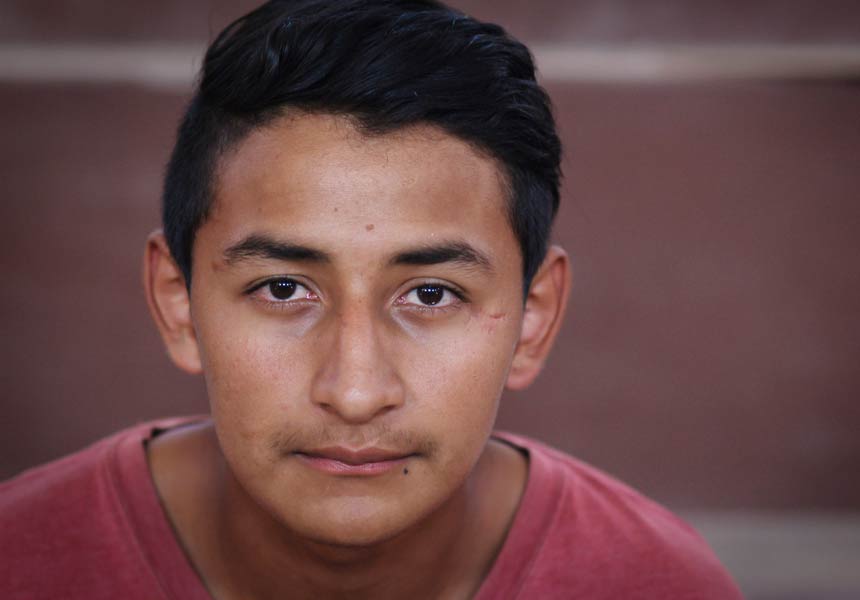 Her­bert, 17, in Ixtepec.
Out­side of La Refor­ma, a small town in Oax­a­ca, the fam­i­ly was robbed at gun­point. ​"They took all our mon­ey," says Herbert's moth­er, Mon­i­ca. That was 400 pesos (about $26), and they had to beg in the street for bus fare to the shel­ter. In spite of all this, Mon­i­ca remains opti­mistic they'll reach the U.S. bor­der and will be let in. She says a friend of hers had got­ten there and turned her­self over to U.S. author­i­ties. Because her friend had her two sons with her, they let her stay. Mon­i­ca plans to do the same thing. If they don't let her in, she wants to stay in Mex­i­co. ​"I can­not return to Guatemala," she says.
In addi­tion to gangs, many migrants are flee­ing nar­cos, or drug traders. Tomás Fran­cis­co Álavarez Nuñez, a for­mer Hon­duran sol­dier I met at the shel­ter in Apiza­co, was in a bat­tal­ion that pur­sued nar­cos. Dur­ing one oper­a­tion, some­one rec­og­nized him and tipped off the nar­cos.
"The nar­cos were look­ing for me," he says. ​"They knew where I lived, what I did." Know­ing they would kill him if they found him, he resigned from the army, and in ear­ly Jan­u­ary, he left Hon­duras. He knows that to return is a death sen­tence. When he was told it is increas­ing­ly dif­fi­cult to cross into the Unit­ed States, he said, ​"I pre­fer to be in prison than to return."
Natal­ie Reyes is one of the few migrants I met whose deci­sion to leave was pri­mar­i­ly a finan­cial one. A buoy­ant 22-year-old with large, dark eyes and a near­ly con­stant smile, she is also eight months preg­nant. She left Hon­duras four months ear­li­er, fund­ing her trip by sell­ing small cloth bracelets and hair­pieces along the way. She left her 6‑year-old son with her sis­ter because she knew she couldn't earn enough to sup­port two chil­dren. ​"If I stayed in Hon­duras," she says, ​"we would starve."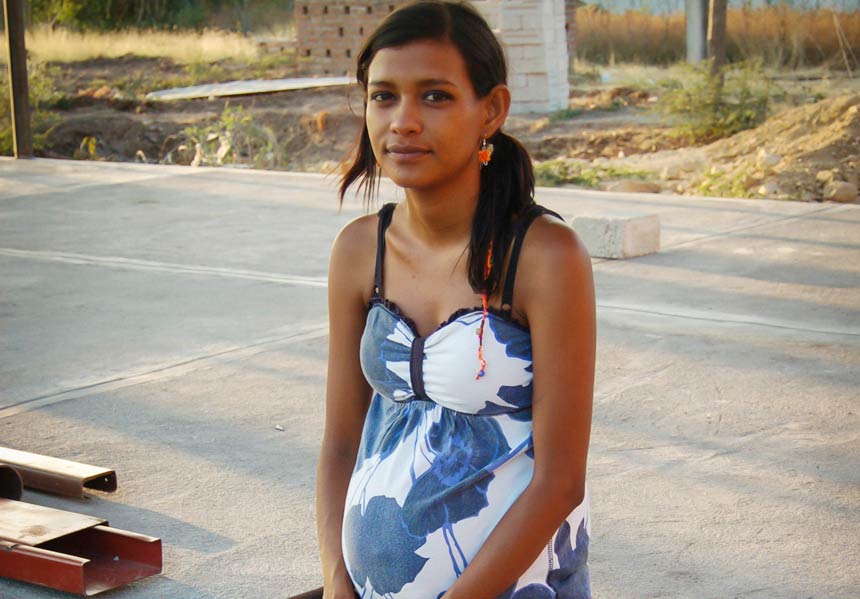 Natal­ie Reyes, 22, out­side the shel­ter in Ixtepec.
What the Unit­ed States can do
Advo­cates say that the Unit­ed States could change the way Pro­gra­ma Fron­tera Sur oper­ates. ​"The U.S. gov­ern­ment has a strong influ­ence with Mex­i­co, and it does have an oblig­a­tion, since it is pro­vid­ing funds in mil­lions of dol­lars every year to Mex­i­co," says Diego Zavala, Amnesty Inter­na­tion­al USA's spe­cial­ist on Mexico.
But Pro­gra­ma is in keep­ing with immi­gra­tion poli­cies in the Unit­ed States, Mex­i­co and Cen­tral Amer­i­can coun­tries, which have tend­ed to look for puni­tive ways to keep undoc­u­ment­ed peo­ple from cross­ing the U.S. bor­der. WOLA's Mey­er thinks this is the wrong approach. ​"There is a need to address the root caus­es of migra­tion … in terms of eco­nom­ic devel­op­ment," she says, ​"but also to address the wide­spread vio­lence that is caus­ing thou­sands of migrants to flee their homes."
In Feb­ru­ary, Pres­i­dent Oba­ma pro­posed a $1 bil­lion aid pack­age to El Sal­vador, Guatemala and Hon­duras that aims to do just that. Mey­er says the request is a step in the right direc­tion, not­ing that 80 per­cent is ear­marked for eco­nom­ic and civil­ian pro­grams, rather than mil­i­tary or polic­ing. She is opti­mistic that it will be approved by Con­gress, though the amount may change. But a posi­tion paper from WOLA cau­tions that the mon­ey must be ​"invest­ed wise­ly," rather than fun­neled to cor­rupt agen­cies and politi­cians, and that this will require far greater trans­paren­cy than in the past.
Until con­di­tions improve, Mey­er says, ​"the sit­u­a­tion in Cen­tral Amer­i­ca should be addressed not as a migra­tion cri­sis, but as a refugee cri­sis." Accord­ing to a June 2014 report by WOLA, many of the migrants flee­ing vio­lence should be eli­gi­ble for asylum.
The inequities and extreme vio­lence that are dri­ving peo­ple out of Cen­tral Amer­i­ca con­tin­ue unabat­ed. Advo­cates believe the same num­ber of migrants will still enter Mex­i­co, try­ing to make it to the Unit­ed States. And migrants are as deter­mined as ever to make it there. ​"If they are going to kill me, let them kill me on the road," says Jorge, the Sal­vado­ran migrant. ​"I am only try­ing for a bet­ter future for my family."
This arti­cle was sup­port­ed by grants from the Leonard C. Good­man Insti­tute for Inves­tiga­tive Report­ing and the Puf­fin Foundation.
All pho­tographs by Joseph Sor­renti­no. See more at www​.sor​rentinopho​tog​ra​phy​.com.
Joseph Sor­renti­no
is a writer and pho­tog­ra­ph­er. He has been doc­u­ment­ing the lives of agri­cul­tur­al work­ers on both sides of the U.S./Mexico bor­der for
12
years.