Rethink This Iowa: Do Not Gut the Leopold Center for Sustainable Agriculture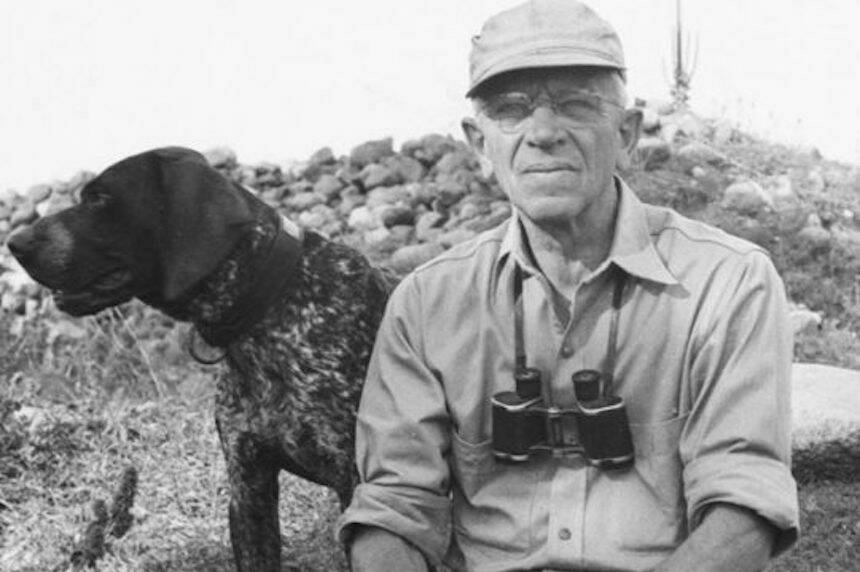 Since 1987, the Leopold Cen­ter for Sus­tain­able Agri­cul­ture (LCSA) in Ames, Iowa, has been look­ing into ways to reduce the envi­ron­men­tal impact of food pro­duc­tion. Apply­ing a sci­en­tif­ic approach to eth­i­cal land use, the cen­ter has been fund­ing the research need­ed to make sus­tain­able farm­ing meth­ods not just pos­si­ble, but prof­itable. Long before the ​"good food move­ment" grew into the nation­al force it is today, their work includ­ed the imple­men­ta­tion of inte­grat­ed pest man­age­ment tech­niques, biore­ac­tors, cov­er crops, ear­ly spring nitrate tests, crop rota­tions, rota­tion­al graz­ing meth­ods and much more — the results of which were shared with farm­ers and oth­er researchers across the country.
All was going well enough until April 17, when the Iowa Sen­ate with­out warn­ing passed new leg­is­la­tion that end­ed LCSA's fund­ing and, going one dia­bol­i­cal step fur­ther, required the cen­ter to close. The funds in play — about $1.3 mil­lion annu­al­ly — are gen­er­at­ed from a fee imposed on nitrate fer­til­iz­ers and pes­ti­cide reg­is­tra­tions under the 1987 Iowa Ground­wa­ter Pro­tec­tion Act. The new bill instructs that those funds be redi­rect­ed to the Nutri­ent Research Cen­ter, also at Iowa State Uni­ver­si­ty (ISU). On May 12, how­ev­er, in one of his final guber­na­to­r­i­al acts before becom­ing the Trump administration's ambas­sador to Chi­na, Iowa Gov. Ter­ry Branstad ® vetoed the por­tion of the bill he'd pre­vi­ous­ly signed requir­ing LCSA to shut its doors, but let the fund­ing cut stand.
This leaves the cen­ter in awk­ward lim­bo — free to con­tin­ue exist­ing, but with­out the mon­ey it needs to oper­ate. As one writer put it in a Mil­wau­kee Jour­nal Sen­tinel edi­to­r­i­al, the bill ren­ders LCSA ​"the Walk­ing Dead of state agencies."
"While we appre­ci­ate that the name and the Cen­ter will remain," said LCSA Direc­tor Mark Ras­mussen in a state­ment address­ing their sud­den change in sta­tus, ​"the loss of all state fund­ing severe­ly restricts oper­a­tions and our abil­i­ty to serve our many stakeholders."
So why, when indus­tri­al agri­cul­tur­al prac­tices pose an imme­di­ate threat to Iowa's land and water, and when our dom­i­nant food pro­duc­tion meth­ods are caus­ing a host of eco­log­i­cal, health and social prob­lems across the coun­try and around the world — did the Iowa leg­is­la­ture decide to end pub­lic sup­port for one of the few for­ward-think­ing sus­tain­able agri­cul­ture insti­tu­tions with an estab­lished track record? The center's mis­sion, after all, is: ​"To iden­ti­fy and devel­op new ways to farm prof­itably while con­serv­ing nat­ur­al resources as well as reduc­ing neg­a­tive envi­ron­men­tal and social impacts."
"We have no idea who were the pri­ma­ry spon­sors of the bill," LCSA Com­mu­ni­ca­tions Direc­tor Car­ol Brown tells Rur­al Amer­i­ca In These Times. ​"All we have heard is that the leg­is­la­tors had to make bud­get cuts, and that the Cen­ter was doing research that could be han­dled through Iowa State's Nutri­ent Research Center."
Den­nis Keeney, LCSA's first direc­tor from back in the day, was a bit more can­did. Chalk­ing the center's death­blow up to the Iowa Sen­ate polit­i­cal­ly accom­mo­dat­ing pow­er­ful agri­cul­tur­al inter­ests in the state, he told a pub­lic radio reporter: ​"They know if they put mon­ey in the Nutri­ent Cen­ter noth­ing will hap­pen that will real­ly lead to regulation."
What the Nutri­ent Resource Cen­ter (NRC) will actu­al­ly do with its new fund­ing remains to be seen. Kam­yar Enshayan, an edu­ca­tor from the Uni­ver­si­ty of North­ern Iowa who served on LCSA's advi­so­ry board back when the NRC was estab­lished in 2013, is not opti­mistic. In a let­ter to the edi­tor of the Des Moines Coun­ty Reg­is­ter, he calls the NRC's cre­ation in the first place a ​"big mis­take" and says it'll prob­a­bly con­tin­ue to make it eas­i­er for Iowa to down­play its mount­ing envi­ron­men­tal problems.
Enshayan writes:
It [the Nutri­ent Cen­ter] renamed the tragedy of indus­tri­al agri­cul­ture (soil ero­sion, water pol­lu­tion, delib­er­ate evad­ing of pub­lic health and labor laws by multi­na­tion­al meat pack­ing plants or by absen­tee owned egg fac­to­ries, pub­lic health threats from mas­sive hog con­fine­ment oper­a­tions, pes­ti­cides and fer­til­iz­er in drink­ing water, manure spills, etc.) as sim­ply a ​"nutri­ent" problem.

Clear­ly, nutri­ents leak­ing from mod­ern agri­cul­ture is a symp­tom of a crop­ping sys­tem that is inher­ent­ly leaky, mean­ing there isn't a whole lot farm­ers can do to stop the leak. That leaky crop­ping sys­tem has been planned and incen­tivized by fed­er­al pro­grams, shaped by glob­al grain mer­chants who also hap­pen to con­trol all grain mar­kets as well as seeds and inputs. It is well-doc­u­ment­ed that it is this sys­tem, this col­o­niz­ing econ­o­my, that con­tin­ues to lead to rur­al decline.
Indeed, in addi­tion to foment­ing ram­pant income inequal­i­ty, most of the dom­i­nant eco­nom­ic forces in this coun­try have a seri­ous pol­lu­tion prob­lem on their hands. That's not nec­es­sar­i­ly new, but increased pub­lic aware­ness is. While no one region­al cen­ter is equipped to address the mag­ni­tude of a giv­en sector's unsus­tain­abil­i­ty, and it would be fool­ish to imply oth­er­wise, seri­ous progress will vary depend­ing on the sin­cer­i­ty of those behind the efforts to do better.
The fund­ing of depart­ments, build­ings and research cen­ters in uni­ver­si­ties across the coun­try has allowed wealthy cor­po­ra­tions to ​"give back" in some con­spic­u­ous, poten­tial­ly good ways. But there's plen­ty of evi­dence that many of these vest­ed inter­ests have ​"infil­trat­ed acad­e­mia" — oper­at­ing under an unspo­ken expec­ta­tion that any study a cor­po­ra­tion helps fund ought to draw indus­try friend­ly con­clu­sions. (From 2006 to 2010, for exam­ple, the ISU's own Depart­ment of Agron­o­my received $19.5 mil­lion from donors such as Mon­san­to, Dow and the Iowa Soy­bean Asso­ci­a­tion.) What­ev­er the case, when it comes to tak­ing sus­tain­abil­i­ty seri­ous­ly, things are not chang­ing fast enough.
Mean­while, more than 30 new LCSA grant projects, already approved to begin in Feb­ru­ary, are on hold. Man­age­ment of these projects is being trans­ferred to the ISU Col­lege of Agri­cul­ture and Life Sci­ences, which, accord­ing to an LCSA press release, ​"has been charged with wind­ing up the center's affairs by the end of the 2017."
For more infor­ma­tion, check out ​"Pub­lic Research, Pri­vate Gain: Cor­po­rate Influ­ence Over Uni­ver­si­ty Agri­cul­tur­al Research." (Source: foodand​wa​ter​watch​.org)
Re-design­ing ecosys­tems has consequences
Iowa feeds a lot of peo­ple, ani­mals and cars. The Hawk­eye state is home to 88,637 farms. They grow (and export) more corn and soy­beans, raise more pigs and pro­duce more eggs than any of the oth­er 49. Much of the grain is used for live­stock feed and ethanol and con­sumed else­where but, all told, the annu­al (all impor­tant) ​"eco­nom­ic impact" of Iowan agri­cul­ture is $30.8 bil­lion dol­lars—sec­ond only to California.
This is no acci­dent. From the 1830s on, the Iowa land­scape as we know it today was designed for food pro­duc­tion — first with plows and then with steam shov­els. Before that, Richard Doak writes in the Des Moines Coun­ty Reg­is­ter, ​"Leg­end has it the region was so wet that one could canoe from Mason City to Fort Dodge." In oth­er words, before it could become ​"the Heart­land," Iowa need­ed to be drained.
Even by the turn of the 20th cen­tu­ry, much of the farm­land for which the state is now famous was still, from an agri­cul­tur­al per­spec­tive, unwork­able swamp. But in 1908, engi­neers began installing a mas­sive under­ground net­work of tiles — per­fo­rat­ed pipes set under future fields to fun­nel the prodi­gious mois­ture out of the soil and into oth­er pipes or ditch­es where it could be car­ried away into creeks, streams and rivers.
This worked — presto pri­mo farm­land — and today this labyrinthine drainage sys­tem runs under 12 mil­lion acres of Iowa fields.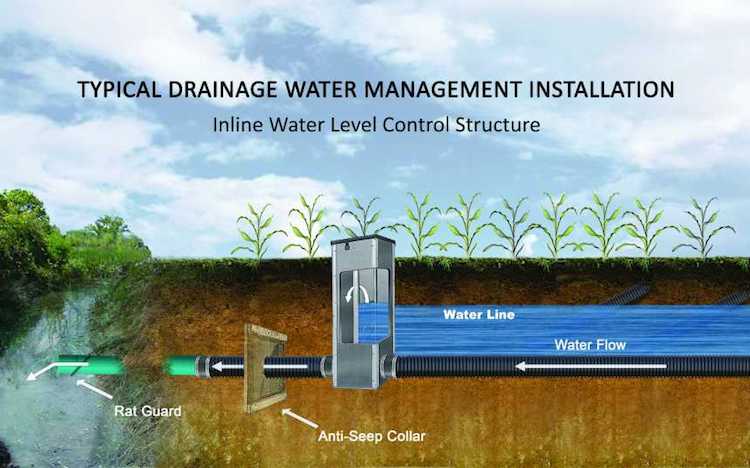 (Info­graph­ic: Pre­ci­sion­Ag)
Times have changed
One cen­tu­ry (and a cou­ple of world wars) lat­er, mod­ern agri­cul­ture is a very dif­fer­ent enter­prise than it was back then. Indus­tri­al agribusi­ness — a glob­al jug­ger­naut up to its neck in petro­chem­i­cals, genet­ic exper­i­ments, pes­ti­cides, her­bi­cides and snacks — is, itself, hungry.
Quick recap: This par­a­digm began in earnest after World War II when brand new chem­i­cals, cre­at­ed for war and fresh off the bat­tle­field, were suc­cess­ful­ly mar­ket­ed for use on the farm to kill bugs and weeds, thus allow­ing con­cen­trat­ed mono­cul­tures to thrive. Lat­er, max­i­miz­ing the num­ber of ani­mals you could keep in a con­fined space also some­how became a good idea. Put sim­ply, soil, air and water qual­i­ty, bio­di­ver­si­ty, and healthy rur­al economies were sac­ri­ficed in order to pro­duce lots and lots of the same few commodities.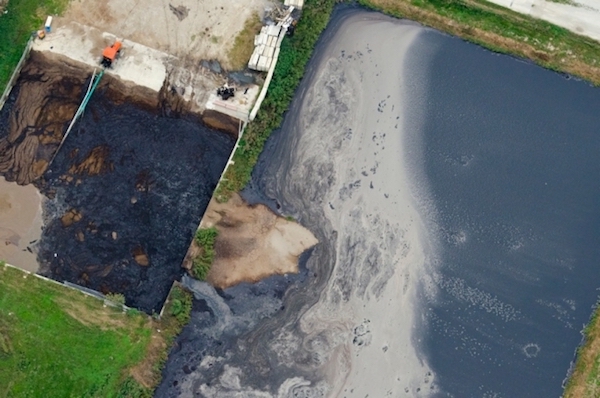 An aer­i­al view of a con­cen­trat­ed ani­mal feed­ing oper­a­tion. (Image: prezi​.com)
Small farms dropped like domi­noes after that. But it's the syn­thet­ic inputs required to keep pro­duc­ing the same things in the same places over and over again — all too often as a means to keep over­ly-processed food cheap and prof­itable for multi­na­tion­al cor­po­ra­tions — that are tak­ing a cumu­la­tive and dev­as­tat­ing toll on top-soil, water­ways and, increas­ing­ly, pub­lic health.
Zero of this is good for the land, water, ani­mals or you. While a lot can be said of Amer­i­can farm­ing meth­ods, ​"sus­tain­able" is not one of them. Water sup­plies across the coun­try are lit­er­al­ly being poi­soned, as are this planet's lakes, rivers and oceans.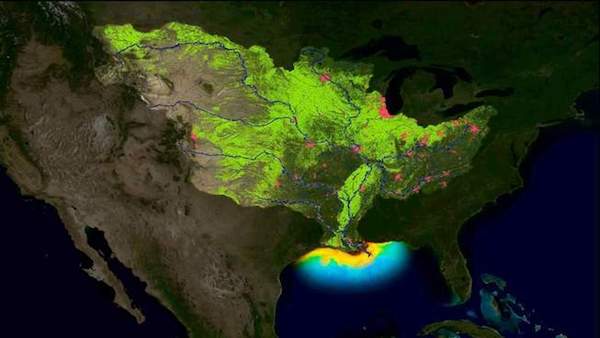 An enhanced satel­lite image show­ing how poor water qual­i­ty in the cen­tral Unit­ed States — includ­ing Iowa — can have a cumu­la­tive impact in cre­at­ing a ​"dead zone" in the north­ern Gulf of Mex­i­co. Red dots indi­cate large cities and green areas indi­cate farm­land. Water pol­lu­tion — notably nitrates used in farm­ing — flow down­stream where each sum­mer they cre­ate a zone near the mouth of the Mis­sis­sip­pi Riv­er that's so low in dis­solved oxy­gen it can't sup­port marine life. The most intense areas of the dead zone are shown in orange and yel­low. (Cap­tion / Image: The Gazette / NOAA)
Cause and effect
In Iowa, fac­to­ry hog farms are stor­ing hun­dreds of thou­sands of gal­lons of ani­mal waste in giant pits (the indus­try prefers to call them lagoons) that tend to flood when it rains. And each year, as a result of the tremen­dous amount of corn and soy­beans grown in the state, near­ly all of it genet­i­cal­ly engi­neered, tens of thou­sands of tons of fer­til­iz­er nitrates leach into Iowa's water­ways. The state's pre­vi­ous­ly inge­nious drainage sys­tem — essen­tial­ly act­ing as a syringe inject­ed into their rivers — dras­ti­cal­ly cuts the time pol­lu­tants have to get absorbed.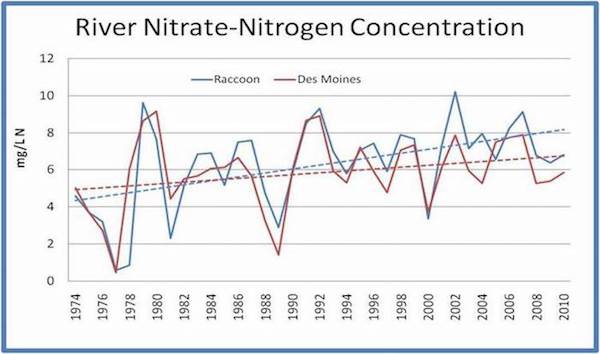 The con­cen­tra­tion of nitrate in the Rac­coon and Des Moines Rivers has been ris­ing for decades. (Chart: Iowa Envi­ron­men­tal Coun­cil Blog)
Unsur­pris­ing­ly, con­tentious law­suits over who is respon­si­ble for clean­ing up the con­t­a­m­i­nat­ed water abound. The most recent case involved Des Moines Water Works (DMWW) — a region­al water util­i­ty com­pa­ny that, in 2015, sued drainage dis­tricts in three dif­fer­ent Iowa coun­ties. The charge: allow­ing the Rac­coon Riv­er, a major source of drink­ing water for 500,000 Iowa res­i­dents, to become pol­lut­ed with unsafe lev­els of fer­til­iz­er nitrates. In 2016 alone, the util­i­ty main­tains, they had to spend $80 mil­lion remov­ing nitrates from the riv­er in order for it to meet fed­er­al drink­ing water standards.
Argu­ing that those respon­si­ble for gen­er­at­ing the con­t­a­m­i­nat­ed runoff (inten­sive farm­ing oper­a­tions) should be the ones pay­ing to fil­ter it, DMWW hoped to con­vince the courts to reg­u­late the fer­til­iz­er nitrates as pol­lu­tion under the Clean Water Act.
Here's a brief run­down of the con­tro­ver­sy, cour­tesy of PBS:
(Video Source: New­shour)
In March, after a two-year fight and plen­ty of unwant­ed atten­tion, and despite wide­spread pub­lic sup­port for DMWW, Iowa judges sided with Big Ag's inter­ests and dis­missed the utility's law­suit in its entire­ty. The nitrate prob­lem remains unad­dressed and agribusi­ness as usu­al continues.
Iron­i­cal­ly, one leg­is­la­tor seek­ing to jus­ti­fy the state's deci­sion to cut LCSA's funds recent­ly remarked that the cen­ter's ​"work was com­plet­ed." Car­ol Brown tells Rur­al Amer­i­ca In These Times that the tim­ing of that com­ment, just weeks after the DMWW law­suit end­ed, ​"has led to many Iowans scratch­ing their heads."
Let­ting Leopold down
The fact that every­thing with­in an ecosys­tem is con­nect­ed was not lost on Aldo Leopold — the Iowa-born nat­u­ral­ist, sci­en­tist, ecol­o­gist, philoso­pher and author after whom LCSA was named. He under­stood that fun­da­men­tal­ly alter­ing a land­scape will always have unin­tend­ed con­se­quences and sub­se­quent­ly deter­mined: ​"A thing is right when it tends to pre­serve the integri­ty, sta­bil­i­ty, and beau­ty of the biot­ic com­mu­ni­ty. It is wrong when it tends otherwise."
In A Sand Coun­ty Almanac, wide­ly hailed as one of the most impor­tant envi­ron­men­tal books of the 20th cen­tu­ry, Leopold also writes:
One of the penal­ties of an eco­log­i­cal edu­ca­tion is that one lives alone in a world of wounds. Much of the dam­age inflict­ed on land is quite invis­i­ble to lay­men. An ecol­o­gist must either hard­en his shell and make believe that the con­se­quences of sci­ence are none of his busi­ness, or he must be the doc­tor who sees the marks of death in a com­mu­ni­ty that believes itself well and does not want to be told oth­er­wise.
Today, 500,000 Iowans who depend on the Racoon and Des Moines rivers for their drink­ing water are in the process of get­ting an all too vis­i­ble, total­ly unwant­ed eco­log­i­cal edu­ca­tion cour­tesy of indus­tri­al agribusi­ness. Defund­ing the Leopold Cen­ter for Sus­tain­able Agri­cul­ture at a time when the work they do is clear­ly need­ed more than ever seems an awful lot like adding unnec­es­sary insult to ongo­ing injury.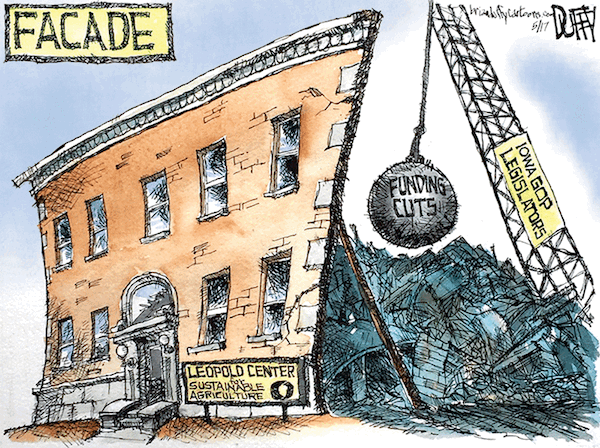 (Illus­tra­tion: Bri­an Duffy / brian​duffy​car​toons​.com)
"Eth­i­cal behav­ior is doing the right thing when no one else is watch­ing — even when doing the wrong thing is legal." — Aldo Leopold