American Cows are Eating Skittles and Other Reasons Why the 2018 Farm Bill is Important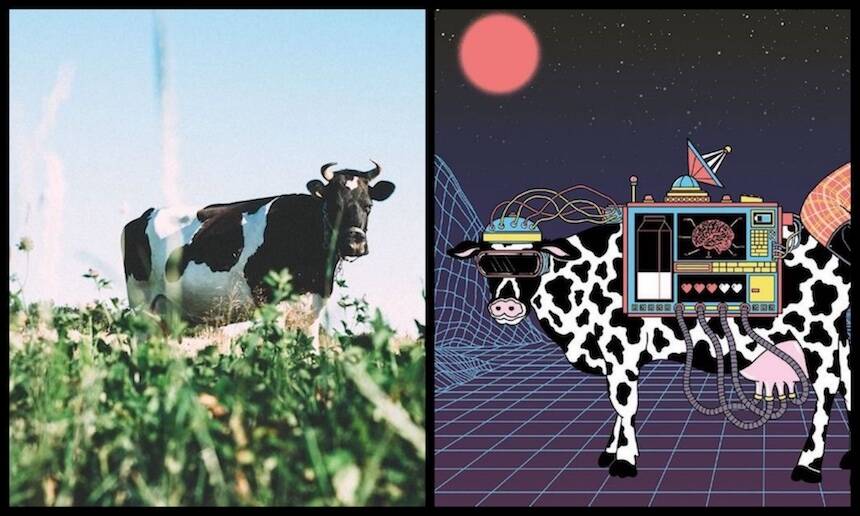 In Jan­u­ary, a flatbed pick­up truck filled with only red Skit­tles crashed on a high­way near Beaver Dam, Wis. This prompt­ed the Mars Cor­po­ra­tion to issue a state­ment explain­ing that the the­o­ret­i­cal­ly straw­ber­ry fla­vored can­dies had been reject­ed at the fac­to­ry for lack­ing an ​"S" (for Skit­tle not straw­ber­ry) and were en route to becom­ing cat­tle feed. Head­lines of the spec­ta­cle briefly cap­tured pub­lic atten­tion. Then, cur­so­ry inquiries revealed the prac­tice is not uncommon.
Snopes, the world's urban leg­end fact check­er, traced the can­dy-to-farm phe­nom­e­non back to 2012 — a time when fed­er­al­ly sub­si­dized demand for ethanol (and a bad drought in the Mid­west) had caused the cost of a bushel of corn to dou­ble. Search­ing for more afford­able alter­na­tives, some cat­tle farm oper­a­tors dis­cov­ered that the high fruc­tose corn syrup found in imper­fect can­dy could pad feed, sus­tain live­stock and save big bucks.
A CNN report at the time read:
Thrifty and resource­ful farm­ers are tap­ping into the obscure mar­ket for cast-off food ingre­di­ents. Cut-rate byprod­ucts of dubi­ous val­ue for human con­sump­tion seem to make fine fod­der for cows. While corn goes for about $315 a ton, ice-cream sprin­kles can be had for as lit­tle as $160 a ton.
Old news or not, the Skit­tles sto­ry made it to a Nation­al Geo­graph­ic blog post in which Mar­i­lyn Noble, the Amer­i­can Grass­fed Association's com­mu­ni­ca­tions direc­tor, remind­ed read­ers that ​"cows were meant to eat grass, not candy."
In an inci­dent that's either unre­lat­ed or absolute­ly relat­ed depend­ing on how you look at it, on March 10 in How­ell, Mich., 7,200 gal­lons of con­cen­trat­ed Moun­tain Dew syrup spilled from a rup­tured tank at a Pep­si bot­tling plant into an inad­e­quate hold­ing area and even­tu­al­ly the sew­er. This caused what com­pa­ny spokes­peo­ple called a ​"huge foam­ing event" that over­whelmed the facil­i­ty's infra­struc­ture. Mean­while, state envi­ron­men­tal per­son­nel warned the sug­ary dis­charge would be tox­ic to aquat­ic life.
Acci­dents hap­pen, but we should prob­a­bly not be cul­ti­vat­ing, ingest­ing or invest­ing in them. In a cer­tain light, these two inci­dents, oth­er­wise just fleet­ing blurbs on a crowd­ed news­feed, epit­o­mize a soci­ety (and an econ­o­my) that is simul­ta­ne­ous­ly gen­er­at­ing and tol­er­at­ing a pro­found degree of dysfunction.
We are feed­ing the ani­mals we intend to eat with one of the top can­dies den­tists tell kids to avoid, and Pep­si­co (NYSE: PEP) is pro­duc­ing a radioac­tive-look­ing bev­er­age in large enough quan­ti­ties to cause an actu­al tox­ic spill in the state of Michi­gan. This is Swift­ian (i.e. like a scene from Idioc­ra­cy that's hap­pen­ing for real). On the oth­er hand, min­i­miz­ing food waste and respon­si­bly using what we don't con­sume — some­thing we are fail­ing in spec­tac­u­lar ways to do now — is an essen­tial part of cre­at­ing more sus­tain­able food sys­tems that pro­vide greater access to healthy food and clean water, now and in the future.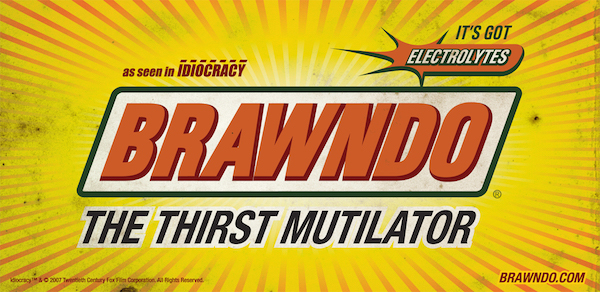 In Mike Judge's 2006 com­e­dy clas­sic, Idioc­ra­cy, civ­i­liza­tion's grow­ing con­sumerism and dwin­dling intel­li­gence have result­ed in a plan­et of imbe­ciles. This soci­ety drinks and waters their crops (unsuc­cess­ful­ly) with a sports drink named ​"Brawn­do: The Thirst Muti­la­tor." (Cap­tion / Image: Gizmodo)
In the com­ing months, the Trump admin­is­tra­tion will begin imple­ment­ing new agri­cul­tur­al poli­cies. (Inci­den­tal­ly for­mer Geor­gia gov­er­nor Son­ny Per­due has yet to be con­firmed and the Depart­ment of Agri­cul­ture (USDA) is still with­out a prop­er boss. While this makes it hard­er to spec­u­late what cer­tain poli­cies will look like, Pres­i­dent Trump's ​"Amer­i­ca First" bud­get pro­pos­al—a rel­a­tive­ly short doc­u­ment that reads a bit like the ​"Impe­r­i­al March" sounds — offers clues.)
Per­haps the most impor­tant piece of agri­cul­tur­al leg­is­la­tion in the pipeline is the 2018 Farm Bill — an omnibus law, revis­it­ed every five years, that gov­erns mul­ti­ple aspects of our food sup­ply, every­thing from crop sub­si­dies and land man­age­ment to food assis­tance. The cur­rent farm bill, which is set to expire this year, is 357 pages of crazy that results in end­less fields of cor­po­ra­tion-backed mono­cul­tures crank­ing out record yields of corn, wheat and soy­beans. But for farm­ers, prof­its are down, and the lit­tle guys can't com­pete. Mean­while mil­lions of Amer­i­cans are not get­ting enough of the kind of food they need.
On April 7, Rep. Jim McGov­ern (D‑Mass.), a long­time cham­pi­on of anti-hunger ini­tia­tives here and abroad, deliv­ered a keynote address at the Con­sumer Fed­er­a­tion of Amer­i­ca Nation­al Food Pol­i­cy Con­fer­ence — a gath­er­ing of food indus­try, con­sumer advo­cates and non­prof­its to dis­cuss food issues. Tran­scribed for print and edit­ed for length below, McGov­ern says what he finds most ​"mad­den­ing" about food inse­cu­ri­ty, in the Unit­ed States and around the world, is that it is entire­ly solv­able. He also makes the case that that we should view food secu­ri­ty as tan­ta­mount to nation­al security.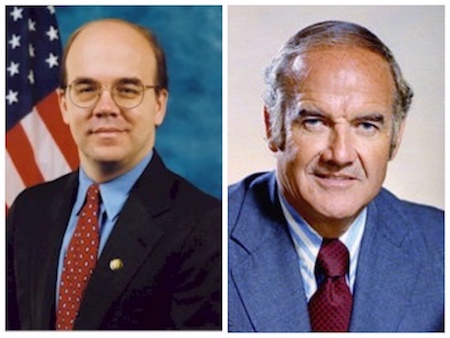 Though he is not relat­ed to the late Sen. George McGov­ern (D‑S.D.) (right), Rep. Jim McGov­ern (D‑Mass.) was an intern in his sen­ate office in the 1970s and they became good friends. (Image: Google Images)
Jim McGov­ern on food, hunger and politics
I tell peo­ple all the time that hunger is a polit­i­cal con­di­tion. We have the mon­ey. We have the resources. We have the infra­struc­ture. We have the brain­pow­er. We have every­thing — but we don't have the polit­i­cal will. We live in the rich­est coun­try in the his­to­ry of the world, and we have 42 mil­lion Amer­i­cans who are hun­gry or food inse­cure in the Unit­ed States of Amer­i­ca. As a U.S. con­gress­man, as a cit­i­zen of this coun­try, I'm ashamed of that. I find that unac­cept­able. It's uncon­scionable that with all of our rich­es in this coun­try, with all of our know-how and all of our inge­nu­ity, that this is the reality.
When we talk about hunger, it's more than just about talk­ing about peo­ple who don't have enough to eat. There are health issues relat­ed to peo­ple who on a reg­u­lar basis go with­out food. If you're a child who miss­es meals on a reg­u­lar basis and you show up in school, you're less like­ly to be able to learn. You are more like­ly to have devel­op­men­tal chal­lenges in your life­time. If you are a preg­nant moth­er and you can't get the ade­quate nutri­tion, that often­times results in the birth of an unhealthy baby. If you are a work­er who, on a reg­u­lar basis, goes with­out food, you will be less pro­duc­tive in the work­place. These are avoid­able costs asso­ci­at­ed with hunger. And so when we talk about it, I think we need to look not just at the imme­di­ate prob­lem, but the impact that this has on our country.
I have had a blessed life in the sense I have nev­er had to wor­ry about basic neces­si­ties. I've always had a home. I've always had shel­ter. I've always had enough to eat. I've nev­er been hun­gry. But I believe that those of us who are blessed have a spe­cial oblig­a­tion to make sure that we wor­ry about and care about those who are hav­ing chal­lenges. I think that's just the decent thing to do. Whether it's in our com­mu­ni­ties or whether it's in Con­gress, I think this is a mat­ter of decen­cy to address issues like hunger.
I get frus­trat­ed in Con­gress because I think this issue should not be a par­ti­san issue, and for many years it was­n't. George McGov­ern and Bob Dole worked togeth­er in a bipar­ti­san way dur­ing the 1970s to strength­en our nutri­tion and anti-hunger pro­grams. We were actu­al­ly on our way to elim­i­nat­ing hunger in this coun­try. Then we began to reverse some of the progress we made. Now we find this issue has become very polar­iz­ing. You are nev­er going to find a mem­ber of con­gress who's going to tell you that they are pro-hunger, but when you look at their vot­ing records I don't know how you could come to any oth­er con­clu­sion: They are chip­ping away at pro­grams that pro­vide the basic neces­si­ty of food to our chil­dren, par­ents and old­er people.
When I look at the pres­i­den­t's bud­get, we are told there may be cuts to pro­grams like the Wom­en's Infants and Chil­dren (WIC) pro­gram that pro­vides basic nutri­tion for preg­nant moth­ers for their young chil­dren after they are born. If we neglect that now we will end up hav­ing to pay in oth­er ways down the line. And again, I hate to talk about this in terms of the bot­tom line and dol­lars and cents. We should be moved to do some­thing because it's our moral oblig­a­tion to pre­vent human suf­fer­ing in this coun­try, but I get the feel­ing some­times that's not enough.
When I first got elect­ed, I got to become friends with John Ken­neth Gal­braith, the great econ­o­mist and a great vision­ary. I remem­ber him say­ing to me one time, ​"I'd ask you to go out there and com­fort the afflict­ed, but these days that might be con­sid­ered eccentric…so I'm going to ask you to go out and afflict the com­fort­able." I think that's the mode we are in now. We have to go out and afflict some of the com­fort­able and get them to actu­al­ly start respond­ing in ways to make progress on issues like hunger.
We have these debates in Con­gress and inevitably the peo­ple who need these pro­grams get char­ac­ter­ized as some­how lazy, or some­how unde­serv­ing: ​"They're poor because they want to be poor." But I've nev­er met any­body who wants to be poor. I've nev­er met any­body who wants to be hun­gry. And by the way, when we talk about the Sup­ple­men­tal Nutri­tion Assis­tance Pro­gram (SNAP), the major­i­ty of peo­ple on SNAP are chil­dren, senior cit­i­zens, and peo­ple who are dis­abled. Of those who can work, the major­i­ty works.
So why isn't the ques­tion in Wash­ing­ton: How can it be that some­body who works is still so poor that they need to rely on SNAP to put food on the table? Why aren't we talk­ing about increas­ing wages in this coun­try so peo­ple can actu­al­ly earn a liv­able wage and afford to put the kind of food they want on the table? Instead the debate tends to demo­nize the most vul­ner­a­ble peo­ple in this coun­try. And it's frus­trat­ing because because the per­cep­tion in Wash­ing­ton is so dif­fer­ent from the real­i­ty all through­out this country.
We talk about how we want peo­ple to ​"make bet­ter choic­es." Or we want peo­ple to make ​"health­i­er" choic­es. Absolute­ly. But, by the way, we all need to make health­i­er choic­es. Not just peo­ple who are on SNAP. We have stud­ies that show that those of us who are able to afford our own food make lousy choic­es, too. We need to have a bet­ter and more effec­tive nation­al dia­logue on nutri­tion. I serve on the nutri­tion sub­com­mit­tee and we've had a lot of hear­ings. Dur­ing one of the last some­one raised the issue: Why don't peo­ple make bet­ter choic­es? Well, the rea­son why, and it's very sim­ple, is that the aver­age SNAP ben­e­fit is about $1.40 per per­son per meal. I bought a Star­bucks cof­fee on the way here and that was more than $1.40 and it was a small one. The fact of the mat­ter is that the ben­e­fits we pro­vide peo­ple are inad­e­quate. What we should be talk­ing about is mak­ing sure that our social safe­ty net is a safe­ty net — that it pro­vides what peo­ple need to be able to put nutri­tious food on the table. We ought to be talk­ing about increas­ing the ben­e­fits of SNAP, not decreas­ing them or putting more hur­dles in place to make it more dif­fi­cult for peo­ple to obtain the benefit.
In Wash­ing­ton we are sup­posed to be about help­ing peo­ple and lift­ing peo­ple up — not demo­niz­ing them and putting them down; not mak­ing lives more mis­er­able. And yet that, in effect, is what we are doing. Right now we are talk­ing about a new farm bill. We've seen the president's bud­get and it goes after Meals on Wheels. That is crazy. We had Bud­get Direc­tor Mick Mul­vaney (pre­vi­ous­ly a U.S. Rep­re­sen­ta­tive from South Car­oli­na), say­ing there's ​"no evi­dence" that links some of these new nutri­tion pro­grams to bet­ter per­for­mance by stu­dents in school, or to bet­ter in out­comes in terms of a beneficiary's health sta­tus. Well I will show him a gazil­ion stud­ies that show you the ben­e­fits of good nutri­tion at every age and how impor­tant it is, at every age, to make sure peo­ple have access to good nutri­tion. Just because Mul­vaney said that does not mean it's true. I know we live in a place where alter­na­tive facts are en vogue but facts are facts, are facts, are facts. Good nutri­tion ben­e­fits peo­ple in a mil­lion dif­fer­ent ways.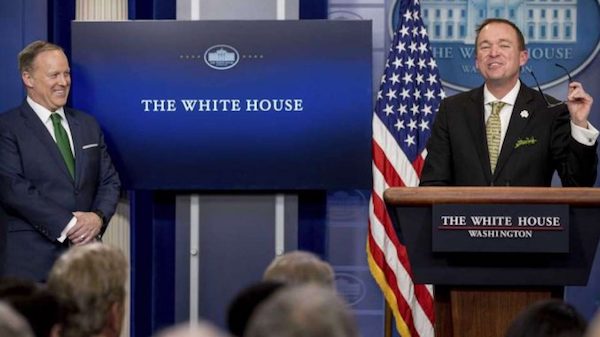 Bud­get Direc­tor Mick Mul­vaney (right) and Sean Spicer dis­cuss Trump's bud­get pro­pos­al at a press con­fer­ence. (Image: Sheri­den Broad­cast­ing Networks)
I would argue that good nutri­tion is the best health care out there. My grand­moth­er used to say, ​"an apple a day keeps the doc­tor away." That used to annoy me but I wish she were still alive so I could say, ​"you're right." Good nutri­tious food results often results in good health — it pre­vents us from get­ting dis­eases like dia­betes, heart dis­ease, obe­si­ty or high blood pres­sure. We have doc­tors who can write out pre­scrip­tions for very expen­sive phar­ma­ceu­ti­cals, but maybe we should give them the abil­i­ty to write up pre­scrip­tions for good, nutri­tious food, which would be a lot cheap­er and, in the long run, will be of a lot more ben­e­fit to that per­son. Our med­ical schools need to focus more on nutrition.
In the last farm bill, we had Repub­li­cans in the House actu­al­ly move to cut the SNAP ben­e­fits by $40 bil­lion! We had amend­ments for drug test­ing SNAP recip­i­ents. I don't see any amend­ments ask­ing for there to be drug tests for big heads of defense con­tract­ing firms — they get more mon­ey from tax­pay­ers then peo­ple on SNAP. Bet­ter yet, let's drug test all mem­bers of Con­gress. That might explain why we are hav­ing these stu­pid dis­cus­sions half the time.
We need to insist that when mem­bers of Con­gress vote to defund SNAP there's a con­se­quence. When I vote for gun con­trol leg­is­la­tion, I get the NRA call­ing my office, send­ing me let­ters, vis­it­ing me in my dis­trict. I know they're not going to vote for me. And if I vote against a tax cut for a par­tic­u­lar indus­try, nine times out of ten they are send­ing their rep­re­sen­ta­tives in to see me and telling me how bad I am and that they want to sup­port my oppo­nent — I know there's a con­se­quence. But when mem­bers of Con­gress vote to cut SNAP by $40 bil­lion dol­lars, there wasn't a con­se­quence. If we are going to change our pri­or­i­ties, that has to change. They need to feel the pain; because they are cre­at­ing a lot of pain. They need to under­stand that if you are going to vote to make hunger worse in this coun­try, then we are going to let your con­stituents know and we are going to make sure that you are held account­able at the bal­lot box. The one thing the Democ­rats and Repub­li­cans have in com­mon in Wash­ing­ton is we all want to get reelect­ed. On the issue of hunger and food secu­ri­ty, we need to ele­vate this issue. There needs to be a consequence.
The oth­er thing we need to grap­ple with in this upcom­ing farm bill, in addi­tion to pre­vent­ing any cuts from SNAP, is the issue of food waste. Forty per­cent of what we pro­duce in this coun­try, we do not eat. Often­times it is thrown away. I have vis­it­ed super­mar­kets, they're prob­a­bly call­ing secu­ri­ty when I show up, but I go look in the dump­sters in the back. Per­fect­ly good food is being thrown away. There are some doing a good job of try­ing to recap­ture that food, but we need a nation­al pol­i­cy on this.
We have farm­ers that do not have the infra­struc­ture or do not have the man­pow­er or wom­an­pow­er to be able to cap­ture food that they don't think would be sal­able at their local super­mar­kets. We're all so finicky about our food. We have to have an apple that looks like it came out of Snow White. If there is a lit­tle bump in it, we don't want to buy it. Often­times, those fruits and veg­eta­bles are dis­card­ed. Some­times they are used for ani­mal feed. Some places, com­post­ing. Some­times they're put in a land­fill — which is a bad idea. Let's see if we can recap­ture some of this per­fect­ly good food for our schools, our senior cen­ters or food banks. We need to be think­ing out-of-the-box and cre­ative­ly about how we put togeth­er this infra­struc­ture to recap­ture the food on our farms, in our restau­rants and in our super­mar­kets. Let's not waste it. My grand­moth­er also used say that if I did not eat all of my food, it was a sin! I had the fear of God put into me so I would always fin­ish my food. But she was right in a way.
Jim McGov­ern on expand­ing the def­i­n­i­tion of nation­al secu­ri­ty to include food
We talk about nation­al secu­ri­ty all the time and Mr. Trump says his bud­get is a nation­al secu­ri­ty bud­get. Well let me make a sug­ges­tion: The def­i­n­i­tion of nation­al secu­ri­ty needs to be expand­ed. It needs to mean more than just the num­ber of weapons in our nuclear arse­nal. It needs to mean more than the num­ber of mil­i­tary bases we have around the world. It needs to mean things like com­bat­ing extreme pover­ty and hunger around the world. It needs to make sure every sin­gle per­son in the Unit­ed States of Amer­i­ca has access to good nutri­tious food and is not food inse­cure. Food ought to be viewed as a fun­da­men­tal right for every human being on this plan­et. Nation­al secu­ri­ty ought to mean a job, infra­struc­ture — it ought to mean 1,000 oth­er things to improve the qual­i­ty of life for people.
This is the time that like-mind­ed peo­ple need to come togeth­er and steer this dis­cus­sion because, if not, you are going to see bud­gets passed that are heavy on increased mil­i­tary expen­di­tures while every­thing else gets cut. This is a time to engage because, if not, you will see a farm bill that will talk about either block grant­i­ng SNAP or more hur­dles for peo­ple to jump through just to put food on their table. This is a time to engage because our child nutri­tion pro­grams, our school feed­ing pro­grams, our pro­grams for the elder­ly — are under attack. We are even hav­ing a debate about low­er­ing nutri­tion­al stan­dards in school. It would be laugh­able if it weren't so tragic.
There's a dis­con­nect between what is talked about in Wash­ing­ton and what goes on back home. Some­body said to me one time, ​"Kids don't like to eat apples, they throw them away at lunch." So, I went to the school where they told me they were doing that. I asked the kids ​"how many of you like apples." Near­ly all of them raised their hand. Then I asked, ​"How many of you don't like apples?" And like one kid raised his hand. I said, ​"Well, I am being told you throw away your apples. Can some­one tell me why you throw away the apples?" A Kid raised their hand and said, ​"By the time I get through the line to get my lunch, I have ten min­utes to eat so I eat my sand­wich quick­ly, take a bite of the apple, but I can't bring it to class because they tell me it's dis­rup­tive, so I throw it away." I said, ​"So if you had like three or four min­utes more to eat your lunch would you eat the apple?" The kid said, ​"Absolute­ly."
I vis­it­ed a school with George McGov­ern when he was still alive in a town in my dis­trict. This was before the upgrade in nutri­tion­al stan­dards in the school feed­ing pro­grams — I had the slop­pi­est slop­py joe you have ever seen, it looked like an oil spill and had a rain­bow in it with sog­gy French fries. But there was an apple. There was a group of sec­ond or third-graders. The per­son over­see­ing the meal said, ​"These kids won't eat the apples." Then George McGov­ern said, ​"Do you have a knife?" He cut the apple up in lit­tle pieces and brought it around at all the kids ate the apples. I said, ​"Wow, that's amaz­ing." He said, ​"Some of these kids are los­ing their teeth. It hurts to bite into an apple." You have to know your audi­ence. Those are the kinds of things that are so read­i­ly under­stand­able when you're work­ing in the field, in schools or work­ing close­ly on these pro­grams. But they are not so clear in Washington.
It is impor­tant you engage all of us in Con­gress in the com­ing weeks and months so we con­tin­ue to move for­ward and not go back­wards. It's too impor­tant. Some peo­ple say I'm a bleed­ing heart. Hon­est­ly, my heart does bleed for peo­ple who I bump into who are hun­gry. When you see a child who is hun­gry, it breaks your heart. When you see a senior cit­i­zen who is reg­u­lar­ly going with­out food because they are try­ing to afford their pre­scrip­tion drugs and food, it breaks your heart. But we can fix it. I believe we can end hunger in our life­time, not only in this coun­try, but around the world. We just need to have the polit­i­cal will.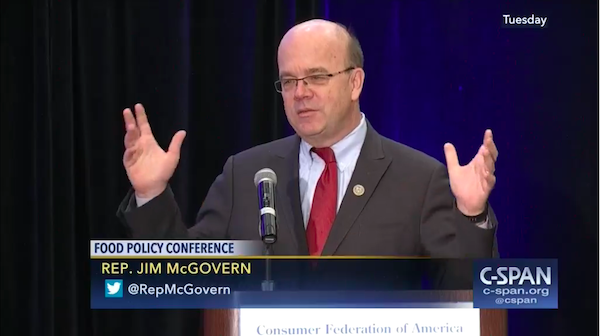 To watch the the con­gress­man­'s speech on food pol­i­cy and hunger in its entire­ty, fol­lowed by a Q&A, click here. (Image: C‑SPAN)
*Update 4⁄24: Son­ny Per­due, Pres­i­dent Trump's pick for sec­re­tary of agri­cul­ture and the last of his cab­i­net to be con­firmed, has just been approved by the Sen­ate. The Mon­day evening vote, 87 in favor and 11 opposed, means Per­due will be the 31st agri­cul­ture sec­re­tary in the Depart­ment of Agri­cul­ture's 155 year history.