Asylum Seekers Face Kafkaesque Ordeal at U.S.-Mexico Border
Migrants have to choose between keeping their families together and finding safety.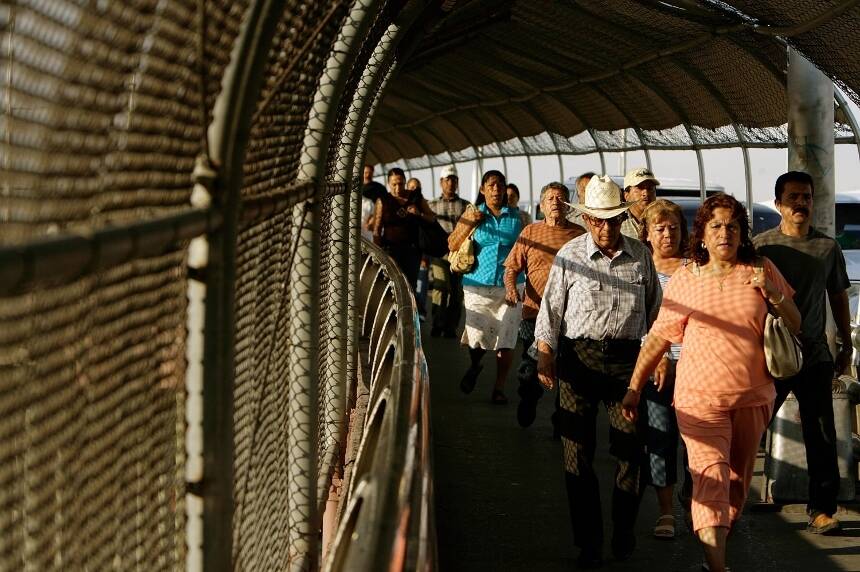 Mario's old­est daugh­ter is hav­ing thoughts about hurt­ing her­self, and his youngest daugh­ter is suf­fer­ing from anx­i­ety, accord­ing to a Texas psy­chol­o­gist who eval­u­at­ed the chil­dren in July after immi­gra­tion author­i­ties sep­a­rat­ed them from their father. All three of his chil­dren, as well as his wife, show signs of post-trau­mat­ic stress brought on by the vio­lence they wit­nessed in Mex­i­co and the ordeal they expe­ri­enced at the U.S. border.
'The biggest difference in winning and losing asylum claims is whether or not a person has a lawyer. That is not justice.'
Mario (a pseu­do­nym), his wife, 16-year-old son and two daugh­ters, ages 14 and 11, fled their home­town of Aca­pul­co in March amid a surge of gang vio­lence. After cross­ing the bridge that con­nects Ciu­dad Juárez to El Paso, Texas, they pre­sent­ed them­selves to Cus­toms and Bor­der Pro­tec­tion (CBP) to request asy­lum, a right under both U.S. and inter­na­tion­al law. The first step in the asy­lum process is to demon­strate a ​"cred­i­ble fear" that harm would befall them if they returned. The fam­i­ly was pre­pared to relate the death threats Mario received for not pay­ing extor­tion fees to local gangs and the bru­tal assaults and abduc­tions they had all witnessed.
Instead, the fam­i­ly entered a legal labyrinth and end­ed up on oppo­site sides of the bor­der. As soon as they asked CBP agents for asy­lum, the fam­i­ly was tak­en into cus­tody and Mario was sep­a­rat­ed from his wife and chil­dren. Immi­gra­tion offi­cers deter­mined that Mario's wife had a cred­i­ble fear of return­ing to Mex­i­co, enti­tling her to remain in the Unit­ed States with the chil­dren while she awaits an asy­lum hear­ing. But offi­cers in the same depart­ment decid­ed that Mario did not— even though the facts of his case are exact­ly the same as theirs, accord­ing to Sara (also a pseu­do­nym, as theirs), a researcher and human rights defend­er at the Las Cruces, N.M.-based South­west Asy­lum and Migra­tion Insti­tute (SAMI). (She wished to remain anony­mous because advo­cates' work is often scru­ti­nized by crim­i­nal groups tied to the Mex­i­can authorities.)
This seem­ing­ly arbi­trary deci­sion is symp­to­matic, Sara says, of the flawed process that unfolds when migrants seek­ing safe har­bor arrive at the U.S. bor­der. Mex­i­can nation­als, a grow­ing num­ber of whom have fled the country's U.S.-backed drug war in recent years, face par­tic­u­lar­ly tough odds. In the 2014 fis­cal year, near­ly 9,000 Mex­i­cans—more than any oth­er nation­al­i­ty — applied for asy­lum in the Unit­ed States, but only 124 (not nec­es­sar­i­ly from the same appli­cant pool) were grant­ed it. Some say that this marked­ly low accep­tancer­ate reflects the politi­ciza­tion of the asy­lum process, and the U.S. government's desire to con­ceal the extent of drug war vio­lence. A civ­il rights com­plaint filed in Novem­ber 2014 by immi­grant rights groups charges that CBP offi­cers reg­u­lar­ly obstruct access to the asy­lum process for migrants arriv­ing at the south­ern border.
When Mario was tak­en into cus­tody at the bor­der, he spent the night in hand­cuffs and then lan­guished in a CBP pro­cess­ing cen­ter for a week with no infor­ma­tion of the where­abouts or safe­ty of his fam­i­ly. His wife and chil­dren were briefly detained and then released, but Mario spent more than a month in deten­tion before being trans­ferred to Eagle Pass, Texas, almost 500 miles east of El Paso. From there, he was removed through a ​"lat­er­al depor­ta­tion" — a pro­ce­dure intend­ed to make it less like­ly that a depor­tee will attempt to cross the bor­der again — to the noto­ri­ous­ly dan­ger­ous Mex­i­can bor­der town of Piedras Negras.
Though Mario left Aca­pul­co out of fear of vio­lent abduc­tions, he has come to see his expe­ri­ence in U.S. deten­tion and his depor­ta­tion to an unfa­mil­iar town as anoth­er form of kid­nap­ping. ​"What's the dif­fer­ence between some­one who kid­naps you with a gun and some­one who kid­naps you with­out a gun?" he asks.
In May, Mario made his way back to Juárez and is still search­ing, with the help of SAMI, for a way to reunite with his fam­i­ly. Advo­cates note that with­out legal assis­tance, cas­es like Mario's are near­ly impos­si­ble to win. Found­ed in 2013, SAMI seeks to fill a gap in access to jus­tice by offer­ing free and low-cost legal aid to asy­lum seek­ers on both sides of the bor­der. The group has phys­i­cal­ly accom­pa­nied dozens of asy­lum-seek­ers across the bridge to El Paso and assist­ed them in the legal maze that follows.
"There are no pub­lic defend­ers in the immi­gra­tion sys­tem. Even chil­dren have to rep­re­sent them­selves," explains Sara. ​"The biggest dif­fer­ence in win­ning and los­ing asy­lum claims is whether or not a per­son has a lawyer. That is not justice."
Asy­lum law, more­over, is root­ed in what some advo­cates say is a glar­ing con­tra­dic­tion: Those seek­ing it can apply ​"affir­ma­tive­ly" only if they are already in the coun­try. Migrants who are able to obtain U.S. visas can request asy­lum once they've entered the U.S. and have their claims deter­mined out of court. But those who ask for asy­lum at a bor­der cross­ing — often because they can­not obtain or pay for visas, or lack infor­ma­tion about their options — face a much more adver­sar­i­al process. They are typ­i­cal­ly detained, and must apply for asy­lum ​"defen­sive­ly" and face an immi­gra­tion judge in order to avoid deportation.
This is the sit­u­a­tion in which Mario's wife now finds her­self. Fear­ful of return­ing to Mex­i­co, she has opt­ed to remain in El Paso while she awaits the out­come of her asy­lum case. Mean­while, she faces the stress of liv­ing in a for­eign city with three young chil­dren. With thou­sands of oth­er asy­lum-seek­ers stuck in the same lim­bo, a sup­port net­work has sprung up along the bor­der to assist them with lodg­ing, food and oth­er ser­vices. As thou­sands more arrived at the bor­der amidst the wave of vio­lence last sum­mer, vol­un­teers ​"came out of the wood­work," says Ruben Gar­cia, who runs the El Paso-based Annun­ci­a­tion House, the migrant hos­pi­tal­i­ty cen­ter where Mario's wife and chil­dren are staying.
If Mario cross­es the bor­der into the Unit­ed States again, Sara believes that, giv­en his record of depor­ta­tion, he would have to re-enter fed­er­al cus­tody for sev­er­al months and pos­si­bly serve jail time. Con­sid­er­ing the acute dis­tress the sep­a­ra­tion has caused his fam­i­ly already, he's not sure they can make it through more uncer­tain­ty. If the fam­i­ly decides they can no longer take the stress of sep­a­ra­tion, Mario's wife may aban­don her asy­lum claim and return with the chil­dren to the coun­try they fled.
Sara says theirs isn't the only fam­i­ly that's been forced to choose ​"between fam­i­ly uni­ty and indi­vid­ual safe­ty." She hopes to see broad­er changes to the asy­lum process, but in the mean­time calls for greater aid and com­pas­sion for sep­a­rat­ed fam­i­lies. ​"I have a child," she says. ​"If every­thing went to hell in the place I live and he had to flee, I would want there to be peo­ple who would look him in the eye and try to under­stand where he was com­ing from," she says. ​"I would want there to be peo­ple who would help him start over again."