Asylum Seekers Face Kafkaesque Ordeal at U.S.-Mexico Border
Migrants have to choose between keeping their families together and finding safety.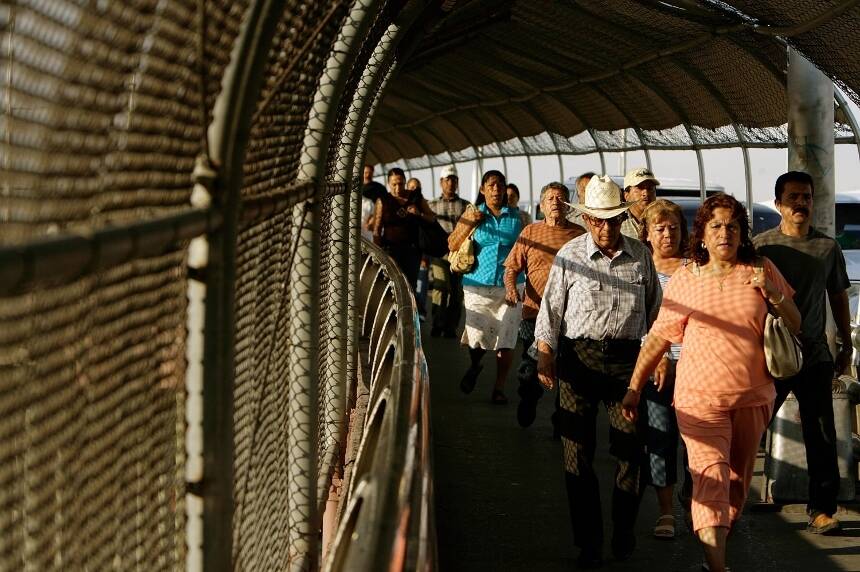 Mario's oldest daughter is having thoughts about hurting herself, and his youngest daughter is suffering from anxiety, according to a Texas psychologist who evaluated the children in July after immigration authorities separated them from their father. All three of his children, as well as his wife, show signs of post-traumatic stress brought on by the violence they witnessed in Mexico and the ordeal they experienced at the U.S. border.
'The biggest difference in winning and losing asylum claims is whether or not a person has a lawyer. That is not justice.'
Mario (a pseudonym), his wife, 16-year-old son and two daughters, ages 14 and 11, fled their hometown of Acapulco in March amid a surge of gang violence. After crossing the bridge that connects Ciudad Juárez to El Paso, Texas, they presented themselves to Customs and Border Protection (CBP) to request asylum, a right under both U.S. and international law. The first step in the asylum process is to demonstrate a ​"credible fear" that harm would befall them if they returned. The family was prepared to relate the death threats Mario received for not paying extortion fees to local gangs and the brutal assaults and abductions they had all witnessed.
Instead, the family entered a legal labyrinth and ended up on opposite sides of the border. As soon as they asked CBP agents for asylum, the family was taken into custody and Mario was separated from his wife and children. Immigration officers determined that Mario's wife had a credible fear of returning to Mexico, entitling her to remain in the United States with the children while she awaits an asylum hearing. But officers in the same department decided that Mario did not— even though the facts of his case are exactly the same as theirs, according to Sara (also a pseudonym, as theirs), a researcher and human rights defender at the Las Cruces, N.M.-based Southwest Asylum and Migration Institute (SAMI). (She wished to remain anonymous because advocates' work is often scrutinized by criminal groups tied to the Mexican authorities.)
This seemingly arbitrary decision is symptomatic, Sara says, of the flawed process that unfolds when migrants seeking safe harbor arrive at the U.S. border. Mexican nationals, a growing number of whom have fled the country's U.S.-backed drug war in recent years, face particularly tough odds. In the 2014 fiscal year, nearly 9,000 Mexicans—more than any other nationality — applied for asylum in the United States, but only 124 (not necessarily from the same applicant pool) were granted it. Some say that this markedly low acceptancerate reflects the politicization of the asylum process, and the U.S. government's desire to conceal the extent of drug war violence. A civil rights complaint filed in November 2014 by immigrant rights groups charges that CBP officers regularly obstruct access to the asylum process for migrants arriving at the southern border.
When Mario was taken into custody at the border, he spent the night in handcuffs and then languished in a CBP processing center for a week with no information of the whereabouts or safety of his family. His wife and children were briefly detained and then released, but Mario spent more than a month in detention before being transferred to Eagle Pass, Texas, almost 500 miles east of El Paso. From there, he was removed through a ​"lateral deportation" — a procedure intended to make it less likely that a deportee will attempt to cross the border again — to the notoriously dangerous Mexican border town of Piedras Negras.
Though Mario left Acapulco out of fear of violent abductions, he has come to see his experience in U.S. detention and his deportation to an unfamiliar town as another form of kidnapping. ​"What's the difference between someone who kidnaps you with a gun and someone who kidnaps you without a gun?" he asks.
In May, Mario made his way back to Juárez and is still searching, with the help of SAMI, for a way to reunite with his family. Advocates note that without legal assistance, cases like Mario's are nearly impossible to win. Founded in 2013, SAMI seeks to fill a gap in access to justice by offering free and low-cost legal aid to asylum seekers on both sides of the border. The group has physically accompanied dozens of asylum-seekers across the bridge to El Paso and assisted them in the legal maze that follows.
"There are no public defenders in the immigration system. Even children have to represent themselves," explains Sara. ​"The biggest difference in winning and losing asylum claims is whether or not a person has a lawyer. That is not justice."
Asylum law, moreover, is rooted in what some advocates say is a glaring contradiction: Those seeking it can apply ​"affirmatively" only if they are already in the country. Migrants who are able to obtain U.S. visas can request asylum once they've entered the U.S. and have their claims determined out of court. But those who ask for asylum at a border crossing — often because they cannot obtain or pay for visas, or lack information about their options — face a much more adversarial process. They are typically detained, and must apply for asylum ​"defensively" and face an immigration judge in order to avoid deportation.
This is the situation in which Mario's wife now finds herself. Fearful of returning to Mexico, she has opted to remain in El Paso while she awaits the outcome of her asylum case. Meanwhile, she faces the stress of living in a foreign city with three young children. With thousands of other asylum-seekers stuck in the same limbo, a support network has sprung up along the border to assist them with lodging, food and other services. As thousands more arrived at the border amidst the wave of violence last summer, volunteers ​"came out of the woodwork," says Ruben Garcia, who runs the El Paso-based Annunciation House, the migrant hospitality center where Mario's wife and children are staying.
If Mario crosses the border into the United States again, Sara believes that, given his record of deportation, he would have to re-enter federal custody for several months and possibly serve jail time. Considering the acute distress the separation has caused his family already, he's not sure they can make it through more uncertainty. If the family decides they can no longer take the stress of separation, Mario's wife may abandon her asylum claim and return with the children to the country they fled.
Sara says theirs isn't the only family that's been forced to choose ​"between family unity and individual safety." She hopes to see broader changes to the asylum process, but in the meantime calls for greater aid and compassion for separated families. ​"I have a child," she says. ​"If everything went to hell in the place I live and he had to flee, I would want there to be people who would look him in the eye and try to understand where he was coming from," she says. ​"I would want there to be people who would help him start over again."